As of early February 2023, DASH, the native crypto of the Dash ecosystem, is trading at $63.87. This means the coin is down 96.11% from its all-time high of $1,642.22. But is it a good investment option, considering its blatant unresponsiveness to the broader crypto market rally? This DASH price prediction piece aims to answer that question.
Envisioned as an improvement over Bitcoin, Dash primarily focuses on creating a globally relevant payments network. And Dash identifies itself as a fork of Litecoin, one of the more popular Bitcoin Forks.
#BonusHunter | Best bonuses you can get with DASH🔥
Dash price prediction and fundamental analysis
Dash, the project, aims to further the progress of decentralized payments. And in doing so, it aims to become cheaper and faster than Bitcoin — the very codebase it took inspiration from.
Dash boasts a two-tiered approach to decentralized payments. While the first tier offers a standard blockchain built on a PoW consensus, the second tier offers scope for private transactions and instant finality. Hence, Dash has a wide range of use cases.
From a fundamental perspective, Dash aims to make transactions more secure. As for the native crypto, DASH is the currency used to make the aforementioned decentralized payments.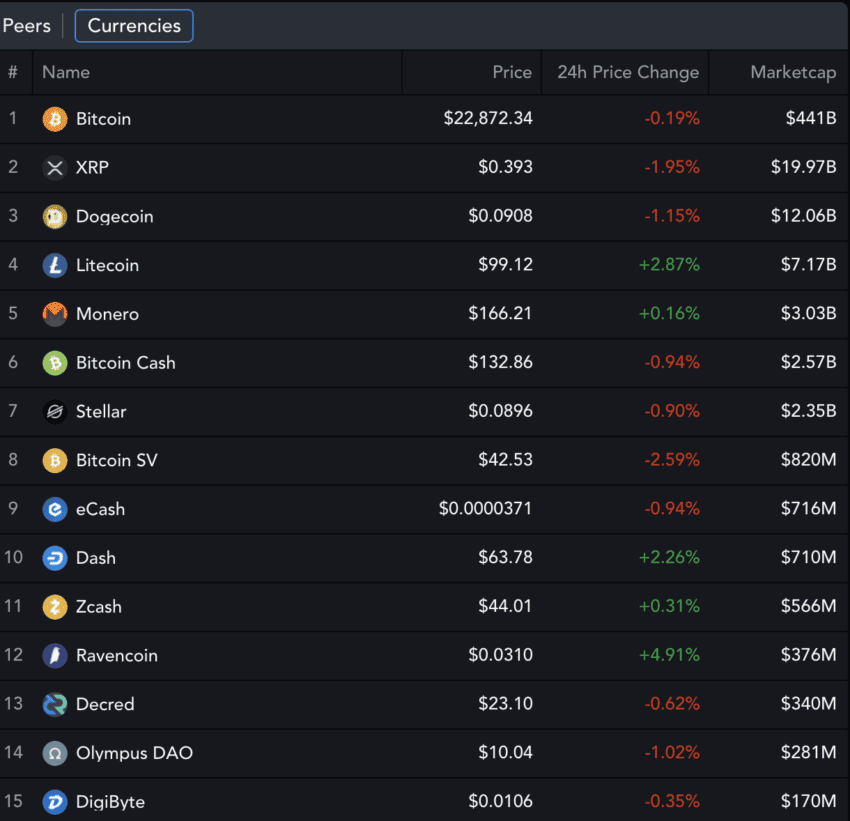 Further, Dash boasts one of the oldest DAOs, with on-chain crypto-specific governance playing a major role in its operations. Here are some of the additional insights that can help you make better fundamental calls:
The Dash ecosystem promises a 1-second transaction finality.
As of Q4 2021, over 265 parties and exchanges had DASH listed.
The median transaction counts up until Q4 2021 stood at over 8220.
Here is what the entire ecosystem looks like: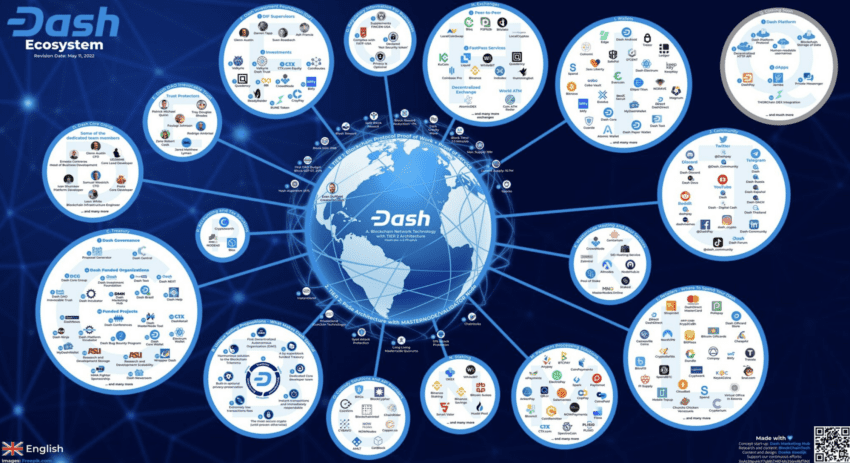 DASH price forecast and tokenomics
As mentioned, DASH is monetary crypto, with the coin only having the utility of facilitating transactions. Note that security and privacy are the traits offered by the Dash ecosystem. Also, as it is a decentralized currency, DASH has an over-the-counter trading presence and DeFi-specific utility.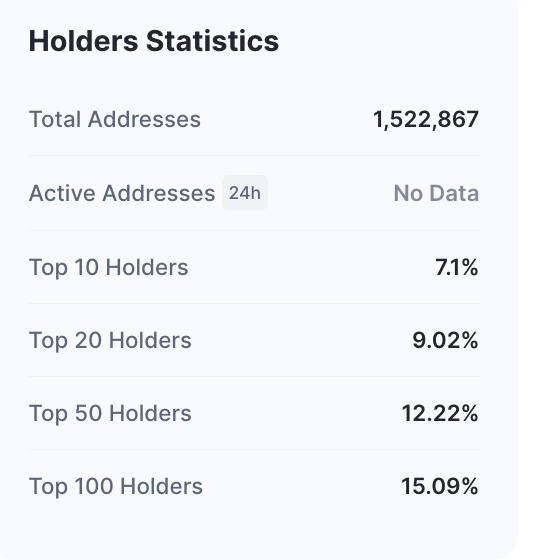 DASH comes with a supply cap of 18.9 million DASH coins, and the current decreasing issuance rate is 4.28%. Further, it's promising from an investment point of view that the top 100 DASH holders only control close to 15% of the circulating supply. Hence, the token economics model looks fairly transparent.
Dash price prediction and other key metrics
Looking at the 4-week volatility chart of DASH, we can see an interesting trend. When a bottom is formed at the volatility counter, the prices tend to increase. However, the current trend seems to be upward, which might lead to a short-term correction at DASH's counter. Yet, a rebound from a bottom might further the rally and act as a standard consolidation phase.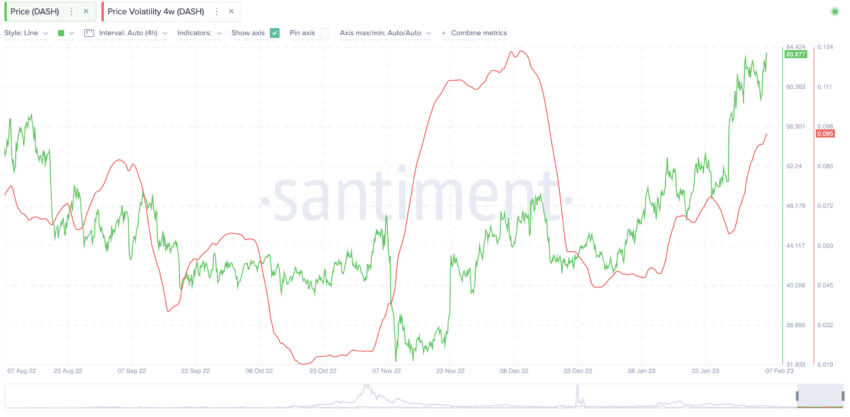 DASH's Twitter indicates another interesting pattern. Since August 2022, the price has only breached the Twitter follower trendline twice. The first time was in early August, after which there was a considerable price drop, despite the steady follower count. Something similar is happening at the time of writing (Feb 7, 2023) — a development that might trigger some consolidation at DASH's counter.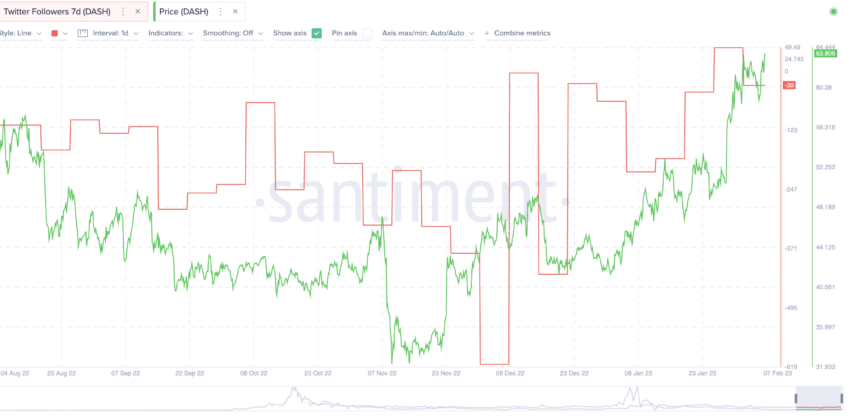 Even the number of unique DASH holding addresses has blown hot and cold over the past 30 days. We will examine the short-term price action and expectations during technical analysis.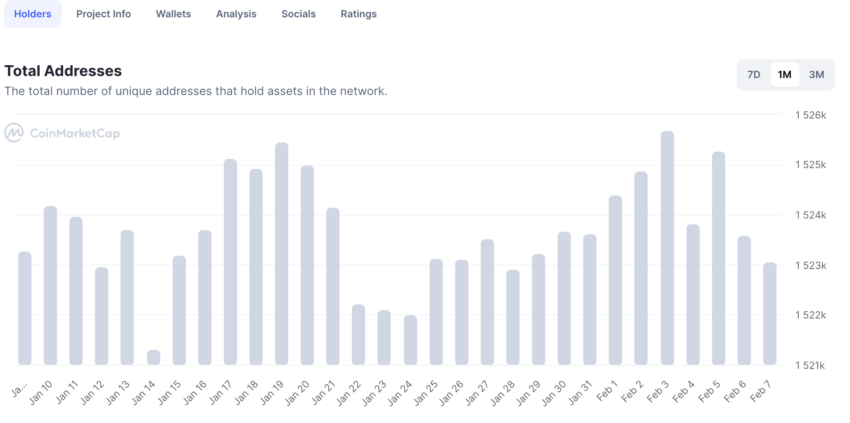 DASH technical analysis and price prediction
Yes, Dash boasts ultra-fast transaction speed and offers optional privacy. Yet, it is important to delve deeper into the technical analysis to know where the future price of Dash coin is headed. However, before we move any further, here are a few insights to keep in mind:
Looking at DASH's 3-month trading volume chart, you can see the market cap and trading volume picking up gradually.
The uptick in trading volume is good news for the price action.
The short-term chart signifies a caution zone for the price of DASH.
Even though the formation looks similar to a descending triangle, DASH seems to be trading close to the upper descending trendline. Any breach above the line or the price level of $64.84 might push the future price toward $72.81. Moreover, a drop below $56.88 might just invalidate this trend.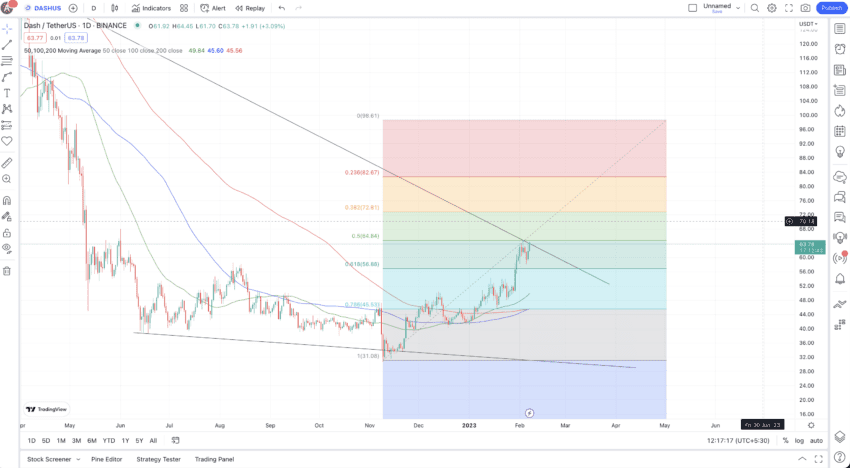 What is optimistic, though, is the blue line (100-day moving average) crossing above the red line or the (200-day moving average). If this golden crossover becomes clearer over the next few trading sessions, we might see DASH's price increase from the current levels.
Pattern identification
Let us now look at the weekly chart to analyze the broader trend. Notice that you can see a cup forming at DASH's counter. And the formation looks similar to the one marked previously on the chart via the blue curve.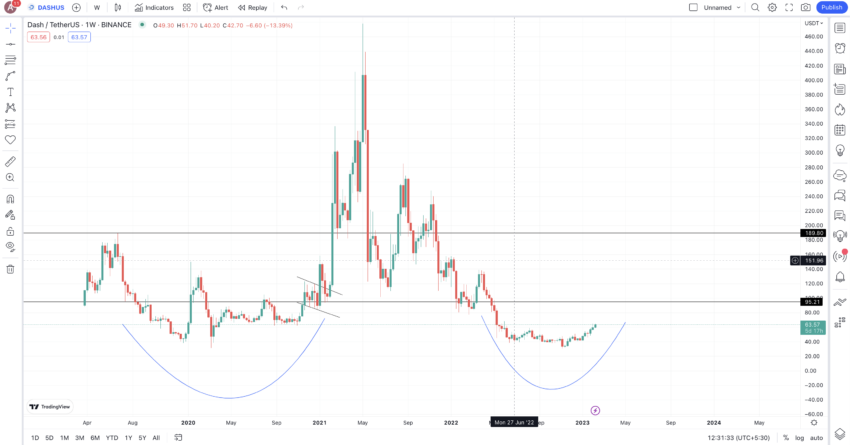 This shows that the weekly price chart isn't following a foldback pattern but a forward marching pattern. It is time to mark the key highs and lows on the price chart to locate the next DASH price forecast levels.
Here is the weekly chart with all the lows and highs marked for your reference. Each level might also act as resistance and support for DASH, offering several price prediction options.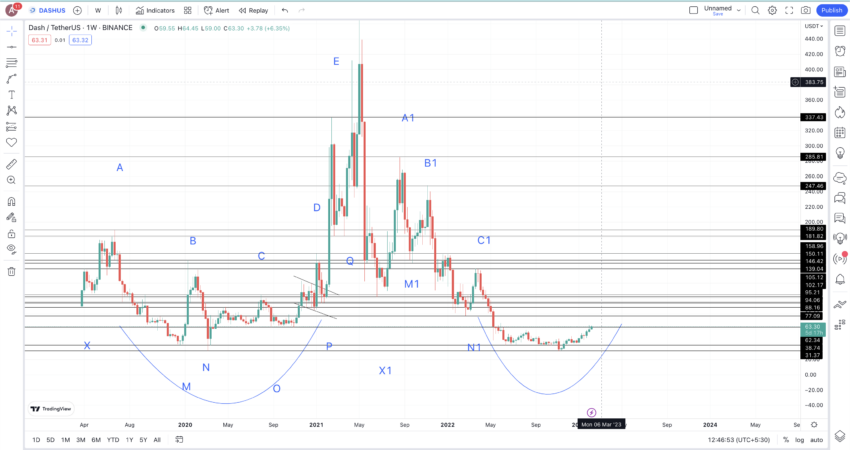 Price changes
Let us now plot the price change percentages and distances between the lows and the highs. We shall use two separate tables, as it will then be easier to calculate the average values.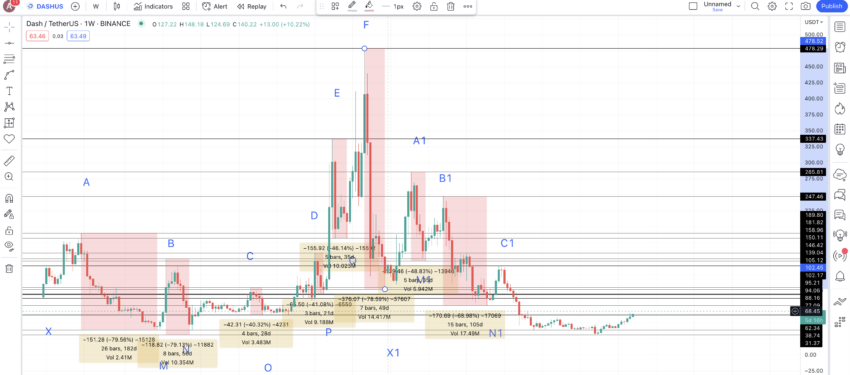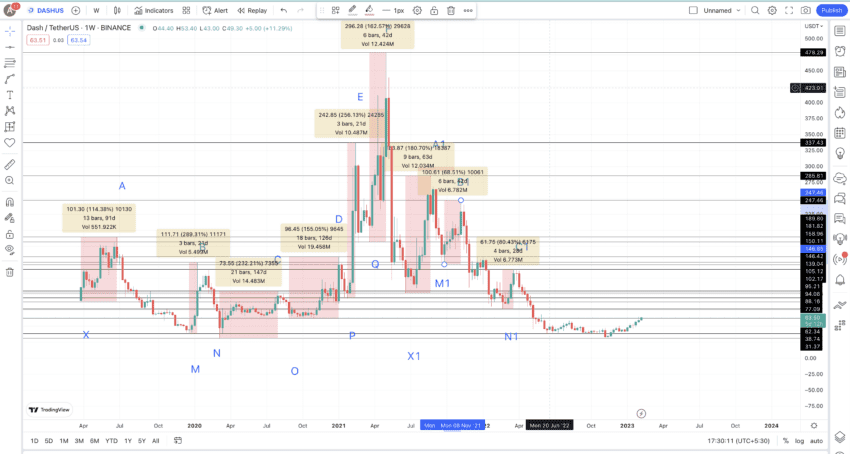 Using the table data from above, we can locate the average values for the next high-to-low and low-to-high move.
High-to-low average: -58.7275% and 61 days (max timeframe would be 182 days, which we can expect if the crypto market keeps moving up)
Low-to-High average: 170.62% and 68 days (max timeframe would be 147 days, which we can expect if the crypto market doesn't look all that strong)
Note that the average price percentage changes are tentative, and the moves can follow any value from the tables above. This will depend on the Dash Network's state and the health of the broader crypto market.
Checking the levels
We shall now use the findings to start Dash price forecast points.
But before we proceed, let us plot the next low from the last point we have on the chart — C1. If we use the average high-to-low data, we can expect a dip of almost 58.73% in 182 days max. Notice that the next low, or O1, surfaced at $31.67 in early November, following a dip of -77.25%. Further, notice that it aligns with values from our previous high-to-low table.
Dash (DASH) price prediction 2023
Outlook: Bullish
From the last low or O1, we can expect DASH to increase by 170.62% in 68 days (maximum 147 days) per the low-to-high average. This kind of surge looks possible, considering the current state of the crypto market and the momentum at DASH's counter.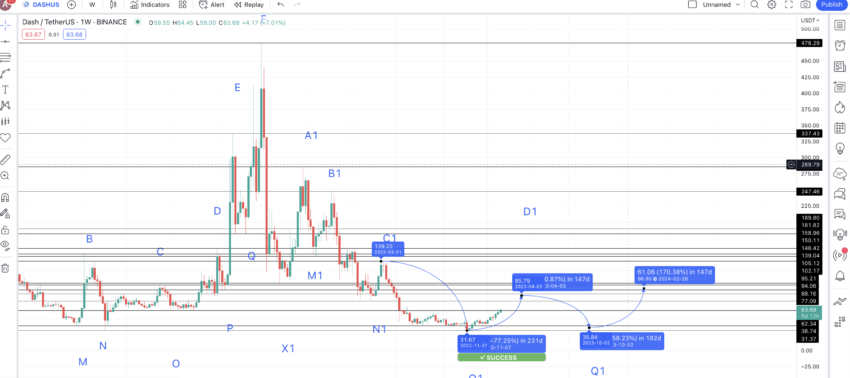 Suppose we take the maximum distance and plot the same path. The next high, or D1, surfaces at $85.79. Remember that cup-and-handle formation we were discussing previously? If D1 surfaces at $85.79, we can expect the future price of DASH to almost complete the bullish cup-and-handle formation by April 2023.
The low can still follow the average drop of 58.73% approximately, making the DASH price prediction for 2023 surface at a low of $35.84. Note that this point or P1 is higher than the previous low, or O1. This might indicate a strong upward momentum.
Projected ROI from the current level: 38%
Dash (DASH) price prediction 2025
Outlook: Very bullish
Now we have the DASH price forecast low in 2023 and a hypothetical strong price action in sight. So, we can extrapolate the same to 2024. We can do this using the low-to-high average of 170.62% and in 68 days (maximum 147 days depending on market conditions).
This puts the DASH price prediction for 2024 at $96.90 by February 2024. And the next low, following the data from the tables above, might surface at $40 — using the 58.73% drop. We can mark this point as Q1. So, from Q1 or the low in 2024, we can plot the next high for DASH at $108.69.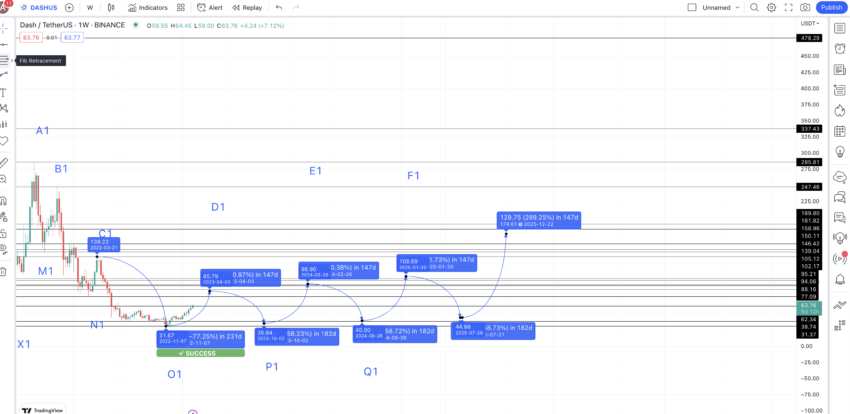 This DASH price prediction level will surface in early 2025. The low, for that matter, can be anywhere close to $44.86. Do note we have made highly realistic projections till 2025. This is because other cryptocurrencies, like XRP, LTC, Monero, and ZCash, will pose stiff competition to the growth of DASH.
From the low in 2025, we can expect DASH to make a high of 289.31% — the maximum price percentage high per table 2. This assumption is due to the continued strength at DASH's counter, which might help it break through the key resistance level of $158.96. Hence, the next high can be $174.61 by the end of 2025.
This could be the actual DASH price prediction high for 2025.
Projected ROI from the current level: 181%
Dash (DASH) price prediction 2030
Outlook: Very bullish
Now that we have DASH's 2025 high (year-end) and 2025 low, we can use the Fib levels to project the path further. The same growth trajectory puts the 2030 price level at $1575.71 — very close to the DASH's all-time high of $1642.22.

Projected ROI from the current level: 2433%
Dash (DASH's) long-term price prediction (up to 2035)
Outlook: Very Bullish
From the price projections above, we expect DASH to reach its highest price level by 2031. Here is a table that traces the path till 2035, allowing you to make projections as a long-term DASH HODLer.
| | | |
| --- | --- | --- |
| Year | | Maximum price of DASH | | Minimum price of DASH |
| 2023 | $85.79 | $35.84 |
| 2024 | $96.90 | $40 |
| 2025 | $174.61 | $44.86 |
| 2026 | $235.72 | $146.14 |
| 2027 | $377.15 | $294.17 |
| 2028 | $603.45 | $374.14 |
| 2029 | $905.18 | $706.04 |
| 2030 | $1575.71 | $976.94 |
| 2031 | $2363.56 | $1465.41 |
| 2032 | $3072.63 | $2396.65 |
| 2033 | $4148.05 | $3235.48 |
| 2034 | $5392.47 | $4206.12 |
| 2035 | $6470.96 | $5047.35 |
Is the Dash price prediction model accurate?
This Dash price prediction model captures the essence and utility of the Dash Network. On top of that, the Dash technical analysis is data-backed and considers both the short and long-term outlook of the ecosystem. Therefore, our Dash price forecast theory is well-informed and as realistic and attainable as any prediction in this dynamic crypto market.
Frequently asked questions
How much will DASH be worth in 5 years?
In 5 years from now, that is, 2028, we expect the price of DASH to get close to the $500 mark. If you go by our DASH price prediction model, this level might just be attainable if the Dash network starts seeing more adoption as the go-to payments network. Plus, the higher scalability and the ability to secure transactions further might push DASH prices toward the projected levels.
Is DASH good long-term?
If you plan on holding DASH for long, maybe even in 2030, you might expect it to go higher than $1500. This DASH price prediction shows that the coin might be a good long-term pick, provided you consider it from an investment perspective and not just as a payments network.
Is DASH better than Bitcoin?
Bitcoin is much more popular than Dash, as the first commercial crypto ecosystem. However, Dash aims to better it by offering one second transaction finality, more privacy, and added security. Yet, at this point, it is very difficult to say if Dash is better than Bitcoin. However, affordable transactions and the presence of a DAO do make DASH a desirable prospect.
Disclaimer
All the information contained on our website is published in good faith and for general information purposes only. Any action the reader takes upon the information found on our website is strictly at their own risk.
At Learn, our priority is to provide high quality information. We take our time to identify, research and create educative content that is useful to our readers.
To maintain this standard and to continue creating awesome content, our partners might reward us with a commission for placements in our articles. However, these commissions don't affect our processes for creating unbiased, honest and helpful content.