Coin mixers are like VPNs but for cryptocurrency. Some VPNs require further scrutiny to see if they are actually worth the trouble — mixers are no different. Coinomize is a popular bitcoin mixer on the market today, but does it live up to its reputation? This Coinomize review aims to give readers an accurate picture of the platform. Presenting an objective view, we outline the platform's features, strengths, and weaknesses.
Coinomize review at a glance: Our overall rating
When it comes to fees, Coinomize is on the high end. However, responsive and strong customer service makes the mixer arguably worth the extra cash.
Coinomize even took steps to change its anti-DDoS provider, Cloudflare, to protect users' data in response to customer concerns, emphasizing a commitment to both privacy and improvement for its users.
As for security, Coinomize allows you to choose your level of security. Next to competitors, it is pretty rudimentary. As a basic tumbling service, it only differs from competitors in terms of its relatively higher fees.
| | | | | | | |
| --- | --- | --- | --- | --- | --- | --- |
| Coinomize features | Mixer service fees | Transaction fees | Privacy | Security | Competitive comparison | BIC overall score |
| BIC Score | 3/5 | 5/5 | 4/5 | 4/5 | 3/5 | 3.8/5 |
Who will benefit from this review?
Privacy-conscious individuals seeking ways to enhance the anonymity of their bitcoin transactions should pay attention to this review. Furthermore, anyone eager to explore tools and services to improve their security and financial privacy may also find this review of interest.
Additionally, anyone interested in investigating the implications and effectiveness of bitcoin mixing services may find such a review valuable. Lastly, enterprises involved in bitcoin-related activities, such as payments or investments, often seek ways to safeguard customers' sensitive financial information — so this review can offer insight for businesses, too.
In short, keep reading if you are :
A privacy-conscious individual actively involved in bitcoin
A bitcoin holder looking to improve your security
In a profession or trade looking for resources on bitcoin mixing services
A business or enterprise involved in bitcoin-related activities
Criteria used to evaluate Coinomize
When evaluating Coinomize as a bitcoin tumbling service, several critical criteria come into play. These criteria serve as guidelines for assessing its effectiveness and suitability for users looking to enhance the privacy of their bitcoin transactions.
Understanding the mixer service fees charged by Coinomize is paramount. These fees may vary based on factors like transaction size and delay time.
It's essential for users to have clarity on the fee structure, as this information enables them to plan their mixing process effectively. Transaction fees are also another essential aspect to examine. Additionally, privacy and security are critical considerations. Due to the nature of a mixing service, any features that result in the doxxing of customers can have dire consequences.
Finally, comparing Coinomize's performance and offerings to competitors in the bitcoin tumbling space is another crucial component. This helps us identify advantages and potential trade-offs, such as minimum deposit requirements, fees, available features, and overall accessibility.
Mixer service fees
Transaction fees
Privacy
Security
Competitive comparison
What is Coinomize?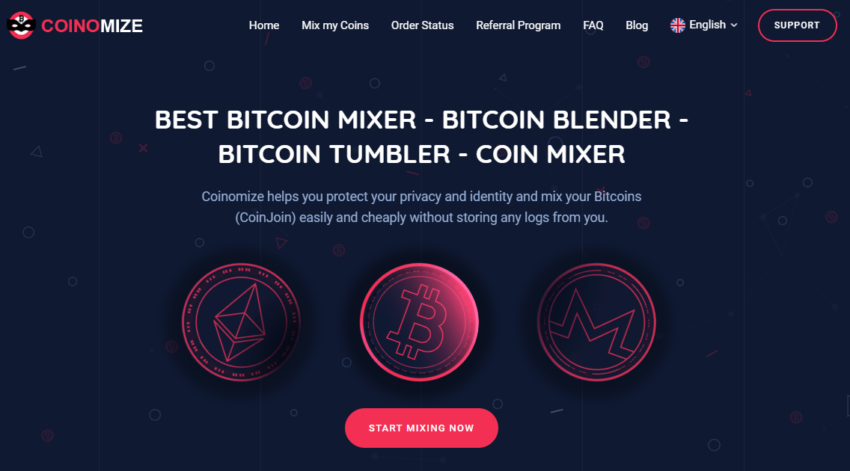 Coinomize is a bitcoin mixer, also known as a bitcoin tumbler or just mixer. The purpose is to prevent anyone from tracing someone's BTCs back to their owner. If you don't use a mixing service, your wallet addresses and transactions on the blockchain can be easily tracked by anyone.
Welcome offer / bonus
Coinomize provides a referral program that allows users to earn rewards by referring others to their services. More specifically, users can enjoy a lifetime commission for each referral.
This commission amounts to 25% of all fees generated by the referred users. For instance, if your referral mixes 1 BTC on Coinomize and pays a 4% mixing fee, you will receive $500, depending on the current BTC price.
You can easily track all your earnings using your dedicated affiliate panel, which provides statistics, and then make straightforward payouts to your registered Bitcoin address.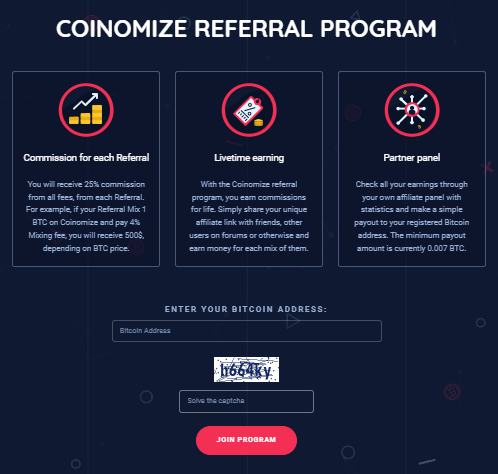 What are crypto mixing services?
Crypto mixing services enable bitcoin owners to conceal their transactions effectively. For instance, this would be the equivalent of searching someone's bank account balance and transactions on Google. Because of the risks' severity, there's a clear place in the market for services like Coinomize.
Who is Coinomize for?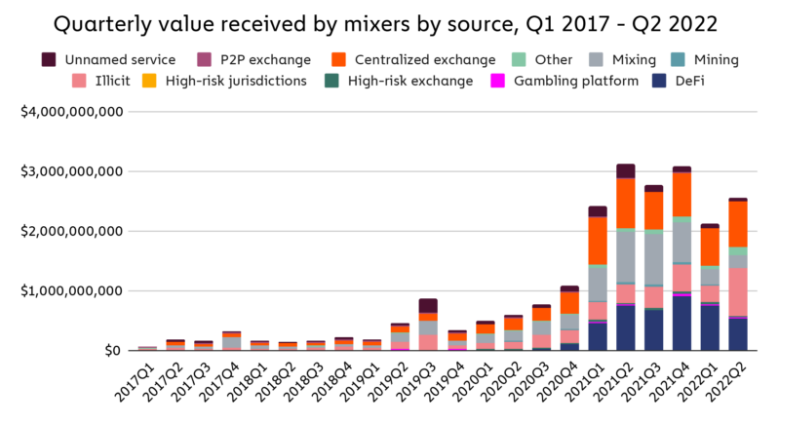 Coinomize, and mixers in general, cater to a diverse group of users seeking to enhance their privacy and anonymity on the blockchain. These services also attract security-minded users who view coin mixers as a safeguard against potential threats or harassment.
The primary user base for Coinomize includes privacy-conscious individuals who wish to obscure the source of their funds, making it challenging for sleuths to link their bitcoin addresses to their real identities.
Businesses and enterprises engaged in bitcoin-related activities may use mixing services to protect sensitive data and confidential business information from competitors and hackers.
Cryptocurrency traders and investors often turn to mixers to obscure their trading histories or holdings, preserving their financial privacy. Additionally, journalists and activists, particularly in regions with restricted freedoms, utilize coin mixers to shield their financial transactions from scrutiny.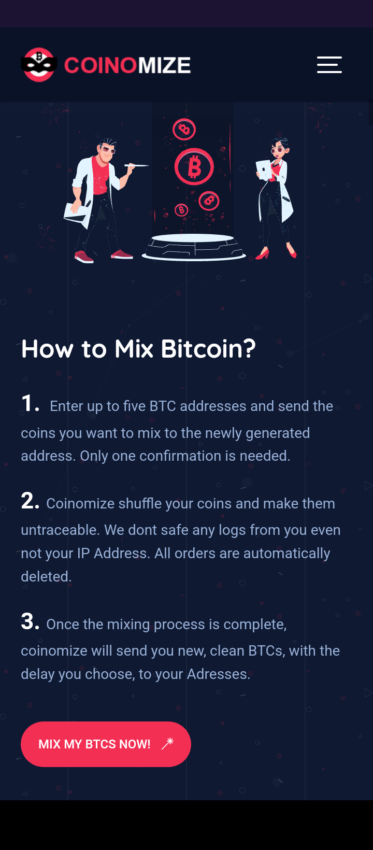 What are the key features of Coinomize?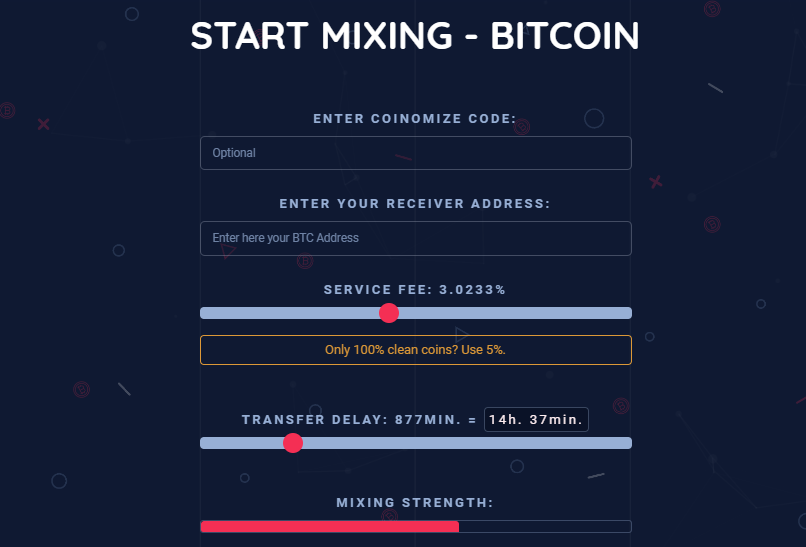 Now, let's take a look at what Coinomize does. Below is a list of the tumbler's distinguishing features:
Mixing services: Coinomize provides the core service of mixing or tumbling bitcoins to enhance privacy and anonymity.
Time delays: Options for users to specify time delays for their mixed transactions to obscure the origin of the coins further.
Privacy policy: A clear privacy policy that outlines that no user data is retained under any circumstances.
Letter of guarantee: This ensures that the bitcoin address displayed is coming from Coinomize servers.
Customer support: Coinomize guarantees a response to support tickets within 24 hours at the latest.
Coinomize code: Guarantees you never get back the coins that you have sent in the past.
Multilingual: Coinomize is available in 11 different languages.
Mobile app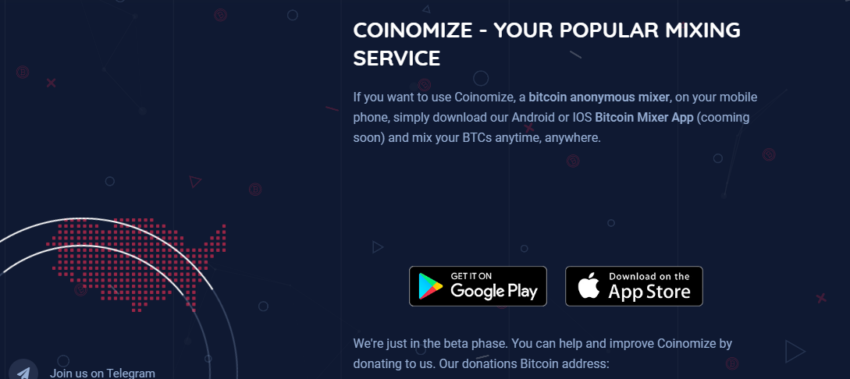 Coinomize is one of just a few mixers that provide mixing alone. It also, notably, offers a mobile app. When using Coinomize for your bitcoin transactions, only a single confirmation is required.
Coinomize maintains a strict no-logs policy, ensuring that no records of your transactions, including your IP address or Bitcoin addresses, are stored. The service automatically deletes all order data within 24-72 hours, depending on the delay time you choose, and you also have the option to delete it manually.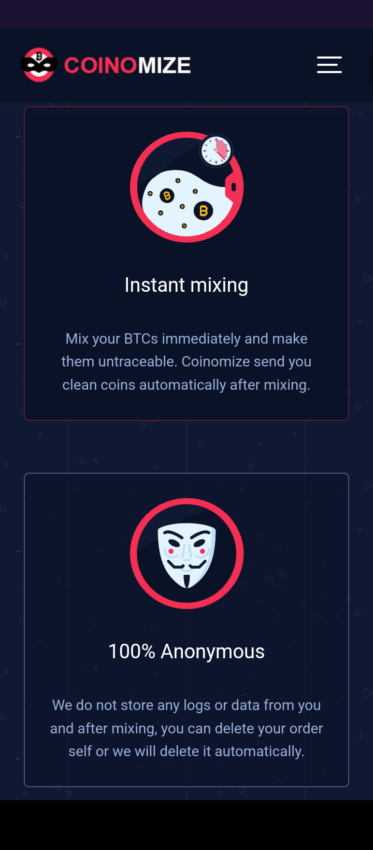 Coinomize provides flexibility in choosing your fees, which range from 1% to 5%, depending on your desired level of anonymity, in addition to a fixed 0.0003 BTC miner fee.
The mixing process typically completes within 24 hours. Furthermore, you can adjust the service fee and transfer delay to align with your specific anonymity preferences. Opting for higher fees and longer transaction delays enhances your anonymity.
For added security, Coinomize introduces random time delays of several seconds for each additional address when selecting more than one output address.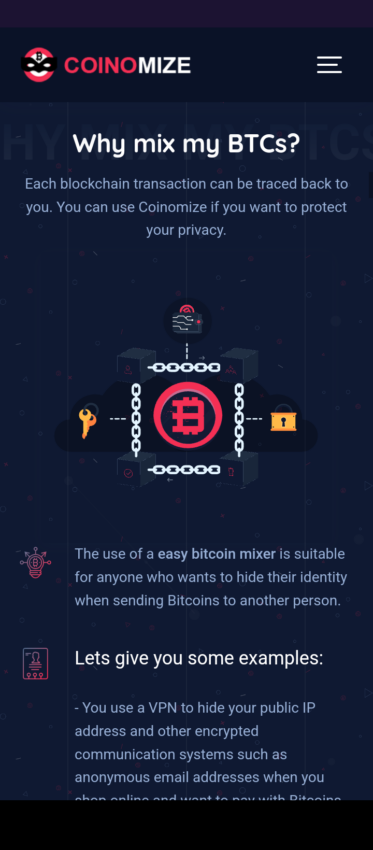 Coinomize review: Pros and cons
Are you looking for a quick rundown of the benefits and limitations of using Coinomize? Here's what we found.
Pros
Single confirmation: Only one confirmation is necessary when using Coinomize for Bitcoin transactions, which can expedite the process.
No-logs policy: Coinomize maintains a strict no-logs policy, ensuring that no records of your transactions, including IP addresses and bitcoin addresses.
Automatic data deletion: Order data automatically deletes within 24-72 hours, depending on the chosen delay time.
Adjustable service fee and transfer delay: Users can customize the service fee and transfer delay to align with their specific anonymity requirements. Opting for higher fees and longer delays enhances anonymity.
Referral program: You can earn lifetime commissions with the Coinomize referral program.
Random time delays: When selecting multiple output addresses, Coinomize introduces random time delays of several seconds for each additional address.
Minimum deposit: Minimum deposit/ mixing amount is 0.0015 BTC per added output address.
Cons
Complexity: The flexibility in fee options and transfer delays may be confusing for new users, requiring them to make decisions that impact their anonymity.
Fee costs: The fee for using Coinomize, which can range from 1.5% to 5%, may be considered relatively high by some users, depending on their budget and anonymity needs.
Geo-restricted: Coinomize restricts select geographical regions from their website.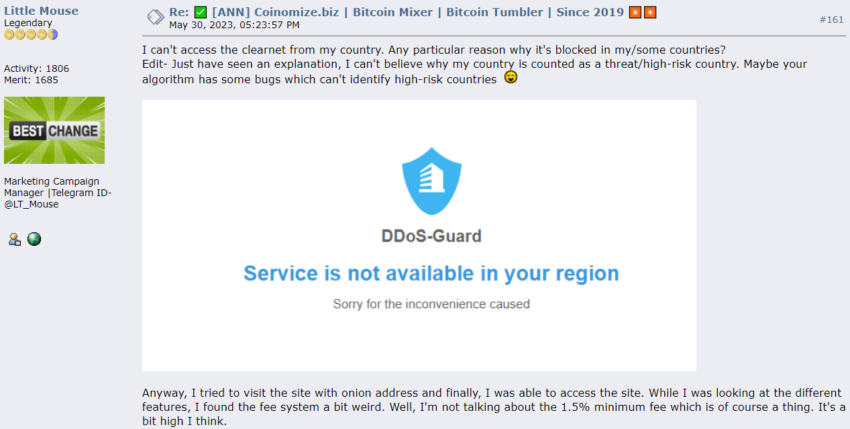 How does Coinomize compare with other mixers?
When compared to its competitors, Coinomize has a few trade-offs to consider. Firstly, Coinomize's customer support policy is pretty standard compared to competitors like Wasabi Wallet. They respond within 24 hours. On the other hand, Coinomize is very responsive and attentive to its user's concerns. You can rest assured that you will not receive boilerplate responses.
The minimum deposit required for a coinjoin is low compared to other mixers — sitting at just 0.0015 BTC. However, when stacked against the Wasabi Wallet, which also offers mixing services, Wasabi takes the cake at a minimum of 5000 sats.
Additionally, Coinomize's fees are relatively high compared to similar services. The service fee ranges between 1.5% to 5%. Similar mixers like Bitcoinmix have a service fee of 0.3%, and the transaction fee is 0.0001 BTC per payout address. The Wasabi wallet also has a fee of 0.3%.
Competitor zoom-in
Bitcoinmix lacks some of the features of Coinomize and Wasabi Wallet. It also has a notably higher minimum deposit requirement of 0.2 BTC and lacks a mobile app, unlike Wasabi and Coinomize.
Note that Wasabi Wallet is not a dedicated mixing service. Rather, it is a desktop wallet that offers mixing as a feature.
Features
Coinomize
Wasabi Wallet
Bitcoinmix
Minimum deposit to mix
0.0015 BTC
5000 sats
0.002 BTC
Mixer service fee
1.5% – 5%
0.3% for (tx) above
0.01 BTC
0.3%
Transaction fee (per payout address)
Varies
Varies
0.0001 BTC
App
Android/ IOS
Desktop
No
Minimum number of confirmations
One
One
N/A
Invest responsibly
While discussing mixing services, it's crucial for users to exercise responsible investment practices. This Coinomize review is not intended as an official endorsement of the platform. Furthermore, it's important to emphasize that mixers should never be utilized for the purpose of money laundering, handling illicit funds, or dealing with ill-gotten gains in any way.
A basic bitcoin tumbling service
The bitcoin tumbling service was perhaps a game-changer in its heyday. However, compared to options on the market today, this Coinomize review finds that there are better alternatives. For example, Bitcoinmix has a just fee of 0.3%. Even on the high end, mixers like Unijoin fees are only 1%-3%.
As it stands, any coinjoining service worth its salt will have the bare minimum of privacy features. In this category, Coinomize is effective. However, it is the other services offered and the transparency of the platform that sets a mixing service apart. In this department, Coinomize shapes up to be relatively average, with the added drawback of higher fees compared to competitors. Simply put, Coinomize is a basic bitcoin tumbling service — nothing more, nothing less. While a solid option, it is not necessarily a market leader.
Frequently asked questions
How to use bitcoin anonymously?
What are crypto mixing services?
What is a transaction mixer?
In which regions are Coinomize available?
What is the minimum deposit on Coinomize?
Does Coinomize have a mobile app?
Does Coinomize offer any special offers or bonuses?
Does Coinomize have good customer support?
Disclaimer
In line with the Trust Project guidelines, the educational content on this website is offered in good faith and for general information purposes only. BeInCrypto prioritizes providing high-quality information, taking the time to research and create informative content for readers. While partners may reward the company with commissions for placements in articles, these commissions do not influence the unbiased, honest, and helpful content creation process. Any action taken by the reader based on this information is strictly at their own risk.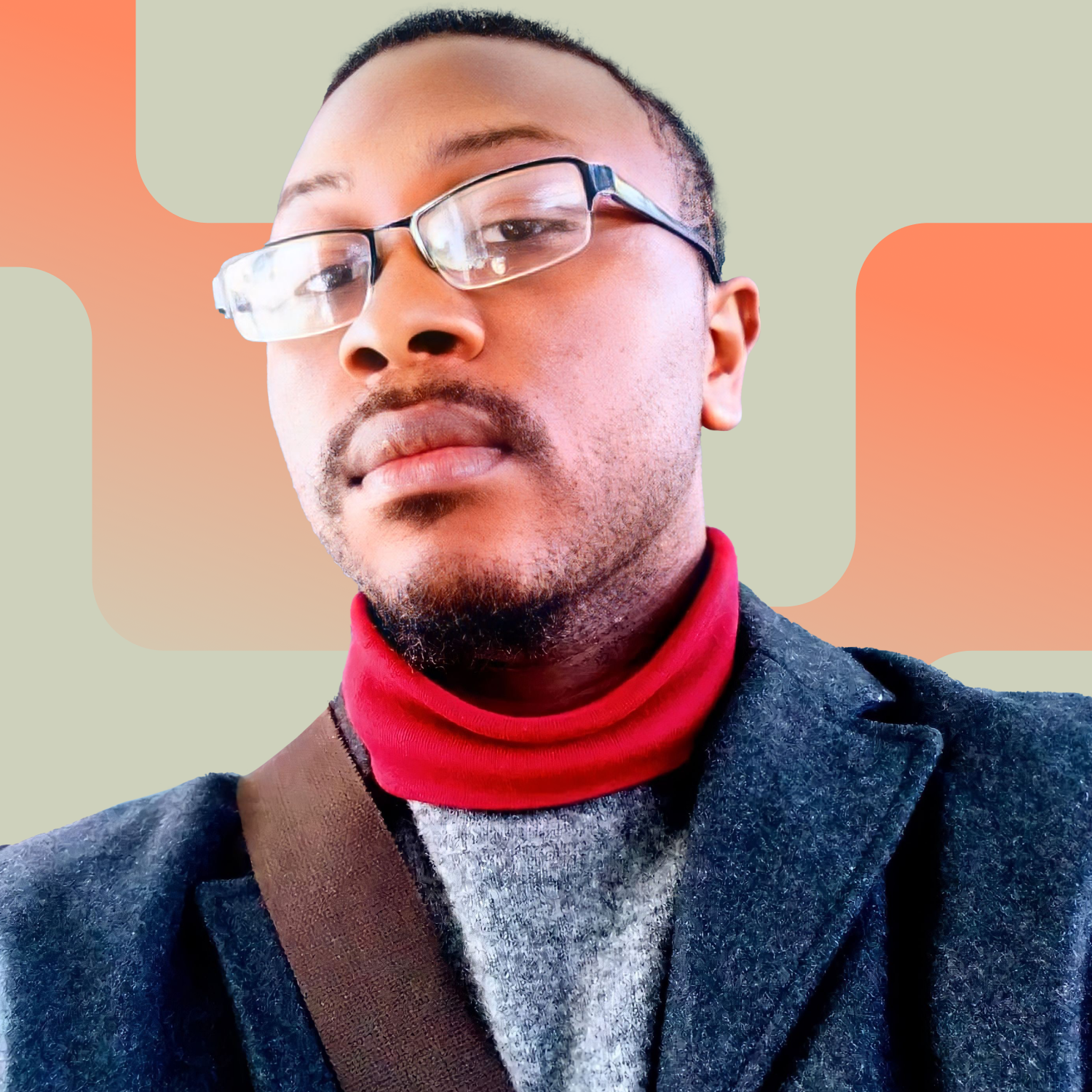 Ryan Glenn is a journalist, writer, and author. Ryan is motivated to educate as many people as possible on the benefits of web3 and cryptocurrency. He has authored "The Best Book...
Ryan Glenn is a journalist, writer, and author. Ryan is motivated to educate as many people as possible on the benefits of web3 and cryptocurrency. He has authored "The Best Book...
READ FULL BIO
Sponsored Sponsored