As the world's fifth-largest cryptocurrency exchange (by trading volume), KuCoin doesn't really require much of an introduction.
It's been around for more than four years now, serving over 10 million users across 200+ countries worldwide. The sheer weight of these metrics is enough to grant KuCoin a spot at the high-table of crypto exchanges.
However, no exchange — however big — can insulate itself from the changing dynamics in the fast-evolving crypto space. New players are always emerging and the resulting competition is sometimes too intense for the old guards to cope with.
That is precisely why today we are going to revisit KuCoin and try to reassess whether or not it can still rightfully pronounce itself as "the people's exchange" and the "best altcoin exchange".
KuCoin: An overview
For the uninitiated, KuCoin is a centralized cryptocurrency exchange launched in 2017 to make crypto trading and investment easier for all users including those with little to no prior exposure to digital currencies.
Since then, the exchange has expanded its presence across more than 200 countries and regions.
According to the latest data from CoinMarketCap, KuCoin offers more than 1,000 trading pairs and supports 51 fiat currencies. No doubt, that makes it a particularly tempting choice for traders who prefer to have their skills (and luck) tested on a wider range of trading/investment opportunities. So yes, if you are someone who fancies trading all sorts of altcoins including relatively unknown coins with high ROI potential, KuCoin does offer an edge.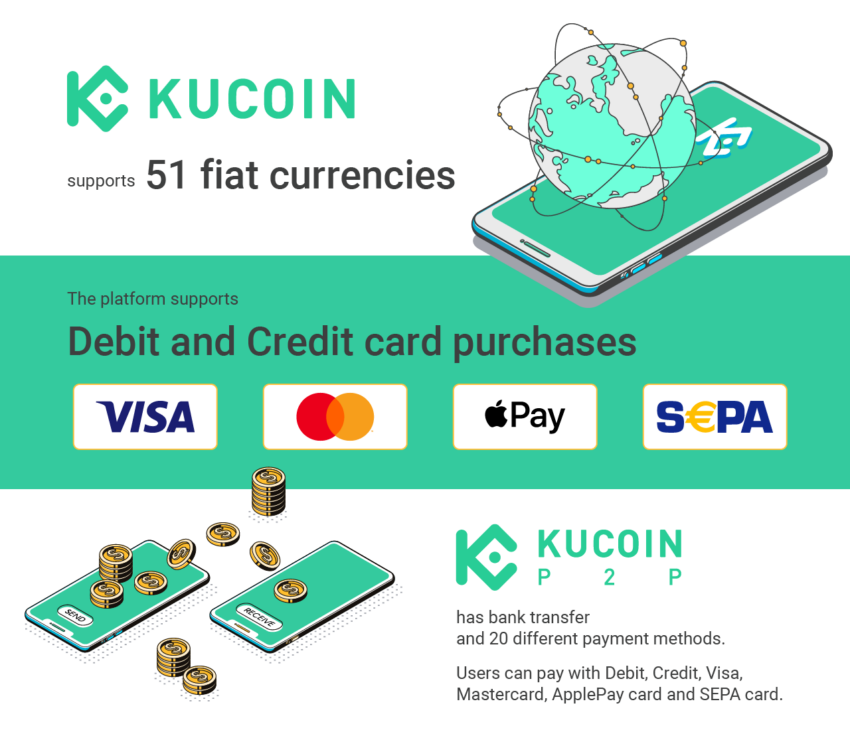 KuCoin in a nutshell
Number of cryptocurrencies and tokens supported: 600+
Number of fiat currencies supported: 51 (EUR, CZK, NZD, HUF, and CAD, to name a few —all through Simplex, Banxa, and OTC)
Number of trading pairs: 1,000+
20+ payment methods (more on that later).
Supports both spot and margin trading, as well as contracts (futures), KuCoin Earn, lending, and trading bot services.
Getting started on KuCoin
Registering on KuCoin is relatively straightforward and you can do it using your email address or phone number. 
If you sign up using an email address, a verification code will be sent to your mail inbox with a link that you can use to set your password. Once you agree to the terms and conditions (T&C), your account will be instantly created.
Similarly, you can sign up using your mobile number too. A verification SMS will be sent to your number with instructions explaining how to set a password and activate your account. In case your country code is not listed in the dropdown menu, the only way around that will be to sign up using an email address.
Before we move on to the next segment, you might want to note that new KuCoin users stand a chance to win a welcome bonus worth $500 by just signing up. New users get several other incentives as well. For example, the opportunity to win a spot in the KuCoin Spotlight Trial Fund.
KYC Verification
While you can create an account without undergoing the KYC verification process, your unverified account will have certain restrictions. For example, an unverified account can withdraw only 1 BTC per 24 hours. In all likelihood, though, that limit is more than enough for most retail users. 
On a related note, unverified users on Binance can only withdraw a maximum of 0.06 BTC daily. So KuCoin wins hands down on that "KYC leniency" front.
If you, however, decide to go through KYC verification, there are two options available: KYC1 (Basic) and KYC2 (Advanced).
Additionally, KYC verified users also enjoy other benefits such as:
Easier account retrieval should they lose access to their account – either due to a forgotten password or a security breach.
Access to KuCoin's fiat-crypto deposit service, which basically lets you buy crypto using fiat.
To start the KYC verification process, log into your account, click on your account menu (in the top-right corner for desktop users), and go to "KYC Verification" on the dropdown menu.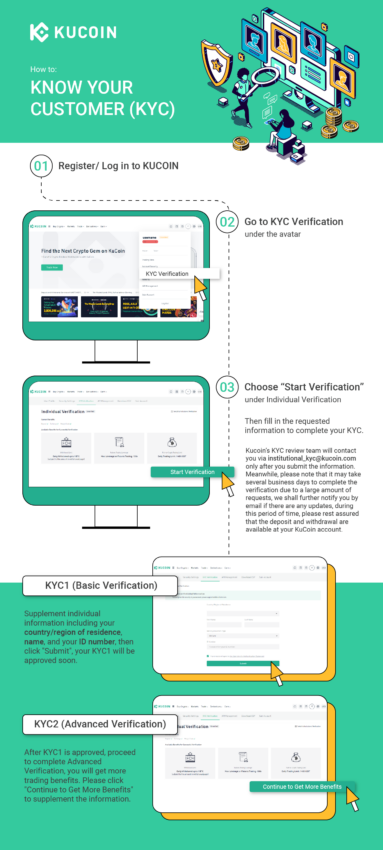 KuCoin account types
KuCoin offers five types of accounts including:
Main account: For storage, withdrawal, and deposit of funds
Trading account: For spot trading
Margin accounts: For margin trading
Futures account: For future trading
KuCoin Finance account: For staking and soft staking
The exchange also supports over-the-counter (OTC) trading to enable users to execute large orders without affecting the broader market.
Key KuCoin features
Margin trading
KuCoin's leveraged trading desk is a popular destination for traders who are into margin trading. Note that margin trades are best suited for advanced traders with a knack for high-risk-high-gain strategies. For those out of the loop, here's a useful guide outlining some basic strategies on how to stay safe while margin trading crypto.
KuCoin Token (KCS)
Holding KCS, the native token of KuCoin, is a great way for users to receive sizable discounts on trading fees. Additionally, KCS holders also receive a portion of the exchange's trading fee revenue every day.
KuCoin trading bot
The trading bot on KuCoin is a free-to-use tool that you can use to automatically execute your trading strategy. As of March 2022, the KuCoin trading bot supports five trading strategies including Spot Grid, Futures Grid, DCA, Infinity Grid, and Smart Rebalance. The exchange claims to have more than 6 million active bots on the platform, helping newbies get started quickly and learn from more experienced users.
Crypto lending
With KuCoin crypto lending, you can lend your crypto stash to margin traders and earn interest in return. All loans are collateralized and the borrowers are required to maintain a certain minimum balance all the time. In the event a borrower fails to repay you, the exchange has an insurance plan just for that to ensure that your losses are minimized. Overall, it is a pretty neat way to earn a passive income from your otherwise-unused crypto stash.
Demo trading account
By now you may have already noticed that a lot of KuCoin's key features are also geared to make life easier for those new to crypto and/or trading. That's hardly surprising, though, given that the company has always strived to assert itself as "the people's exchange". The Demo trading account is another feature that helps KuCoin onboard new users with little to no exposure to crypto trading. The Demo trading account helps beginners to acquire in-depth knowledge about different trading strategies and practice them in a safe way without having to cough up real money.
Other benefits that still give KuCoin an edge in 2022
Low fees: KuCoin charges a 0.1% maker/taker fee, which is further reduced as levels increase. There is an additional 20% discount if you pay with $KCS. Withdrawal fees are also quite competitive, if not the best in the industry.
Advanced charting: KuCoin has improved its charting drastically over the years and it has paid off given that the platform offers in-depth analytical charts that help you execute and track your trades in an easy and efficient way.
Wide range of payment options: KuCoin allows you to buy crypto using a debit and credit card (Visa and MasterCard). Other supported payment methods include ApplePay and SEPA. The KuCoin peer-to-peer exchange also supports bank transfer along with 20 different payment methods.
Decent customer support: KuCoin provides 24×7 live chat services. The support team's response is generally fast. You can also generate a support ticket by contacting the support team via email. Based on our research, there are not too many complaints against the quality of KuCoin's customer support — relatively speaking, of course. (In a platform with 10M+ users, there are bound to be more than a few disgruntled users with genuine grievances and we are no way downplaying their negative experiences).
Zero fee fiat deposits.
Where KuCoin can and should improve
Lack of educational resources: For a platform that pays a lot of attention to helping newbies get started with crypto trading and investment, KuCoin surprisingly offers a very limited collection of learning materials and other educational resources on its website and app.
Unavailability in several key markets: KuCoin is not currently available (or only partially available) in many high-potential markets including China, Comoros, Syria, Thailand, and the United States.
To sum it up, KuCoin still packs some serious punches by way of its competitive fee structure, ease of use, improved security, and features that come in handy for both new and experienced users. So whether you are new to crypto trading or a veteran with years of experience, if you're currently planning on switching exchanges, KuCoin is definitely an option worth seriously considering.
To learn more, visit the KuCoin official website. While there, you might also consider signing up to claim that welcome bonus worth $500 we mentioned earlier. 
Disclaimer
All the information contained on our website is published in good faith and for general information purposes only. Any action the reader takes upon the information found on our website is strictly at their own risk.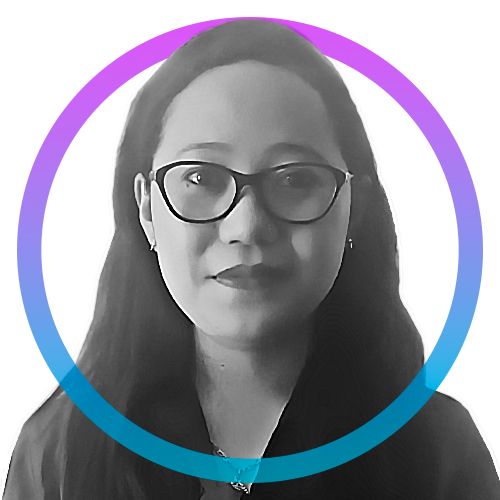 Shilpa is a freelance tech writer and journalist who is deeply passionate about artificial intelligence and pro-freedom technologies such as distributed ledgers and...
Shilpa is a freelance tech writer and journalist who is deeply passionate about artificial intelligence and pro-freedom technologies such as distributed ledgers and...
READ FULL BIO
Sponsored Sponsored