The Isle of Man, a self-governing British Crown dependency, has released a document guiding how it will define cryptocurrencies like Bitcoin.
Specifically, the country's financial services authority (FSA) categorizes cryptocurrencies by their function. Sandwiched between the UK and Ireland, the Isle of Man is a self-governing British island with a parliament and financial watchdog. Announced Oct. 14, 2020, that FSA
announced a document meant to guide businesses
interacting with cryptocurrency. The document appears to be friendly to crypto, offering a framework for entrepreneurs to work with crypto assets.
Let's Get Digital
Authorities created the guidelines in a collaborative effort. The Digital Isle of Man, an executive agency concerned with technology on the island, partnered with the FSA in creating the document. This was to ensure the document remained "technology-neutral." The overarching takeaway was that different crypto assets would be defined legally by what they do, rather than how they are created:
"The guidance is aimed at those who are considering selling, issuing, managing or administering cryptoassets / tokens (in this guidance 'tokens'), and illustrates which token-related activities, undertaken using Distributed Ledger Technology ('DLT'), may have regulatory implications."
Bitcoin and Categorical Imperatives
Thankfully, the financial authority laid out the different categories of token in a handy chart: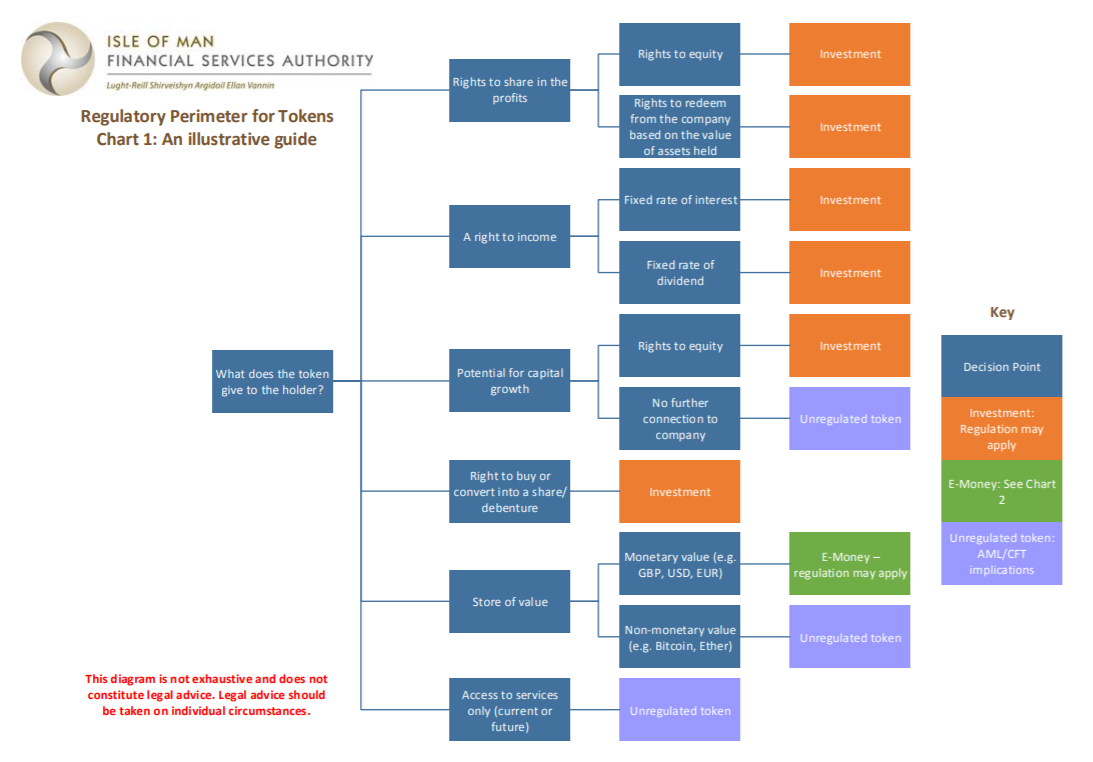 Essentially, tokens can be categorized as investments, e-money, or be unregulated. The categorization relies mainly on the function of the token. The FSA's document breaks down the groups further.
Security
tokens, then, are those that function as shares, debentures, units in a collective investment, or derivatives. Bitcoin (as e-money or store of value), and Ether (as currency for a virtual machine) do not appear to be securities, under this scheme. Still, investments that function as securities or electronic money will be regulated by the FSA. However, a license may not be necessary. Those securities that offer some kind of capital growth, in other words, investments, do require a license.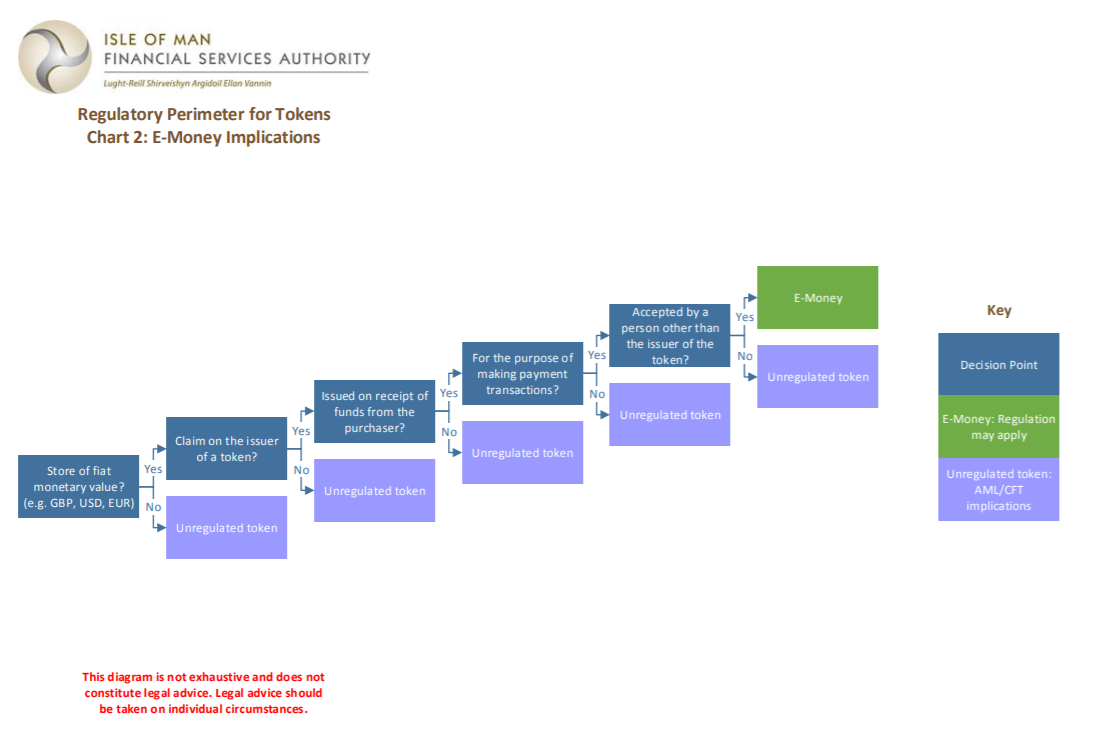 A store of value asset may be unregulated, though the rules are not completely clear. A store of value like fiat currency, as well as any token that could be exchanged for services like money, may be considered e-money. This leaves Bitcoin (BTC) in a gray area. Neither Bitcoin nor Ether is specifically named in the document.
Define Definition
Whether a token is considered a security or not, it must register as a Designated Business and comply with Anti-money laundering (AML) and anti-terrorism requirements to be legally used on the island. The battle to define certain crypto
assets has been contentious
, especially in larger and more
influential markets
. In the United States, the Internal Revenue Service has warned it will be
on the lookout for crypto tax evasion
, though the regulations for such assets are still not entirely clear. Likewise, in August, a US congressman
wrote a letter to the IRS
trying to keep PoW rewards from being considered taxable income. They argued that keeping crypto tax-advantaged would promote technological innovation in the US. Since coding is a relatively cheap process, the risk for brain drain to more crypto-friendly parts of the world is real.
Disclaimer
In adherence to the Trust Project guidelines, BeInCrypto is committed to unbiased, transparent reporting. This news article aims to provide accurate, timely information. However, readers are advised to verify facts independently and consult with a professional before making any decisions based on this content.
Harry Leeds is a writer, editor, and journalist who spent much time in the former USSR covering food, cryptocurrencies, and healthcare. He also translates poetry and edits the...
Harry Leeds is a writer, editor, and journalist who spent much time in the former USSR covering food, cryptocurrencies, and healthcare. He also translates poetry and edits the...
READ FULL BIO
Sponsored Sponsored