Crypto investors holding the TWEE token have suffered severe losses after it suddenly plunged 95 percent during trading on September 4.
The relatively little-known crypto, which is listed on
BitMart
, had previously enjoyed a meteoric rise throughout 2020, moving from $0.70 in February to an all-time high (ATH) touching $81 on August 31. The token was launched in 2019 by
Tweebaa
, a social e-commerce platform enabling marketers and vendors to list, recommend, and sell physical and digital products in the mold of WeChat, Himalaya, Zhihu and Weidian. Promising to reach over 100 million users in 2020, Tweebaa claimed, among other things, to have a recommendation from Steven Rockefeller Jr, a 5th generation member of the Rockefeller family and great-nephew of David Rockefeller.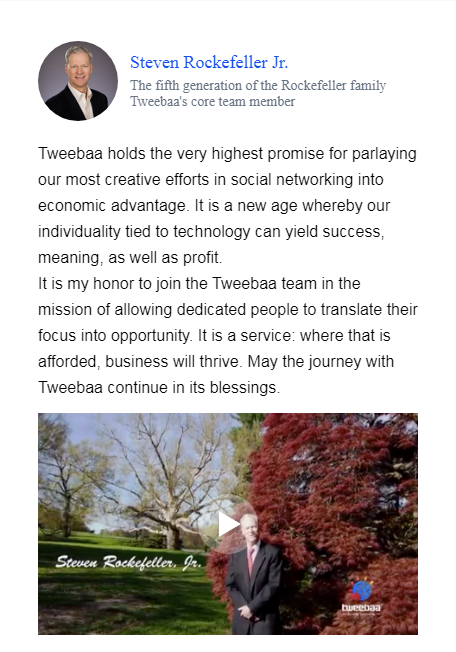 Amazingly, a fact-check on this claim brings up a video on Tweebaa's YouTube channel showing a man identifying himself as Steven Rockefeller Jr., endorsing the platform and making reference to his "great uncle." At press time, it was impossible to verify whether the individual is actually who he claims to be. This is just the start of an unlikely story involving a so-called 'aircoin,' apparently backed by real-world utility and reputable personalities. The untrackable coin rose steadily for 9 months, only to completely fall off a cliff and leave investors
holding the bag
.
TWEE's Meteoric Rise and Fall
According to Tweebaa's
whitepaper
, its founding team includes Margaret Wang, a Chinese-born Canadian DRTV shopping presenter, Kevin Harrington, a former "Shark" from reality TV series "Shark Tank," and Denis O'Brien, a two-time Emmy winning director.
$TWEE hits $50
Increased from $5 to $50 within 30 days
What is TWEE? 100x altcoin? 500x altcoin? the next $Bitcoin?$TWEE is just started and nothing impossible #cryptomiracle #tweebaa #iLoveTwee #Twee4Me pic.twitter.com/GVfnSKMhM5

— Tweebaa Inc. (@tweebaa) August 27, 2020
Debuting on
BitMart
at $0.06 on December 19, 2019, TWEE rapidly gained popularity, raising hundreds of millions of dollars from crypto investors. By February 2020, its price had risen more than tenfold to $0.70, making it one of the quickest growing coins on the entire market. By July, it had hit $3, and this was when it started to take off. Between July 3 and August 30, TWEE rocketed up from $3 to just under $81, leading to a series of self-congratulatory
posts
 boasting that the token could go as high as $500. Suddenly without warning on September 4, TWEE tanked
spectacularly
, falling from $81 to $5. By September 6, it fell as far as $1.60 before paring back to $4.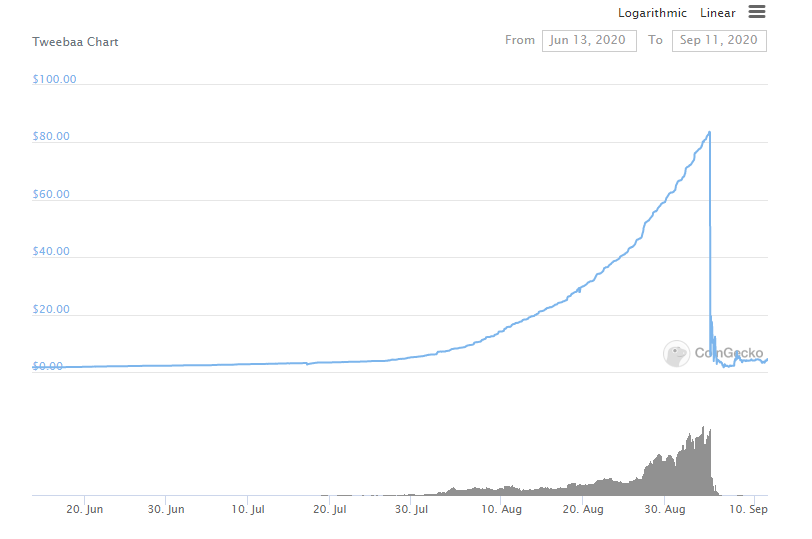 Furious Investors Left Holding the Bag as Tweebaa Launches New Token
Immediately after this crash, BitMart restricted over a dozen trading accounts for unusual activity, and Tweebaa quickly put out a tweet telling token holders to keep holding their TWEE, assuring them that the crash was caused by a malicious external attack.
Don't panic and hodl $TWEE

After investigation, we confirmed that someone deliberately mass dumped the TWEE token today

BitMart is verifying all the transactions, will do its best to freeze any illegal trading account#rollercoasterday #iLoveTwee

— Tweebaa Inc. (@tweebaa) September 4, 2020
Shortly thereafter, the company released an official
announcement
claiming that it had spent 30 million USDT in an unsuccessful attempt to protect TWEE's value. In a bizarre twist, the same blog post contained an announcement for a new Tweebaa token called BUCK,
in order to promote the healthy operation of the big ecology of Tweebaa.
Predictably, TWEE holders reacted with fury as the project, which claimed to have received over $20 million in funding, seemingly went up in smoke. Chinese blockchain journalist Colin Wu
reports
that following the crash and subsequent assurances from Tweebaa and BitMart, a number of Chinese investors who saw their profits evaporate began reporting to the police, demanding that Tweebaa pay the ATH value for their TWEE tokens. Since cryptocurrency, by nature, is ungoverned and decentralized, without Chinese state approval, it remains to be seen how the issue will be resolved.
External Attack or Aircoin Scam?
Tweebaa continues to insist that the September 4 incident was externally instigated and that its plan for TWEE has always focused on the long-term. The evidence, however, appears to disagree with this, for two key reasons: the coin supply and BitMart's full transparency in dealing with the matter. According to the TWEE whitepaper, the team behind the platform maintains control over effectively 99.5 percent of TWEE tokens, with 49.6% held directly by the team and 50% reserved for mining. Mining of TWEE tokens requires approval, and at the time of the crash, no one had ever actually mined them.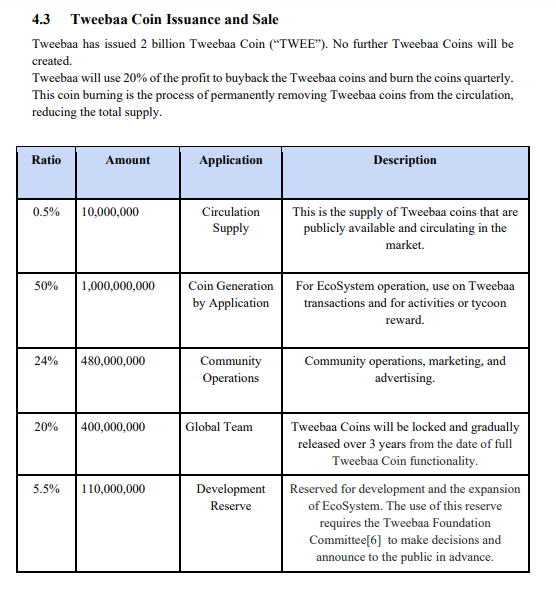 This narrows down the list of possible entities behind the attack to just the Tweebaa project team itself and/or BitMart. Considering that BitMart is a regulated
Money Services Business
under the U.S. Financial Crimes Enforcement Network, and therefore has a vested interest in maintaining regulatory compliance, this possibility seems unlikely. This only leaves the Tweebaa project itself, which fits every parameter for the quintessential aircoin scam. Apart from using the "bulldozer" marketing tactics of a typical aircoin, including
airdrops
and breathless media announcements strategically timed to inflate the market, TWEE is also listed on just one exchange. This is a typical tactic of aircoins because centralization makes it easier to control the demand in addition to the supply that the project team already controls. The biggest smoking gun of all, however, is the fact that right after suffering a 94% crash, the project team's response was to market
another 
coin to its existing investors. On the basis of the available evidence, it is fair to say that we have probably just witnessed one of the most spectacular aircoin
scams
of 2020.
Disclaimer
In compliance with the Trust Project guidelines, this opinion article presents the author's perspective and may not necessarily reflect the views of BeInCrypto. BeInCrypto remains committed to transparent reporting and upholding the highest standards of journalism. Readers are advised to verify information independently and consult with a professional before making decisions based on this content.