Another Layer-2 solution has added Tether stablecoin (USDT) support to the network. Hermez uses ZK-Rollups to enable Ether transfers that are faster and cheaper.
Layer 2 Stablecoins
Layer 2 solutions seem to be all the rage these days. The popularity of DeFi and Uniswap has clogged the Ethereum network to unmanageable heights, and fees are getting under peoples' skin.
But crypto is nothing if not innovative. And a number of companies have added so-called "Layer 2" solutions to their networks. These solutions use different tricks such as "rollups" or parallel chains to reduce fees and speed up transactions.
On Jan 11, 2021, Hermez revealed to BeInCrypto that it would add Tether (USDT) to its network. Hermez, which was announced at EDCON in August, uses "zkRollups" to optimize transactions.
Basically, rollups amalgamate several transactions that are settled on the main Ethereum network.
Proof-of-Donation
The result is faster transfers and cheaper fees. But Hermez also wishes to support community projects.
The Hermez network is engaging in a "Proof-Of-Donation" mechanism, which puts 40% of the value generated by the protocol into community-driven Layer 1 projects.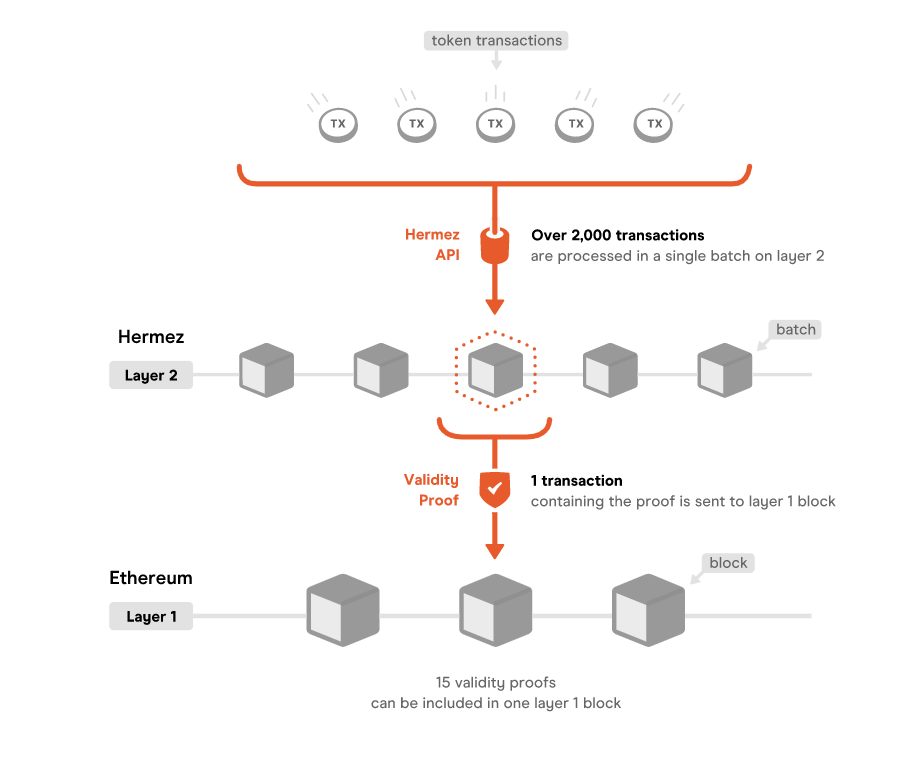 Jordi Baylina, Technical Lead at the Hermez Network, said that its technology could greatly improve the Ethereum experience:
"Hermez is excited to welcome Tether tokens as the first of many projects to join the Layer 2 network ahead of our official launch this year. Hermez will bring scalability, speed and lower transaction fees to users while furthering our mission to create a self-sustaining and community minded network."
Tether CTO Paolo Ardoino also said Tether was "happy" to be among the first projects on Hermez. Tether continues to face criticism over its large minting of stablecoin tokens. It also previously faced a lawsuit regarding price manipulation.
Nonetheless, USDT is the world's #1 stablecoin and technically the world's #3 cryptocurrency by market cap.
Ethereum Rollup Coordination
Hermez, which is launching its main net in 2021, also released its HEZ token on Uniswap via a liquidity pool. This token will be used to enable coordinators to participate in the network. Users can buy HEZ tokens now if they wish to be "coordinators" once the network launches.
In Hermez, coordinators are kind of like aggregators or nodes. They collect and process the transactions that enter a rollup, then pay the gas fees and the computational power on the main Ethereum chain.
Becoming a coordinator is reportedly decentralized as well. The chance to be a coordinator for each 40 block period (about 10 minutes) will occur via "auction." This way, anyone can participate.
Some Ethereum Layer 2 solutions already support USDT in one form or another. Users can upload USDT to the Loopring Exchange (which also uses zkRollups) and transfer it using the OMG network.
This comes after the US government OCC announced that bank payments could be legally made in stablecoins. Though some are hesitant about crypto legislation, others view this as a positive step for crypto adoption.
Disclaimer
In adherence to the Trust Project guidelines, BeInCrypto is committed to unbiased, transparent reporting. This news article aims to provide accurate, timely information. However, readers are advised to verify facts independently and consult with a professional before making any decisions based on this content.
Harry Leeds is a writer, editor, and journalist who spent much time in the former USSR covering food, cryptocurrencies, and healthcare. He also translates poetry and edits the...
Harry Leeds is a writer, editor, and journalist who spent much time in the former USSR covering food, cryptocurrencies, and healthcare. He also translates poetry and edits the...
READ FULL BIO
Sponsored Sponsored