New York-based digital asset investment firm Grayscale recently reported a third consecutive positive financial quarter in 2018 after pulling in nearly $330 million in new funding so far this year.
Where could an influx of funding like this come from?
When Life Gives You Lows
Most individual investors in the cryptocurrency market are rightfully frustrated by the state of their investments in 2018 — especially those who dove into the market near the top or thought they were buying the dip on the way down to yearly lows this past summer.
Bitcoin (BTC)
has suffered a loss of nearly 70 percent from its December 2017 all-time high, while the total market cap shed $600 billion from its January high, now hovering slightly over $200 billion. That said, digital asset investment firm Grayscale has recently released its third quarter and year-to-date financial funding reports, which suggest institutional interest in cryptocurrency investments is stronger than ever — despite the losses across the board in the digital asset market.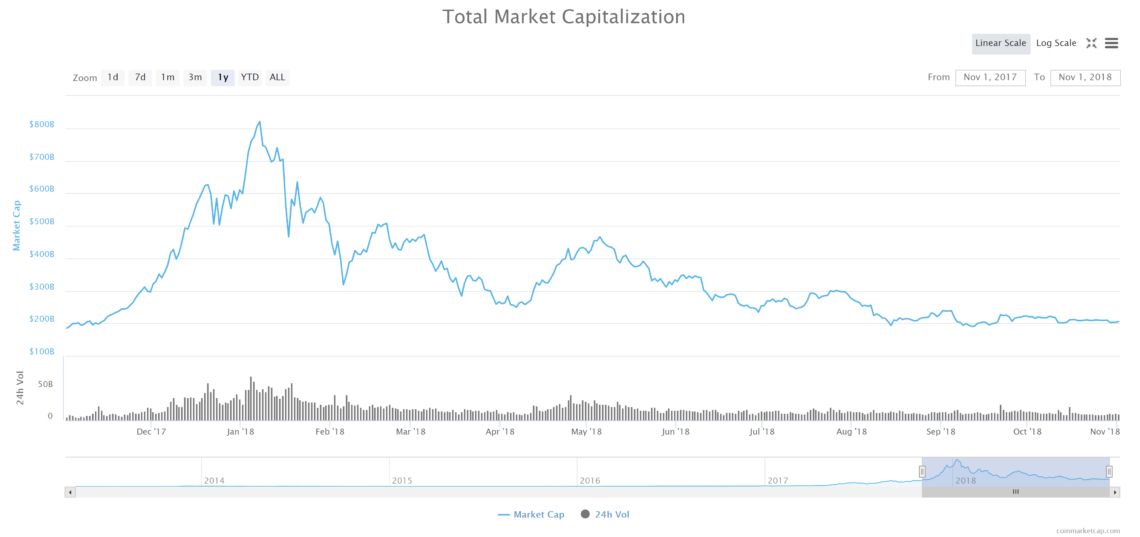 The Numbers
Grayscale is an investment firm based in New York that deals in investments in digital assets and cryptocurrencies. It is a subsidiary of the Digital Currency Group. The firm, according to its most recent financial report, claims to currently manage $1.5 billion worth of assets — bringing in nearly $330 million in just 2018 alone. Q3 saw a total of $83 million invested with Grayscale, with 73 percent of the inflow going to its most popular Bitcoin Investment Trust. The other 27 percent went into the firms' eight other digital asset funds. The report also noted that 70 percent of investments made in Q3 were made by institutional investors, a whole 11 percent more than the year-to-date figure. This falls in line with the increasing number of large-scale
financial institutions
launching platforms and services aimed at allowing institutional investors currently on the sidelines the ability to securely store and manage their funds with a firm that has the resources and experience to match their needs. Almost everywhere you look in the cryptocurrency space, you can see big money coming to test the waters and
accumulate at these stagnating levels
. While it can be hard to say when exactly the floodgates will open again in a similar fashion to the end of 2017, it appears to be a clear and positive sign that the markets seem to be stabilizing and new interests are coming into play.
Has the 2018 bear market slowed your interest in the cryptocurrency market? Are institutional investors the key to the next big bull run? Let us know in the comments below! 
Disclaimer
All the information contained on our website is published in good faith and for general information purposes only. Any action the reader takes upon the information found on our website is strictly at their own risk.