Decentralized finance (DeFi) platform Freeway has put the anchors on its ecosystem, triggering a massive slump in its native FWT token price.
On Oct. 23, the yield-generating DeFi platform announced that it had suspended its services, citing "unprecedented volatility in foreign exchange and cryptocurrency markets in recent times."
Freeway stated that it had made the decision to diversify its asset base. The move was to "manage exposure to future market fluctuations and volatility ensuring the long-term sustainability and profitability of the Freeway ecosystem," it explained.
During the process, capital will be allocated to its portfolio, which means the suspension of its "Supercharger" service.
Another DeFi rug pull?
Freeway touts earnings of as much as 43% APY on its 'Superchargers,' or virtual simulations. Users can purchase these in either crypto or fiat. These yield-generating products can be sold back to Freeway, but the firm has just announced that it will not be buying them "until our new strategies are implemented."
Freeway left this rather cryptic comment to conclude its statement "While we complete this process we cannot comment further beyond this statement."
Crypto sleuth 'Fatman' revealed that the names of the team have also been wiped from their website in what he said could be "another $100 million rug."
He also labeled the platform a Ponzi and warned users to withdraw their funds on Oct. 22 before the Freeway announcement was made.
Time will tell if this is the latest crypto rug pull with the team making off with users' funds. What the team has done with their action is devalue Freeway's native token.
FWT price tanks
The platform's native token, FWT, has tanked more than 80% over the past 12 hours or so. Before the service suspension, FWT was trading at around $0.007. It dropped almost 87% in a fall to $0.001 on Monday morning and has yet to recover from that low.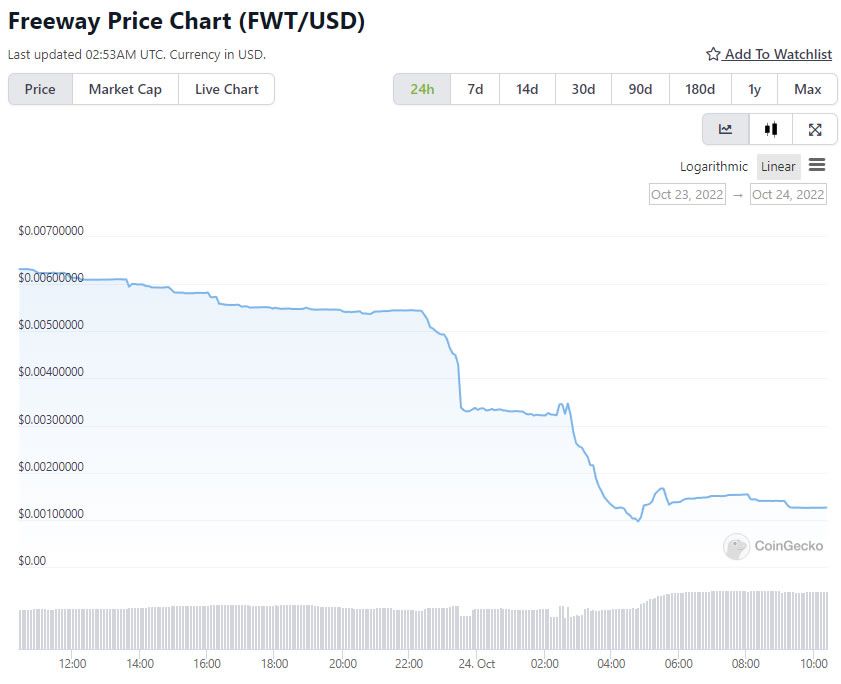 FWT is now languishing 96% down from its May 2021 all-time high of $0.031. Its market cap has slumped to $8.5 million.
Disclaimer
BeInCrypto has reached out to company or individual involved in the story to get an official statement about the recent developments, but it has yet to hear back.