Fantom Foundation CEO Michael Kong on Monday clarified that the sudden departure of top software architects Andre Cronje and Anton Nell will not lead to a shutting down of any of the projects built on the protocol.
Cronje and Nell quit "contributing" to the DeFi and crypto sectors on March 6 and announced they will be "terminating" about 25 decentralized finance applications with which they have links starting from April 3.
"As many of you are aware, Anton Nell, who works with Andre Cronje, tweeted that they were 'terminating' 25 projects. This was misunderstood. They are 'terminating' their involvement, but handing over anything they run to the existing teams," Kong wrote on Twitter.
Protocols that have been affected with the duo's exit include Yearn Finance, Keep3r Network, Multichain, Bribe Finance, Solidly (a new project that went live on Feb. 24), and others. A visit to the Solidly website returned the message as shown in the picture below.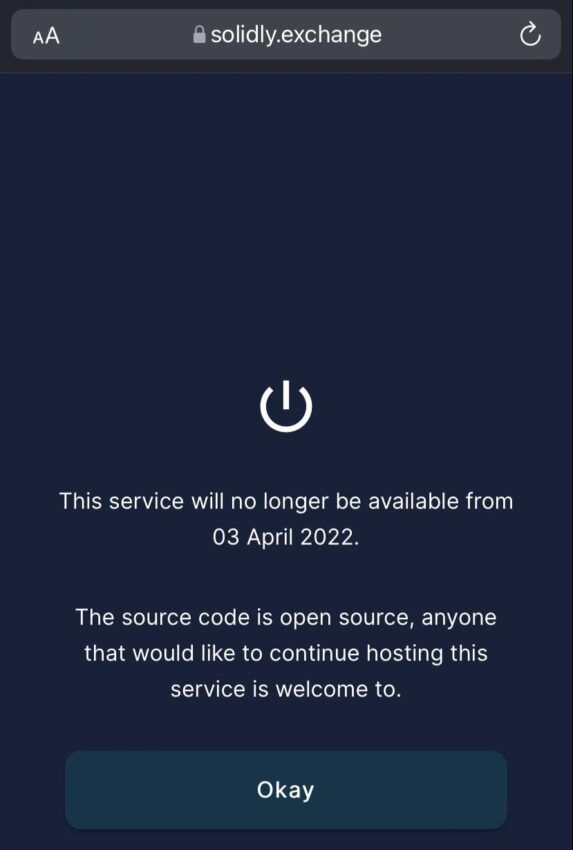 'Fantom devs to continue building'
Kong said several of the protocols built on Fantom (FTM) have robust teams that have been building for many years. These "will keep running as normal," he said, pointing to the example of Yearn Finance and Multichain.
He described the developers at Multichain, which accounts for 68% [$4.9 billion] of Fantom's current total value locked (TVL), as a "great team" with whom he "keeps close contact".
Kong said Andre Cronje, who sat on the Fantom Foundation board until only a few days ago, operated "just one protocol" on the FTM blockchain – Solidly, which has since been taken over by Solidex.
"So no, these projects are not closing down development. Some of them have been running independently for years. As for the Fantom Foundation, nothing changes operationally. All the core and middleware developers are working hard on the next updates."
Kong added: "We are continuously expanding our team of researchers and developers. The Fantom ecosystem consists of hundreds of developers building many great applications. They will continue."
The Aftermath
Several projects that have interacted with Cronje and some of his technology are beginning to reposition following the developer's departure.
Tomb Finance told users to withdraw their funds from the Solidly Exchange's liquidity pools, and move it into Spookyswap because the "site [Solidly] will no longer be available" starting from April 3.
veDAO, the community-focused decentralized autonomous organization founded a few weeks back with the singular purpose of 'aping' into Cronje's vested escrow project Solidly, said "we are reaching out to partners to coordinate a response." The team stated:
"This move [Cronje quitting] has of course come as a surprise to the veDAO team members, but we had been planning to expand beyond Solidly for some time now, and these plans remain unaffected."
WEVE, the native token of veDAO, has tumbled over 85% to $0.029 since last Thursday, when signs of trouble at Solidly started to intensify.
However, Terraform Labs CEO, Do Kwon, took the departure of Cronje and Nell as an opportunity to gloat.
"I am never leaving. Long live crypto," he scorned, in a tweet. Do Kwon himself has recently been battling to tackle problems within the Terra ecosystem that caused the price of LUNA to "dump".
At the time of writing, the price of Fantom (FTM) was up 0.31% at $1.44 over the previous 24 hours. The token fell 16% on Sunday following the news of Cronje's exit.
What do you think about this subject? Write to us and tell us!
Disclaimer
In adherence to the Trust Project guidelines, BeInCrypto is committed to unbiased, transparent reporting. This news article aims to provide accurate, timely information. However, readers are advised to verify facts independently and consult with a professional before making any decisions based on this content.
Jeffrey Gogo is a Zimbabwean financial journalist with more than 18 years of experience covering local and global financial markets; economic and company news. A climate change...
Jeffrey Gogo is a Zimbabwean financial journalist with more than 18 years of experience covering local and global financial markets; economic and company news. A climate change...
READ FULL BIO
Sponsored Sponsored