Ethereum reached its all-time high in the middle of January this year, topping out at just over $1,400 per ETH before tipping over. At the time of writing, Ethereum is currently down nearly 94 percent from its all-time high and floating in the range of $86 and $90. This range is supporting the price (green) at the moment. However, the downtrend has not been broken yet and there is still a fair chance of ETH moving lower to test further supports.  The next target to the downside looks to be in the neighborhood of $50, acting both as a psychological support and previously tested support in early 2017 (orange). In what would seem to be a 'worst case scenario' for Ethereum, a complete retrace back to early 2017 prices could mean seeing $10 ETH before a reversal happens. This scenario is quite unlikely, as it would invalidate the gains made by Ethereum during the entire two previous years.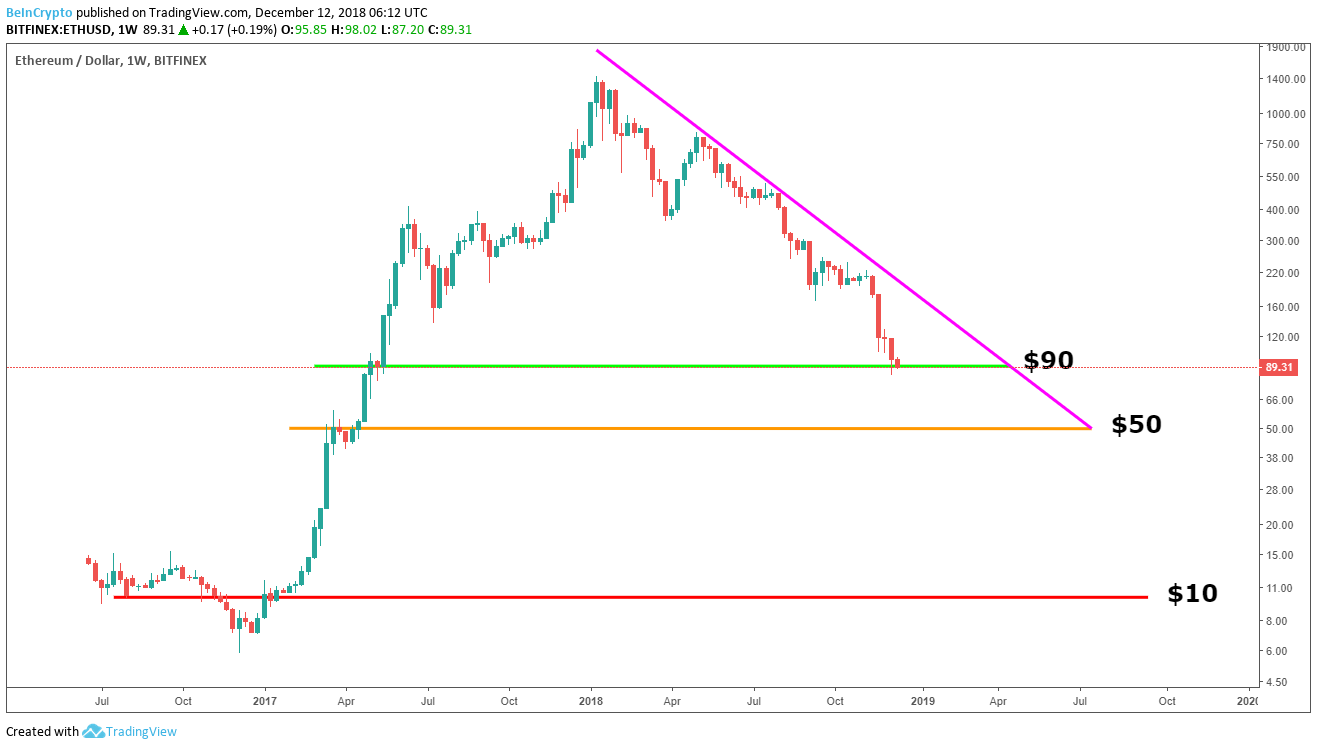 Stochastic RSI
Taking a look at the two-week stochastic
RSI
(orange), the value is approaching the midline at 50, while the three-day RSI has already crossed over and is currently at a value of 40. ETH will most likely continue to sell off until it reaches oversold territory between 0 and 20 and could bring the price back slightly in the $80 to $85 range.
ETH/BTC
Bullish
Considering the precarious position of Bitcoin (BTC), along with the harsh nature of this '
crypto winter
,' it is best to analyze the Ethereum/Bitcoin chart in order to estimate a bottom, as well as potential bounce zones. Short-term traders and those who trade Ethereum
futures
might look to go long between 0.024 BTC and the current value 0.026 BTC. This level was previously tested in Dec 2017 and led to the 378 percent moon launch resulting in Ethereum's all-time high. A hard bounce at this level could make for a retrace back to the 0.236 Fibonacci level at 0.038 ETH/BTC.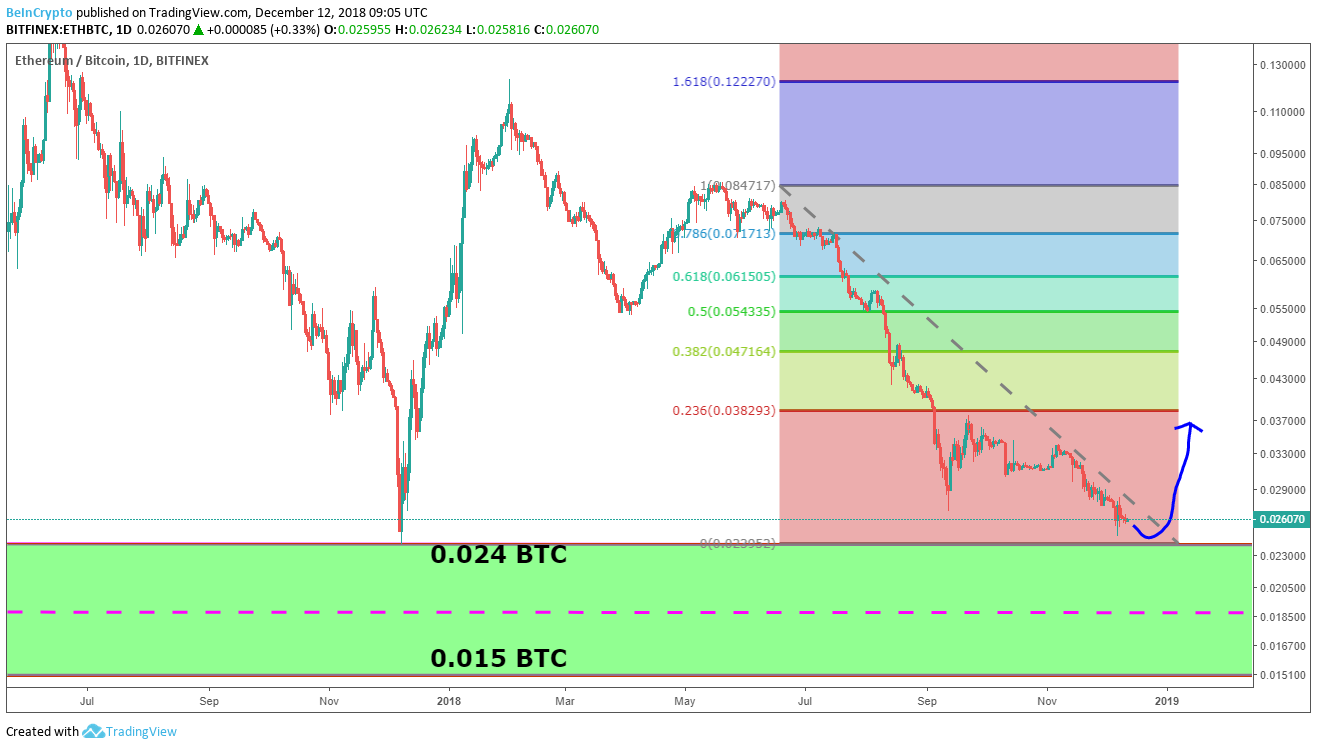 Bearish
In the case of further
Bitcoin (BTC) declines
, it would not be surprising to see ETH sink back to the range of 0.015 ETH/BTC and 0.024 ETH/BTC. If the value was to plummet back to 0.015 ETH/BTC, a bounce to the 0.236 Fibonacci level could mean returning to the 0.031 ETH/BTC level.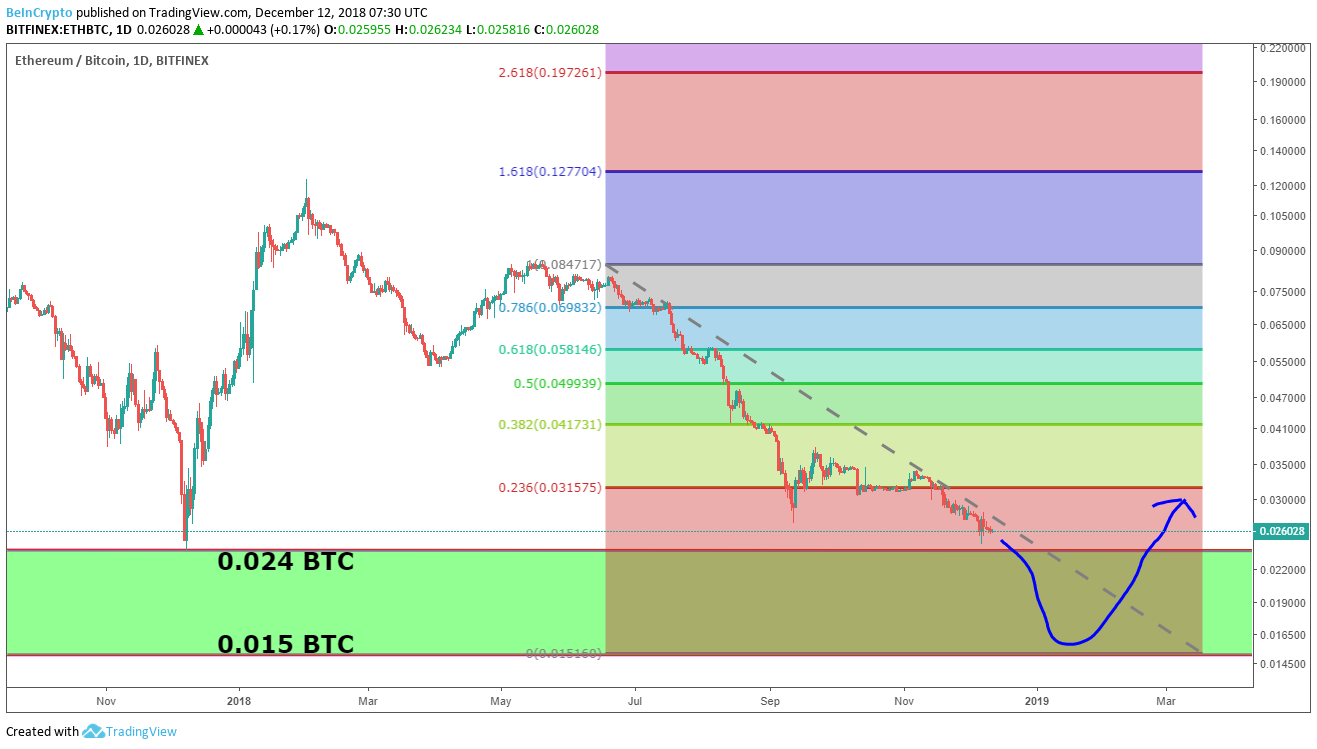 Be-Aware-Ish
Long-term
HODLers
and experienced traders may look to accumulate or open perpetual longs in this zone for optimal value. [bctt tweet="Be careful where you pull the trigger opening an Ethereum (ETH) position — both bears and bulls can be dangerous." username="beincrypto"] Always keep in mind that the cryptocurrency market is extremely volatile. Be sure to set appropriate stop-losses and limits tailored to your particular
strategy and risk allowance
.
Do you think ETH will ever see $50 again? How long will it take for ETH to make a new all-time high? Let us know your thoughts in the comments below! 
Disclaimer: The contents of this article are not intended as financial advice, and should not be taken as such. BeInCrypto and the author are not responsible for any financial gains or losses made after reading this article. Readers are always encouraged to do their own research before investing in cryptocurrency, as the market is particularly volatile. The author of this article does not hold ETH.
Disclaimer
All the information contained on our website is published in good faith and for general information purposes only. Any action the reader takes upon the information found on our website is strictly at their own risk.