Bitcoin (BTC) continued falling in value today, reaching a new 2018 low as it dropped to $3,277.60 on Bitfinex. There was a slight recovery in which Bitcoin bounced back to over $3,600 before again facing another decline. At 5:32 P.M. EST, Bitfinex listed Bitcoin at $3,461.60.
Below, the value of Bitcoin is given for four dates. The time selected for each is 4:00 P.M. EST, the time at which the NYSE and NASDAQ closed for the day:
December 7, 2018: $3,328.12
December 6, 2018 (1 day earlier) : $3,624.45
December 4, 2018 (3 days earlier): $3,885.80
November 30, 2018 (7 days earlier): $3,953.49
Another Week in a Year Full of Losses
Between the week-long period between Nov 30, 2018, and Dec 7, 2018, Bitcoin's value fell by $625.37 — a total loss of nearly 16 percent. The 24-hour period between Dec 6 and 7 marked the greatest daily loss of the week: $296.33, accounting for over 47 percent of the total weekly loss. This week's loss continues a pattern that has been ongoing since last year after Bitcoin hit its all-time high of $19,783.07 on December 17, 2017. Using today's yearly low, Bitcoin's value has dropped by $16,505.47. This marks a more than 83 percent loss in value in under a year.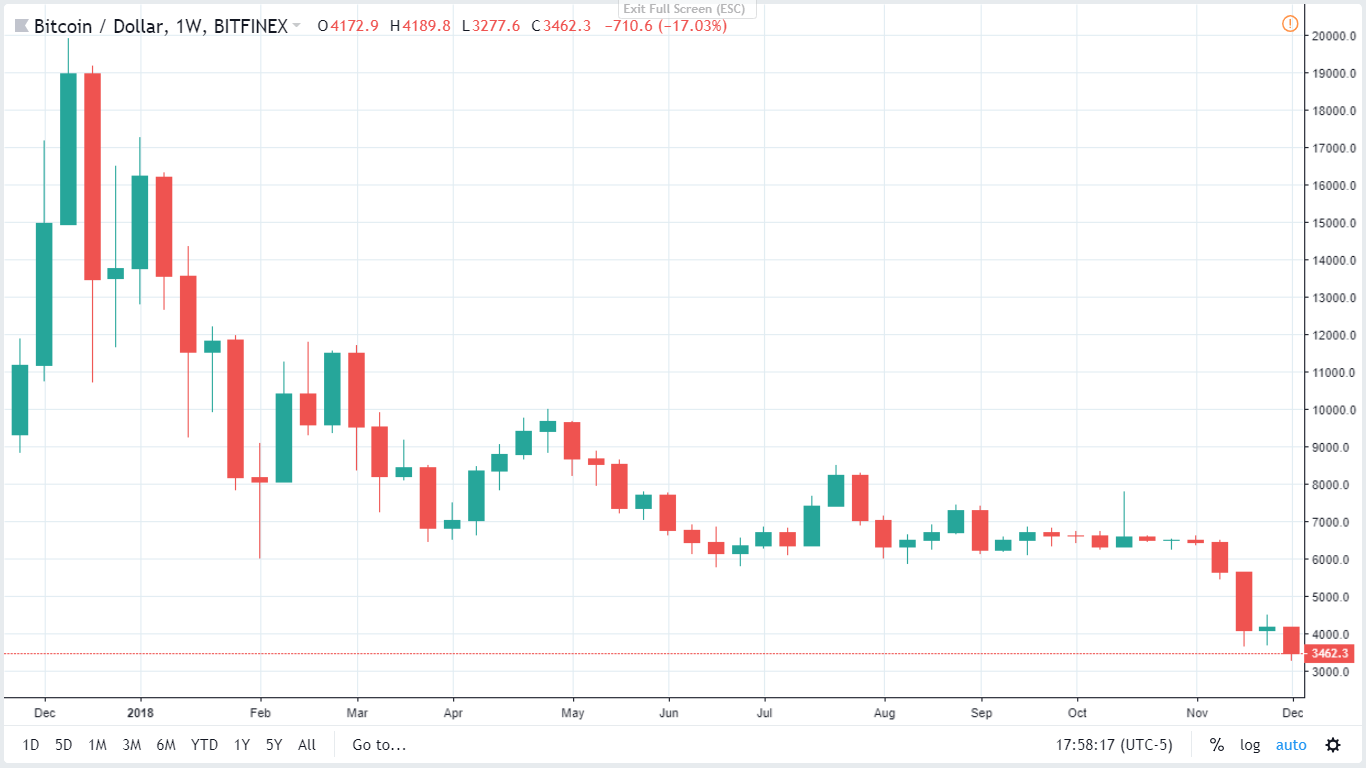 Strange Fluctuations in RSI
These massive losses over the last year are noteworthy, but so too are some strange fluctuations seen within the Relative Strength Index (
RSI
) of Bitcoin throughout the day. Around 10 A.M. EST, the price of Bitcoin began falling in value from around $3,450 to the yearly low of $3277.60. A decrease in RSI began slightly before the fall in price and continued for a brief period afterward. Just before 11:00 A.M. EST, RSI entered
oversold
reaching an eventual low of just under 14. Following this, the price of Bitcoin plateaued for several hours. During the end of this period, RSI increased into the normal range above 30 suggesting that Bitcoin was no longer being oversold. Then, just before 2:00 P.M. EST, the price of BTC increased by about $200 in value — from approximately $3,300 to $3,500. Such a spike in price correlated with such a rapid increase in RSI that it entered the overbought category for approximately one hour between 2:00 and 3:00 P.M. EST. At its height, the RSI reached a level of over 95. In short, within a period of approximately 4 hours, RSI increased by 81 points, an increase of over 85 percent.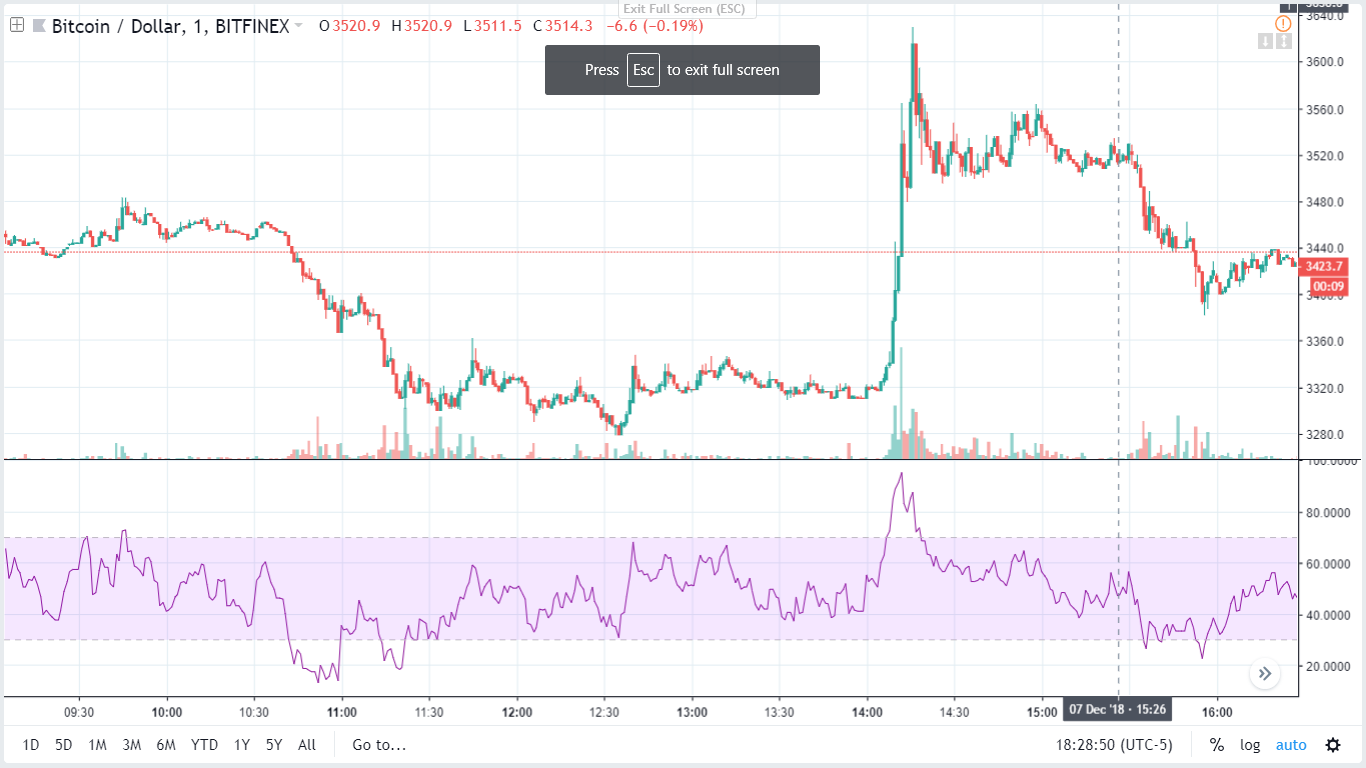 Conclusion
The continued losses of Bitcoin are nothing new; however, reaching a new yearly low is noteworthy. Furthermore, the incredibly large fluctuations in RSI are definitely unusually. Optimists will be hopeful that things will begin to level out soon, and that BTC will enter a bullish phase again.
What do you think about Bitcoin reaching a new yearly low? Are you surprised by these rapid fluctuations in the RSI? Do you think there is still hope for a Bitcoin to become bullish again? Let us know in the comments below! 
Disclaimer
All the information contained on our website is published in good faith and for general information purposes only. Any action the reader takes upon the information found on our website is strictly at their own risk.