Ethereum developers will deploy the Shapella hard fork on the Goerli testnet at 10 p.m. UTC on March 14, 2023, delaying mainnet withdrawals by three to four weeks.
The Goerli launch will be the first deployment on a public testnet that will enable testing of full and partial staked ETH withdrawals.
Ethereum Goerli Software Expected by Early Next Week
Developers deployed the Shapella fork on the Sepolia testnet on Feb. 28, 2023. Unlike Goerli, Sepolia is a permissioned testnet that only allows approved entities to operate validator nodes.
The team anticipates making further announcements mid-next week, provided developers can release Goerli client software by early next week. The group noted that node operators need one to two weeks to upgrade their clients.
The Goerli testnet was the first test network to support multiple Ethereum clients that helped Ethereum developers and node operators. Developers can test smart contracts on Goerli using a testnet cryptocurrency called GoETH, available from so-called faucets. The gaming of GoETH faucets has led to speculation that Goerli may soon be retired in favor of a new Holli testnet.
Since December 2020, users could lock up 32 ETH in a staking contract on Ethereum's Beacon Chain consensus layer to become validators who secure Ethereum. In return, they receive rewards they can withdraw when developers deploy Shapella on the Ethereum mainnet.
After Ethereum's Merge, each validator and standard node operator run consensus and execution client software that communicates over an Engine API. Different teams write and maintain code for client software in diverse programming languages to improve Ethereum's security.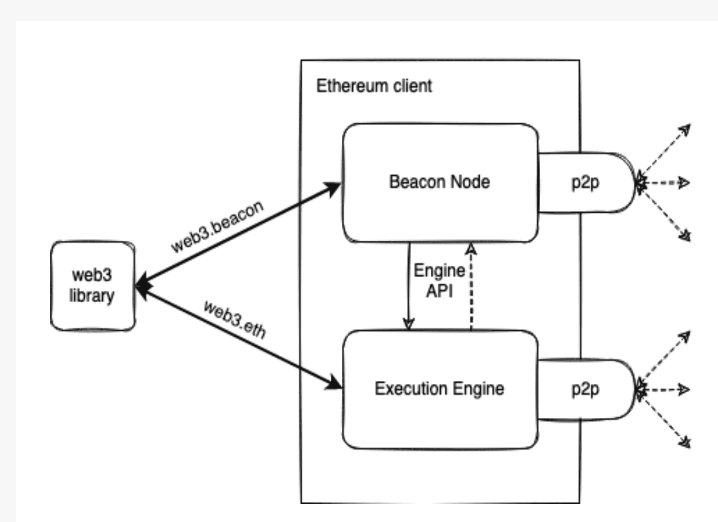 Popular execution clients include Geth, written in the Go language, Nethermind, coded in C#, Besu, Erigon, and Akula. Notable consensus clients are Lighthouse, Lodestar, Nimbus, Prysm, and Teku.
Unapproved Validators Test Functions on Ephemeral Testnets
Since Sepolia is a permissioned testnet, efforts have begun to create short-term testnets that will enable validators to test their node's setup ahead of Shapella's deployment on the Ethereum mainnet. These testnets allow users to register as validators, validate transactions, and fully withdraw their funds to remove themselves from securing the network.
To prevent a massive ETH selloff, developers limit how many validators can withdraw to 57,600 partial withdrawals daily. These partial withdrawals will enable validators to withdraw accrued rewards and leave their 32 ETH on the network. Additionally, to disincentivize multiple full ETH withdrawals, developers will increase the waiting period as more validators join the withdrawal queue.
Lead ETH developer Tim Beiko recently confirmed a new testnet called Holli slated for release later this year. The developers still need to determine how to distribute the new blockchain's testnet ETH to developers and move projects to the network.
For Be[In]Crypto's latest Bitcoin (BTC) analysis, click here.
Disclaimer
In adherence to the Trust Project guidelines, BeInCrypto is committed to unbiased, transparent reporting. This news article aims to provide accurate, timely information. However, readers are advised to verify facts independently and consult with a professional before making any decisions based on this content.