Elon Musk admits that he will continue to support the Dogecoin project, despite the crypto market being in a widespread decline.
Some investors see this moment in the crypto timeline as a golden opportunity to buy cryptocurrencies. Elon Musk is taking advantage of the fall to buy Dogecoin (DOGE) for a price in sales.
On June 19, Elon Musk, CEO of Tesla and SpaceX and co-founder of The Boring Company and Neuralink, has admitted on Twitter that he is buying Dogecoin. This is after openly declaring that he will continue to support the cryptocurrency meme: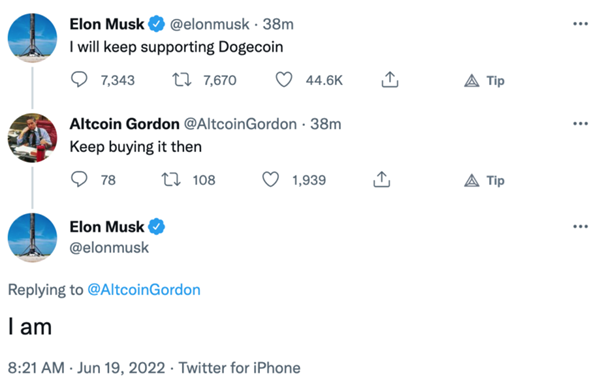 The freefall of the market was kicked off by news that threatened the health of the crypto industry. It all started with the implosion of TerraUSD (UST), Luna and the Terra ecosystem. Then unilateral freezing of Celsius funds due to a liquidity crisis kicked in. There was the possible bankruptcy of the Three Arrow Capital fund, plus some protocols began to stop the exit of assets, such as Babel Finance which has interrupted withdrawals. Several crypto companies are making mass layoffs to prepare for a possible crypto winter.
Elon Musk Swims Against the Stream
Even in the face of this catastrophic scenario, the technology tycoon continues to support the meme cryptocurrency. Musk said he bought DOGE in view of the price rising again in the future.
Doge's price goes up as a reaction to Elon Musk's comment
The price of DOGE is in a steep decline. In the last year, the meme coin has been falling continuously, sinking to the pre-hype prices.
The highest historical price of DOGE was 0.68 dollars, now after the dramatic fall it is trading in the range of 0.05 dollars.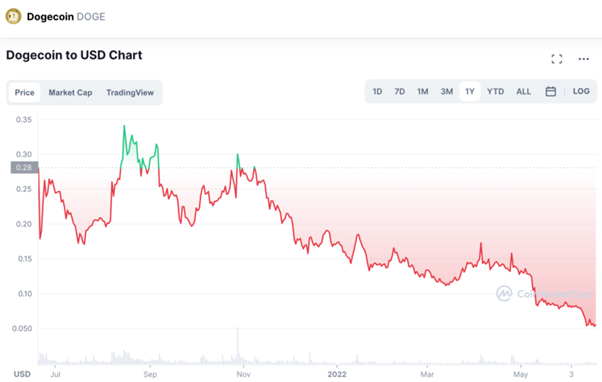 Because Musk's DOGE purchase is so recent, we will have to wait to see if the market reacts by slowing the fall of the memecoin.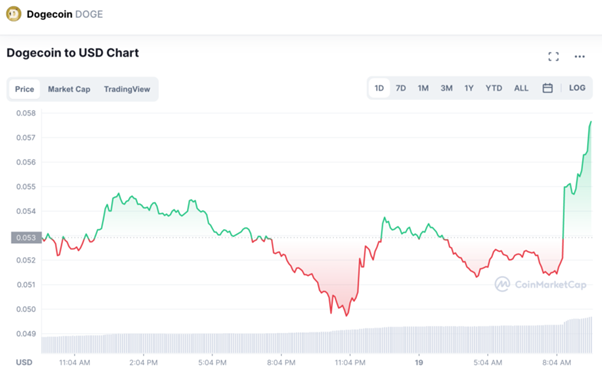 Source: CoinMarketCap
For now, you can see how the price of DOGE has risen vertically since the almost exact moment when the richest man in the world made his tweet in favor of Dogecoin. Only time will tell if Elon Musk has pulled the memecoin out of the crypto bin.
Got something to say about Elon Musk or anything else? Write to us or join the discussion in our Telegram channel. You can also catch us on Tik Tok, Facebook, or Twitter.
Disclaimer
All the information contained on our website is published in good faith and for general information purposes only. Any action the reader takes upon the information found on our website is strictly at their own risk.