Two days ago, Julian Hosp announced that he is leaving TenX, the company he co-founded in 2017 to facilitate cryptocurrency spending. Days before his announcement, a big dump involving the PAY token happened on Bittrex. Are the two events connected in some way?
One and a half years ago, the initial coin offering (ICO) business was booming. Everybody wanted in, lured by unprecedented returns on investment. Different ideas were pitched to the crypto masses, all promising to change the world forever — with the help of 'the blockchain.'
During that time, one specific idea was gaining traction: linking cryptocurrencies to MasterCard and VISA cards to facilitate spending. TenX was a company that promoted such an idea. The founders — including Julian Hosp — were bragging with an already functional app on top of a deal with VISA.
The company's ICO was a huge hit, despite a scandal involving Ethereum founder Vitalik Buterin. Buterin had been listed as a partner for a short while before the ICO, even though he never endorsed TenX. In just seven minutes, Hosp and company raised around $80 million worth of cryptocurrencies at that time.
With the money raised, TenX promised to deliver usable debit cards to PAY — the company's ERC20 token — holders, plus a 0.5 percent base reward, dependent business's total revenue.
Hosp's dreams, however, were shattered after just a couple of months. In Dec 2017, VISA started blocking cryptocurrencies' payment processors in Europe. Furthermore, since it offered rewards to its investors, the US financial regulators could accuse TenX of distributing unregistered securities.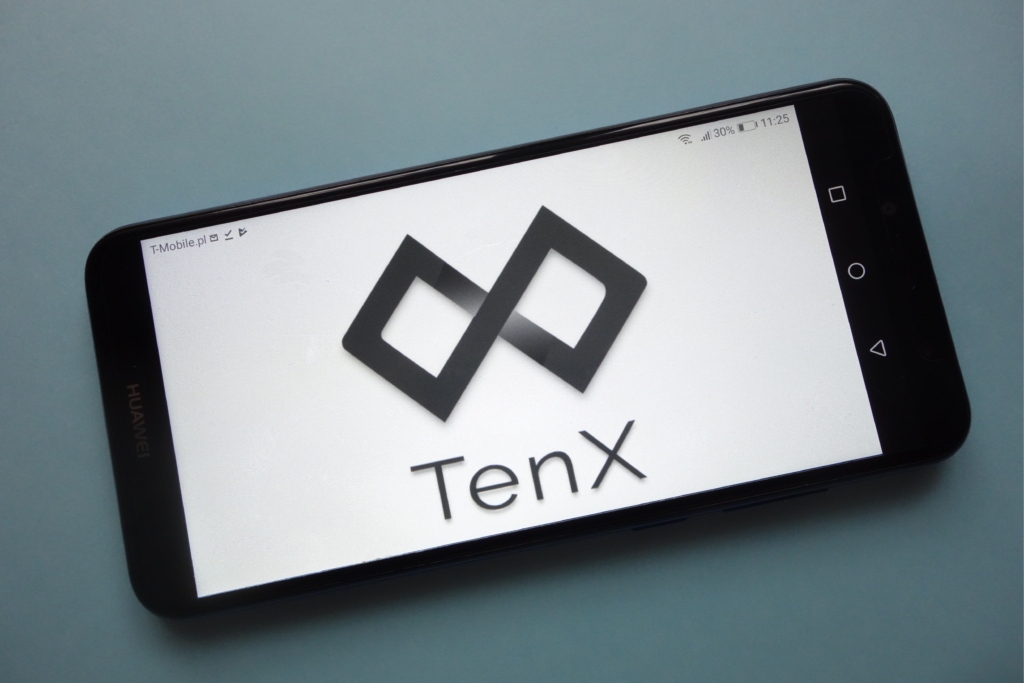 From Ponzi Allegations to TenX Resignation
To avoid direct accusations, TenX revamped its business and eliminated all rewards to investors.
The problems with the fiat payment processors continued into 2018 — and what followed is another sad tale of broken promises, undelivered product, an unusable service, and reckless spending.
TenX has just published their financials. They have $70.5M in fiat and ~$34M in crypto. Their MONTHLY burn rate is $740k or $8.9M yearly. Keep in mind that they are burning that much without having any product for the past 8 months. They can still last for roughly 12 years… pic.twitter.com/3Bgi0BwILW

— Larry Cermak (@lawmaster) September 6, 2018
Things got worse late in autumn when co-founder Julian Hosp was accused of being involved in a Ponzi scheme, prior to TenX. In a YouTube video, he even taught 'get-rich-quick' wannabes how to profit from such schemes.
Hosp admitted his involvement in the 'MLM,' adding he never hid this piece of information. He actually talked about this experience in his motivational book published back in 2015. Nevertheless, many TenX contributors didn't forgive him, as his latest business showed signs of a scam and 'Ponzi,' as well.
Hosp didn't last long in the aftermath and, on Jan 8, 2019, announced his resignation as TenX president — leaving Toby Hoenisch in charge of the company.
Important News: I am stepping down as TenX president https://t.co/Tv5MCS7LSw

— Dr. Julian Hosp (DFI = DeFi on Bitcoin!) (@julianhosp) January 9, 2019
Suspicious PAY Activity on Bittrex
One day after the announcement, a Reddit user posted his findings regarding a massive dump that has been happening in the previous two weeks — concerning the PAY/BTC pair on Bittrex.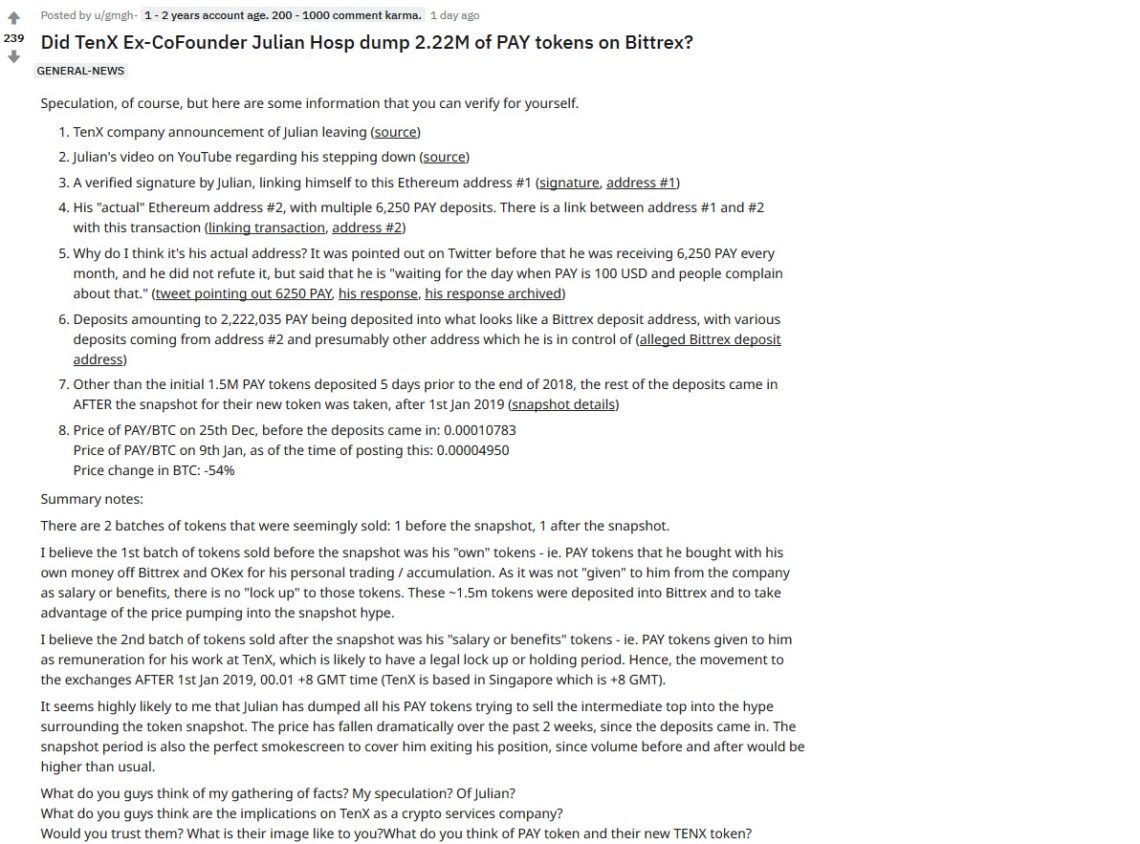 Since Dec 25, 2018, PAY is down 54 percent in terms of BTC value. Since Dec16, the dump is even worse — down over 70 percent.
On Dec 30, a huge selling spike occurred on Bittrex — worth around 200 BTC in just 30 minutes and featuring a 545 BTC volume over a 90-minute period.
User GMGH linked a verified Ethereum address, officially owned by Hosp, with another address, through a transaction — plus a recurrent monthly payment of 6,250 PAY the co-founder didn't deny on Twitter.
The owner of the Ethereum 'other' address transferred over 2.2 million PAY tokens on Bittrex. One transfer was worth over 1.5 million tokens and was made five days before the end of the year. The other transfers were smaller and were made on Dec 31, 2018, and Jan 1, 2019.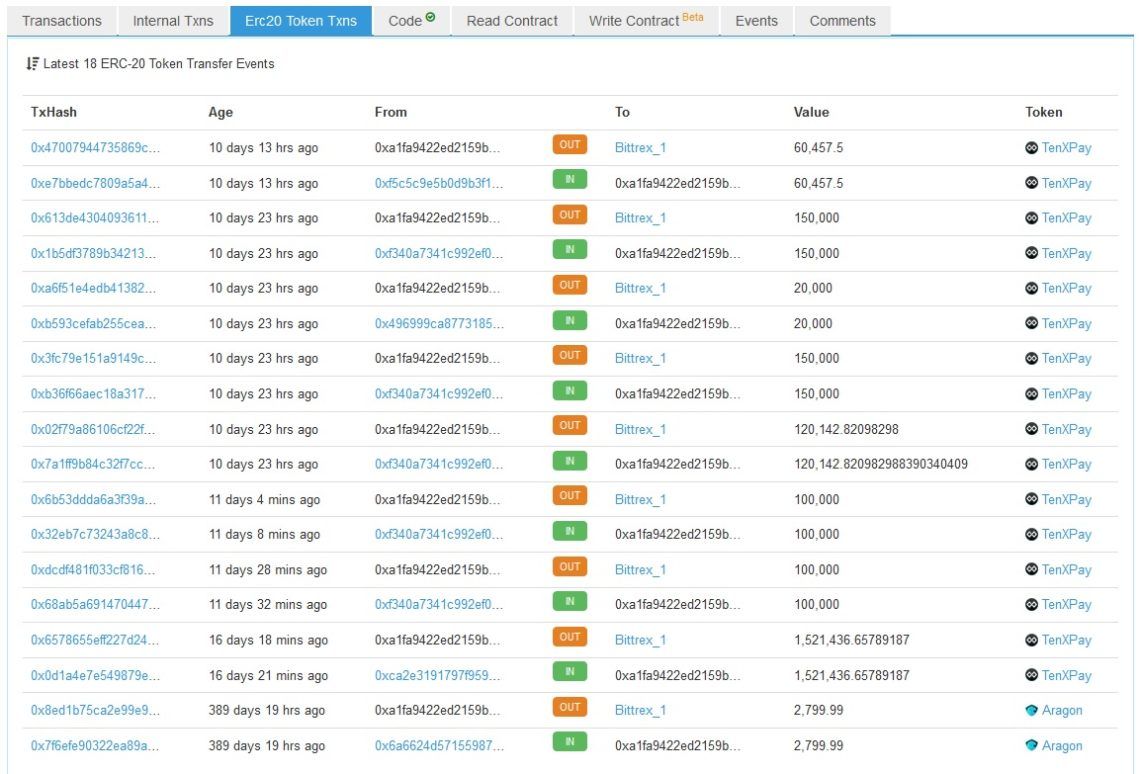 Dump Caused by Issuance of New TenX Tokens?
Hosp defended himself on Reddit by saying he decided upon his resignation days after the suspicious activity on Bittrex. Furthermore, the spike in activity for the PAY/BTC pair was only natural as on Dec 30, 2018, the company issued a new reward token — TenX — that provides compliance with securities regulations and legal enforceability.
Every PAY holder will receive TenX at a 1:1 ratio, so a pump before the actual snapshot (a scan of the ledger just before the issuance that reveals all PAY holders and how much they are holding) followed by a dump shortly thereafter is nothing too out of the ordinary.
A little less than 1.5 hours to the snapshot (10:00pm GMT+8) for the issuance of the new TENX tokens.

Remember — your #PAYtoken needs to be on an address you hold the private keys to for this snapshot!

— TenX (@tenxwallet) December 30, 2018
Interestingly enough, some PAY tokens transferred on Bittrex were sold just before the snapshot. The owner sold the rest after the snapshot.
It remains to be seen if TenX will deliver the new reward tokens without its leading figure.
Was the issuance event a smokescreen for an exit scam? Or just 'legitimate' activity by the big ICO whales? Please share your opinions in the comments below! 
Disclaimer
All the information contained on our website is published in good faith and for general information purposes only. Any action the reader takes upon the information found on our website is strictly at their own risk.