Trading volumes on decentralized exchanges (DEX) are still surging despite the market downturn as new records look primed for May.
The decentralized finance boom does not appear to be slowing down and the backbone of it is decentralized exchanges. According to research by Messari, trading volumes on decentralized exchanges "are exploding this month".
Researcher Ryan Watkins noted that there has already been $85 billion in volume halfway through May. If current levels continue, it is on pace to reach a record $140 billion by end of the month. That is more than two times the previous record set in April, he added.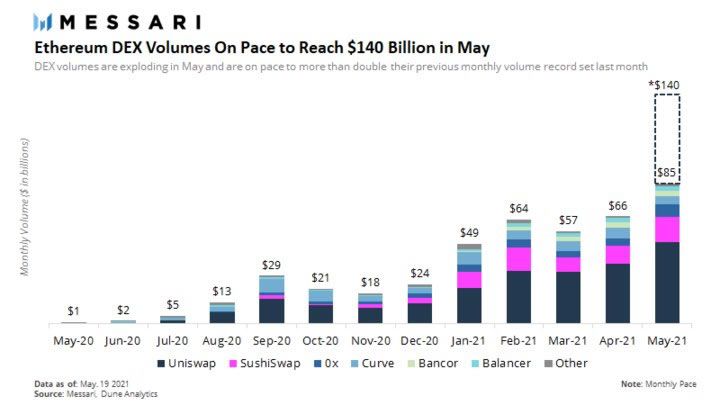 Uniswap still the DEX king
Drilling deeper into the figures reveals that Uniswap is still top of the DEX pile despite the sky-high gas fees to use it. In the past four consecutive months, including May, Uniswap has had over half the total volume and more than all the other DEXes combined.
On May 20, BeInCrypto reported that even Uniswap v3 had surpassed SushiSwap for weekly volumes and was on track to overtake v2, which is currently still more popular.
According to Dune Analytics, there has been $116.8 billion traded on decentralized exchanges over the past 30 days. This figure represents a whopping 21.7% of the entire volume over the past 12 months which stands at $539 billion.
The Messari figures do not include Binance Smart Chain exchanges such as PancakeSwap which, if included, would push them even higher. According to DappRadar, the BSC-powered DEX had $578 billion in volume over the past 30 days though this figure cannot be verified. It's reporting a current daily volume of $3.57 billion for PancakeSwap
Either way, the combined total of all DEXes is surging at the moment as the demand for DeFi has remained resilient in spite of a massive market pullback.
DeFi TVL outlook
Due to declining Ethereum and cryptocurrency prices, the total value locked across the DeFi ecosystem has also taken a beating over the past week.
DeFi Pulse is reporting a TVL of $67 billion which is down around 24% from its all-time high of $88 billion on May 12. DappRadar has a slightly higher figure of $75 billion but is also reporting a bounce back after yesterday's low.
The leading DeFi platform on both analytics websites is MakerDAO with a TVL of around $11 billion. There is around 10 million ETH, worth approximately $28 billion, locked in DeFi according to DeFi Pulse. This equates to approximately 8.7% of the entire supply.
According to a May 11 report, the migration of Ethereum from CeFi to DeFi is accelerating.
Disclaimer
All the information contained on our website is published in good faith and for general information purposes only. Any action the reader takes upon the information found on our website is strictly at their own risk.