If you ask crypto market participants, bitcoin's decoupling from the stock market has been a long time coming, and it's finally showing some signs of taking shape.
After posting gains of more than 1% in the past 24-hour period, the bitcoin price suddenly turned lower. But not before it managed to trade independently from stocks for much of the morning on Oct. 26. While bitcoin was trading in the green, the S&P 500 shed 2% while the Dow Jones Industrial Average was similarly under pressure, having shed over 2.5%.
Sending a Message
Bitcoin
may be sending a message that it's time to trade independently of stocks after reversing course from its behavior at the height of the pandemic when investors were selling everything. Rival store-of-value asset gold was similarly advancing earlier in the session before the precious metal turned negative suddenly on the day. Digital Currency Group Founder Barry Silbert took notice of the separation between bitcoin and stocks on Twitter, calling it "the decoupling," and echoing the sentiments of trader Luke Martin. In April, when the markets were still reeling from the health crisis, Martin emphasized that bitcoin's "decoupling is more exciting than the halving."
October 26, 2020
Pomp Pump
Anthony Pompliano, co-founder at Morgan Creek Digital and host of The Pomp Podcast, in a tweetstorm on Oct. 26, came out swinging against theorists who surmised that bitcoin wasn't a safe-haven asset. He argued that the "uncertainty and chaos" that ensued at the pandemic height triggered a liquidity crisis in which investors fled all assets. Bitcoin and gold's correlation to other asset classes during the panic, he said, was a product of the crisis, not the features inherent with safe-haven-assets. Pomp points out that bitcoin has recovered 300% since the March market crash and is up more than 80% year-to-date, outperforming "all other asset classes by a material amount." The bitcoin bull goes on to say BTC has zero correlation to stocks and "could not be more uncorrelated than it is now."
Many of the talking heads were screaming about Bitcoin being a horrible safe haven during the recent economic crisis.

They have been proven wrong.

Time for a thread 👇🏽👇🏽👇🏽

— Pomp 🌪 (@APompliano) October 26, 2020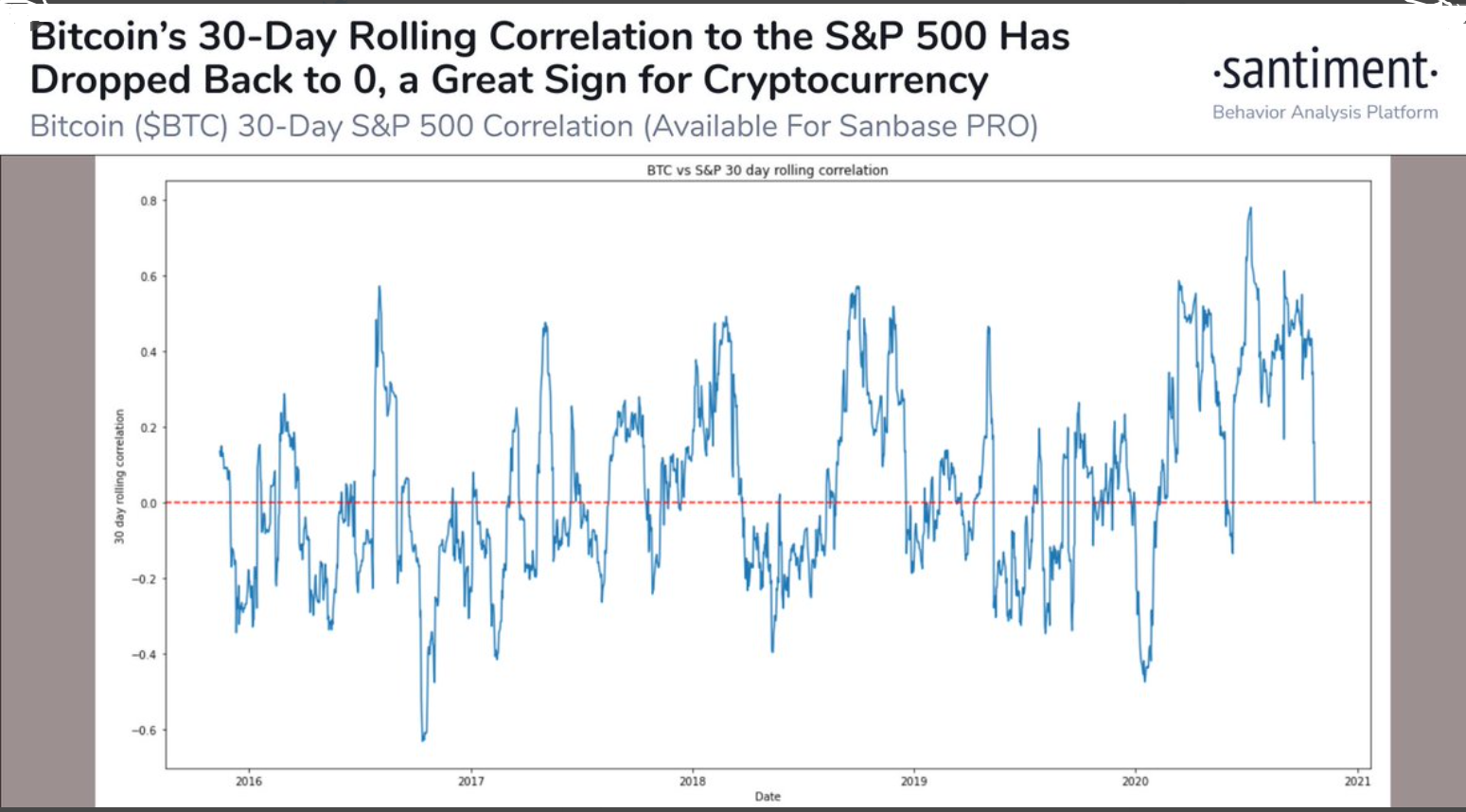 Bitcoin $20K in Sight?
Cryptocurrency investors are also getting used to checking the BTC price and observing it trade above $13,000. The bitcoin price is reaching
certain milestones
that have some traders feeling euphoric. Ivan on Tech, whose blockchain channel on YouTube boasts more than 260,000 subscribers, noted that the BTC price is near its all-time high, saying he believes that bitcoin will "smash through the resistance and go to $20,000."
BITCOIN IS SO CLOSE TO 2019 HIGHS!!!

I think we will smash through the resistance and go to $20,000 😎 pic.twitter.com/bzWnfFhh5Q

— Ivan on Tech (@IvanOnTech) October 26, 2020
Analyst Joseph Young pointed out that the bitcoin price "had its highest weekly close since January 2018," fueling the bullish argument even further.
Bitcoin just had its highest weekly close since January 2018. wow pic.twitter.com/U38odjXcjM

— Joseph Young (@iamjosephyoung) October 26, 2020
Where the bitcoin price goes from here is anyone's guess, but if its latest roller coaster moves are any indication, the next couple of months are sure to be interesting.
Disclaimer
BeInCrypto has reached out to company or individual involved in the story to get an official statement about the recent developments, but it has yet to hear back.