Cryptocurrency has been making waves in the world of finance for the past few years, and non-profit organizations are taking notice of its potential as a tool for modernizing fundraising. Crypto donations are now projected to reach $10 billion by 2034. 
One of the main benefits of using cryptocurrency for fundraising is that it allows donors to give in a way that is both secure and anonymous. This is especially important for donors concerned about privacy and security. It means they can give without worrying about compromised personal information. In addition, because cryptocurrency transactions are processed quickly and securely, non-profits can receive donations more efficiently than they would with traditional payment methods.
Another advantage of cryptocurrency is that it allows non-profits to reach new audiences and engage with younger donors who are more likely to be tech-savvy and interested in innovative giving methods. Many young donors are drawn to using cryptocurrency to support causes they care about. It further aligns with their transparency, decentralization, and social responsibility values.
Adoption Curve for Cryptocurrency Increases
To take advantage of this trend, some non-profits now accept cryptocurrency donations and use blockchain technology to track their fundraising. For example, the United Nations Children's Fund (UNICEF) launched a program called CryptoFund. It allowed donors to donate cryptocurrency to support its humanitarian work. UNICEF also uses blockchain technology to track donations and ensure they are used effectively and transparently.
Other non-profits are partnering with cryptocurrency companies to make giving easier and more accessible. The Giving Block, for example, is a non-profit that helps other non-profits accept cryptocurrency donations. The Giving Block offers various services, including setting up cryptocurrency wallets. Also, providing educational resources for donors and assisting non-profits in integrating cryptocurrency into their fundraising strategies.
One of the key benefits of partnering with organizations like The Giving Block is that it allows nonprofits to reach a wider audience of potential donors interested in cryptocurrency. By making it easy for donors to give in this way, nonprofits can increase the impact of their fundraising efforts and build long-term relationships with donors passionate about supporting their cause.
Raising Funds Using Crypto Donations
At the same time, cryptocurrency is also helping young donors grow their impact by giving them a new way to invest in social causes they care about. For example, some non-profits are now offering cryptocurrency-based investment opportunities that allow donors to support specific projects and initiatives in a more targeted way. By investing in these initiatives, donors can help support social and environmental progress while potentially earning a return on their investment.
Such initiatives have led to an increase in the usage of crypto, even during times of struggle, such as the ongoing war between Russia and Ukraine. In 2022, many nonprofits began accepting crypto, despite turbulent markets. Meanwhile, donors from across the web3 ecosystem, including individuals, blockchain companies, NFT creators, and DAOs, rallied to support various causes.
Crypto charity platform 'The Giving Block' was able to provide BeInCrypto with deeper insights on this topic. Per the platform, crypto philanthropy held firm in 2022, even as top cryptocurrencies witnessed massive corrections in market capitalization. 

Last year, over 1,000 organizations donated $125 million worth of cryptocurrencies via The Giving Block. 
The team stated:
"In 2022, crypto donors collectively gave $172 per every dollar in Bitcoin's market value. A 41% increase compared to the figure calculated for 2021 shows that the cryptocurrency giving trend remained stable in what was a turbulent year for crypto markets."
This metric is called the Crypto Philanthropy Adoption Index (CPAI).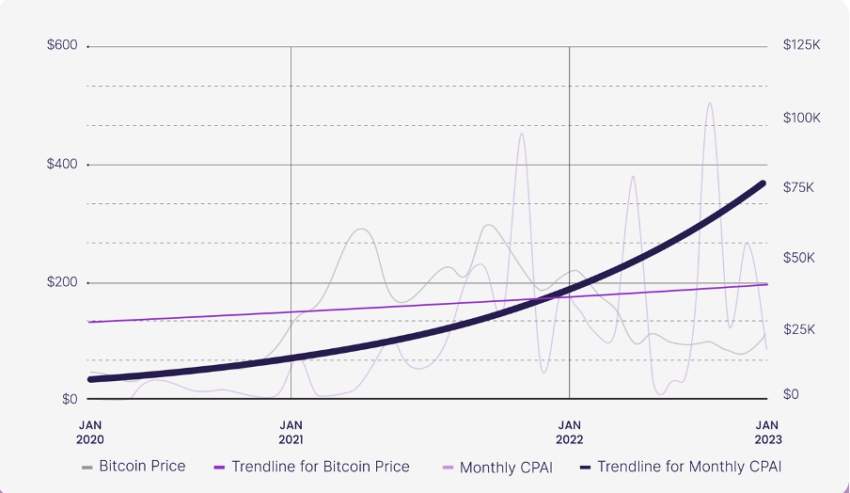 Crypto donations played a significant part despite the adverse market conditions last year. Keeping this in mind, how much more can crypto philanthropy grow in the next ten years?
Forecasts for the Next Decade
Crypto philanthropy has already shown significant growth in recent years. According to a report by blockchain research firm Chainalysis, the total value of cryptocurrency donations to charities tripled from 2019 to 2020, reaching nearly $400 million. This suggests a growing interest in using cryptocurrencies for charitable giving.
Meanwhile, as cryptocurrencies continue to outperform traditional asset classes and gain wider acceptance among institutional investors and retail investors, more individuals and organizations may make donations in cryptocurrency, especially as charitable organizations become more equipped to accept and manage them.
BeInCrypto asked The Giving Block how high this number could go, and the team replied that crypto donations could reach up to $10 billion in a single calendar year by 2034.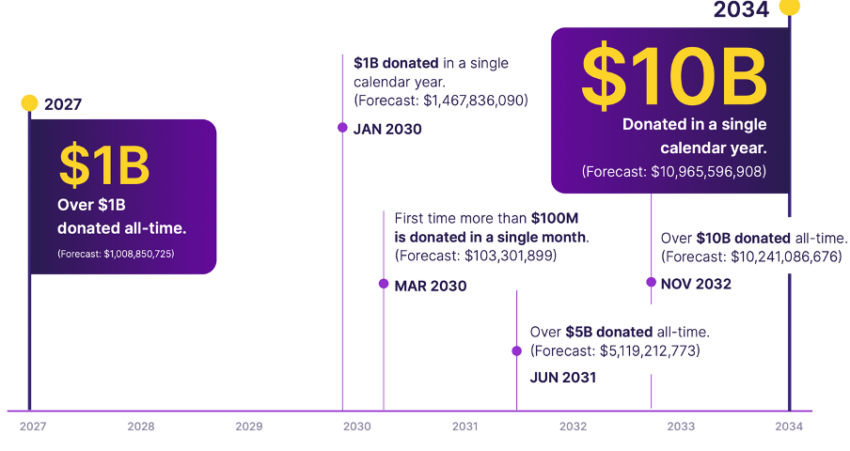 Why Crypto Compared to Cash?
Donors are increasingly choosing cryptocurrency over cash for several reasons. Here are some of the most common ones:
Tax Benefits: One of the primary reasons donors choose cryptocurrency is that it can provide significant tax benefits. Cryptocurrency donations are non-cash assets and, therefore, subject to different tax rules than cash donations. Sometimes, donors may receive a tax deduction for the cryptocurrency's fair market value at the time of the donation without paying capital gains taxes on the appreciated value.
Security and Transparency: Cryptocurrency transactions are secure and transparent, meaning donors can have greater confidence in their donations reaching the intended recipient. Blockchain technology makes altering or manipulating transactions nearly impossible, ensuring that the donation goes where planned.
Accessibility: Cryptocurrency donations can be made quickly and easily without traditional banking systems. This means that donors from anywhere in the world can donate to organizations they support without worrying about international banking fees or other complications.
Innovation: Some donors may choose cryptocurrency simply because it is a new and innovative way to donate. Cryptocurrency is a cutting-edge technology rapidly gaining in popularity, and some donors may want to be a part of this trend.
Overall, cryptocurrency offers several benefits to donors, including tax advantages, security, accessibility, and innovation. As more people become familiar with this technology, we'll likely see an increasing number of cryptocurrency donations in the future.
Disclaimer
Following the Trust Project guidelines, this feature article presents opinions and perspectives from industry experts or individuals. BeInCrypto is dedicated to transparent reporting, but the views expressed in this article do not necessarily reflect those of BeInCrypto or its staff. Readers should verify information independently and consult with a professional before making decisions based on this content.