Bitcoin (BTC) will definitely be a hot topic during family gatherings this Christmas and a great opportunity for bitcoin advocates to explain — again — the cryptocurrency's advantages to their loved ones, given that BTC has exceeded $20,000.
Describing what bitcoin is to people who have been used to the fiat system for many years can be difficult, but, at the same time, it can be fun.
One of the most vivid examples of explaining bitcoin this year is surely when Harry Potter book series' author, J.K. Rowling, asked her followers for a simple clarification of what the cryptocurrency was because she didn't understand it.
In an effort to provide an explanation for bitcoin, some industry players pointed Rowling to podcasts, books, and pop-culture bitcoin references. Others attempted to use themes from the Harry Potter world to explain the leading cryptocurrency, with Dovey Wan saying:
"Voldemort splits soul for eternity, the bitcoin ledger is timeless by making millions of copies. Each copy tracks the same history of money flow that everyone has access to, like a public version of Marauder's map. Opposite to Leprechaun gold, bitcoin dies only if the last copy is gone."
However, all attempts to explain the asset fell on deaf ears: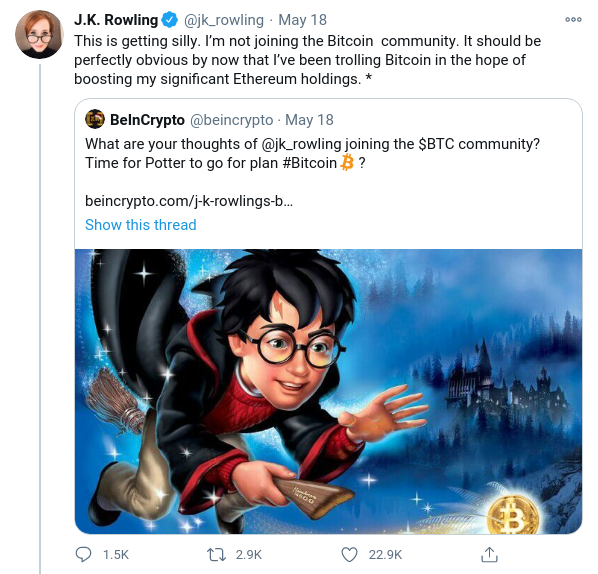 What many people simply want to understand is whether bitcoin really works and why maximalists claim it's better than traditional money.
BeInCrypto reached out to some crypto industry players asking them to describe how they would explain bitcoin to those who want to get a better understanding of what the leading crypto is.
Don't use tech terms when explaining bitcoin
Heiber Barreto Sanchez, CEO and editor at Morocotacoin, suggested that anyone who starts hearing words like hashrates, mining, blockchain, or power supply would run a mile:
"I always tell [my friends] about the usefulness [of bitcoin], with examples of real use cases. I never talk to them about technology, the supply, or blockchain. It scares them, keeps them away."
Barreto shared that his friends asked him how to invest in bitcoin, and depending on their interest or need, he explained the crypto concept using as many analogies to what they already knew as possible:
"Bitcoin allows you to make transactions in a few minutes and at a much lower cost than banks. It usually takes at least 24 hours for a bank to make an international transaction. In addition, when there is a national holiday in countries like Venezuela, for example, banks lock up your money for a period of time, but they still earn the interest by placing your money in financial instruments. This doesn't happen to bitcoin."
Do you send remittances? Do it with bitcoin!
For those who are abroad and want to send money to their relatives, Barreto explained that, with bitcoin, this task becomes much easier, faster, and safer compared to the traditional banking system — it can reach any part of the world, and especially help unbanked people. Barreto continued:
"I'd say that bitcoin is better if you want to send money to countries like Argentina, because that country restricts the use of foreign currency, or Venezuela because the United States has imposed unilateral sanctions on the Venezuelan government."
Bitcoin protects your assets in the long term
Jorge Farias, CEO of CryptoBuyer, one of the main platforms for buying and selling cryptocurrencies in Latin America, told BeInCrypto that, at this point, there is a lack of educational mechanisms to help future generations avoid thinking in terms of fiat money:
"Mechanisms for people to understand the intrinsic value of bitcoin and not its price compared to other currencies are still missing. Satoshi didn't create bitcoin mentioning its price in USD, EUR, or CNY. Once this is distributed through education, we'll see a definitive adoption."
Farias added that if he had to introduce bitcoin to somebody at an informal dinner party, he would tell them about how many people spent large amounts of BTC at the beginning, without imagining that they would be millionaires in the near future if they had saved their coins and trusted the technology.
"In 2010, a person bought two pizzas with 10,000 bitcoins. Today, he would be able to buy hundreds of pizzerias with what he spent. It costs nothing to try it and get started. Just by receiving bitcoin as one of the ways to pay for your products, services, or knowledge, you're already entering this new digital economy."
Bitcoin is money… but much better
Anibal Garrido, an entrepreneur, advisor and consultant in crypto finance, told BeInCrypto that despite many ways of presenting bitcoin to a person who "doesn't know about its use and technological concept," the first thing you could do is to show them the similarities bitcoin has with fiat money.
"Bitcoin is also money, and therefore has the same properties as paper money. Besides being safe, it has the ability to never be confiscated by any state or government."
Regarding the usability of bitcoin compared to traditional money, Garrido explained that you don't have to know in detail how bitcoin works to understand that it's safer than fiat. He continued:
"There is no difficulty in knowing in detail how a wallet works. There are already products with interfaces designed for this. The greatest difference between using crypto wallets and banking systems is that when using wallets there are no schedules, requirements, documents, or people in charge that limit and restrict the use of safe money like bitcoin."
In short, it's just like a bank, but with no borders, no regulations, and with minimal transaction fees compared to any other provider.
Bitcoin fights crime better than fiat does
Javier Pastor Moreno, CSO of Spanish platform for buying and selling cryptocurrencies Bit2Me, said that when convincing a person to start using bitcoin, he would start by explaining the advantages it has as a new type of money compared to traditional ones. Pastor listed the following points:
We don't need a bank to receive, send, or keep bitcoin.
We know in advance how many units there are.
It's protected by cryptography, and its issuance is based on mathematics.
Transactions are immediate and with a practically non-existent cost.
It works 24/7/365 and you can have it on any device connected to the internet.
Pastor emphasized that, unlike fiat, bitcoin is secure and resistant "to censorship, being completely traceable and transparent."
Stevie Ghiassi, CEO and founder of Legaler and the Australian legal Technology Association (ALTA), told BeInCrypto that skepticism about bitcoin is natural, but if he had to explain the legal advantages of using bitcoin over fiat money to a family member, he would say:
"People had been skeptical about paper money for hundreds of years before they started to trust it, so it's nothing new. I'd tell them that the nature of bitcoin allows people to track payments, even if they do it 100 years in the future."
If, at the end of the day, your dinner party guests don't find these arguments compelling, you can always say that although bitcoin has been volatile, it surged from $200 to over $20,000 in less than five years.
Disclaimer
Following the Trust Project guidelines, this feature article presents opinions and perspectives from industry experts or individuals. BeInCrypto is dedicated to transparent reporting, but the views expressed in this article do not necessarily reflect those of BeInCrypto or its staff. Readers should verify information independently and consult with a professional before making decisions based on this content.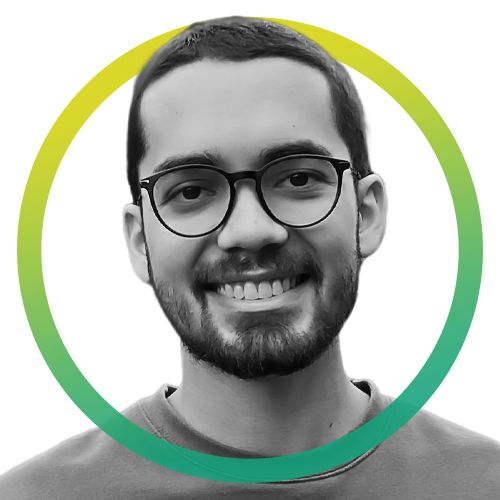 Cristóbal is a Venezuelan crypto-enthusiast attracted by investments and new digital money paradigm. Cristóbal has been working in the cryptocurrency industry for 3 years,...
Cristóbal is a Venezuelan crypto-enthusiast attracted by investments and new digital money paradigm. Cristóbal has been working in the cryptocurrency industry for 3 years,...
READ FULL BIO
Sponsored Sponsored