As expected, several voices in the 'crypto-sphere' set out to explain the first and foremost cryptocurrency to the author.
BeInCrypto
took a look at some of the best and worst Bitcoin primers provided by leading commentators and pundits in the cryptocurrency space.
---
The first category belongs to those who pointed Rowling to podcasts, books, and pop-culture Bitcoin references. Crypto journalist and host of the "Unchained" podcast, Laura Shin, directed Rowling to an episode of her show. Others suggested the author read up on "The Bitcoin Standard" by Saifedean Ammous. Another category had respondents channeling the meme culture rampant within Crypto Twitter. These commentators attempted to use themes from the Harry Potter world to explain Bitcoin.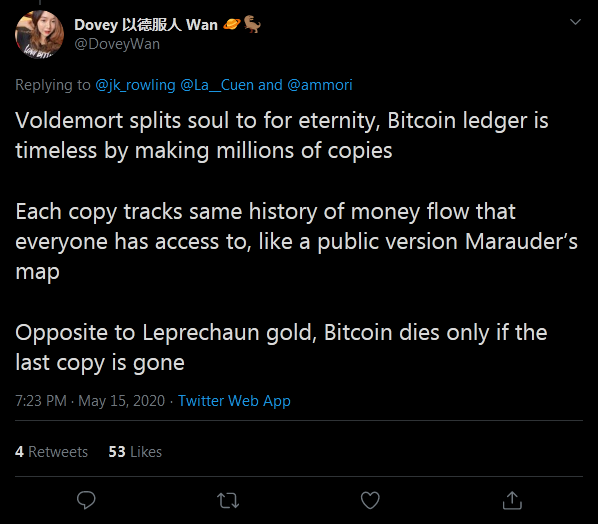 Vitalik Buterin also weighed in on the conversation but found his characterization of Bitcoin as "
not backed by anything
" drawing consternation from many respondents. The ensuing argument under the
Ethereum
co-founder's tweet devolved into
Bitcoin mining energy usage rhetoric
.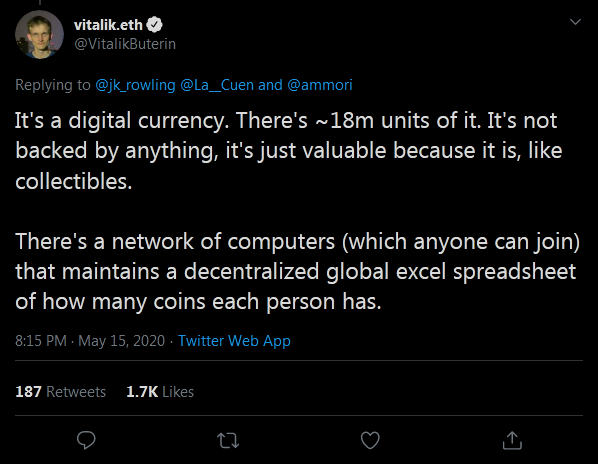 Like Buterin, others on Crypto Twitter also attempted to offer somewhat technical explanations of Bitcoin. However,
Rowling's subsequent tweets
show that many of these efforts have not succeeded in helping the author understand it.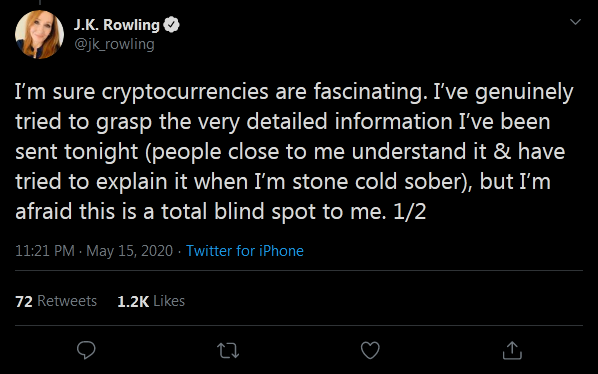 Oddly, one of the best attempts at explaining Bitcoin to Rowling appeared not on Twitter — but Reddit. Blockstream CTO and BTC dev Greg Maxwell, writing in the Bitcoin subreddit, offered
a simple primer on Bitcoin covering trustlessness, privacy, and censorship-resistance
. Maxwell drew from the events of late December, when
Rowling was roundly criticized for her apparent endorsement of Maya Forstater
regarding gender and LGBT rights back in December 2019. The Blockstream executive painted a picture of how the fallout from the controversy could have led to a denial of services from gatekeepers of the legacy finance system depending on their political and social leanings. An excerpt from Maxwell's post reads:
"Bitcoin is money that has minimal to no dependency on the whims of third parties. With Bitcoin, you can't have your access to your coins or your ability to transfer them cut [off] just because someone has decided they don't like you or that you're a political liability."
Of course, no discussion on Twitter is complete without attempts at trolling — and Rowling's tweet was not an exception.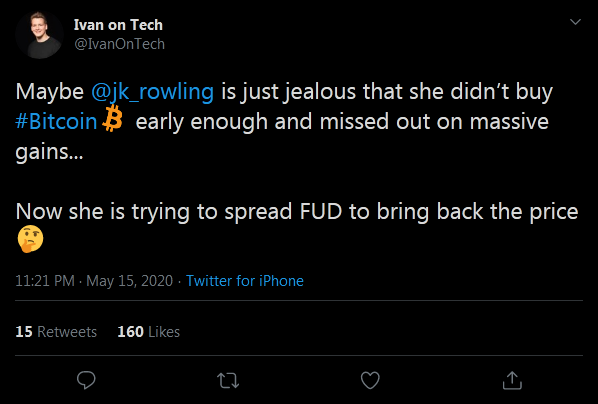 Disclaimer
All the information contained on our website is published in good faith and for general information purposes only. Any action the reader takes upon the information found on our website is strictly at their own risk.