LINK, the native cryptocurrency of the Chainlink decentralized oracle platform, has hit a three year high.
The news is good for LINK holders, however, not necessarily on the wealth equality scale. The top 1% of holders now own over 80% of the supply, According to Glassnode.
The on-chain market intelligence firm explains:
"LINK Percent Balance of Top 1% Addresses just reached a 3-year high of 81.737%. Previous 3-year high of 81.658% was observed on 14 January 2021."
Comparisons to Other Cryptocurrencies
When looking at the data presented by Glassnode, the apparent uptick in ownership started in mid-2019. This is close to the beginning of the bull run, so perhaps an entity was stocking up in preparation.
Chainlink may seem unfairly distributed given the percentage of the top LINK wallets. But the same trend is seen in almost every other cryptocurrency.
This can even be seen with Bitcoin, the first crypto that successfully implemented a distributed and decentralized currency. The largest cryptocurrency globally by market cap is highly centralized, according to some.
The data is slightly harder to ascertain as it's not neatly aggregated. According to BitInfoCharts, it could be argued that the top 2.44% of the wealthiest wallets own the most bitcoin. Any balance with 1 BTC or more, accounts for over 94.94% of all coins.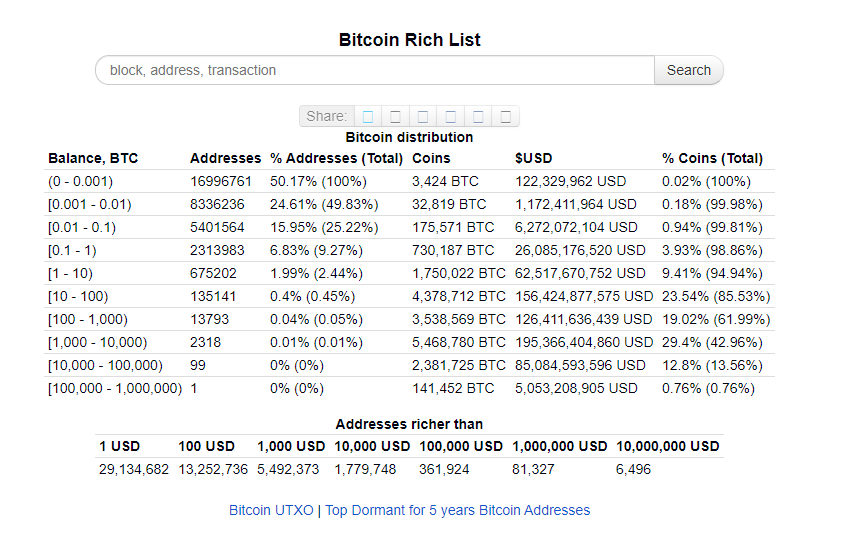 It gets slightly crazier if you dig even deeper. The top 0.4% of addresses own 85.5% of the supply. The top 2,500 biggest wallet addresses, representing 0.01% of the Bitcoin network, own almost 43% of all bitcoin in circulation.
Ether's distribution is not much better, with the top 100 largest wallet holders controlling over 35% of the circulating supply.
Although the US is increasing its money supply rapidly, a study by the Federal Reserve in September of 2017 found that the top 1% in America controlled 38.5% percent of the total wealth, somewhat on par with cryptocurrencies like BTC or LINK.
What is Chainlink (LINK)?
Chainlink is a decentralized oracle network that provides real-world data to smart contracts. With the introduction of dApps (decentralized applications), it became necessary for reliable, up to date data to be imported in a decentralized way.
This is where Chainlink comes in. It provides tamper-resistant inputs and outputs to facilitate transactions on the blockchain. This type of network is necessary for applications across many industries, including finance and social media.
Disclaimer
BeInCrypto has reached out to company or individual involved in the story to get an official statement about the recent developments, but it has yet to hear back.