Bridge Security: The interoperability trilemma of bridges needs a rethink. Data Journalist Daniel C. Park explains what is in the pipeline to prevent bridge hacks.
Nomad is working on a new category of bridges. They are designed to reduce the worst-case scenario of a bridge hack. Nomad is trading-off latency for security. This is a compelling situation, against a backdrop of bridges that have been robbed of a billion dollars this quarter alone.
Successful exploits of QBridge ($80m), Wormhole ($326m), and Ronin ($624m) are powerful reminders that the interoperability trilemma of bridges needs a total rethink. A desire for anti-fraud features has intensified among bridge users. And that's the problem Nomad is solving.
Using Covalent's application programming interface (API), we can trace how bridge users on Ethereum and Moonbeam are responding to Nomad's security appeal. Nomad's post-launch figures, such as total unique addresses and TVL per user, signal a promising outlook for optimistic systems.
Bridge Security: Has cross-chain bridge security reached an impasse?
Nomad is challenging the proliferating narrative that cross-chain bridges, despite their enormous economic utility, had become too risk-prone to exploits. Even a 51% attack on a small-cap chain, due to overlapping derivatives, can compromise interconnected chains.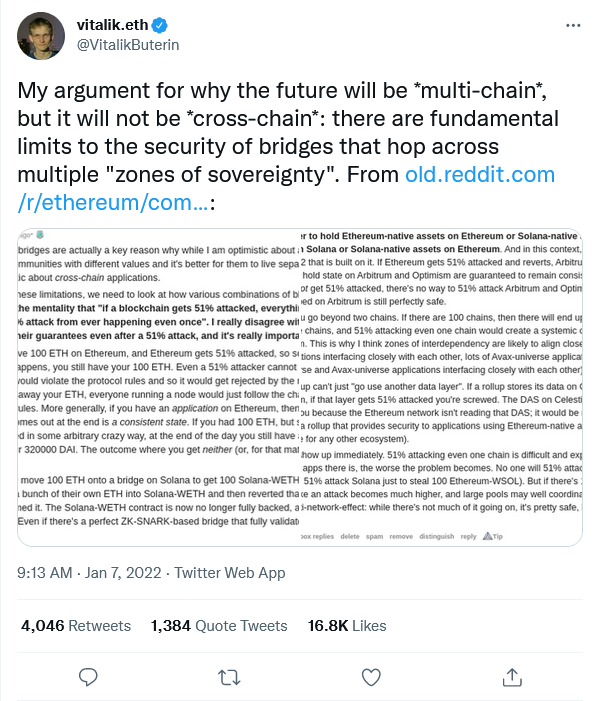 Vitalik had pioneered and floated this perspective in January this year, citing "fundamental security limits of bridges," and that cross-chain bridges should be regarded as an interim solution to advancing chain interoperability.
However, Nomad's radical features, such as optimistic verification, advance a counter-narrative to this growing perception that bridge technology had reached an impasse.
Sacrificing latency for absolute security
Echoing the predicament observed in the scalability trilemma, bridges too must traditionally forego at least one of three desirable properties – trust minimization, generalizability (support transferring arbitrary data), and extensibility (across as many heterogeneous chains).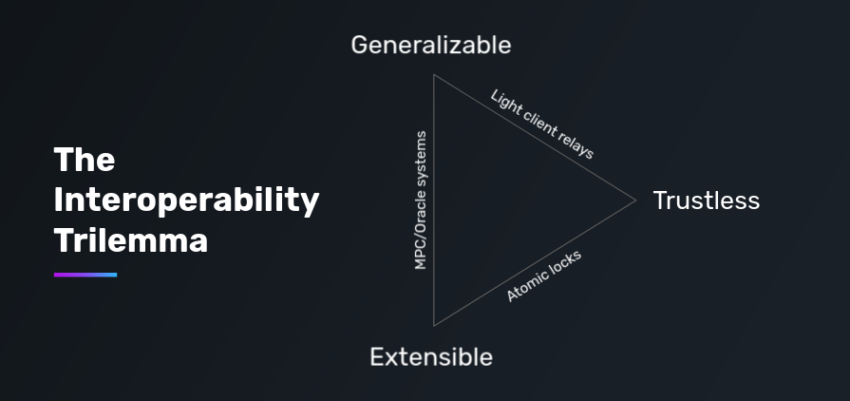 Departing from the trilemma, Nomad unorthodoxically sacrifices latency as a means to provide a security-first interoperability solution. Patterned after optimistic rollups, Nomad minimizes the visibility of attestation on-chain, and accepts it as valid within a fraud-proof window of ~30 minutes.
Bridge Security: Insuring against the loss of any funds
Within this timeframe, data on Nomad is essentially cycled between an Updater, who signs and uploads the data to the origin chain; and a Watcher, who detects and reacts to faulty attestations.
Uniquely, departing from classical optimistic protocols, Nomad necessitates that an Updater submit a bonded stake on the origin chain. This insures Nomad's security against the possibility of even a trusted Updater corroborating fraud.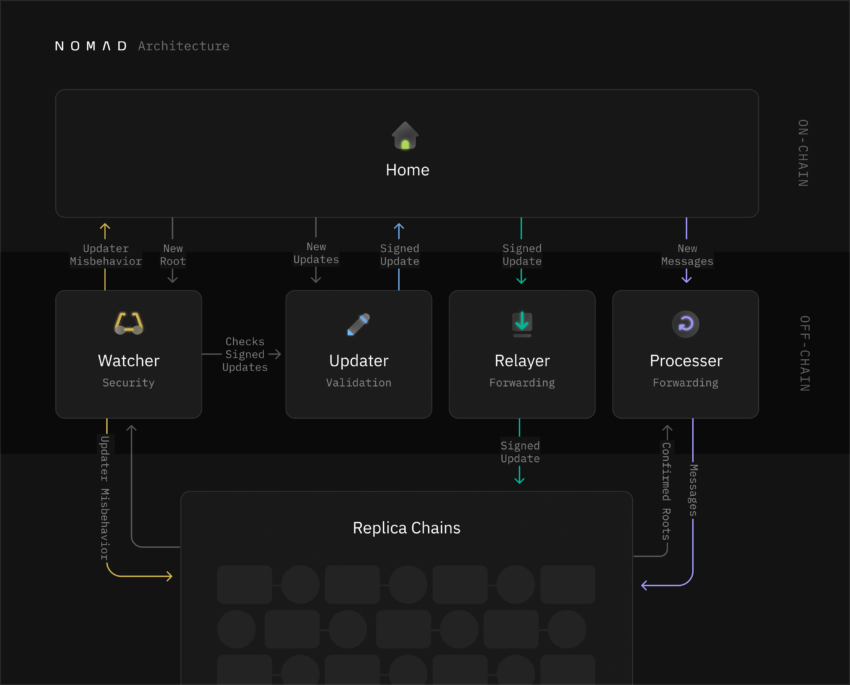 In the event an honest Watcher proves fraud, the communication line from the origin to the destination chain is immediately severed, slashing the Updater's bonds; and channeling the retrieved funds to the disputing Watcher.
That means, the bridge will be shut down, instead of users being robbed of any funds. Absence of fraud, alternatively, facilitates the data towards the destination chain as originally intended.
Fooling hackers with a single honest verifier
Already, Rainbow Bridge for NEAR protocol is corroborating the security merits of optimistic designs, having repelled an attack on May first this year.
Prominently, Nomad's bridge security follows a single honest verifier assumption, only requiring 1 of n actor(s) to validate transactions. In contrast, externally verified bridges are typically based on an honest majority assumption, where m of n participant(s) oversee the validation scheme.
Because of this, enabling permissionless Watchers that could be deployed by any Nomad user would make it impossible for hackers to know there is not at least one-single Watcher overseeing every transaction.
Optimistic systems, in this way, raises the economic cost for malicious actors (gas fees and the stake bonded by the Updater) to compromise their targets, with very little guarantee.
How is Nomad's security proposition appealing to bridge users?
The technology Nomad builds on is battle-tested. Through Covalent's unified API, we can see whether Nomad is properly capitalizing on its security appeals and accumulating a dedicated user base.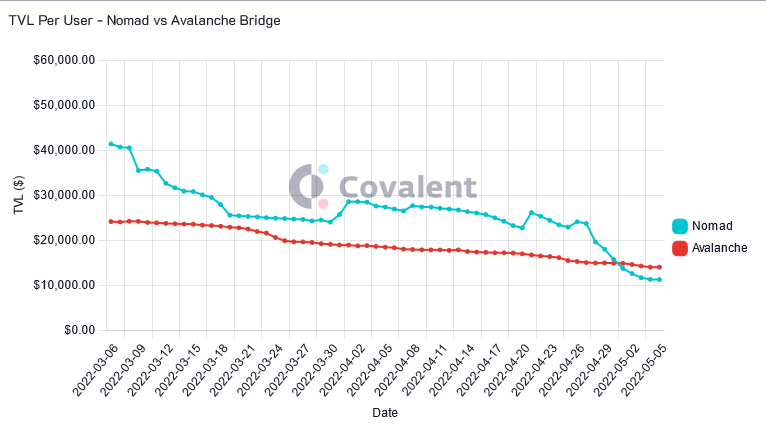 Notably, compared to the more commercially mature Avalanche Bridge, Nomad's TVL per user averaged higher numbers. Recording between $30-$40k daily per user since March 2022, Nomad's figures outcompete that of Avalanche, which spanned between $20-$30k daily.
The disparity between the Avalanche Bridge and the newer Nomad bridge suggests a deep trust in Nomad's security and anti-fraud features among bridge users.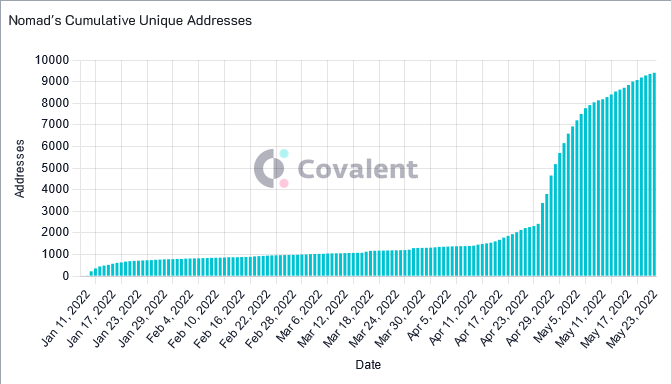 Likewise, the first week of May alone saw 5,000 new addresses bridge with Nomad. This is exponential growth considering Nomad took three-months to reach 3,000 unique addresses, illustrating that Nomad's security appeals are marketable and perceived valuable by a wider array of bridge users.
Using Connext to solve Nomad's latency shortcomings
The slow latency of ~30 minutes remains a glaring drawback for the bridge. Because of this, Nomad partnered with Connext, a cross chain liquidity network built on Ethereum as a L2 with much faster speeds.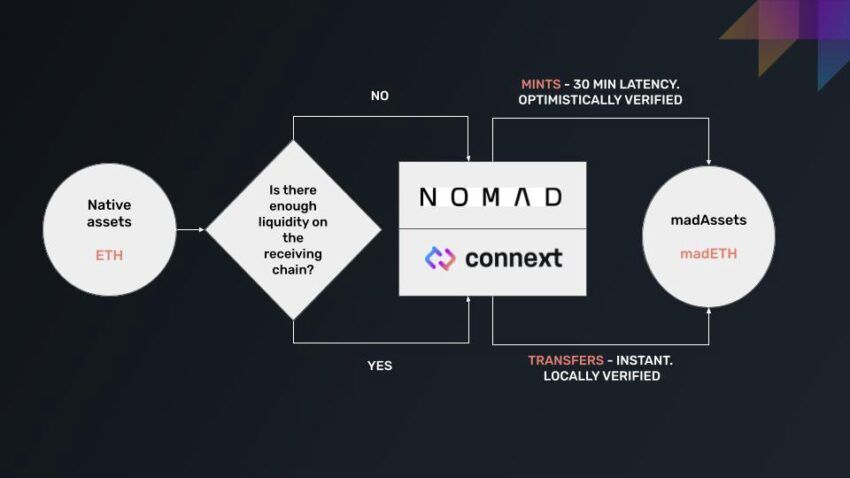 The modularity of layering Nomad and Connext together is another radical reapproach to the trilemma their partnership introduced. Connext properly fills the gap in speed Nomad was forced to forgo.
By doing so, the harmonized dual-system dynamically routes and modulates transactions, depending on the size of the asset being transferred and the liquidity pool corresponding to the asset.
Cross-chain bridge security is evolving with "stackable" bridges
As their synergy scales into a larger operation, Nomad can be tailored to focus further on institutional capital. Whereas, end users opting for smaller and faster transactions can be routed via Connext.
The security appeals of Nomad and corresponding growth figures, in retrospect, illustrate a pivotal moment in the history of cross-chain bridges.
Nomad is aiming for a departure from the series of high-profile bridge hacks stunting the advancement of chain interoperability.
About the author

Daniel C. Park originally entered the Web3 space in 2019 researching blockchain's utility in humanitarian affairs with Starling Lab at Stanford. He currently works as a Data Journalist at Covalent.
Got something to say about bridge security or anything else? Write to us or join the discussion in our Telegram channel. You can also catch us on Tik Tok, Facebook, or Twitter.
Disclaimer
In compliance with the Trust Project guidelines, this opinion article presents the author's perspective and may not necessarily reflect the views of BeInCrypto. BeInCrypto remains committed to transparent reporting and upholding the highest standards of journalism. Readers are advised to verify information independently and consult with a professional before making decisions based on this content.

Our Guest Op-Eds represent in-industry voices in the crypto and Web3 space. Have an opinion? Email
[email protected]
.
Our Guest Op-Eds represent in-industry voices in the crypto and Web3 space. Have an opinion? Email
[email protected]
.
READ FULL BIO
Sponsored Sponsored