Bitcoin continues its slow ascent upwards as it reached a new all-time high on Saturday. However it is struggling to settle above key resistance at $60,000. 
It might be the weekend, but that has not stopped Bitcoin from continuing its bullish price action towards a new all-time high. Saturday sees Bitcoin pushing to new all time highs. However, it has not stabilized above the $60,000 mark.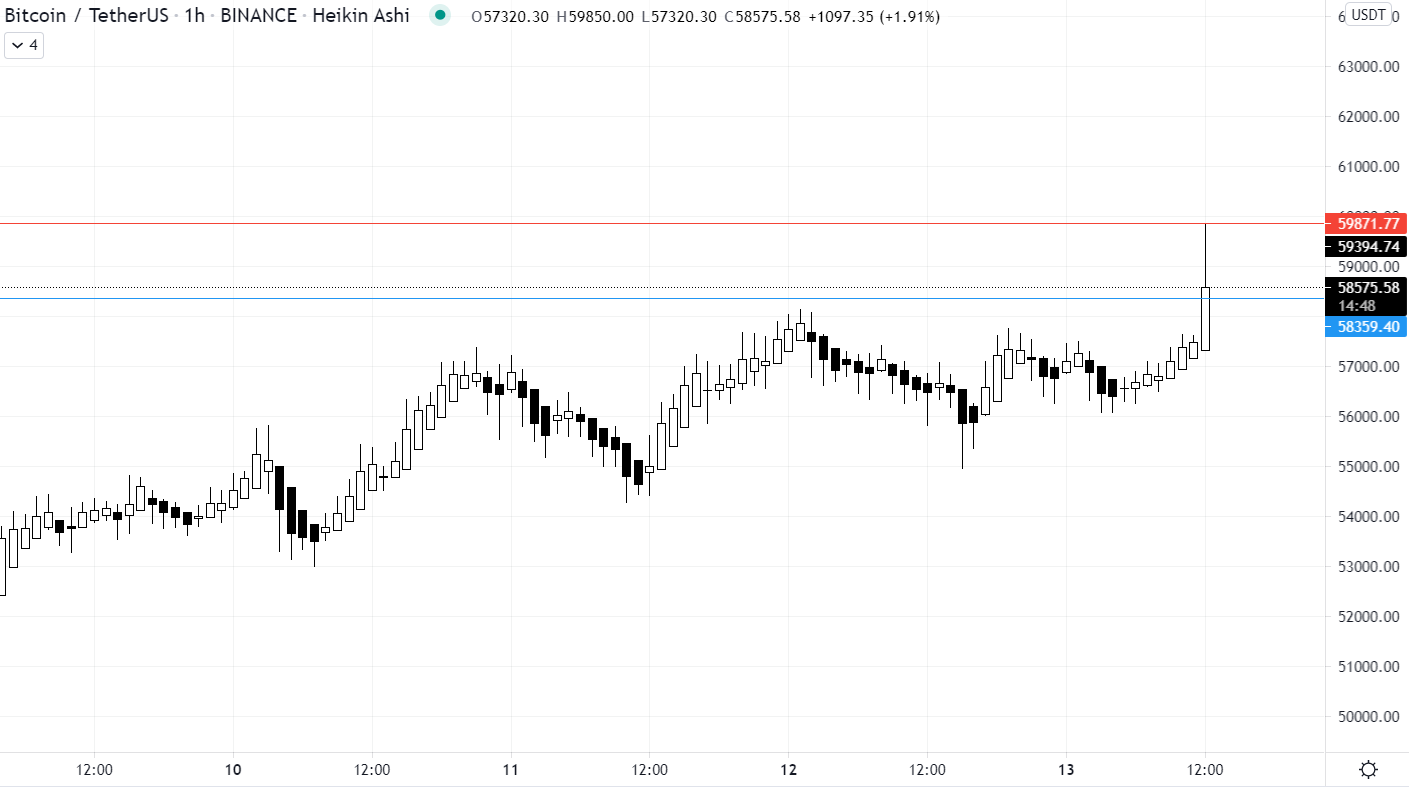 NFTs Powering the Ecosystem?
Bitcoin strength this past week has been relatively good. Price movement has been slow and steady, moving up with relatively small volatility compared to previous weeks. However a larger move in either direction was expected this weekend, as reported in the market roundup on Friday.
Bitcoin popularity coupled with the NFT boom has accelerated adoption across the market. With celebrities, sports franchises and corporations finally taking notice of the industry. NFTs in particular have seen a surge in popularity. Digital artist Beeple recently sold an NFT at Christies for $69 million.
While NFTs have perhaps been stealing the spotlight in recent days, Bitcoin has remained fairly strong and stable for a change. The rise to a new all-time high on Saturday will likely be tested before the weekend is out. Bitcoin is likely to smash through $60,000. The question now is not if, but when.
One Year Later from Flash Crash
The rally to a new all-time high comes at a bittersweet time for Bitcoin. Just one year ago, the market saw a dramatic flash crash. BTC dumped over 46% on Mar 12. 2020. The crypto dumped to a low of roughly $3,700. One year later and BTC is now up 16x that price. A price increase of 1,600% might have not even been considered this time last year. However the market growth within the last year has accelerated adoption. 
Market speculation appears to be mixed on the recent price action of BTC. The new high is a hard spot to determine further strength or a strong correction before a possible retest.
Everyone will have their eyes peeled to the Bitcoin price this weekend. Trying to determine which direction we move in next. Bitcoin could very easily stabilize above $60,000 before Monday. 
Disclaimer
All the information contained on our website is published in good faith and for general information purposes only. Any action the reader takes upon the information found on our website is strictly at their own risk.