BAYC: Just when we thought that the NFT fuss had died down, a huge global name apes in and buys one. But is there a greater motive behind it?
The Material Girl, Madonna announced last week that she has got on the Bored Ape Yacht Club (BAYC) train, finally, just as the fuss is dying down. Toot toot! Come on Madonna, you are usually at the forefront of trends. Catch up.
Madonna announced the purchase, saying, "I finally entered the MetaVerse…,………..My very own Ape! What should I name her? … We all need protection from Evil Eye."
Her BAYC ape sports a sleeveless logo T-shirt, and of course, an S&M hat. It is ready for all the bondage Madonna would like to indulge in.
But why, Madonna?
The purchase was settled with the assistance of crypto startup MoonPay. Was it publicity? Was it a collab? Is it a free plug?
There are murky waters here. Maddie's manager is Guy Oseary. He also represents Yuga Labs. It is this very company that created the Bored Ape Yacht Club. The company was valued at $4 billion recently, which is an eye-watering amount for a collection of digital apes. Sounds a little bit like Maddie was roped in to jack up publicity.
Madonna paid a scorching 180 ETH for the Ape, which is about $560,000. And then she promptly used it as her Twitter profile pic. Which must have hurt her soul, having to share the spotlight with a monkey.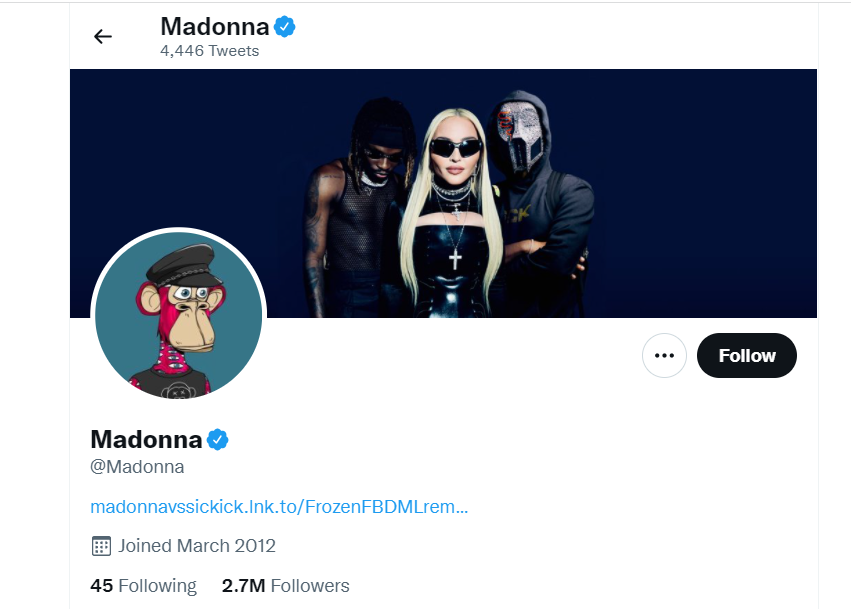 BAYC started up in April of 2021. Apes back then cost around 0.08 ETH (about $250 today). The initial offering sold out just days later. The current floor price on OpenSea is hovering around 103 ETH — or $322,100.
The Material Girl is in good company. Other celebs that own a BAYC include Post Malone, Marshmello, Steve Aoki, The Chainsmokers, Lil Baby, Timbaland, and Snoop Dogg.
BAYC and trends
According to Google Trends, interest in NFTs is falling. Although not a specific tool about the crypto world, Google Trends is used as a basis for analysis to determine the level of popularity of an asset or market segment. An increase in the number of searches indicates increasing interest, which may reflect a rise in prices or an expansion of the search term's user base.
However, the fall has happened for NFTs. Less and less interest has been placed on these assets.
Perhaps people now understand what they are, and don't need to google "what is an NFT"…?
If Madonna's purchase of an ape is a publicity drive, is it too little, too late?
Anyway Madonna will never stop doing things to get attention. So, it seems that the BAYC still has some life in it yet.

Got something to say about the BAYC or anything else? Write to us or join the discussion in our Telegram channel. You can also catch us on Tik Tok, Facebook, or Twitter.
Disclaimer
Following the Trust Project guidelines, this feature article presents opinions and perspectives from industry experts or individuals. BeInCrypto is dedicated to transparent reporting, but the views expressed in this article do not necessarily reflect those of BeInCrypto or its staff. Readers should verify information independently and consult with a professional before making decisions based on this content.