ZKSpace opened registration for its layer 2 domain name services that can replace crypto wallet addresses.
In recent months, there has been a significant increase in interest in and acceptance of Web3 domain name services. The Ethereum Name Service ("ENS") and Unstoppable Domains have been gaining popularity.
Marketplaces have also witnessed a surge in the trading of web3 domains. This comes at a time when the NFT trades are in disarray.
Let us take a deeper look at decentralized domain names and ZKSpace's new ZNS domain name service.
Did you know?
OpenSea's monthly trading volume has sharply dwindled, reaching $500 million in August. In the same time frame, the number of new ENS monthly name registrations surged by 465%, rising from 67,000 in January to 379,000 in July.
Decentralized domain name services – what is the hype about?
Domain names are trying to revolutionize decentralized identity management. It eliminates the necessity to type in character and numeric-based wallet addresses. It replaces it with human-readable names that can ease the process of sending and receiving crypto.
The domain names are also enjoying increased trading activity on major trading platforms, including OpenSea. However, with all major features set aside, investors have been purchasing web3 domains as potential investments.
Users have been trying to acquire major domain names, including those of Amazon and Samsung, in the hope to sell them for millions later.
Web3 domain names majorly eliminate the need to type in long and complicated wallet addresses. Many a time, we have heard incidents of funds being sent to the wrong wallet addresses. Web3 domain names will completely eliminate that room for error.
ZKSpace introduces ZNS
ZKSpace offers ZNS, a Layer 2 domain name service. Users can register and control their ZNS domain name, which will serve as a representation of their Web3.0 identity. ZNS name will be the user identity in future Layer 2 products from ZKSpace, including ZKSwap, ZKSquare, and ZKSea.
ZNS serves the same purpose as ENS on the Ethereum mainnet by decrypting 42-bit wallet addresses into names that can be read by humans. A ZNS name concludes with .zks, whereas an ENS name ends with .eth.
"Taking advantage of Layer 2's low transaction cost and fast confirmation speed, ZNS replaces crypto wallet addresses with personalized names and makes batch transfers and payments on ZKSpace more efficient than before."

ZKSpace CIO Issac Lee points out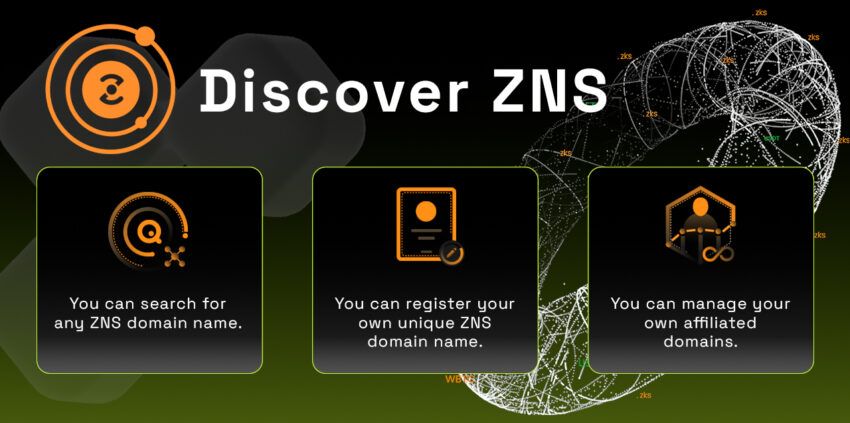 What makes ZNS different?
ZNS will reduce the possibility of any errors including typos when you copy-paste an address to send funds to it. It also eliminates the need to go through the wallet address and check the first and last characters of the address. Apart from all these, here are some of the key features of ZNS:
Cheaper registration cost than ENS: ZNS domains are cheaper than ENS domains that have now soared in price. Registration costs for 3+ character .zks names is $100 per year and for 4+ and 5+ character it is $30 and $5 respectively.
First layer-2 domain name service: ZNS is the first Ethereum Layer-2 domain name service. Holding a ZNS name grants you a Layer 2 unique Web 3.0 identity, and anybody may use this domain name to look for an address held by you.
Improves efficiency for token transfers: ZNS domains will eliminate the errors that happen during token transfers. It also helps in avoiding typos and further help in preventing asset loss during transfers.
Zero gas fee: The transactions using your domain names including registering, changing information, and renewing the registration don't include any gas fee.
Did you know?
ZNS domain names will be integrated across all products of the ZKSpace. These include ZKSwap, ZKSquare, ZKSea, and other Layer 2 products that the team will launch in the future.
How to register for a ZNS domain?
Users who wish to obtain a ZNS domain can easily do so by following a few easy steps:
Visit the ZKSpace ZNS section.
Click on "Connect wallet" with the wall you want to associate your ZNS domain with. Also, ensure to have the minimum funds for your name's annual fee.
Type your desired name in the search bar and select the registration period. You can avail of a 20% discount if you register for 2 years or more.
If you register the domain name for 3 years, then you can directly own the domain name.
You can go to "My Account" and renew your registration once it expires.
To avoid a flood of users fighting for domain names, it has also introduced a WL campaign. The campaign provides users with early access to the domain names. Users who have participated in the Twitter and Discord activities will stand a chance to become a part of the WL. The people in the WL will be the lucky ones to get their hands on a ZNS domain.
Conclusion
Getting your domain name is easy nowadays. However, the prices of major domain names are soaring. Domain names are definitely looking like the new trend.
If you are someone looking to get your own domain name, minimize the risks of sending crypto and get it at a reasonable price, the ZNS domain is the one to go for.
Website | Twitter | Telegram | Discord | Reddit
Disclaimer
All the information contained on our website is published in good faith and for general information purposes only. Any action the reader takes upon the information found on our website is strictly at their own risk.