On August 5, 2019, the XRP price reached a high of $0.331. A downward move ensued, which intensified on August 6. At the time of writing, the lower price reached was $0.306.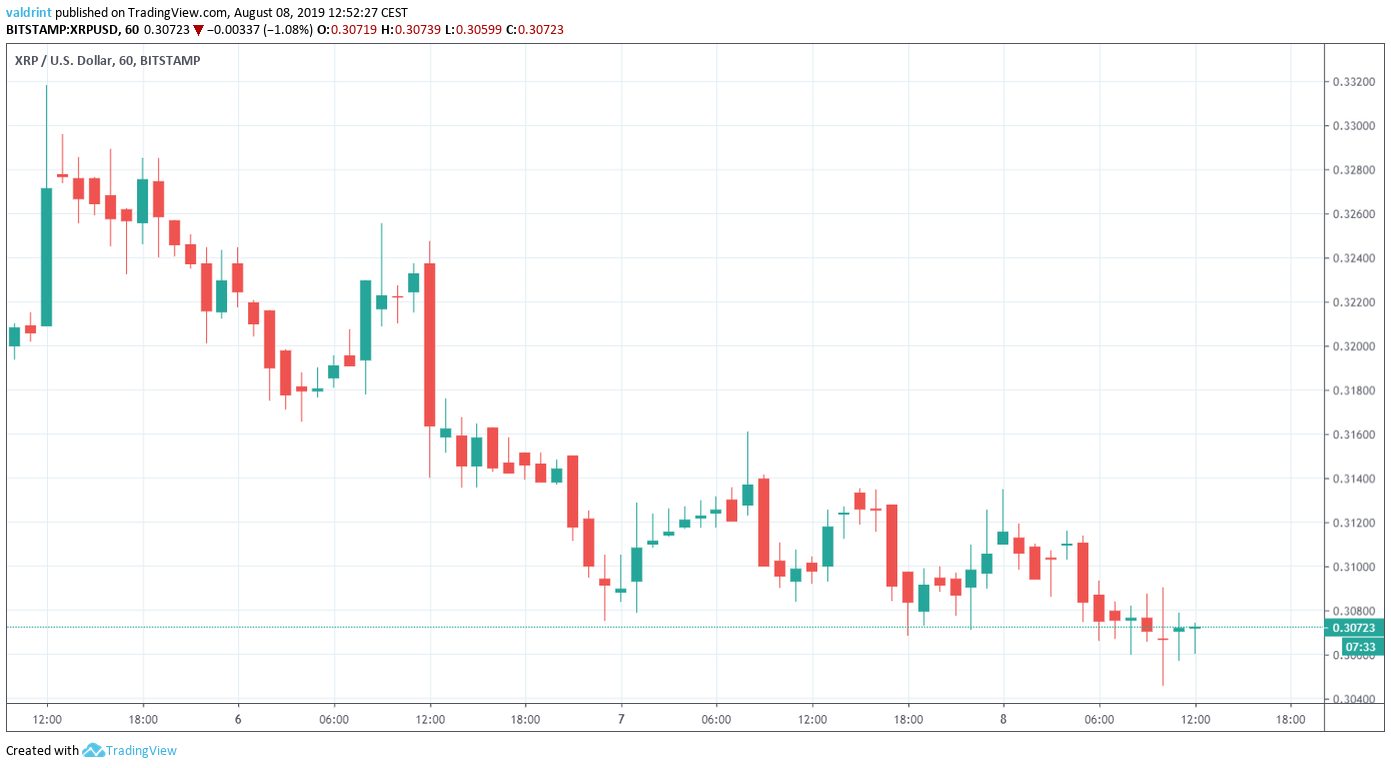 Will XRP initiate a reversal or are there further decreases in store? Continue reading below if you are interested in finding out.
For our previous analysis, click here.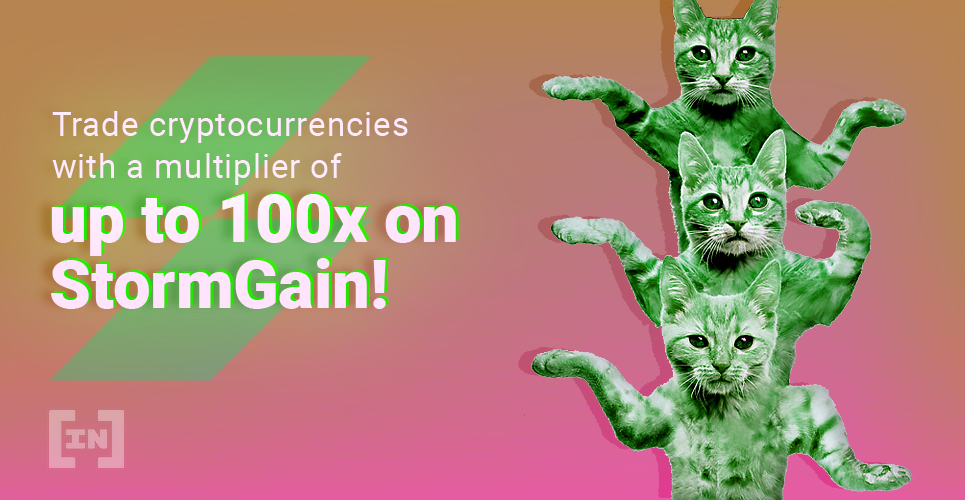 XRP Price: Trends and Highlights for August 8
XRP/USD is trading inside a descending wedge.
The short-term RSI has been generating bullish divergence.
There is support at $0.305.
There is resistance at $0.316.
Descending Wedge
A look at the 30-minute time-frame shows that the XRP price has been trading inside a descending wedge since August 6.
The descending wedge is considered a bullish pattern, making price breakouts more likely.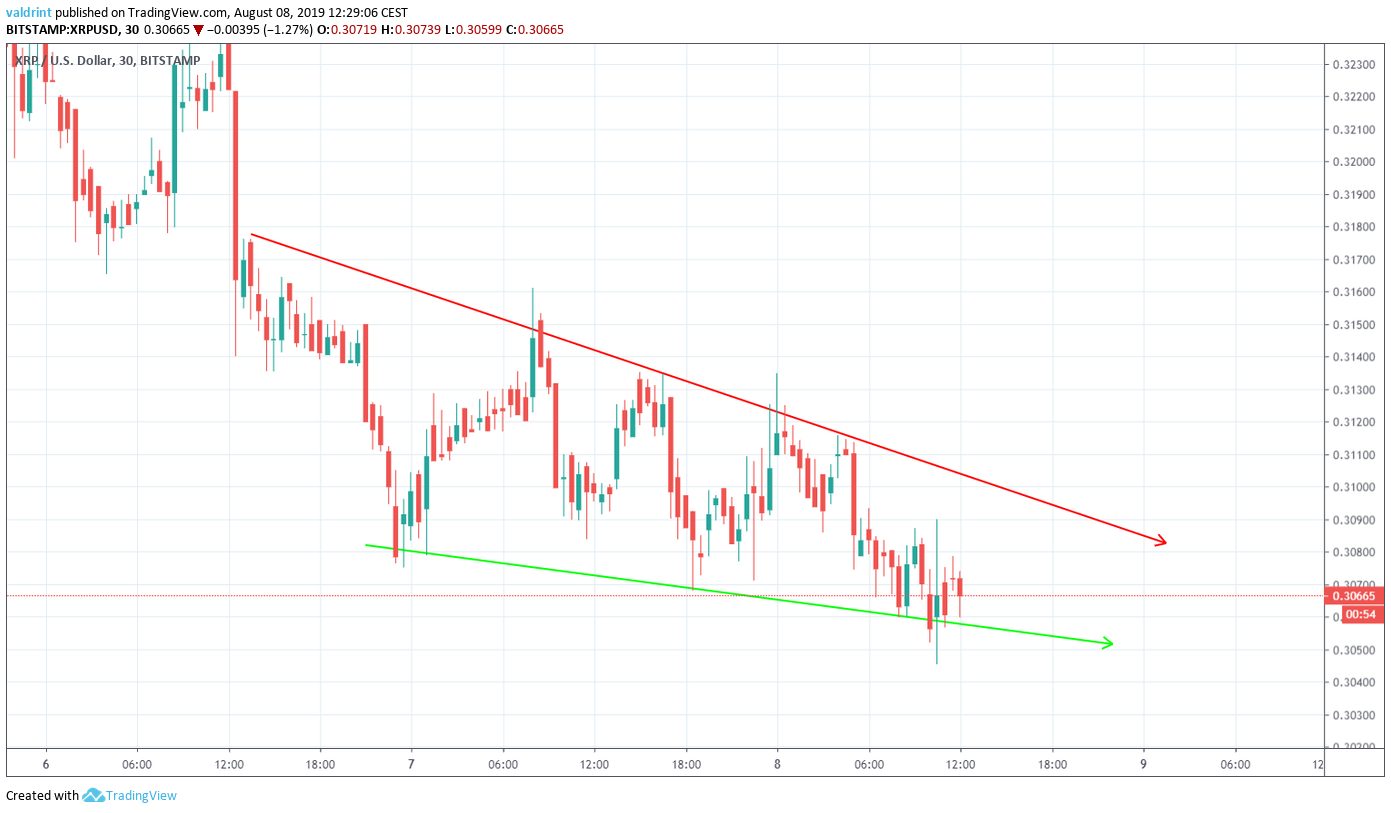 At the time of writing, it was trading very close to the support line.
Additionally, it is approaching the end of the wedge, making it more likely that a decisive move will occur.
A look at the RSI suggests that the move will take an upward direction.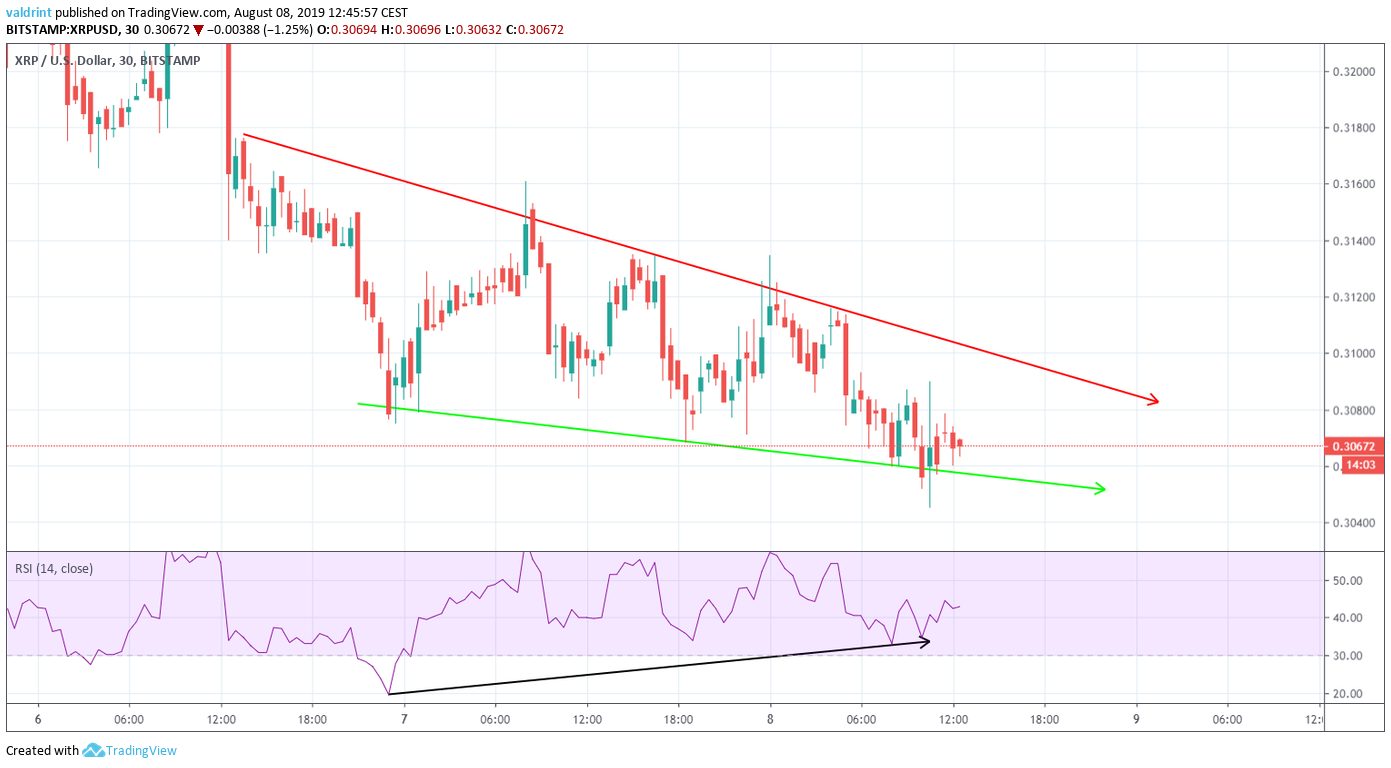 Bullish divergence has been developing for the entirety of the wedge's duration.
Additionally, no upward move has been initiated yet as a result of this divergence.
This makes us believe that the XRP price will soon break out from the wedge.
However, we have been using the 30-minute time-frame in order to do this analysis.
Let's take a look from further away in order to see how this wedge fits into previous price movement.
Sign up for an account with our partner exchange, BitMex, to trade cryptocurrencies with up to 100x leverage!
Long-Term Support
A look at a slightly longer-term time-frame shows that this is the fifth time that the XRP price has reached the significant support area outlined below.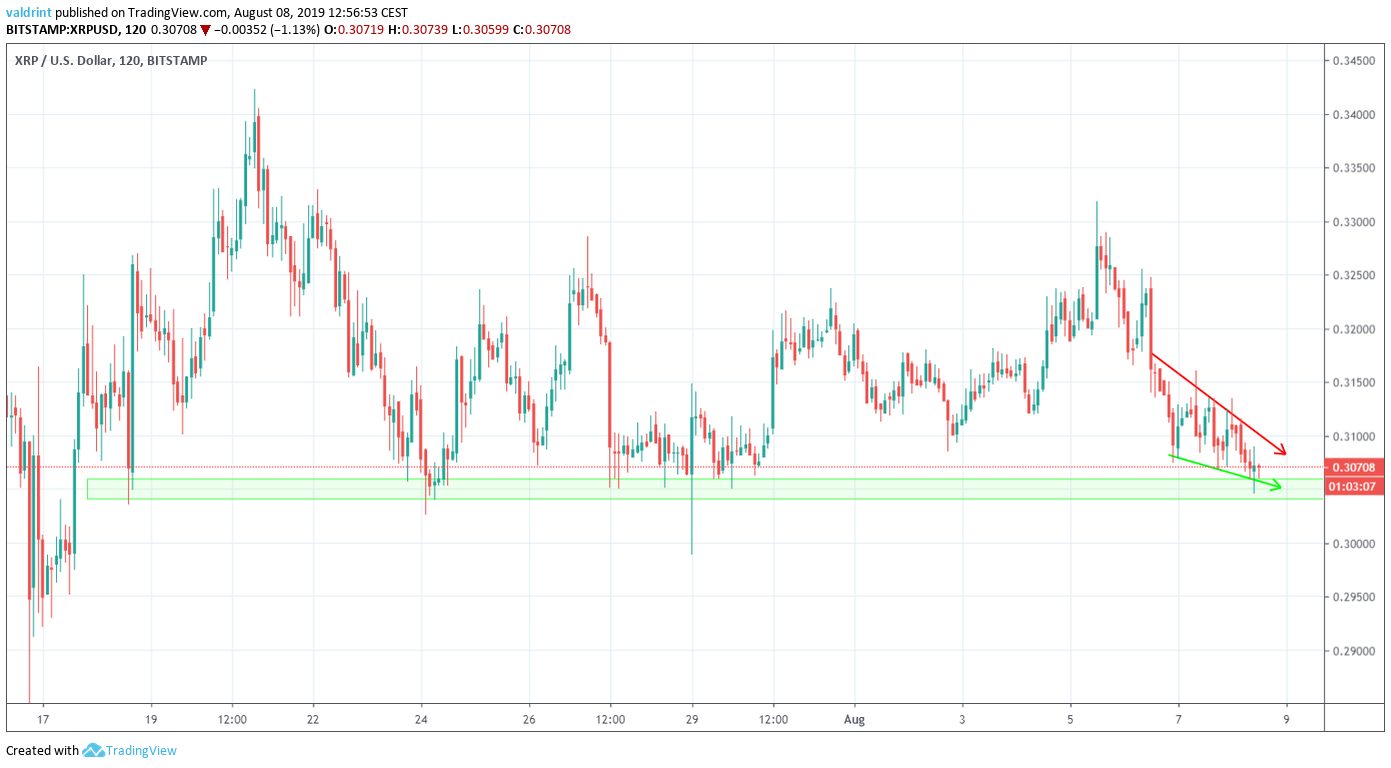 The support area is found at $0.305.
The fact that the wedge has materialized inside this area further adds validity to our hypothesis that XRP will soon break out.
Additionally, every other time that the price has reached this area, it has begun upward moves of different magnitudes.
If it begins another one, one resistance area is outlined below.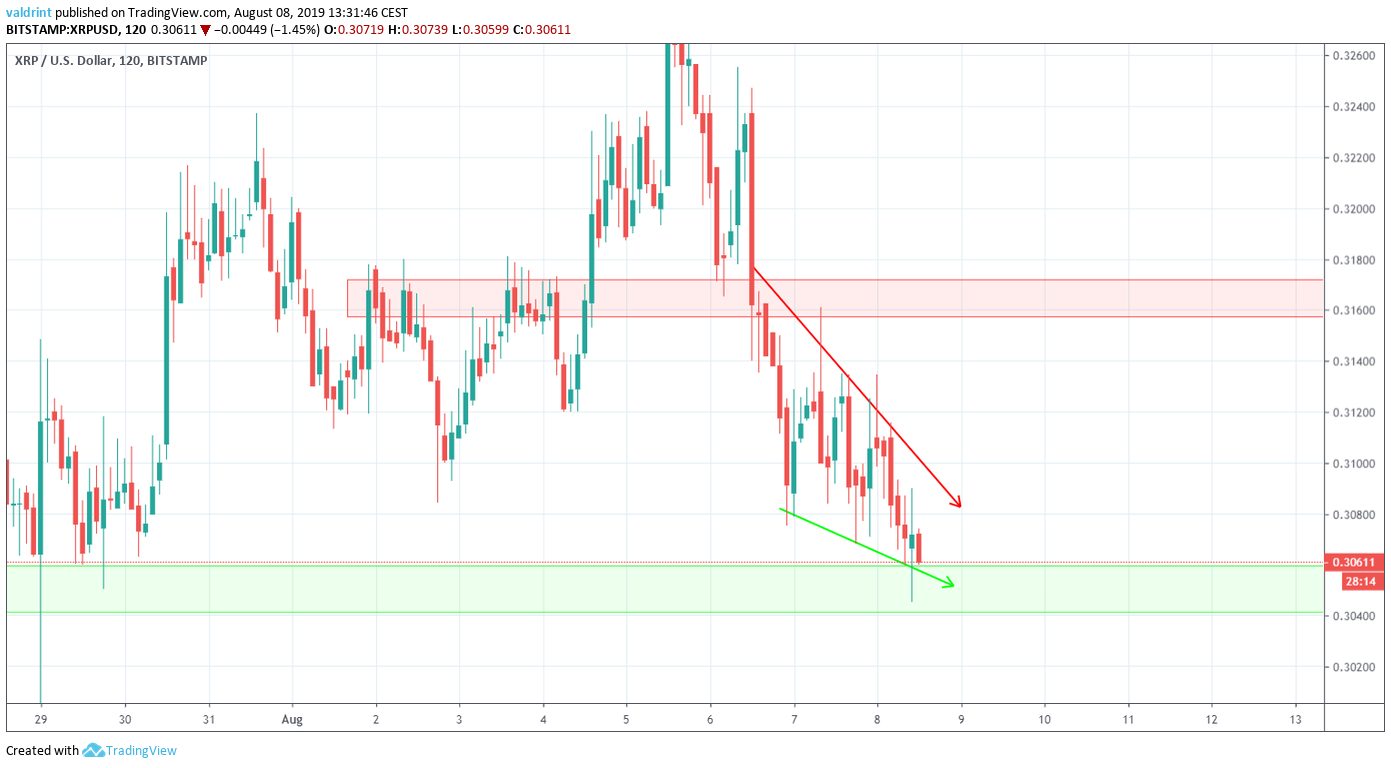 It is found at $0.316, coinciding with the beginning of the wedge.
Previous price movement, the creation of a bullish pattern and the presence of bullish divergence makes us believe that XRP will reach this area.
XRP Price Summary
The XRP price has been trading inside a descending wedge.
According to our analysis, it is likely to break out from the wedge and reach the resistance area outlined above.
Do you think XRP will break out from the wedge? Let us know in the comments below.
---
Disclaimer: This article is not trading advice and should not be construed as such. Always consult a trained financial professional before investing in cryptocurrencies, as the market is particularly volatile. 
Images are courtesy of TradingView and Shutterstock.
Interested in trading cryptocurrencies with a multiplier of 100x? Check out our partner exchange, StormGain, to do so!
---
Do you want to BeInCrypto? Join our Telegram Trading Community for exclusive trading signals, educational content, discussions and project reviews! Images courtesy of Shutterstock, Trading View and Twitter.