TRON (
TRX
) is a blockchain platform for the development and deployment of decentralized applications (dApps), similar to EOS or Ethereum.
The project gained a great deal of notoriety in December 2017, just as an explosive bull run was kicking off. At the top of the bull run, it was not uncommon for most cryptocurrencies to have made percentage gains in the hundreds or thousands. The TRX hype train, however, carried the fledgling token from just one-fifth of a cent to $0.35 in 34 days — a whopping 17,500 percent. High percentage gains and hype were not enough to save TRX from the bear market that lived around the corner in 2018, and the token price has fallen back steadily and is trading at $0.015 today totaling to a 93 percent correction.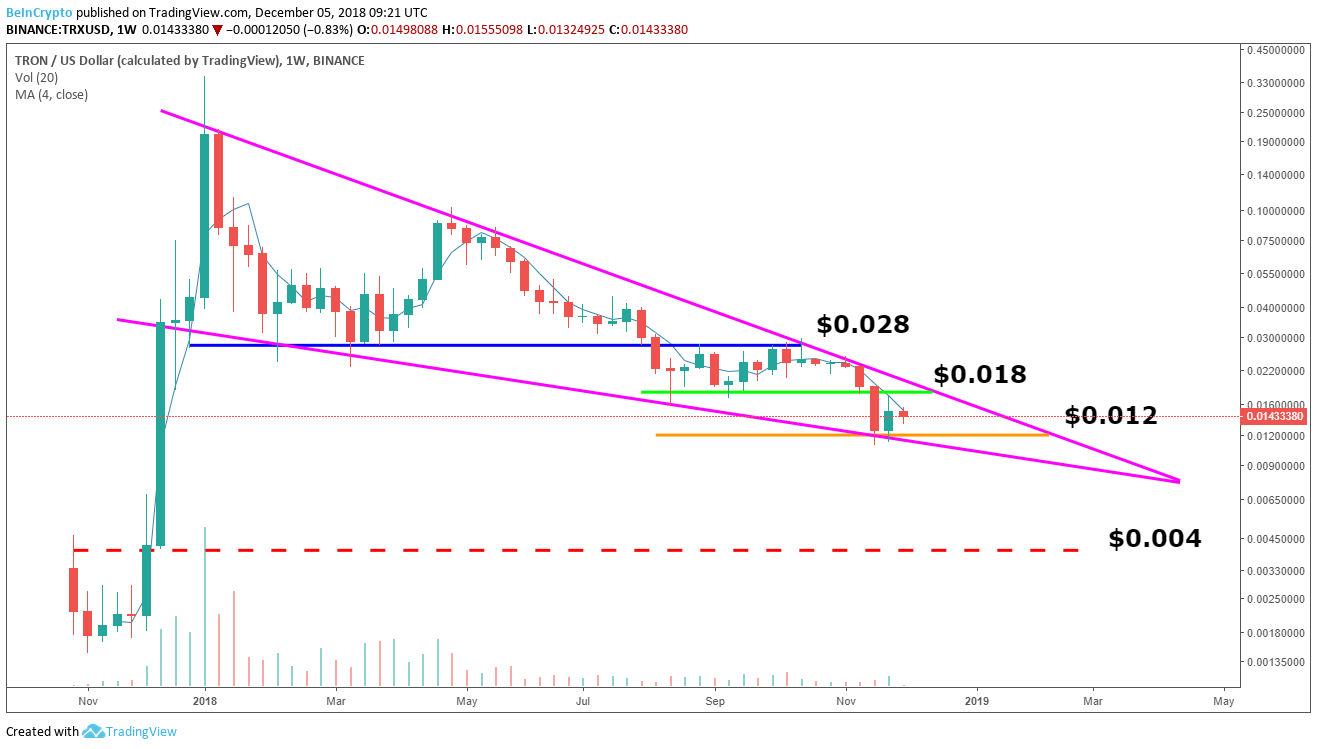 Stochastic RSI
Taking a look at the three-day and two-week
RSI
, we can see that the price hit a value of 95 before seeming to reverse back towards the middle range of 20 to 80. As it stands now, TRX appears to be overbought and will need some cooling off before making another attempt of breaking out of the descending trend line.
Skating Sideways
TRX has fallen back within a descending triangle that is getting tighter as we move down. Last month, the price hit the top resistance of the triangle and plummeted through the $0.018 support and bouncing hard off at $0.012. The bounce was enough for TRX to nearly get back to $0.018 but was denied and has since fallen back to $0.015. Considering the stochastic RSI is overbought and the previous patterns TRX has gone through, it is most likely that it will consolidate at its new level in the range of $0.01 to $0.016 until the end of January in the coming year. [bctt tweet="Traders should be wary about going all in at these levels, however, in case of further Bitcoin (BTC) decline. TRX is still much above its all-time low and still has plenty of room to fall." username="beincrypto"] A worst-case scenario could bring the token price back to the half-cent range.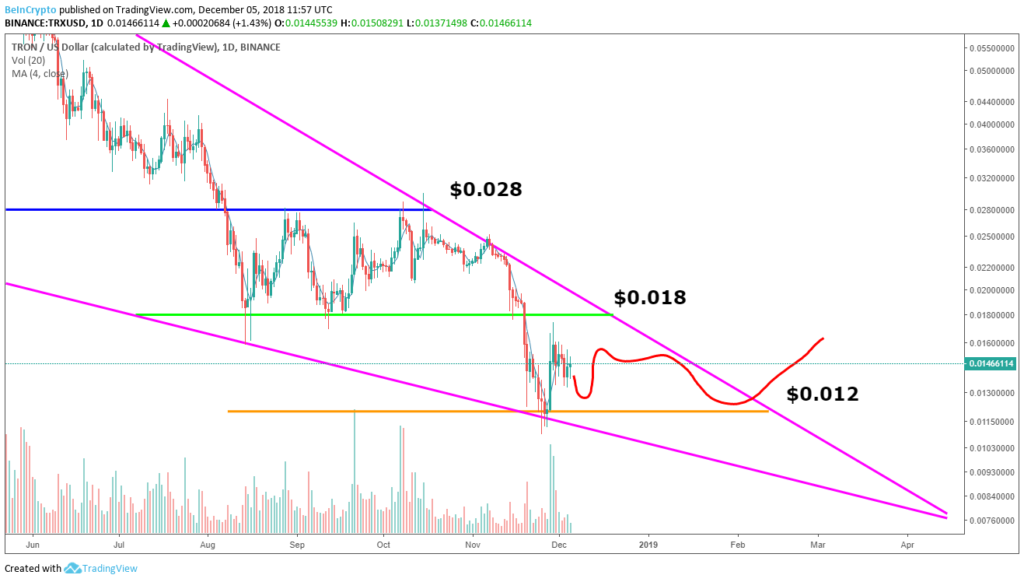 Have you attempted to make any TRX trades during 2018? Will TRX ever be able to put in a new all-time high? Let us know your thoughts in the comments below! 
Disclaimer: The contents of this article are not intended as financial advice, and should not be taken as such. BeInCrypto and the author are not responsible for any financial gains or losses made after reading this article. Readers are always encouraged to do their own research before investing in cryptocurrency, as the market is particularly volatile. The author of this article does not hold TRX.
Disclaimer
All the information contained on our website is published in good faith and for general information purposes only. Any action the reader takes upon the information found on our website is strictly at their own risk.