With the aim to become a top decentralized exchange (DEX), SushiSwap has published a roadmap for everything it plans to achieve in 2023.
SushiSwap stated in the release that its target is to become a user-centered DEX by working on its product stack and feature parity. For the new year, users can expect the launch of a DEX aggregation router.
Sushi to Enter DEX Aggregation
The platform noted, "In 2022, Sushi built its aggregation router in stealth mode; we will capitalize on its introduction in Q1 '23 to enter the DEX aggregation business."
The platform will also aim to increase swap volumes and fees in the course of the year to benefit liquidity protocols (LPs). The release also stressed the need for sustainable scalability of its own and other platforms. CEO Jared Grey noted, "Many protocols, like Sushi, must work on scaling operations without depleting their treasury."
The release also highlights that Sushi changed its business model to include the two facets. To entice LPs to switch to Sushi for a higher return, they have also revamped tokenomics. With more emphasis on aggregation, the platform also encourages collaboration with network partners.
Will New Tokenomics Boost Prices?
Grey had emphasized in December that the new tokenomics would foster liquidity and advance decentralization. He added that the concept of a new token model should offer sustainable economics and more equitable governance to boost Treasury reserves and ensure ongoing operation and growth.
In 2023, the network also aims to launch a decentralized incubator, Sushi Studios, to support the ecosystem.
SushiSwap is ranked 18 in terms of DeFi TVL as of January 2023. The network's native token, SUSHI, has $459.41 million in total value locked and is used across more than 20 chains.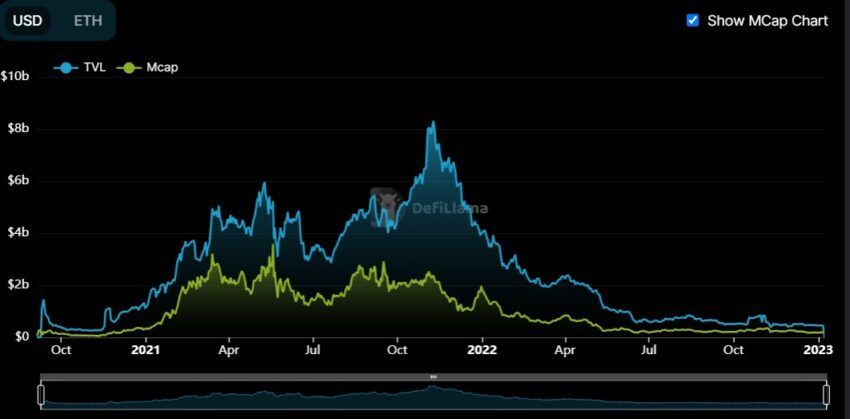 The governance token reached its record peak of $23.38 in March 2021. Since then, it has lost around 94% of its value. The token has been trading in the 24-hour range of $1.21 and $1.29 on CoinGecko at the time of press.
SUSHI has gained over 40% in value since the beginning of 2023 as the market recovers from the FTX collapse.
Disclaimer
BeInCrypto has reached out to company or individual involved in the story to get an official statement about the recent developments, but it has yet to hear back.