Rumors surrounding Facebook's in-house cryptocurrency 'Libra' has been doing the rounds for months on end. Today, it is expected that first-hand details will replace much of the widespread speculation across the internet.
On June 18, Facebook will publish a whitepaper for its upcoming Libra cryptocurrency . The company's Head of Financial Services & Payment Partnerships for Northern Europe, Lauren Laura McCracken, confirmed the news this past week.
Speaking to German publication WirtschaftsWoche at a trade conference in Amsterdam, McCracken divulged that not only the U.S. dollar will back the company's stablecoin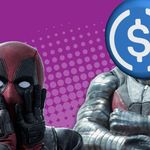 One of the perceived drawbacks of cryptocurrency is the price volatility, value wildly spikes and falls, discouraging many people from... More. Instead, she said, Libra's value will be kept stable by "a basket of fiat currencies."
While this statement indicates Facebook's plans to dominate the institutional crypto space globally, critics are voicing their concerns.
Will Libra Be Accommodating to Developing Markets?
Luis Buenaventura is a crypto cartoonist and founder of BloomXorg. His company provides blockchain-powered remittances to the Philippines. Buenaventura says it's "hard to comment on FB coin [sic] without seeing it in action but it's likely that this will be (like many other "global" wallets) more of a developed-market product that ignores the last-mile challenge in emerging regions."
On the flip side, Facebook could gear up to market Libra to regions where unstable currencies run rife. This will probably not be a good thing. Giant mega corporations out to save the world, in real speak, translates to giant mega corporations out to own the world. Big difference.

Will It Monopolize?
American broadcaster and host of the Keiser Report, Max Keiser, isn't optimistic either:
"The alt-coin apocalypse is nigh. This will drive Bitcoin higher, as BTC competes with Gold, not fiat. (Also, crypto 'payments' companies likely to wiped out)."
If the man himself is any indication, then yes – a monopoly is exactly what they're after. At the company's annual F8 event for developers, Zuckerberg hinted at what is sure to be interpreted as the company's philosophy:
"I believe it should be as easy to send money to someone as it is to send a photo."

Will Libra Replace Other Cryptocurrencies?
A Facebook-owned coin can't replace other cryptocurrencies. Not only is it not, strictly, a cryptocurrency as we know it (it's more closely related to Ripple than Ethereum, for instance), but it definitely won't be One Coin to Rule Them All. Even if the name, subliminal master par excellence, suggests otherwise. Or if the New York Times reports that Facebook is "hoping to succeed where Bitcoin failed".
But the concern isn't a technical one. It's sheer scale.
Libra might not be a cryptocurrency in the true sense of the word (Forbes has called it a one of a mounting range of "centralized, faux cryptocurrencies"), but it's poised to become the poster child of exactly that in the eyes of everyday people not accustomed to the ins and outs of cryptocurrencies and blockchain technology.
Facebook has always played the numbers game. It's the biggest digital 'nation-state' on earth. And where it has seen competition, those were bought out and assimilated into the Facebook universe. You can't escape Facebook on Instagram or on WhatsApp – they've both become Zuckerberg-owned spaces.

Will Libra Change the Very Definition of the Word 'Cryptocurrency'?
Guess where our digital versions spend most of their time? No surprise, Facebook, Facebook Messenger, Instagram, and WhatsApp top the list in many countries. Giving up Facebook itself doesn't mean you're giving up the company. It's like breaking up with your partner but staying best friends with their sister, their brother, and their cousin. The company's aggressive mergers and acquisitions strategy is paying off. It traps most of us under at least one of its owned-app spells.
Terminator had SkyNet; this company is our AttentionNet. In some ways, Facebook is the attention economy. And it doesn't give up trying to win us over, either. If data is a problem in your part of the world or you own a low-end device, don't let that stop you. Try Facebook Lite. Because there's strength in numbers, and you're a key player. We're all key players. All 2.5 billion of us.
That's why we have to ask ourselves: What will happen when the majority of Facebook's consumer audience come to think of "cryptocurrency" as "Libra"? Will that be a nail in the coffin of everything the crypto community has worked so hard for to mainstream digital currencies?
What effect do you think the Libra will have on the crypto and fintech industries? Let us know below.
---
Images courtesy of Shutterstock, Trading View and Twitter.