Making headlines in crypto this week was yet another Alameda colleague of Sam Bankman-Fried turning on him after the former FTX boss went to jail for witness intimidation. The focus of the US crypto industry has been on Bitcoin ahead of the applications of several US firms to launch spot Bitcoin ETF. But former US Securities and Exchange Commission (SEC) official John Reed Stark said the agency would unlikely approve spot Bitcoin exchange-traded funds (ETFs) until the industry is more transparent. 
Bitcoin's halving has drawn attention to the concentration of Bitcoin holdings and the revenue challenges miners face when it happens. A standalone miner earned 6.25 Bitcoin mining the asset on Sunday despite a recent increase in hashrate. But as even miners contemplate lower returns, sobering statistics revealed that no matter how many computers are thrown at Bitcoin, the lucrative rewards miners enjoy will one day cease.
Rounding up headlines is a lawsuit against Crypto.com for negligence related to a token listing. The popularity of a new token-sharing app built on Coinbase's new Base blockchain surprised the Ethereum ecosystem with 30,000 new sign-ups.
Bitcoin Miner Purchases Ramp Up
On Monday, Twitter user Apex Bitcoin did some math to find that the limited supply of 21 million BTC means it is impossible for every human being to own Bitcoin. Considering the number of Bitcoin believed to be lost forever and the number held by its founder, Satoshi Nakamoto, Bitcoin Apex said there will eventually be about 14.5 BTC for every 8,000 people.
When the blockchain software awards the last Bitcoin, each person will be able to own 0.002625 of the asset. Considering the number of so-called "whales" holding large amounts, it is perhaps wise to accept that you may never own it.
The reduction in the emission rate of Bitcoin next year is already seeing miners clamor for new machines to remain profitable after the halving. But increasing hashrate is no guarantee, as we will see shortly.
Crypto – Socially Speaking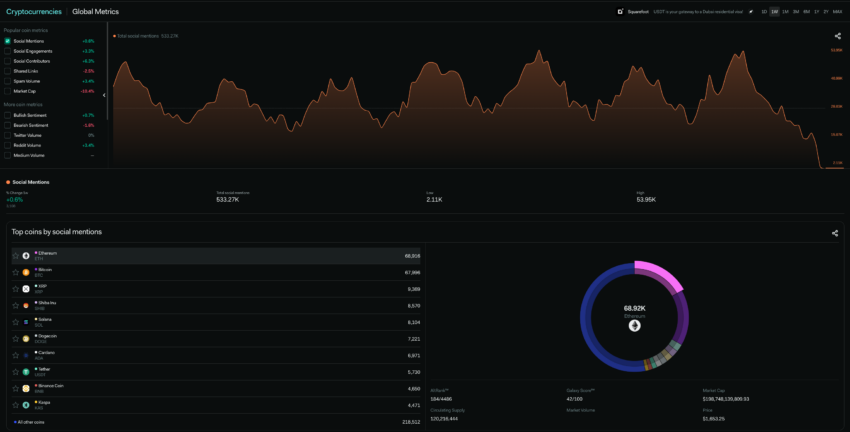 Lucky Miner Solves Bitcoin Block
On Sunday, BeInCrypto reported that a solo miner earned the 6.25 Bitcoin block reward using the CKpool mining service. The lucky party likely used an S17 Bitcoin miner with a hashrate of roughly one quadrillion, one thousand times less powerful than the new machines Blockstream recently bought.
Want to learn more about mining at home. We have everything you need to know in this handy guide here.
The solo miner became the third to use CKpool to process a Bitcoin block this year.
John Reed Stark Spells Doom for Bitcoin ETFs
Staying with Bitcoin, on Saturday, former SEC official John Reed Stark predicted the SEC would not approve a spot ETF because of the industry's lack of transparency.
Known for his anti-crypto sentiments, Stark said crypto is currently a "cesspool of grift, fraud, and chicanery." He said the lack of fundamentals, balance sheets, cash flows, products, and management means that the agency is unlikely to approve a fund anytime soon.
The agency recently delayed ruling on the applications from several firms, including Cathie Wood's ARK Invest. Stark previously said the SEC may approve a spot Bitcoin ETF after the 2024 elections in November.
Friend.Tech's Mix of Crypto and Social Media Proves Popular
On Sunday, Friend.Tech, a new social platform on Coinbase's Base blockchain, experienced a surge in sign-ups. Over 30,000 applicants registered in the first 24 hours.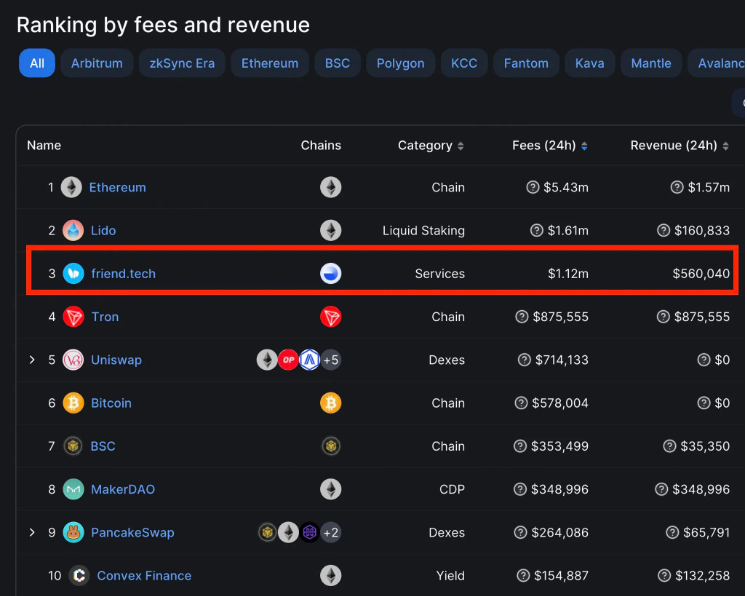 The platform earns money by exchanging tokens between interested investors and influencers. In its first 24 hours of operation, the platform earned the most fees of any decentralized application on Ethereum.
Later in the week, reports surfaced about an alleged leak of customer wallet addresses.
Crypto Not so Dot-Com for Token Creator
On Aug. 18, a token founder sued Forix Dax, Crypto.com's parent company, for swiping funds he had set aside to launch a new token. Despite following the exchange's protocol for listing new tokens, Bryan Lawrence claimed the exchange revoked his access and later sent a cease-and-desist order.
The issue allegedly caused Lawrence health problems for which he is seeking assistance.
Alameda House of Cards Collapses
A week in crypto would not be complete without developments in the Sam Bankman-Fried saga. The latest whistleblower, former Alameda engineer Aditya Baradwaj, accused Bankman-Fried of allegedly pilfering his life savings while running a business bereft of commonsense business practices.
Baradwaj says his former boss conducted an extravagant lifestyle while ignoring basic risk management at Alameda. Bankman-Fried is in jail in New York after violating bail agreements by leaking confidential information on former Alameda CEO Caroline Ellison.
How the Top 10 Cryptos Fared This Week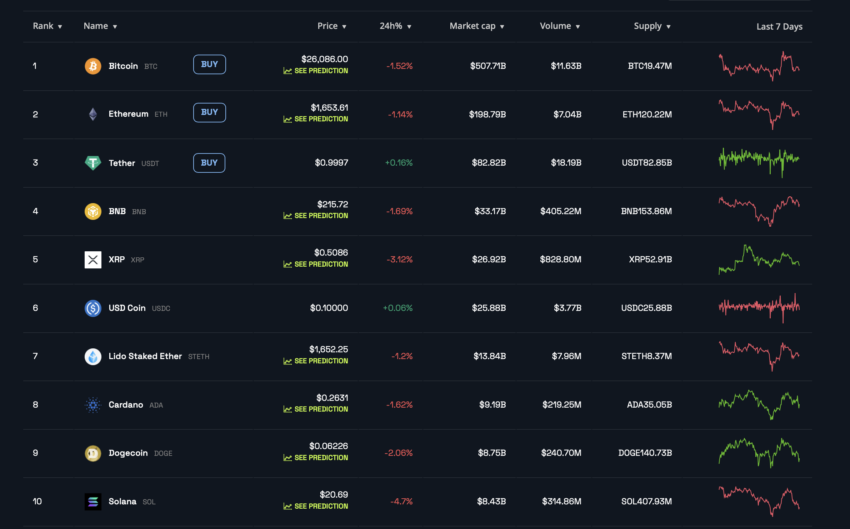 Got something to say about Bitcoin ETFs, miners, or anything else? Write to us or join the discussion on our Telegram channel. You can also catch us on TikTok, Facebook, or X (Twitter).
Disclaimer
All the information contained on our website is published in good faith and for general information purposes only. Any action the reader takes upon the information found on our website is strictly at their own risk.
David Thomas, a seasoned electronic engineer with nine years of expertise, has built a distinguished career by combining his passion for writing with an in-depth understanding of...
David Thomas, a seasoned electronic engineer with nine years of expertise, has built a distinguished career by combining his passion for writing with an in-depth understanding of...
READ FULL BIO
Sponsored Sponsored