Uniswap, the world's top decentralized exchange, has held what it refers to as a 'temperature check' poll to determine what will happen with the UNI liquidity farms due to expire today, Nov 17.
The move comes as liquidity on the protocol slumps ahead of the
closure of its four UNI mining pools
. The two-month mining program distributed over 20 million UNI tokens to
DeFi
farmers working out to 2.5 million tokens per pool per month. The
poll
asked the community whether Uniswap should distribute the UNI liquidity to farmers as a preliminary vote on further extending incentives.
A community proposal to continue UNI rewards at a reduced rate is currently at the "temperature check" stage.

Vote in this off-chain snapshot to signal your support for or against! https://t.co/Mr0Uwv1MIg

— Hayden Adams 🦄 (@haydenzadams) November 16, 2020
If the 'temperature check' passes with a minimum of 25,000 UNI, a second consensus vote will be posted to finalize the details of the proposal. This was explained by
DeFi
Rate's Cooper Turley, who made the proposal along with community member 'Monet Supply.' Turley added,
"The goal of this proposal is to 'maintain the status quo', using reduced incentives as a means to continue distribution as we look to optimize allocations in the medium term."
The second vote will be on the distribution of UNI for an additional two months. The distribution will go to the same four pools, but at half the rate of the genesis distribution. This works out to 1.25 million UNI per month to each of the pools. At the time of press, there was over 60% voting for the proposal and 32% against it, meaning that the majority wants to continue farming.
Uniswap Collateral Exodus Begins
It appears that the last-minute governance action has come too late, as liquidity is already flowing out of Uniswap. From an all-time high of
just over $3 billion
last week, Uniswap has lost 40% of its collateral in a sharp fall to $1.8 billion according to DeFi Pulse.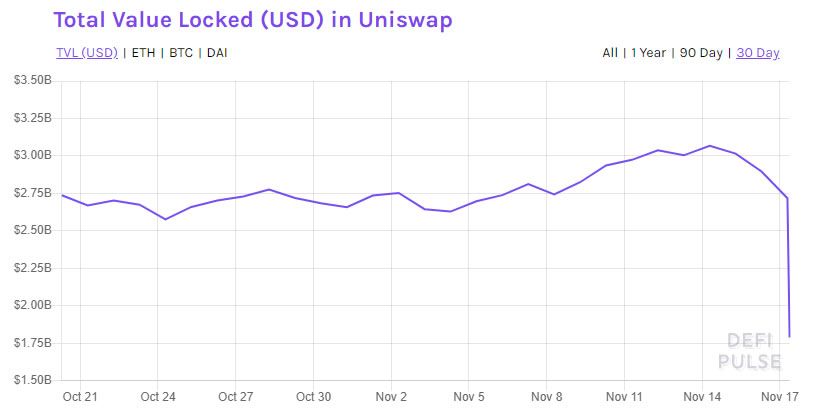 Over a million ETH has left the protocol in the past 24 hours, though
Ethereum
prices are up on the day indicating that funds might be shifting to other
DeFi farms
or taken off the exchange to be moved back into cold storage. As a result, its market share has dropped to 19% and is in danger of losing the top spot to
Maker
which has seen a TVL increase of 2.8% over the past 24 hours.
UNI Price Update
UNI has yet to be distributed despite the liquidity loss, so there has been little effect on markets and prices. UNI is currently trading for $3.73, up 5% since yesterday's close. Prices did take a dip on Monday, briefly dropping to $3.43 but they have since recovered. This week is likely to bring more
volatility
for Uniswap as its governance vote may be too little too late.
Disclaimer
BeInCrypto has reached out to company or individual involved in the story to get an official statement about the recent developments, but it has yet to hear back.