TASCOMBANK, a major Ukrainian commercial bank, is mulling over the use of blockchain technology following the completion of a pilot. The bank used the Stellar network in the pilot and noted several advantages.
One of Ukraine's oldest commercial banks, TASCOMBANK, has recommended using blockchain technology after using the Stellar (XLM) network for an electronic money pilot. The bank conducted a pilot related to decentralized technology and recommended the "adoption of to transform the payment landscape of Ukraine."
The report issued provides information to the National Bank of Ukraine and the Ministry of Digital Transformation of Ukraine. It listed several advantages of decentralized technology. These include greater transparency and accountability, improved security and confidentiality, low transaction costs, instant payments, and high throughput.
The pilot first launched in 2021, with the intention to test the technology to better payment systems in the country. Sergii Kholod, the First Deputy Chairman of the Board of TASCOMBANK, said,
"As part of a pilot project we explored a new way of issuing and managing electronic money which could be a new generation means of payment for the citizens and organizations of Ukraine, their employees and clients, government institutions, and international organizations. The results of the pilot project presented the openness of the bank's infrastructure to blockchain solutions in the future."
TASCOMBANK conducts several banking activities, including consumer and corporate lending, factoring, electronic commerce, acquiring, and trade operations financing. The pilot project was launched with the support of the Ministry of Digital Transformation.
Ukraine Turns to Crypto As Individuals and Companies Chip In
As Ukraine has been defending itself from a Russian invasion, it has been turning to cryptocurrencies to support its efforts. Several individuals and groups in the crypto community have come together to aid Ukraine. It received $54 million in cryptocurrency as of August 2022, while the NFT sector has also been a contributing factor.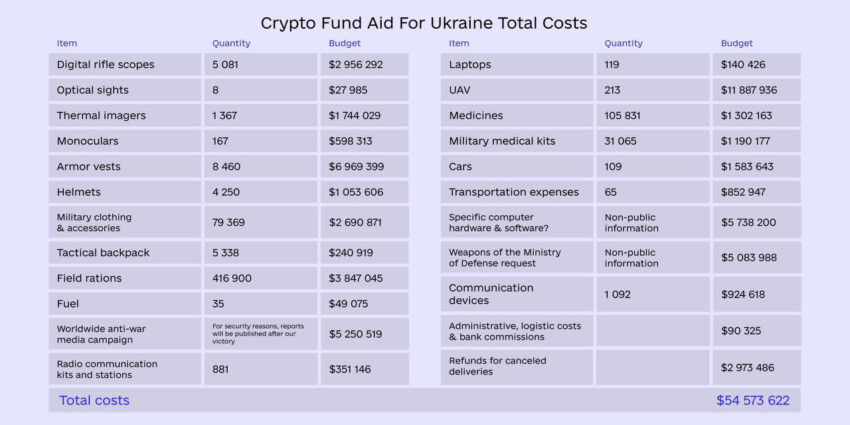 Binance also partnered with Ukraine's pharmaceutical company ANC to establish digital payments for related products. The exchange has also partnered with other companies in the country with similar goals.
TASCOMBANK Not the Only Bank Taking to Blockchain Tech
Banks have become increasingly interested in using blockchain technology and digital assets. These establishments are beginning to see the technology's benefits and how it could bolster their services.
JPMorgan Chase is one of the most notable of these banks, with the bank filing for a digital wallet trademark in November 2022. Visa has also released a proposal allowing Ethereum payments from their own wallets. ABN Ambro also recently became the first bank in the Netherlands to register a digital bond on a public blockchain.
Disclaimer
BeInCrypto has reached out to company or individual involved in the story to get an official statement about the recent developments, but it has yet to hear back.