On July 16, 2019, the TRON price made a low of 215 satoshis. A gradual upward move ensued, materializing in several waves. The TRX price reached highs above 280 satoshis on two occasions — July 20 and 22, respectively.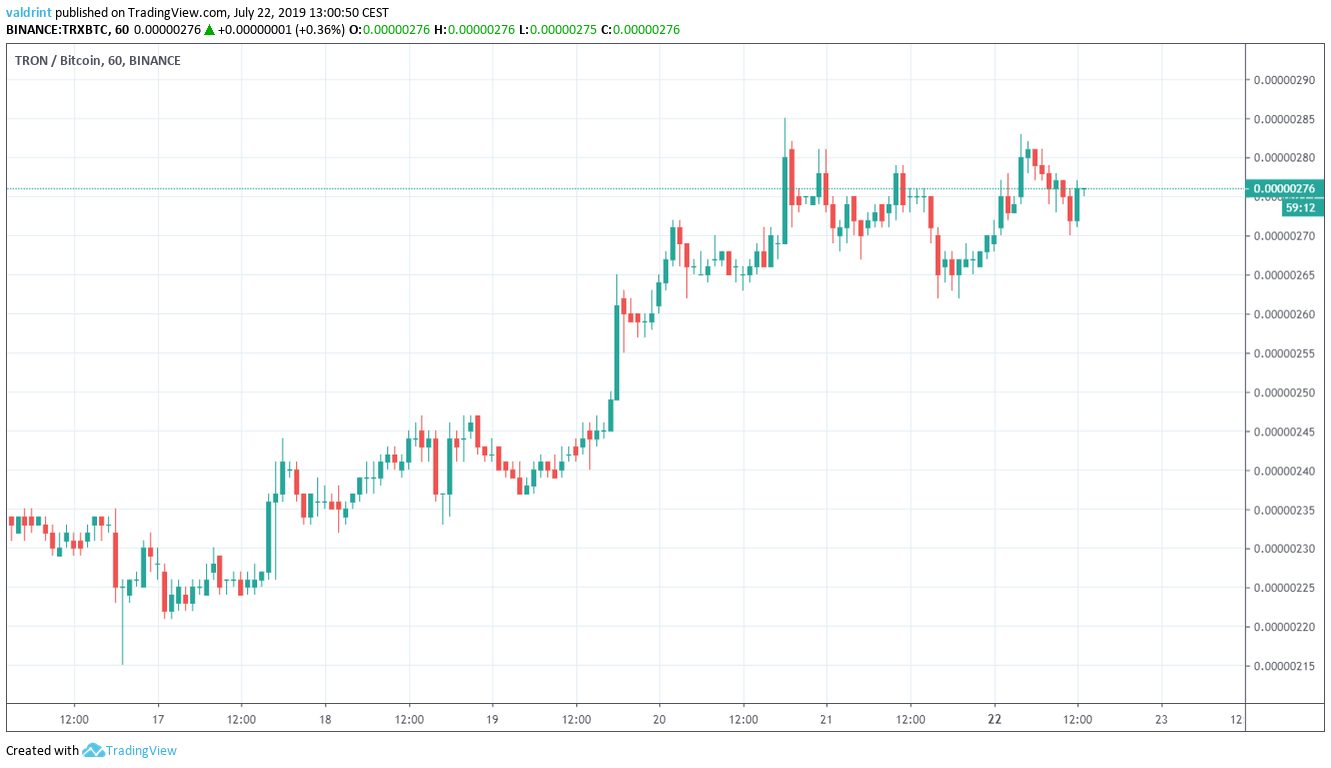 Will TRON reach a higher high or are there further decreases in store? Scroll down below if you want to find out.
For our previous analysis, click here.
If you would like to trade TRON (TRX) on Binance, click here to sign up for the popular altcoin exchange!
TRON Price: Trends and Highlights for July 22
TRX/BTC broke out from a short-term descending wedge.
It has possibly made a double top pattern.
There is a minor support area at 250 satoshis.
There is a very significant resistance at 300 satoshis.
Previous TRX Price Movement
Since reaching a high of 360 satoshis on May 24, the TRX price has been decreasing — trading inside the descending wedge outlined below.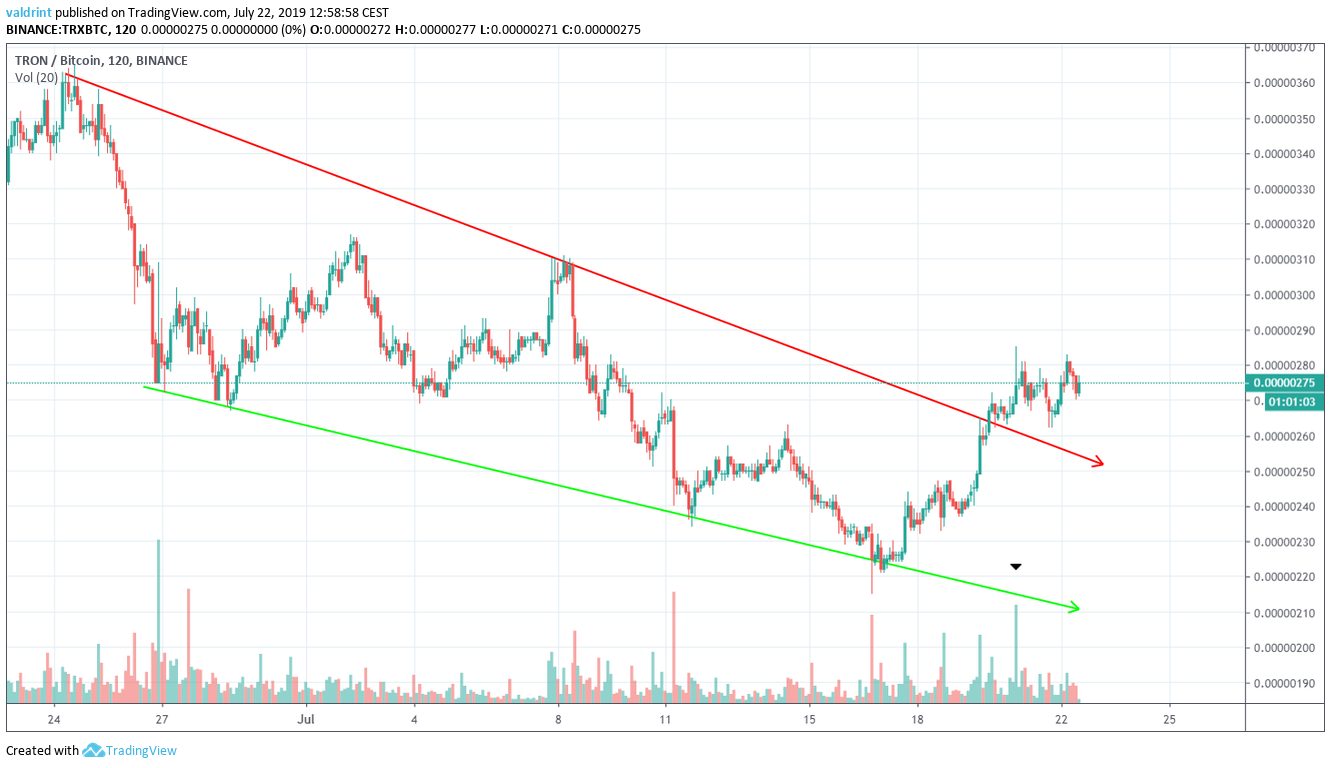 On May 21, the TRON price broke out from this wedge.
The breakout transpired with above-average volume, somewhat reducing its significance.
Will the upward movement continue?
Possible Decrease
A look at the RSI suggests that it will not.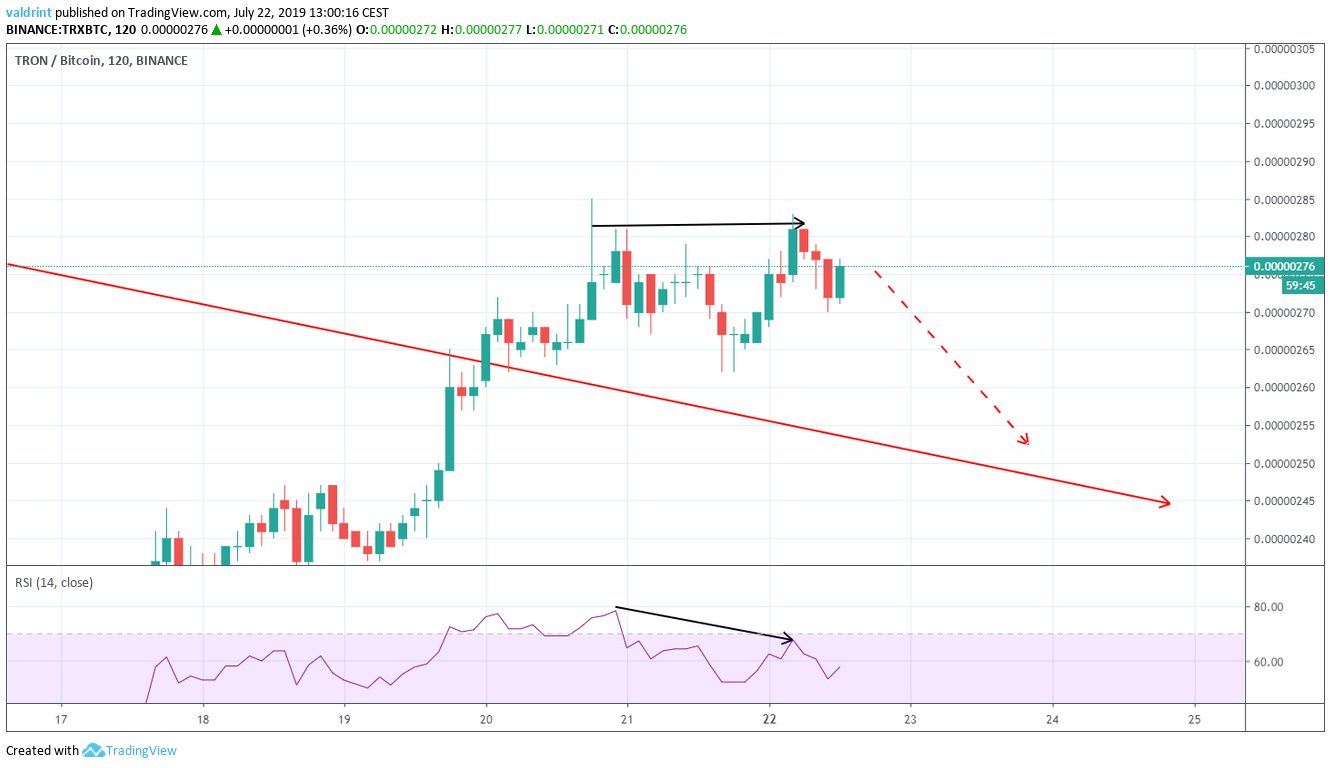 The TRX price has made a double top near 280 satoshis. This is considered a bearish reversal pattern.
Furthermore, it has been combined with bearish divergence in the RSI.
Therefore, it is likely that the TRX price will begin to decrease soon.
If it does, one support area is identified below.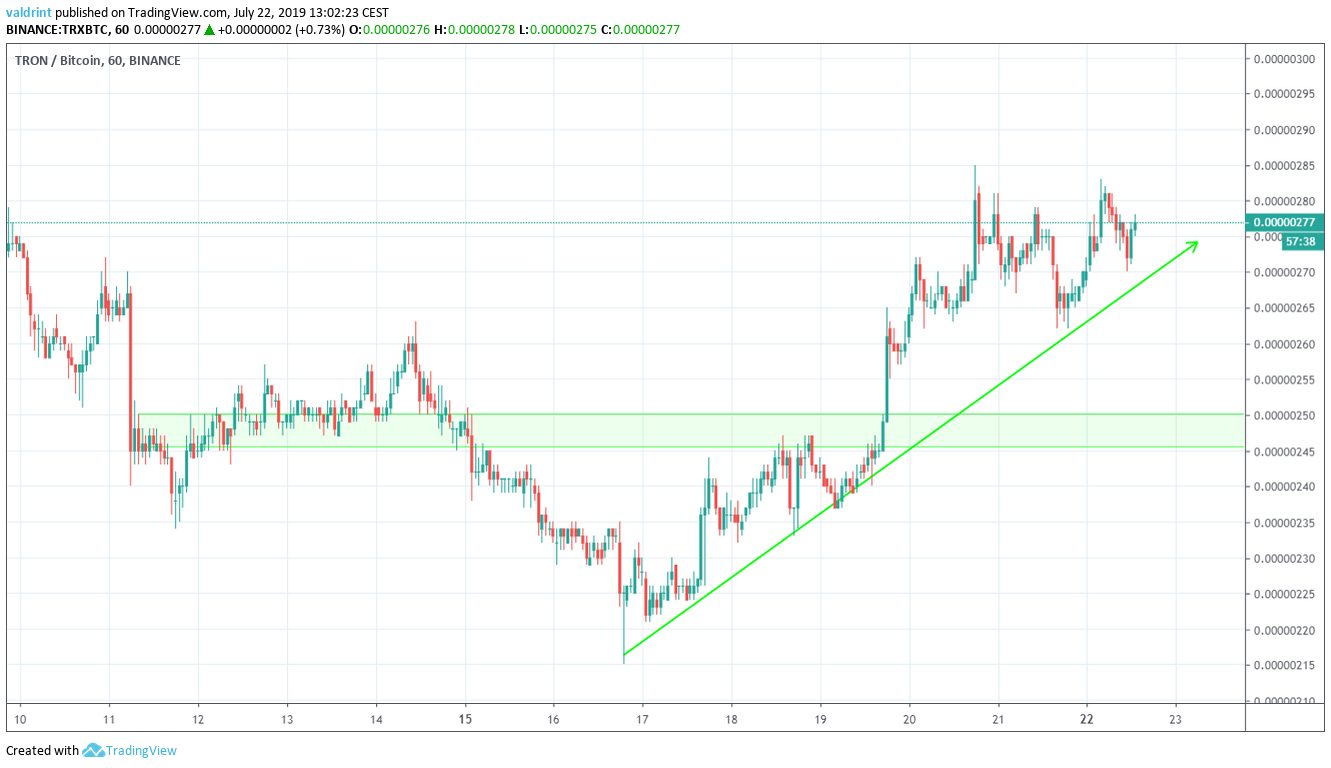 If the TRX price begins to decrease, it will likely break down from the ascending support line it has been following.
If it does so, the closest support area can be found near 250 satoshis.
Significant Resistance for the TRX Price
A look at the daily time-frame gives us two occurrences that we have not yet discussed.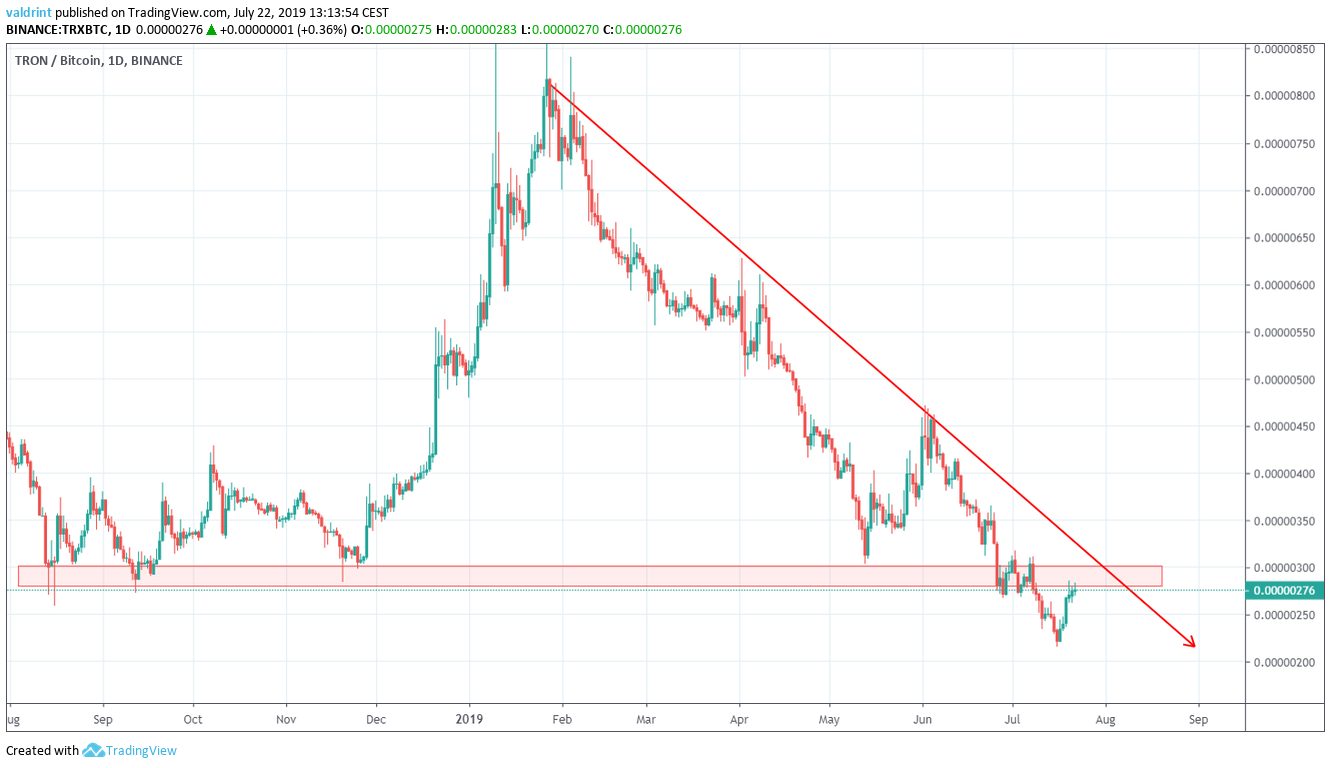 Firstly, TRX has been following a descending support line since reaching a high above 800 satoshis in the beginning of February.
Second, the TRON price had previously created a very significant support area near 300 satoshis.
However, in the beginning of July, it broke down below this area.
Currently, it has come back to validate it as resistance.
This further increases the significance of the double top and makes it very unlikely that the price will continue its upward movement.
Rather, it is likely to decrease towards 200 satoshis, before possibly initiating an upward move.
A look at moving averages (MA) supports this idea.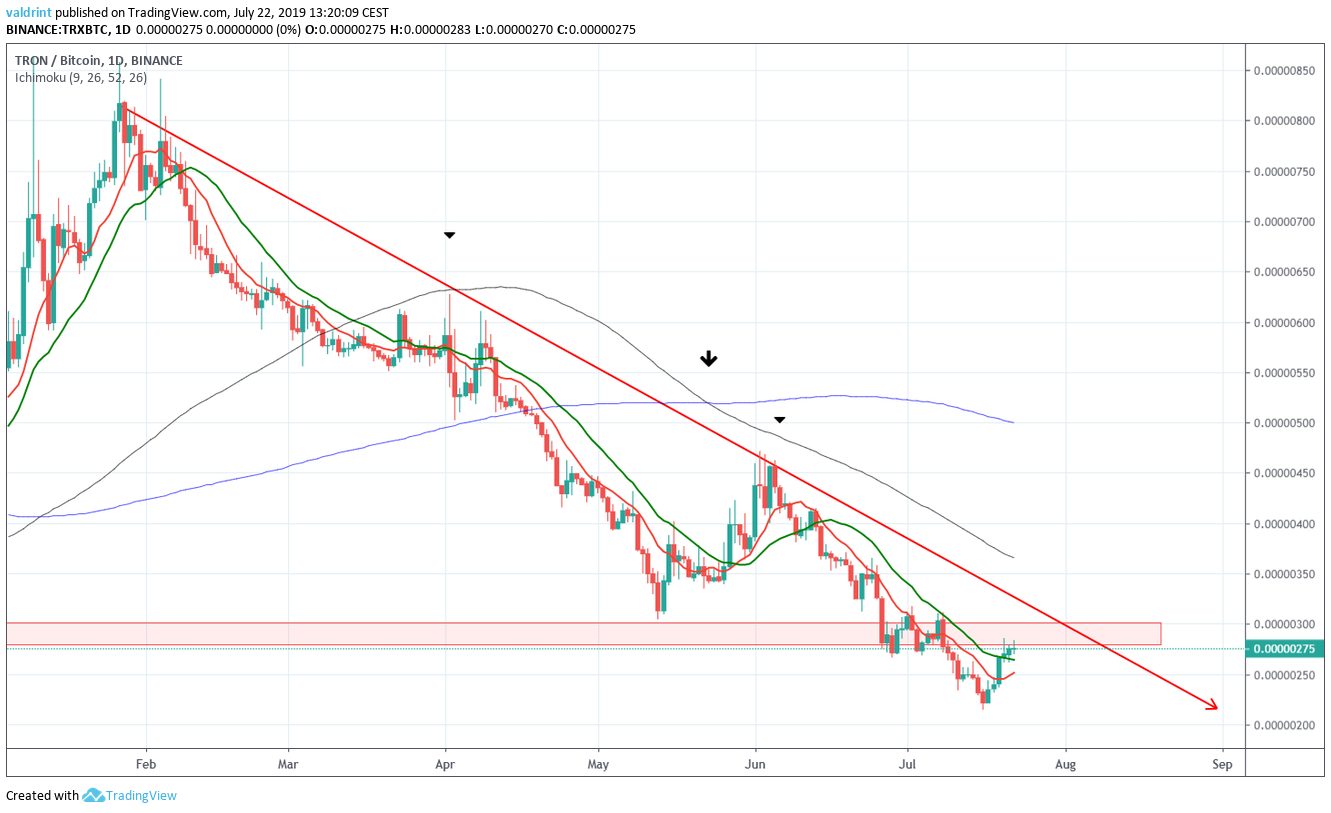 A bearish cross transpired between the long term (100-, 200-) MAs on May 18. Since then, the 100-period MA has been offering close resistance to the TRON price.
In the short-term, the recent price increase took TRX above the 10- and 20-day MAs.
However, they have not yet made a bullish cross.
Due to the analysis from the previous sections, we believe it is more likely that the cross is rejected and the price resumes its downward movement.
Summary
The TRX price recently broke out from a descending wedge.
However, it failed to break out above a significant resistance area.
According to our analysis, it has not yet reached the bottom and is likely to decrease further.
Do you think TRX will begin to decrease? Let us know in the comments below.
---
Disclaimer: This article is not trading advice and should not be construed as such. Always consult a trained financial professional before investing in cryptocurrencies, as the market is particularly volatile.
Images are courtesy of Shutterstock, TradingView.
---
Do you want to BeInCrypto? Join our Telegram Trading Community for exclusive trading signals, educational content, discussions and project reviews! Images courtesy of Shutterstock, Trading View and Twitter.