Thinking of buying a Trezor Model T
hardware wallet
to store your Bitcoin (BTC) and other cryptocurrencies, but not sure if it is the right storage solution for you? Let our unbiased Trezor Model T review help you make an informed decision!
The Trezor Model T is billed as a next-generation cryptocurrency hardware
wallet
by its makers, SatoshiLabs. The device is designed to provide a safe storage solution for retail users to keep their bitcoins, altcoins, and digital assets safe. As an added bonus, it also encrypts passwords (and other digital keys) and provides two-factor authentication. In layman's terms, it is essentially a digital safe that allows cryptocurrency holders to be their own banks.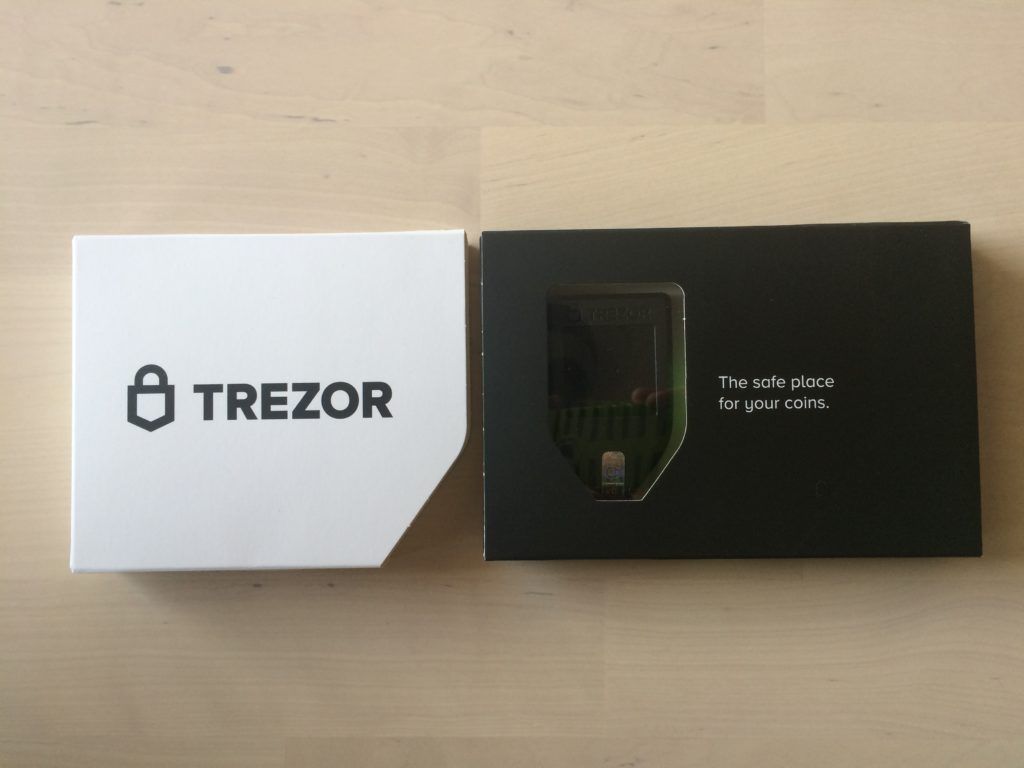 Trezor Model T Review: Design
Like other Bitcoin wallets and its primary competitor, the Ledger Nano S, the Trezor Model T is essentially a USB dongle that secures your cryptocurrencies. Unlike the Ledger Nano S, however, the Trezor Model T is not shaped like a USB thumb drive — so no one will mistake it for a common USB memory stick. The device itself weighs in at 16g and measures 64 mm x 39 mm x 10 mm, meaning it can easily fit into your pocket. It operates at temperatures between -20°C to +60°C, according to the official Trezor website. The Trezor Model T connects via USB-C, meaning it can be connected to both your computer and your mobile device. Internally, the Trezor Model T boasts a 168 MHz embedded ARM processor (Cortex-M4) running a custom developed operating system called 'The Trezor Core.' The devices hardware and software are open-source and public. It boasts a beautiful color LCD screen that features a resolution of 240×240 pixels, which is more than sufficient for a cryptocurrency hardware wallet and superior to that of the Ledger Nano S. The Trezor Model T is both CE and RoHS certified, meaning that it meets all requirements in terms of quality, reliability and environmental standards. It can be brought on an airplane without worry (assuming you don't run into any sketchy TSA agents) and is not damaged by X-rays. Inside the box, users will also find stickers and a magnetic dock to hold their devices for the sake of convenience.
The design of the Trezor Model T is basic but powerful. It won't turn any heads with its sleekness — like a CoolWallet S, for example — but it gives off an air of robustness and security. Its internal specifications back up its appearance, and the color LCD touchscreen display provides unrivaled functionality and ease of use.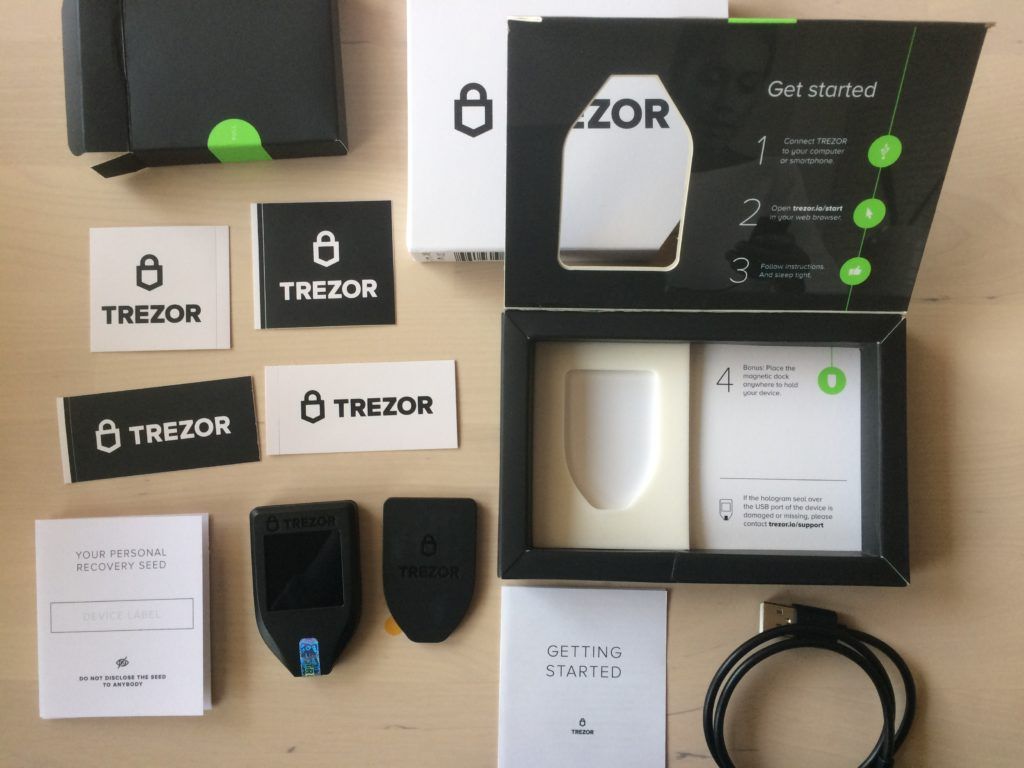 Trezor Model T Review: Security
The Trezor Model T is arguably the most secure consumer hardware wallet on the marketplace, today, and boasts a robust slew of security features. All new devices come with a tamper-proof sticker covering the connecting port, and the device's hardware case is difficult to repair if it has been tampered with, thanks to ultrasonic welding. Its bootloader verifies the device's firmware signature and will only run if said firmware is correctly signed by SatoshiLabs, itself. If it detects an abnormality, the device provides a warning. The bootloader is also write protected, and the MCU is protected by the Memory Protection Unit. Furthermore, the bootloader actively erases memory on firmware updates and restores it only upon validating the firmware signature. Downgrading erases the memory. The device will only confirm operations with public and private keys after the user authenticates via his or her PIN code. Of course, the Trezor Model T supports BIP39 passphrases and never stores or remembers these on the device, itself. As is the case with any hardware wallet, the Model T is only as secure as the recovery code, which is the user's responsibility to secure in a safe place. If someone else acquires said recovery seed, the Trezor Model T is compromised until funds are temporarily moved to another location, the device is reset with new recovery code, and the funds are moved back to the refreshed device after you create a new wallet. Trezor also adheres to the blockchain's promise of transparency by providing all interested parties with a log of past issues, which can be found on its official website and dates back to July 2014. SatoshiLabs rewards the discovery of vulnerabilities with name recognition and a bounty paid in Bitcoin.
After extensive testing, we are confident that SatoshiLabs is indeed providing customers with a superior product that is both safe and secure. However, no hardware wallet is impervious to user error, so individuals must always take responsibility and accountability for their own actions. The Trezor Model T makes said accountability easier than ever by making sure you — and you, alone — are in control.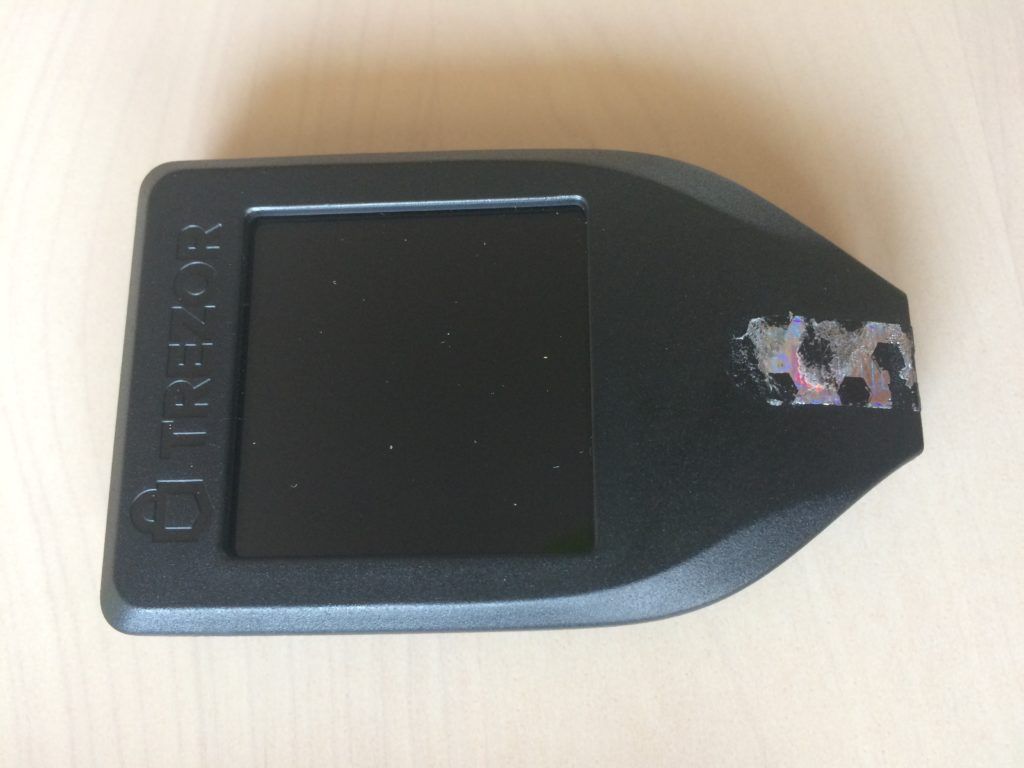 Trezor Model T Review: Functionality
The Trezor Model T is SatoshiLabs premium version of the original Trezor One and features some additional benefits. The Model T's full-color touchscreen provides a better user experience than both the Trezor One's monochrome display with buttons and the Ledger Nano S' monochrome screen and button operation. This touchscreen allows users to input their PIN codes directly onto the device, without needing to input them into a computer or mobile device. (The PIN pad is randomized each time, for added security.) The Trezor Model T supports Bitcoin (BTC), Litecoin (LTC), Dash (DASH), Zcash (ZEC), NEM (XEM), Ethereum (ETH), Ethereum Classic (ETC), Bitcoin Cash (BCH), and more than 500 other altcoins. The Trezor Model T is best accessed via the accompanying Trezor Wallet browser extension. The extension itself provides a very attractive user interface on par with or better than Ledger Live. It supports account management, transaction and account labeling via Dropbox, the sending and receiving of cryptocurrencies, exchange services via participating third-party exchanges, and message signing.
After extensive testing sending and receiving Bitcoin, Litecoin, Dash, and Zcash, we found absolutely no fault with the functionality of this Trezor device. All transactions and verification procedures were easy, thanks to the touch display and browser-extension usability. There is arguably no comfortable user experience to be had on the market right now. 
Conclusion
The Trezor Model T is a robust and powerful hardware wallet that boasts a user-friendly design and powerful hardware to provide a secure and easy cryptocurrency storage experience. After extensive testing, we cannot find fault with the device. The Trezor Model T currently carries a price tag of 149 EUR (excl. VAT). It is BeInCrypto's opinion that this price tag is worth it, especially for users planning on storing large amounts of cryptocurrency offline. As such, we feel comfortable recommending the Trezor Model T to our readers.
Do you own a Trezor Model T? What do you think of the hardware wallet? Let us know your thoughts in the comments below!
---
Full Disclosure: This honest review has not been paid for and is not sponsored. The Trezor Model T unit we reviewed was provided free-of-charge from SatoshiLabs for the purpose of review. BeInCrypto is independent and has no relationship with SatoshiLabs. Always do your own research before choosing a hardware wallet to store your digital assets.
Disclaimer
All the information contained on our website is published in good faith and for general information purposes only. Any action the reader takes upon the information found on our website is strictly at their own risk.