This article will take a look at ten cryptocurrencies that have interesting developments lined up for the month of June, which could also have a positive effect on their price.
Stellar (XLM)
Current Price : $0.419
Market Cap: $9,641 Billion
Market Cap Rank: #16
XLM is the native token of the
Stellar
foundation. Originally based on the Ripple protocol, it was created on June 2016 by Jed McCaleb, who had just left the latter. Its aim is increasing financial inclusion in territories which are devoid of financial institutions. In addition, it assists firms in connecting with one another through the use of their technology. It is also known for its tiny fees, which are a fixed 0.0001 XLM. The Stellar network will soon update to
Protocol 17
. On June 1, there will be a
public network upgrade vote.
There will be numerous updates, such as the
Stellar Core v.17.0
and
Horizon v.2.3.0.
XLM has decreased considerably since it May 16 highs at $0.798, currently being 46% below them. However, it has bounced at the $0.35 area, creating two long lower wicks, which are a sign of buying pressure.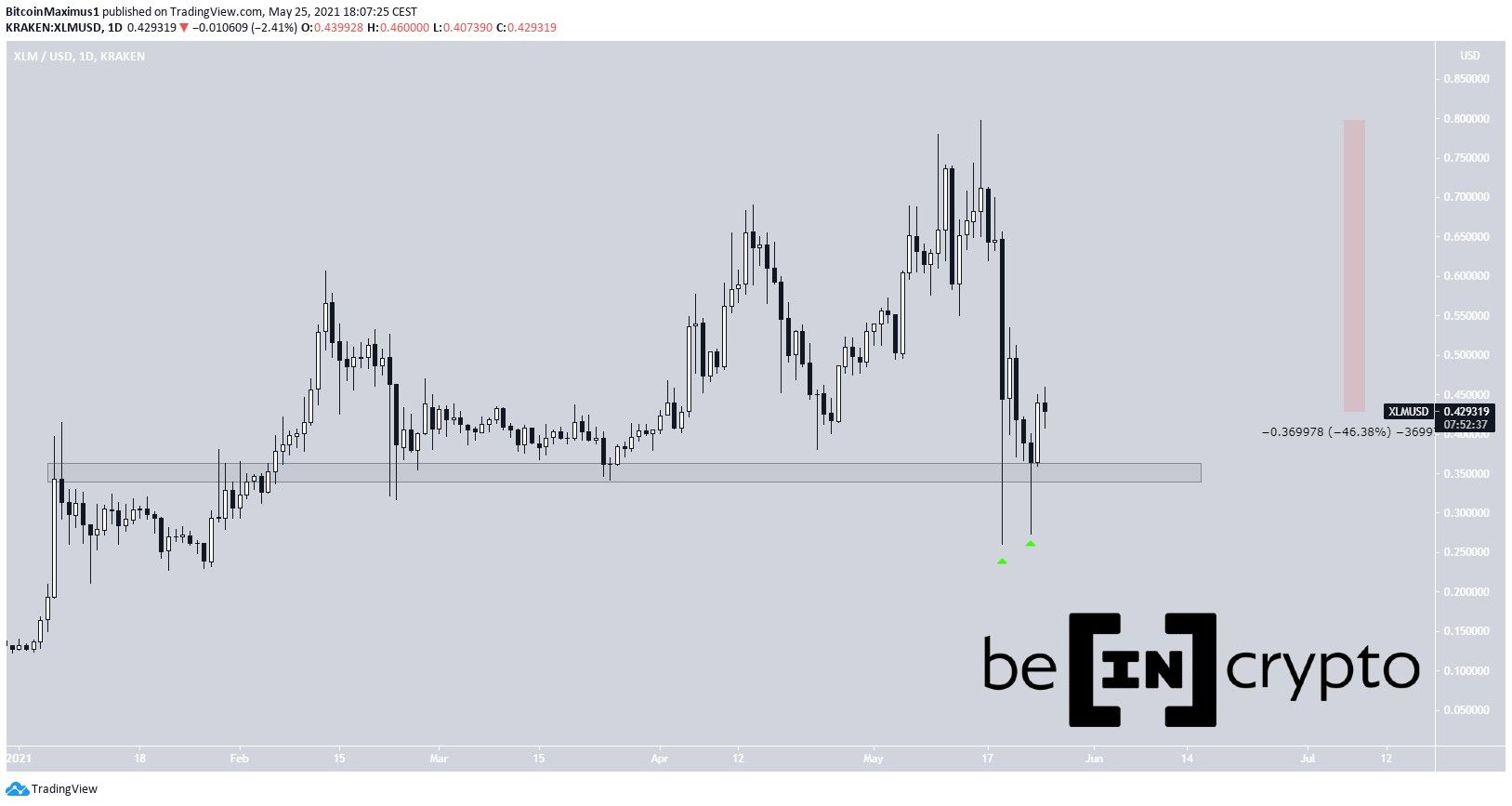 ICON (ICX)
Current Price : $1.11
Market Cap: $700,258 Million
Market Cap Rank: #98
ICON
is a blockchain protocol for decentralized applications. It focuses on interoperability, meaning that it assists independent blockchains in operating with each other. The native cryptocurrency of the network is ICX. One of the more interesting developments in the ICON platform is
EPICX
, which is a decentralized gamified trading platform. The beta version of it
will be launched
on June 1. Furthermore, old ERC-based tokens
will be swapped
for new tokens on the native ICX mainnet on the
ICONFi
app, on June 8. ICX has been decreasing sharply since May 8, falling by 74.59% in 15 days. This culminated with a low of $0.79, on May 23, right above the 0.78 Fib retracement support level.
Ethereum (ETH)
Current Price : $2571
Market Cap: $299,787 Billion
Market Cap Rank: #2
Ethereum is a decentralized open-source blockchain. The native currency employed in the blockchain is ether (ETH). It was officially launched in July 2015 by Vitalik Buterin. The Ethereum platform also allows for the creation and management of decentralized applications (dApps). So far, more than a thousand have been built on the platform. In addition, as noted with ICX in the prior section, other cryptocurrencies can use their ERC-20 compatibility, in order to be hosted on the ETH blockchain. ETH
activated
the Berlin hard fork on April 15. This takes it one step closer to ETH 2.0. In the lead up to the London hard fork in July, three mainnets will be
tested in June: 
Ropsten – June 9
Goerli – June 16
Rinkeby – June 23
ETH has been decreasing since reaching an all-time high price on May 12. However, it bounced at the $2,050 support area, on May 23, and created a
bullish engulfing
candlestick the next day. The closest resistance levels are found at $2,750 and $3,050, respectively.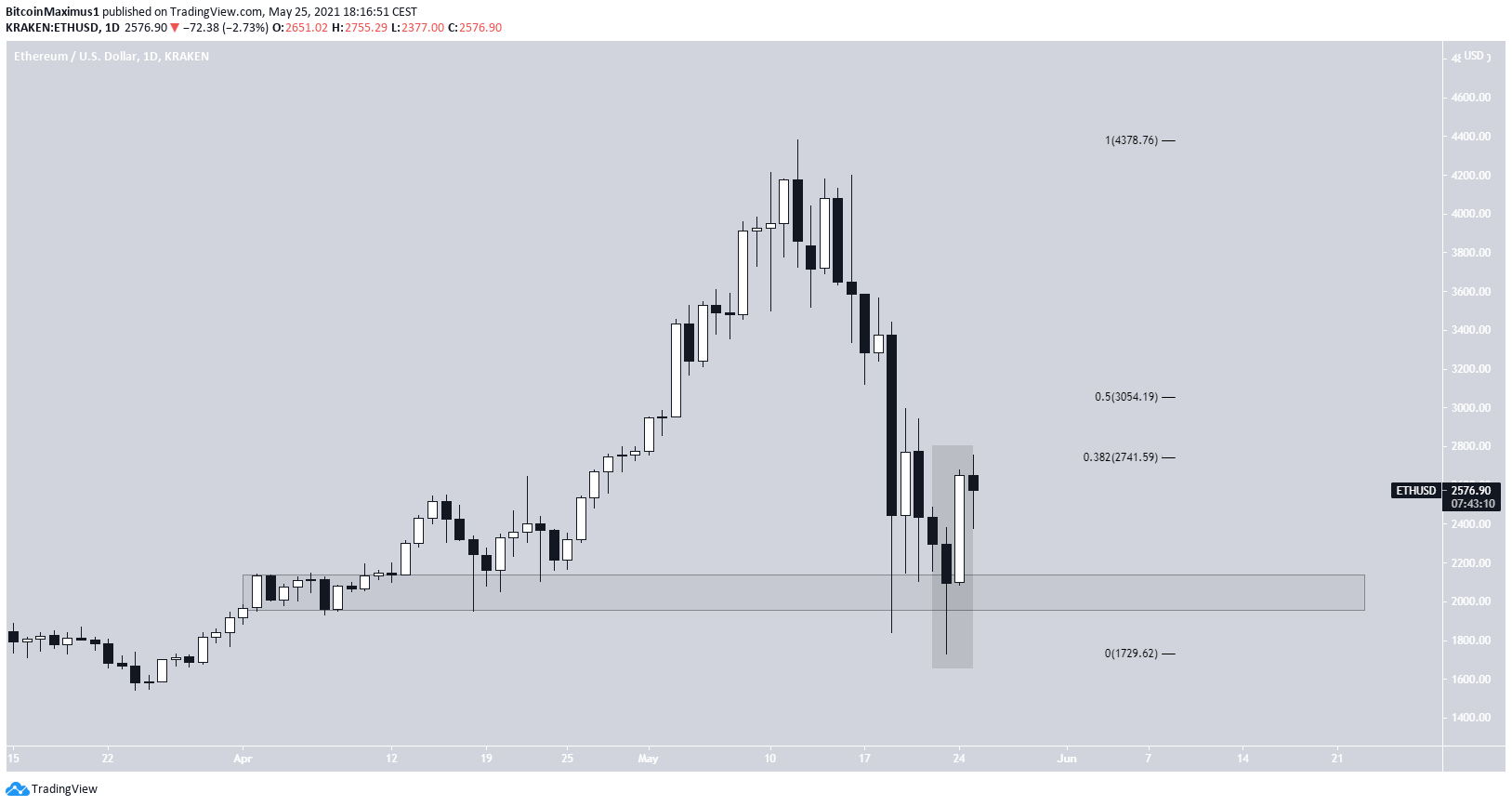 BitTorrent (BTT)
Current Price : $0.00397
Market Cap: $2,632 Billion
Market Cap Rank: #43
BitTorrent is a peer-to-peer file sharing network and torrent platform. In July 2018, it was purchased by the TRON blockchain platform. BTT is the native token, which uses the TRC standard. Several dApps are powered by BTT, including BitTorrent Speed and BitTorrent File System. BTT will hold an airdrop in June. The snapshot for it will be taken
on June 10
, in which all addresses holding BTT will receive a
non-fungible
token (NFT) airdrop. BTT has been decreasing inside a massive
descending wedge
since reaching an all-time high, on April 5. The wedge is considered a bullish reversal pattern. In addition, it has bounced at the $0.0035 support area.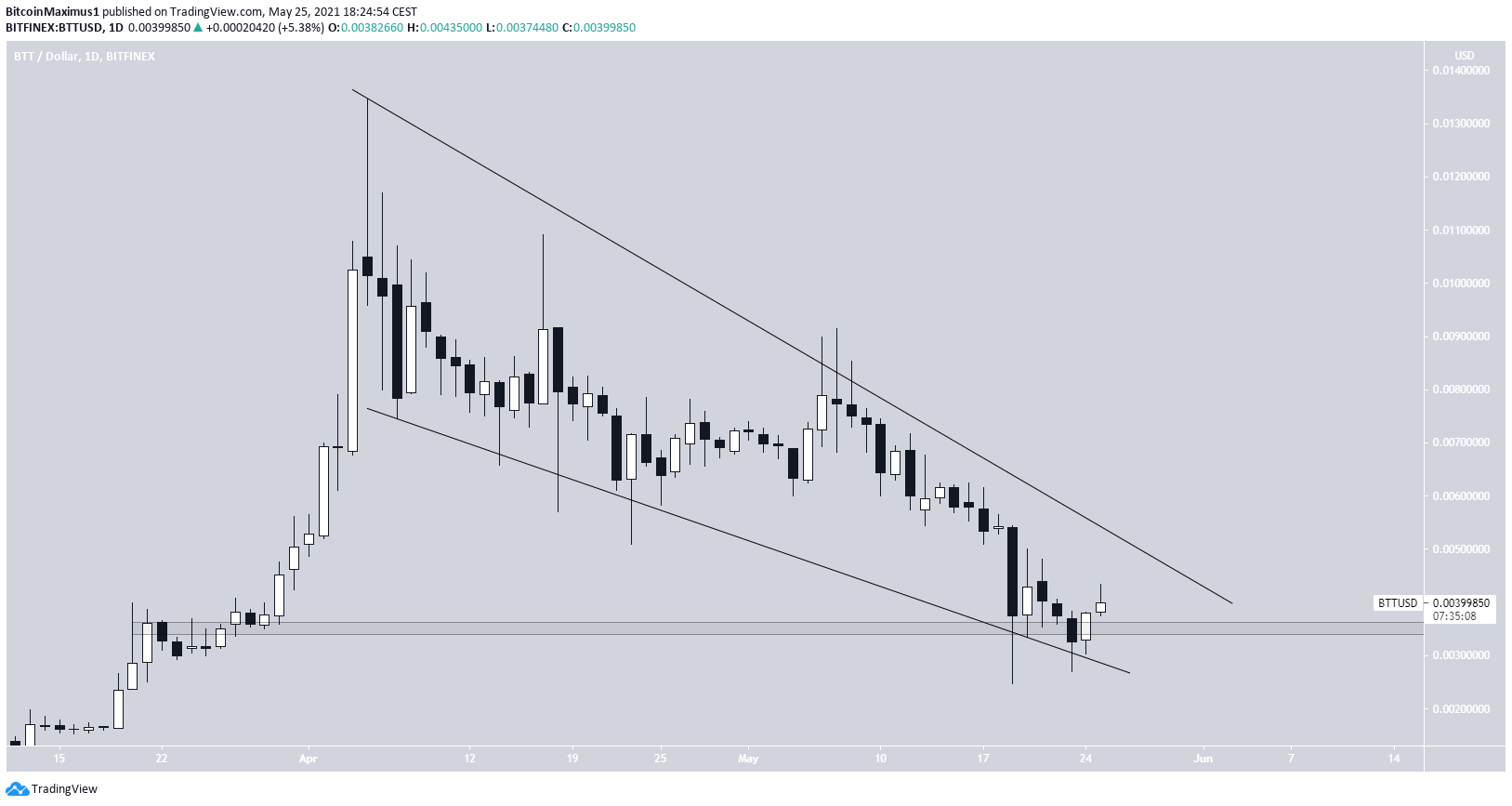 Coti Network (COTI)
Current Price : $0.2081
Market Cap: $140,199 Million
Market Cap Rank: #200
COTI is a platform that focuses on helping organizations to build their own payments systems. It is self-appointed as "the ultimate power grid of payments'.' At the core of its infrastructure is Trustchain. Based on
machine learning
, it is a consensus algorithm that processes more than 100,000 transactions per second. COTI offers the seven elements believed to be necessary for a payments infrastructure:
Scalability
Simplicity
Buyer-seller protections
Cost-effectiveness
Price stability
Instantaneity
The end of June will have numerous interesting developments, as outlined in the
roadmap for 2021.
They include, but are not limited to, the release of
Paywize,
a credit card processing solution, introduction of
margin trading
to the platform, and complete the integration with the long-time partner, Celsius. COTI has been trading inside a extensive descending parallel channel since March 1. On May 23, it bounced just below  the support line of the channel and at the 0.786 Fib retracement support level. It created a
bullish engulfing
candlestick the next day and has been increasing since.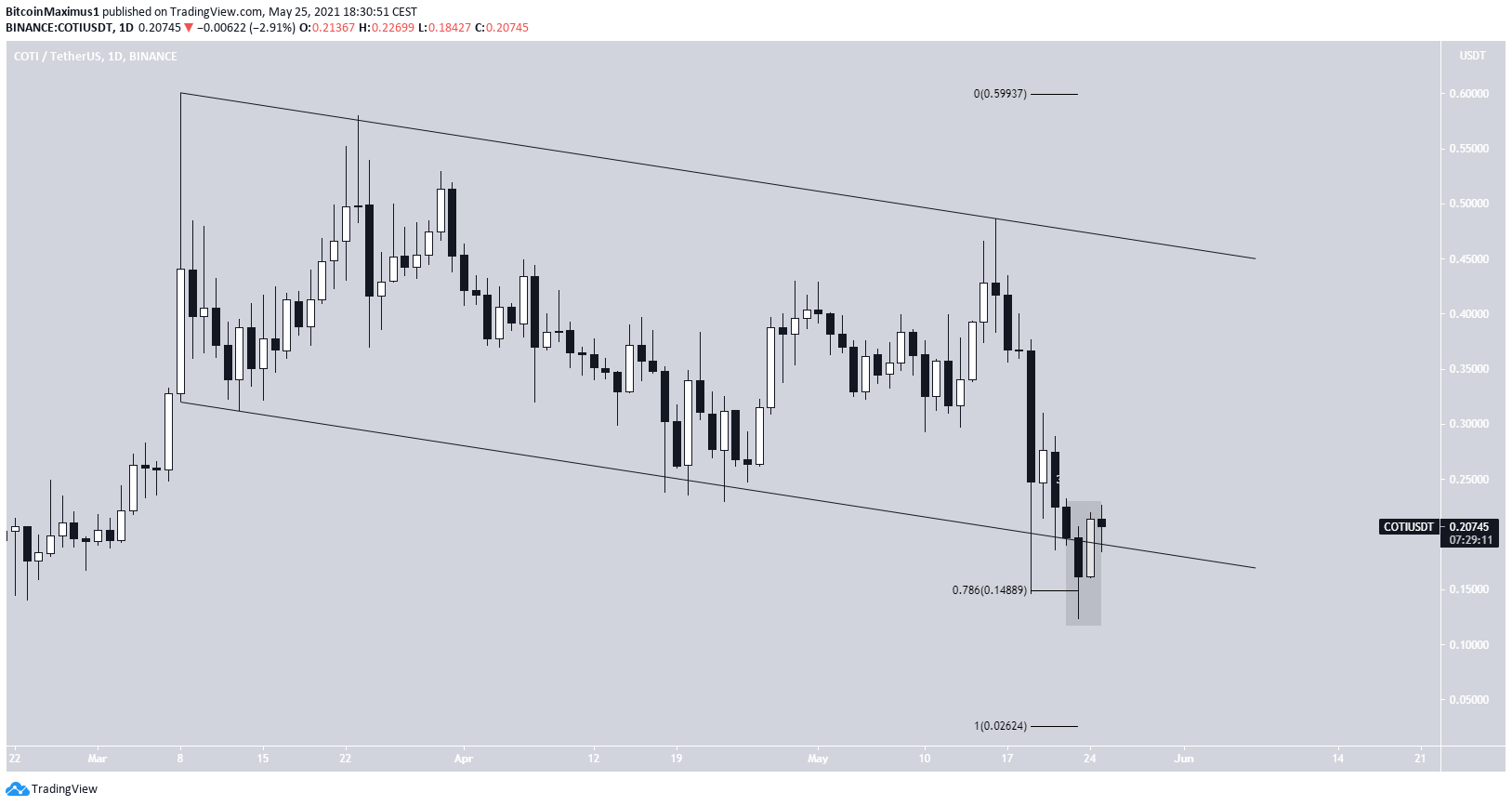 Zcash (ZEC)
Current Price : $139.45
Market Cap: $1.653 Billion
Market Cap Rank: #56
Zcash is a decentralized cryptocurrency, whose main focus is anonymity and privacy. Unlike the majority of other cryptocurrencies, which are pseudonymous, ZEC is fully anonymous. This means that it does not reveal the identity and public address of its users. It does this by using zk-SNARK zero-knowledge proof technology. ZEC was released in October 2016. The Zcon2 Lite conference will be held on June 8-9. It is an annual conference which will focus on the Zcash ecosystem and more broadly on privacy themes. Furthermore, the NU5 testnet will be activated on June 30. ZEC began to decrease, on May 12, and continued the downward movement for 11 days. Throughout it, it fell by 76.30%, culminating with a low of $87.38, on May 23. It has been increasing since, and is trading inside a range between $100 and $200.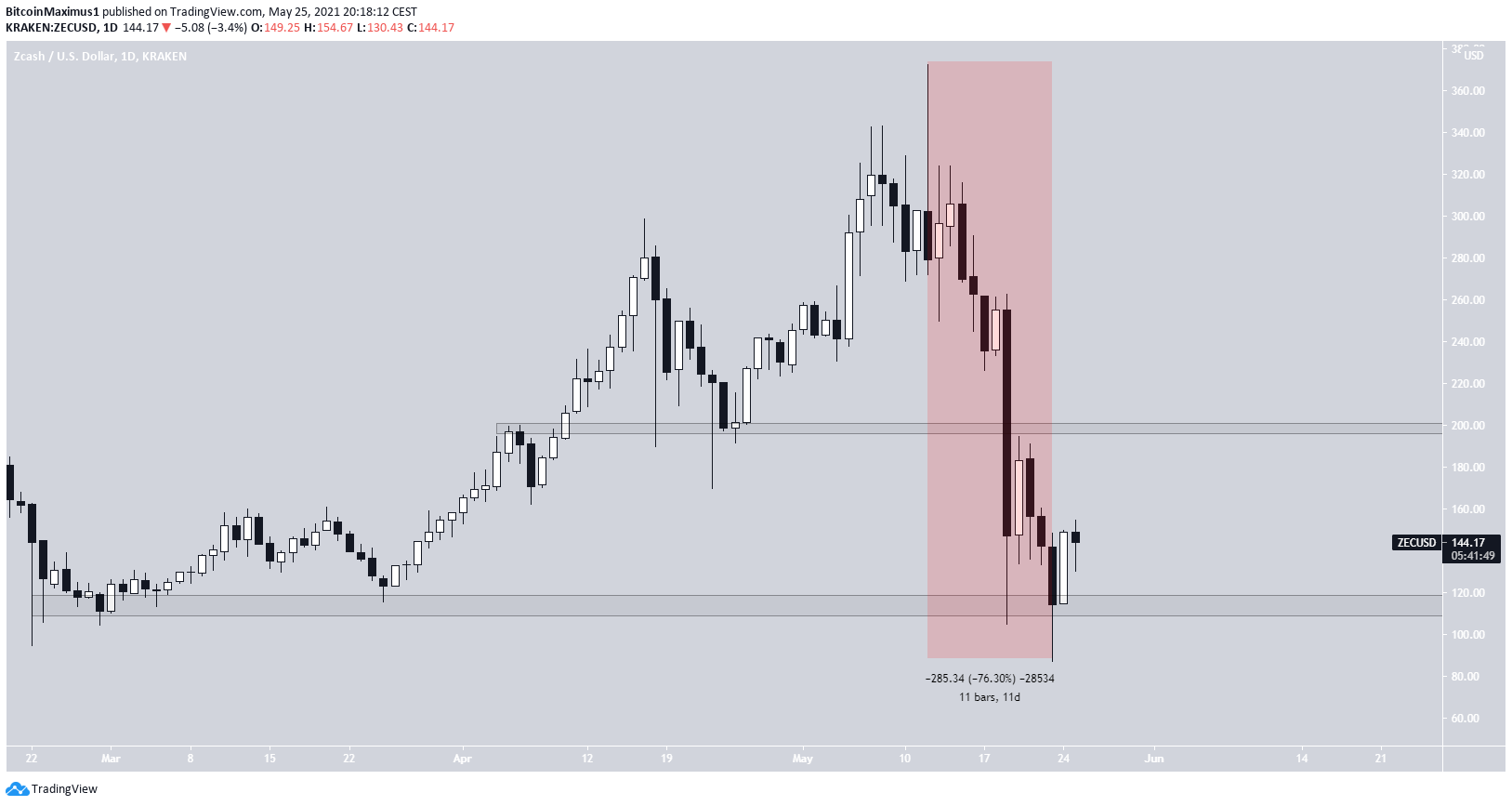 Dusk Network (DUSK)
Current Price : $0.13
Market Cap: $78,333 Million
Market Cap Rank: #473
DUSK is a privacy blockchain mainly used for financial applications. Businesses use it in order to tokenize financial instruments. It uses a proof of blind bid, in order to protect the network's privacy. Its main uses cases are:
Confidential Smart Contracts
Confidential Security Tokens
Zero Knowledge Utility Tokens
Security Token Exchange
The Dusk Network is a leader in privacy technology, and it remains to aim so. Therefore, it has announced a $5 million dollar grant program to attract the best talent in the field. The first round of applications begins on June 1. DUSK has been decreasing since April 9, when it reached a high of $0.46. The downward movement continued for 44 days, inside which the token lost 81% of its value. It culminated with a low of $0.0842 on May 23. Afterwards, it bounced and reclaimed the $0.11 area. The same area acted as resistance for the entirety of 2020, before the token finally managed to break out in February 2021.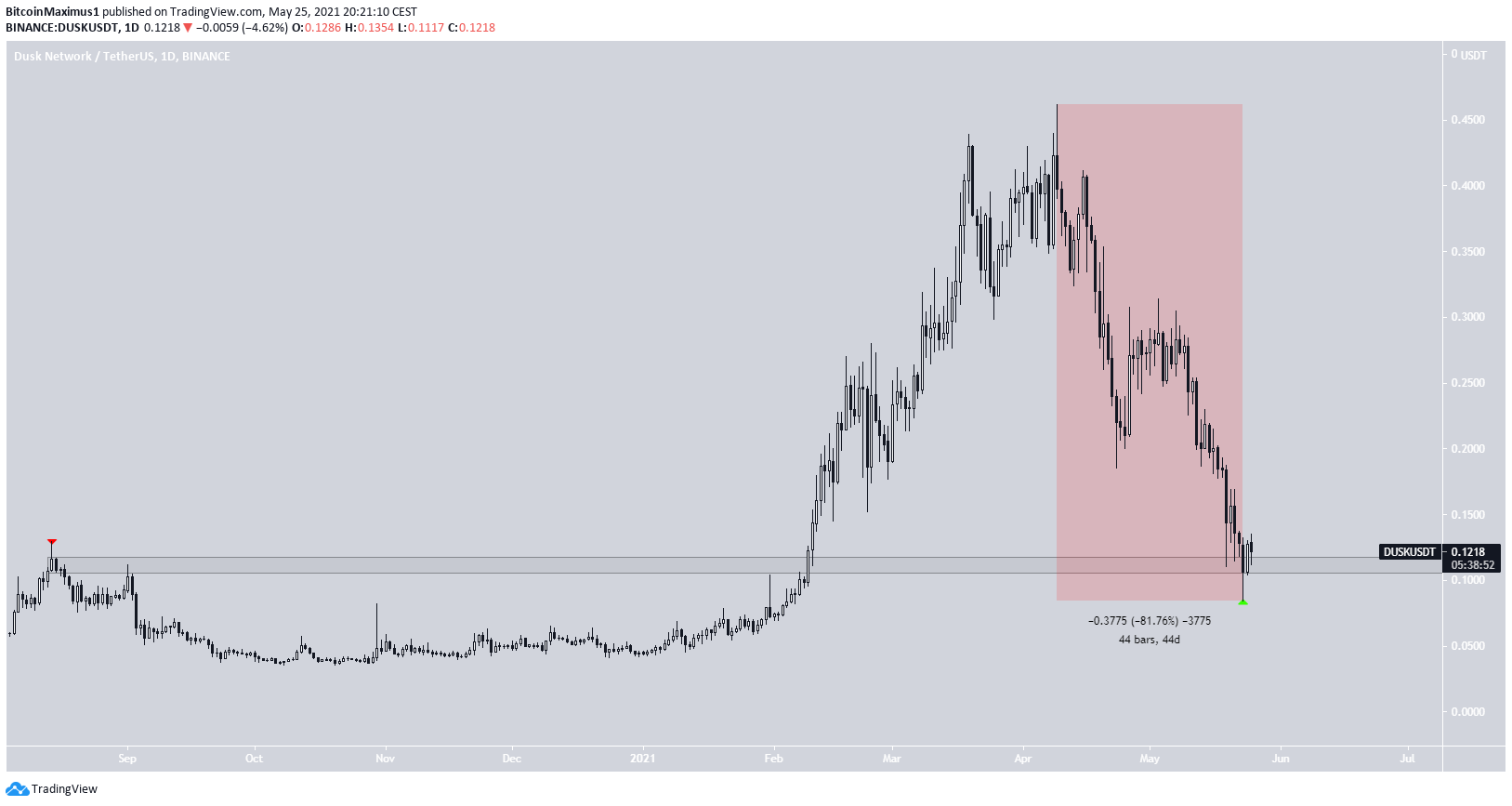 Beam (BEAM)
Current Price : $0.666
Market Cap: $79,057 Million
Market Cap Rank: #417
BEAM is a decentralized finance (
DeFi
) platform that runs by using a combination of two blockchain protocols, one of them being the
Mimblewimble protocol
. It uses a
proof-of-work
algorithm. Its goal is to allow financial counterparties reliable and safe transactions. It supports different custom transaction methods, such as time-locked swaps, atomic swaps and escrows. The 6.0 hard fork for BEAM
will launch
on June 5. New updates will include shaders and confidential assets. BEAM has been decreasing since April 11, when it had reached a new all-time high price of $2.10. The downward movement continued for 42 days, leading to a low of $0.256, on May 24. This amounted to a decrease of 78%. The main support and resistance levels are found at $0.52 and $0.96, respectively.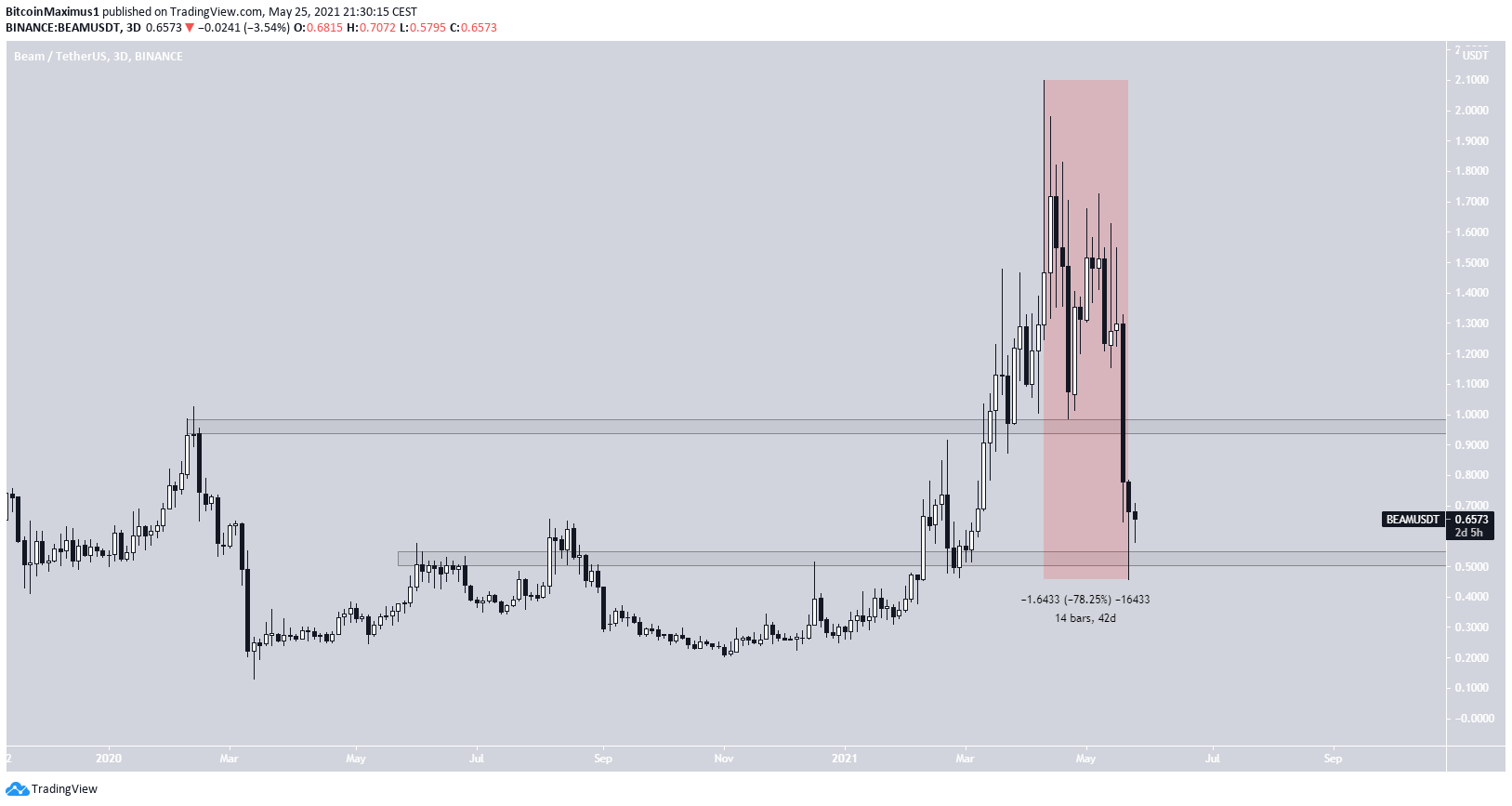 Orion Protocol (ORN)
Current Price : $7.38
Market Cap: $191,974 Million
Market Cap Rank: #245
Orion is a protocol which aims to create a single decentralized platform, which includes every single centralized and
decentralized exchanges
. The platform is named Orion Terminal and will also add swap pools. The Orion liquidity pool will be
launched in June
, allowing users to monetize their idle assets. In addition, the pilot phase of the Orion Liquidity Boost Plugin will also begin the same month. ORN has been decreasing alongside a descending resistance line since March 22. While following it, it has lost 73% of its value. On May 19 and May 23, it bounced above the $6.50 support area. However, it has yet to reach the previously mentioned descending resistance line.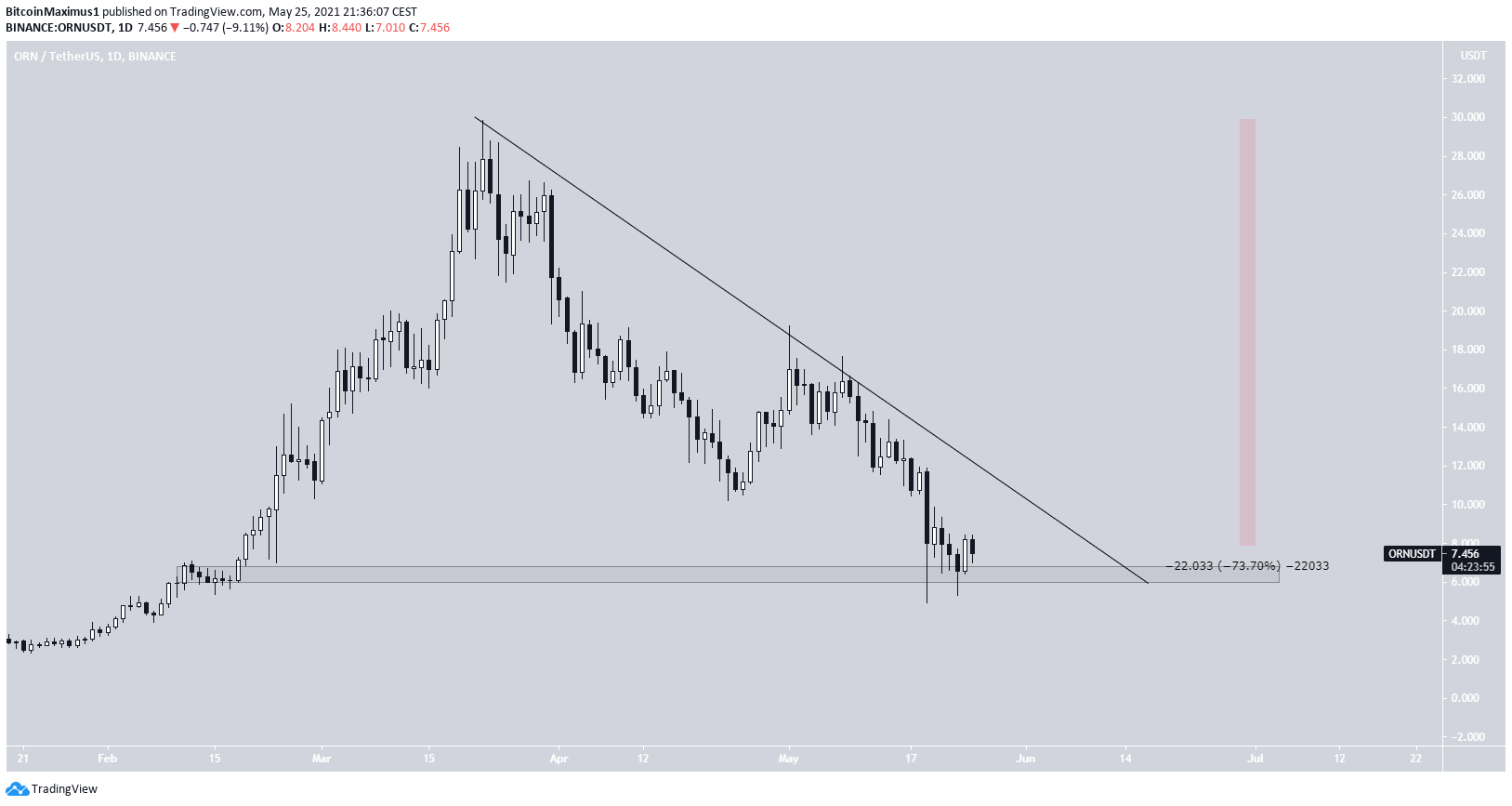 Argon (ARGON)
Current Price : $0.1022
Market Cap: $8 Million
Market Cap Rank: #1138
Argon will be the first blockchain-based freelancer platform, launched on the
Binance
chain network. The goal is to eliminate issues arising from trust between two entities. In addition, it will charge zero commission. This is possible due to the native coin for the platform, ArgonToken (ARGON). The platform will be launched on
June 1.
ARGON has been decreasing since April 1, when it reached an all-time high price of $0.449. In addition, it has fallen below the $0.135 support area. The next support area is found at the all-time lows of $0.07.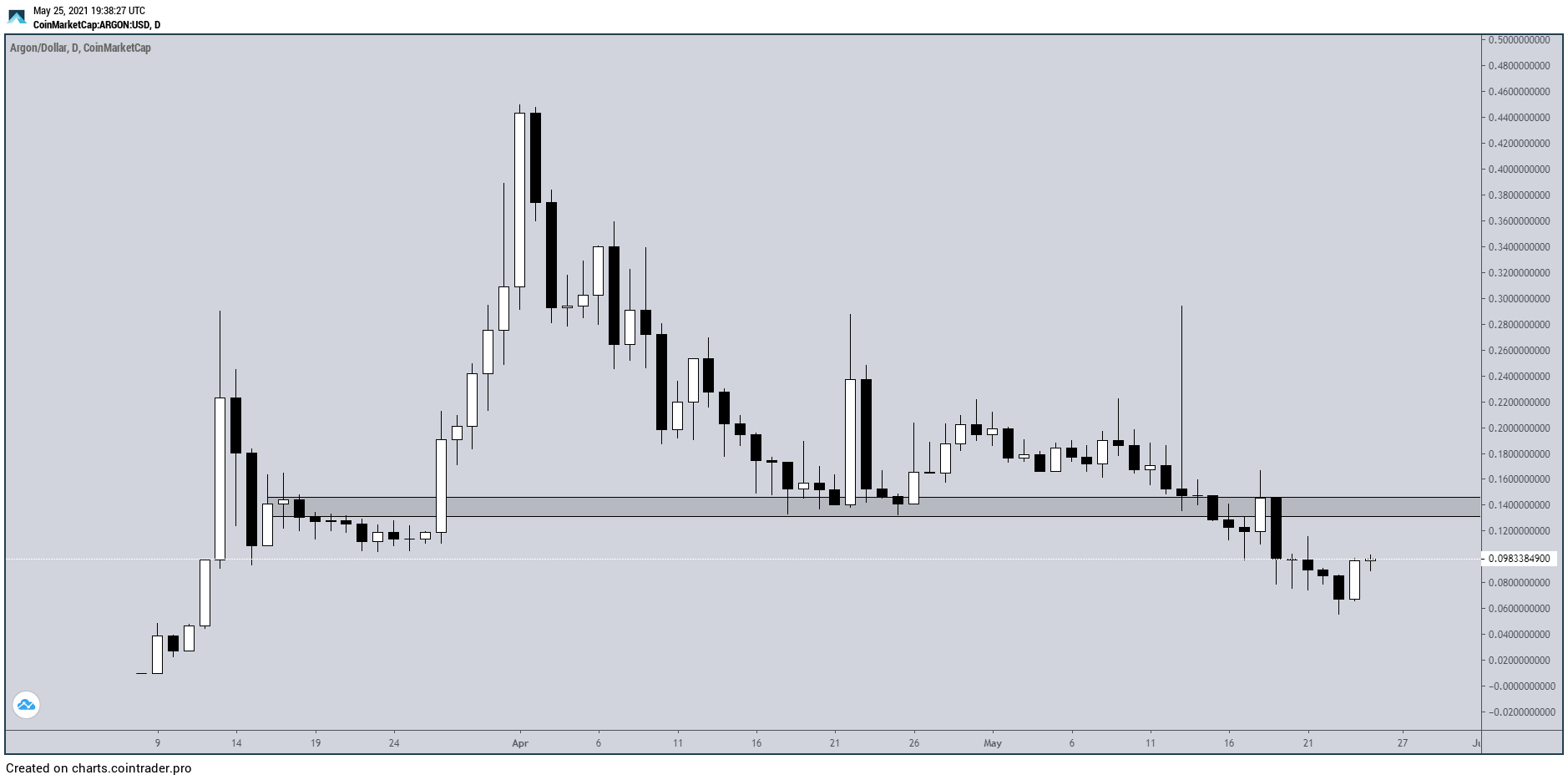 For BeInCrypto's latest bitcoin (BTC) analysis, click here.
Disclaimer
In line with the Trust Project guidelines, this price analysis article is for informational purposes only and should not be considered financial or investment advice. BeInCrypto is committed to accurate, unbiased reporting, but market conditions are subject to change without notice. Always conduct your own research and consult with a professional before making any financial decisions.