In the dynamic world of cryptocurrency, the price surge of The Graph and SingularityNET has caught the attention of digital asset investors.
These cryptos, underpinned by powerful artificial intelligence (AI) technologies, have demonstrated significant growth over the past week – and this growth shows no signs of slowing down. Amidst this bullish trend, a new AI entrant, yPredict, has also made its mark.
yPredict has surpassed the $1 million milestone in its presale phase, with the investment community hungrily vying for involvement while the token price remains low.
The Graph Set for Price Rebound as AI Applications Come into Focus
It's been a volatile few weeks for The Graph ($GRT) investors, with the token's price hitting a high of $0.1754 in April, before falling nearly 30% to the price we see today. However, it's now up over 8% over the last seven days.
At the time of writing, $GRT tokens are trading at $0.1229, and several factors are now combining to hint that a bullish resurgence might be on the cards.
The price of $GRT dipped to around $0.1100 on May 12, but then it quickly bounced back, increasing by 21%. Although the price has dropped a bit since then, many in the crypto community believe that $GRT's price will start heading higher again soon.
If this scenario plays out, the likely port of call would be $0.1422, which acted as resistance in late April.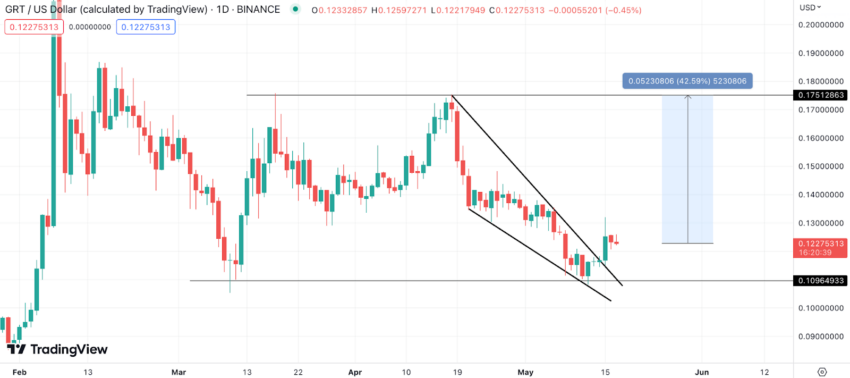 Any sustained bullish momentum will likely be spurred on by The Graph's unique use cases, which have received enormous attention following the rise in popularity of AI-powered systems.
Since The Graph is used for indexing and querying information from different blockchains, such as Ethereum, it's often referred to as the "Google of Blockchains."
As such, The Graph could be implemented in an incalculable number of AI-powered decentralized applications (dApps) since these applications will often need to efficiently and safely extract information from specific blockchain networks.
Ultimately, this intersection between The Graph and the world of AI is likely to spur demand for $GRT tokens – meaning the price surges we've seen over the past week could become more pronounced throughout the latter half of 2023.
SingularityNET Rides the Bullish AI Wave with a 15% Surge
Another cryptocurrency that's been highly bullish is SingularityNET ($AGIX). As defined by CoinMarketCap, SingularityNET is a blockchain-powered platform that allows anybody to create, share, and monetize AI services through its marketplace.
Using this marketplace, SingularityNET aims to make AI accessible to all businesses – not just those with significant resources.
At the heart of the SingularityNET ecosystem is the $AGIX token, used to pay for AI services and participate in the network's governance.
Naturally, SingularityNET's clear link to the world of AI has captivated the crypto community in 2023 – yet it hasn't been plain sailing for $AGIX investors.
The price of $AGIX more than doubled in March when excitement about AI spread on social media. This excitement increased the demand for cryptocurrencies related to AI, which resulted in a rapid increase in the price of SingularityNET.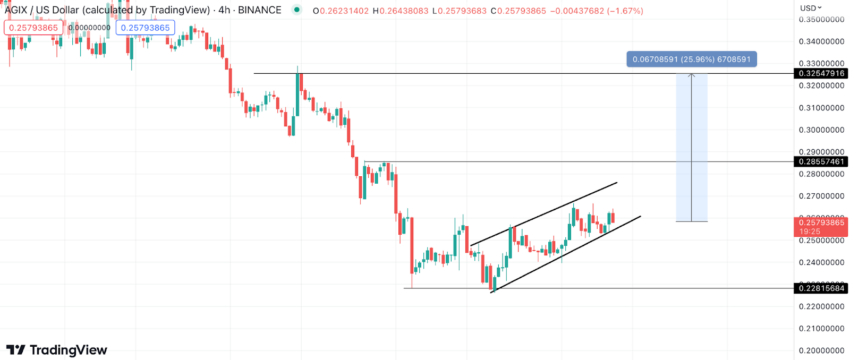 Unfortunately, $AGIX aggressively rejected the resistance level at $0.5900, leading to a sustained fall to $0.2289.
However, the good news is that this fall has been halted. Much like The Graph, SingularityNET has been showcasing stellar positive momentum over the past week and is up 15% from the lows of May 12.
The 4-hour price chart for $AGIX shows a steady increase in price, indicating a positive trend. In addition, the price just passed the minor hurdle of $0.2600, suggesting that $AGIX could continue to climb.
According to Etherscan.io, the number of $AGIX holders is trending upwards and has reached nearly 57,500 – demonstrating significant growth in the token's adoption rate.
yPredict Seeks to Revolutionize Crypto Price Forecasting & Raises Over $1m
As The Graph and SingularityNET continue to garner attention for their bullish market performance, it's worth exploring another crypto project that's making headlines.
The project in question is yPredict ($YPRED) – a new cryptocurrency venture set to revolutionize crypto price forecasting using innovative AI-powered features.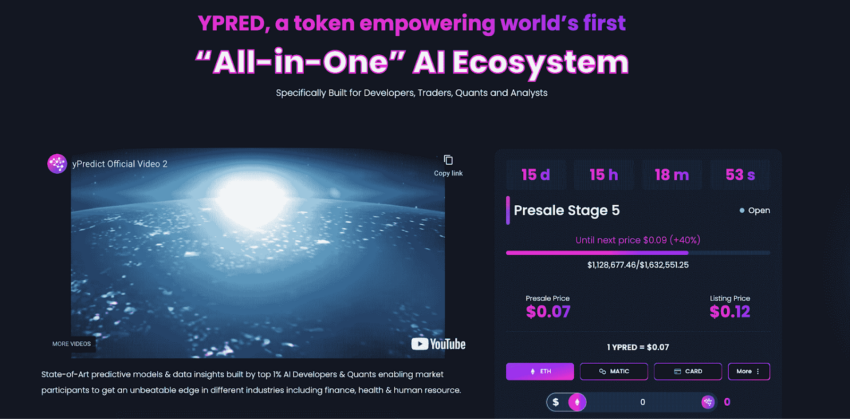 This cutting-edge ecosystem, built on the Polygon blockchain, has been designed to be usable by developers, traders, quants, analysts, and anyone interested in receiving objective price predictions.
Per the yPredict whitepaper, the ecosystem will contain a custom-built marketplace where AI and machine learning (ML) experts can develop and offer their own predictive models.
Additionally, yPredict will also offer real-time trading signals (powered by AI), trader sentiment analysis, advanced technical indicators, and chart pattern recognition. Powering all of these features is $YPRED – yPredict's native transactional token.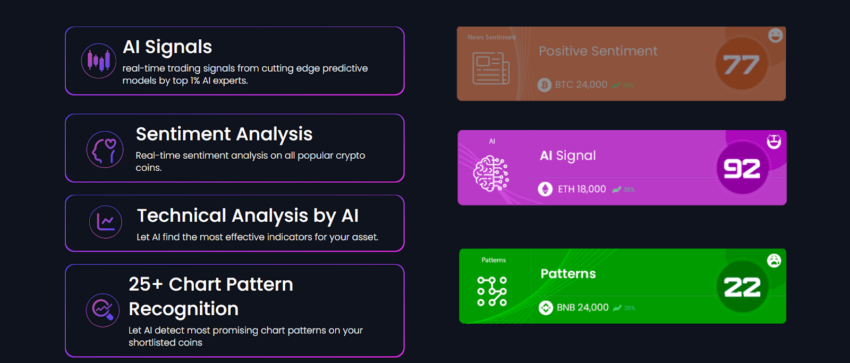 This token serves as the default payment option for predictive model subscriptions. However, it can also be staked to receive recurring rewards from the staking pool, funded by taking a portion of the accrued subscription revenue from the predictive model marketplace.
As touched on at the beginning of this article, yPredict has now raised over $1 million through its presale phase – and is gathering steam as it heads toward the $2 million mark.
Eager investors can still buy $YPRED tokens at a low price during this presale phase, with tokens currently offered at $0.07 – 71% lower than the intended exchange listing price of $0.12.
Those looking to learn more about the yPredict project can join the official Telegram channel.
Disclaimer
This article is sponsored content and does not represent the views or opinions of BeInCrypto. While we adhere to the Trust Project guidelines for unbiased and transparent reporting, this content is created by a third party and is intended for promotional purposes. Readers are advised to verify information independently and consult with a professional before making decisions based on this sponsored content.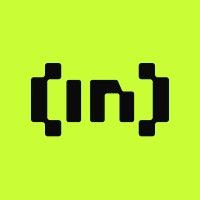 BeInCrypto Team comprises a diverse group of experienced journalists, analysts, and crypto enthusiasts dedicated to delivering the latest news, insights, and analyses in the...
BeInCrypto Team comprises a diverse group of experienced journalists, analysts, and crypto enthusiasts dedicated to delivering the latest news, insights, and analyses in the...
READ FULL BIO
Sponsored Sponsored