Tether recently froze over $150 million of USDT. This is not the first time that the company has frozen USDT, actions that has once again stoked concerns of centralization in the crypto community.
According to blockchain data, Tether froze over $150 million worth of USDT on Jan. 13. This is not the first time that Tether had frozen funds in this manner, and it has often been a point of contention within the crypto community. Three addresses were blacklisted.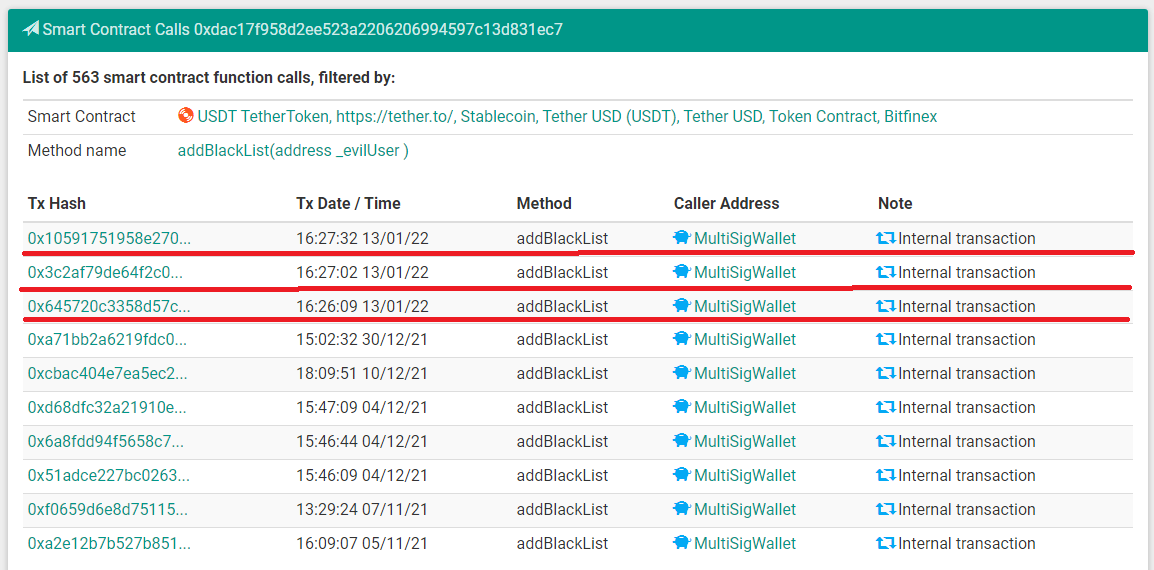 There has been no information offered as to why these funds were frozen. As a result of smart contract coding, Tether has the ability to freeze, destroy or issue tokens at will, as well as blacklist addresses.
There have been numerous incidents in the past where Tether has done this, leading a sizable and vocal part of the crypto community to urge the use of decentralized stablecoins like DAI. Much of the stablecoin market is composed of centralized stablecoins like USDT and USDC. However, some have pointed out that a considerable amount of DAI is backed by USDC, which also poses risks.
But Tether's most controversial aspect remains the backing of its supply. With over 76 billion USDT in circulation, investors have questioned what would happen if its reserves couldn't account for all of it. In Dec. 2021, Tether minted 1 billion USDT on the TRON blockchain.
Tether has said that it has a variety of assets that account for its circulation, but investors and analysts have wanted a reliable audit. The operations of the network have even caught the attention of the United States Commodity Futures Trading Commission, who found no issue with it but did impose a $41 million fine.
Tether's controversial reputation continues going into 2022
Tether has a long history of stirring controversy and most recently faced yet another lawsuit. Two investors in New York sued the project, complaining that the project had misled investors about its reserves.
Tether, meanwhile, has been attempting to appease regulators. It announced in Nov. 2021 that it would cooperate with lawmakers across the world to meet compliance standards. The firm will have to ensure that it does not irk lawmakers and investors any further, as regulation of stablecoins picks up in major economies.
Stablecoins have become a major concern for governments, who fear that it might affect the sovereignty of national currencies. With USDT being the market's most popular stablecoin, it could be the prime target for regulators.
Disclaimer
BeInCrypto has reached out to company or individual involved in the story to get an official statement about the recent developments, but it has yet to hear back.