The first batch of 20,000,000 CNHT, Tether's new Chinese Renminbi-backed stablecoin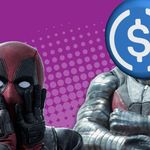 One of the perceived drawbacks of cryptocurrency is the price volatility, value wildly spikes and falls, discouraging many people from... More has just been minted at the Tether treasury. The news comes just days after its co-founder said that it 'doesn't really matter' if its dollar-based stablecoin, USDT, is backed by an equal amount of USD.
Tether is steeped in controversy, but that isn't stopping the cryptocurrency giant from expanding its selection of stablecoins. Around three weeks ago, it announced its intent to release a new stablecoin pegged the Chinese Renminbi (CNH). Called 'CNHT,' the first batch has officially been minted today.
Whale Alert (@whale_alert) recently notified its followers that 20,000,000 CNHT has been minted at Tether Treasury for the first time — a value equal to about $2.8M in USD.
💵 20,000,000 #CNHT (2,815,196.40 USD) minted at Tether Treasury
Tx: https://t.co/r28xT5NNZU

— Whale Alert (@whale_alert) September 10, 2019
Indeed, it is strange, and one might even say unabashedly bold, given that Tether and its partner exchange Bitfinex are currently embroiled in a lawsuit filed by the New York Attorney General. The company is accused of using Tether to cover up its losses of around $850M. In a shameless fundraising effort to cover up 'loaning' itself money from Tether, Bitfinex held an IEO which ended up raising $1B.
Everything seems just fine from Tether's perspective, though. On Bloomberg's 'Corrects Audio' podcast recently, its co-founder, William Quigley, even said that whether or not USDT is fully backed by USD in reserves 'doesn't really matter.'
The new CNHT is supposed to be pegged to offshore Chinese Renminbi. So, it's not linked to any bank accounts within China. However, whether or not you want to believe that this newly minted stablecoin is actually backed by the Chinese Renminbi is your call — given Tether's reputation, it seems dubious at best.
What is Tether's long-term strategy with CNHT? Can it be trusted? Let us know your thoughts in the comments down below. 
Buy and trade cryptocurrencies with a 100x multiplier on our partner exchange, StormGain.
---
Do you want to BeInCrypto? Join our Telegram Trading Community for exclusive trading signals, educational content, discussions and project reviews! Images courtesy of Shutterstock, Trading View and Twitter.