One of the best performing crypto assets over the past day by a clear margin is Solana's SOL token as it powers up the market capitalization charts.
Solana's native token SOL is one of the top gaining cryptocurrencies in the top one hundred today, second only to its 'cousin,' FTX Token (FTT).
With a 22.7% gain on the day at the time of writing, the SOL market cap has just topped $50 billion as it flips Dogecoin for the seventh spot in the charts according to CoinGecko.
SOL is currently trading at an all-time high of $174 after gaining an impressive 58% since the same time last week. The next target for SOL is XRP which currently has a market cap of $63 billion after gaining 4% on the day.
Solana has now surpassed Polkadot, Chainlink, and Uniswap in terms of market capitalization.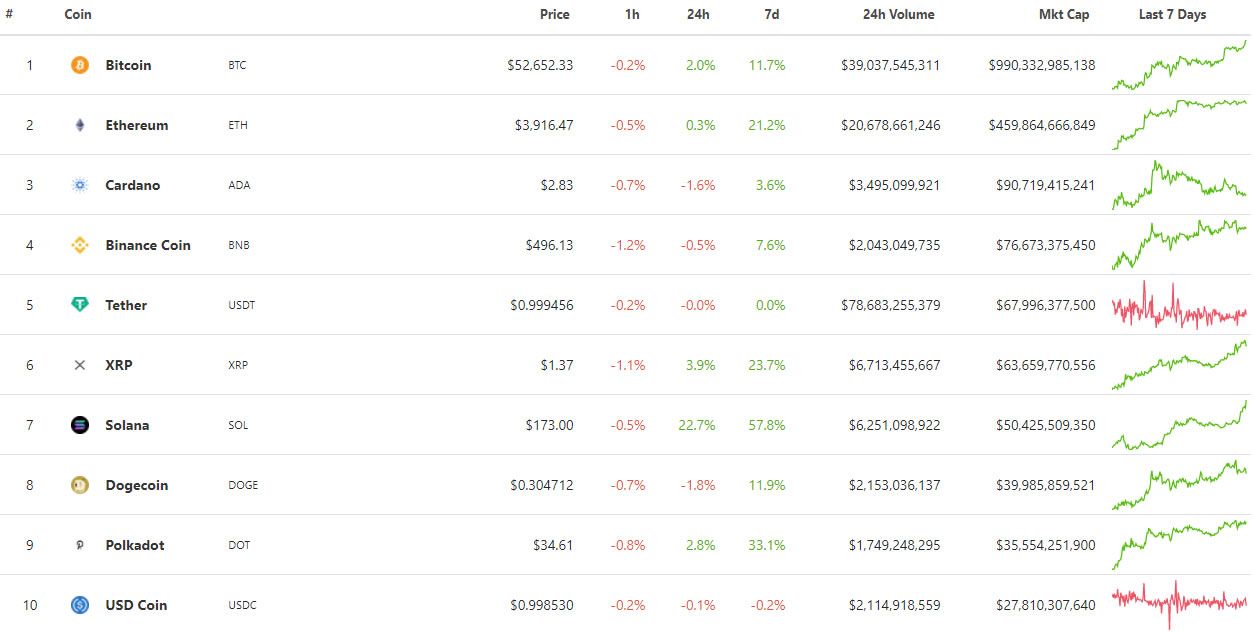 Massive momentum for high-speed blockchains
Solana is a high-throughput, enterprise-grade blockchain that has been growing in adoption along with Ethereum Layer 2 platforms in recent months. It is backed by Alameda Research and the FTX Exchange, all under the umbrella of crypto billionaire Sam Bankman-Fried (SBF).
The current momentum is being driven by Bankman-Fried's recent announcement that FTX would be launching an NFT platform for U.S. clients. NFTs will be minted and traded on Ethereum and Solana with deposits and withdrawals opening up in the next couple of weeks, he added.
SBF's Alameda also invested in the Ethereum scaling solutions provider Arbitrum which launched to mainnet earlier this month following a $120 million funding round.
In a note to clients on Monday, JPMorgan Managing Director Nikolaos Panigirtzoglou observed:
"The August rally in non-fungible tokens and the pickup in decentralized finance activity have helped not only ethereum but also alternative cryptocurrencies that facilitate or plan to facilitate smart contracts, such as Solana, Binance Coin and Cardano,"
FTT surges 25%
The only other crypto asset outperforming SOL at the moment is the native token of Bankman-Fried's derivatives exchange, FTX.
The FTT token has also hit an all-time high during the Tuesday morning Asian trading session when it tapped $82. Over the past week, FTT has made a whopping 73%, outpacing even SOL's mighty performance.
DeFi and Layer 2 based tokens are performing well at the moment, outstripping gains made by bitcoin.
Disclaimer
BeInCrypto has reached out to company or individual involved in the story to get an official statement about the recent developments, but it has yet to hear back.