Both silver and gold have been performing exceptionally well in the past few months. Although most eyes are on gold, analysts now argue that silver may surprise the market in the weeks ahead.
The cryptocurrency market often correlates with precious metals. Indeed, many gold bugs also advocate bitcoin (
with some exceptions
). Silver, too, is a popular investment vehicle for cryptocurrency holders. In the past few months, both have performed exceptionally well.
Silver May Eclipse Gold's Rally
Recently, Michael Hsueh, a commodities and foreign exchange strategist at Deutsche Bank, told CNBC that silver will likely
outperform
gold in the short to medium term. This is despite gold reaching levels not seen since 2011. However, silver has also bucked expectations and is currently at a 7-year high. At the time of writing, silver is trading around $28 per troy ounce. For comparison, at the beginning of May, silver was only trading around $15. Investors have traditionally held silver as a store of value and for industrial use. As the world economy prepares to bounce back from its coronavirus-induced slump, silver may continue to outperform. Industrial consumption is expected to grow and, according to Hsueh, this will further boost demand. There are also other factors at play. Green infrastructure plans, new commercial buildings, and even electronic components are pushing demand. It's arguably the perfect storm.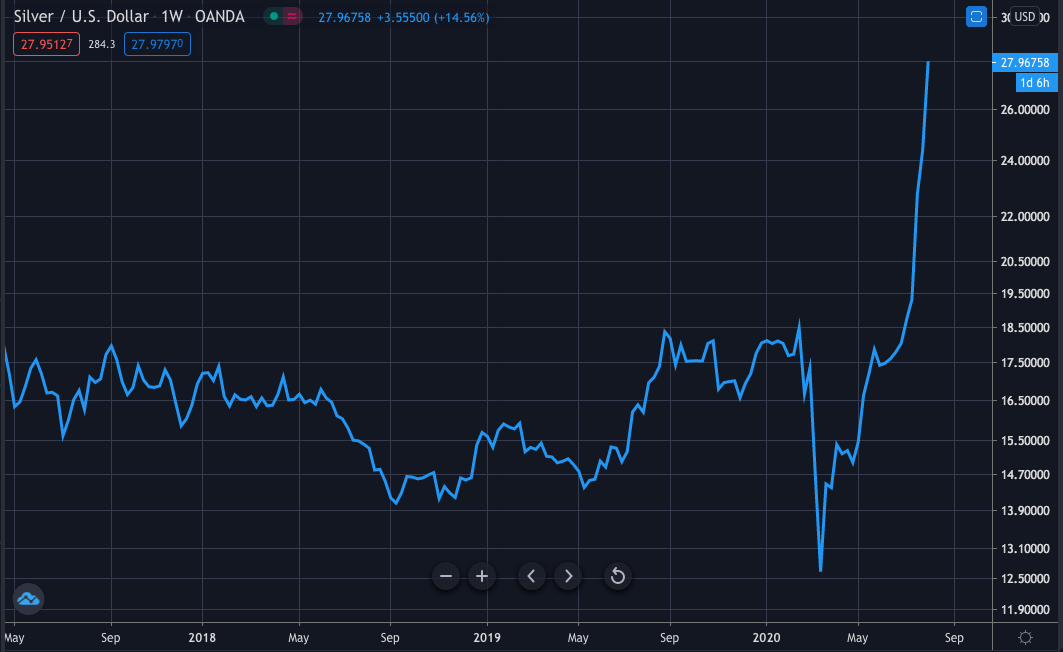 Demand has ballooned and this is most evident in the price difference between the physical and paper versions. As BeInCrypto reported on July 29, physical silver traded at
a 54% premium
over paper. The U.S. Mint
explained to dealers
that it's operating at a lower capacity due to the coronavirus. It currently lacks the manpower to produce silver and gold coins at the same time. This shortage is an additional driver of physical demand. Often called the 'poor man's precious metal,' silver has so far bucked expectations. It remains to be seen whether it can maintain this kind of momentum, though. For now, gold remains the leading store of value among precious metals but silver may eat into gold's market share in the weeks ahead if Hsueh is proven right.
Bitcoin Not Far Behind
Last week, BeInCrypto reported that bitcoin appeared to be
following in silver's footsteps
. In fact, silver broke the $18.50 resistance area around the same time that bitcoin broke through $10,400. Bitcoin is often charted alongside gold and the two are viewed as competing stores of value. Bitcoin bulls often point to gold as evidence of how large the alpha crypto could grow someday. Could silver one day lead the precious metals market? If so it's unclear how bitcoin would respond. For now, safe-haven assets continue to pull in substantial sums of cash.
Disclaimer
All the information contained on our website is published in good faith and for general information purposes only. Any action the reader takes upon the information found on our website is strictly at their own risk.