On July 9, the silver price broke out from a long-term resistance area and has increased by 40% since.
On July 27, the
Bitcoin
(BTC) price broke out from a similar long-term resistance area, increasing by 11% in a single day.
Bitcoin Fractal Fun
Cryptocurrency trader
@BillGK_Crypto
outlined a fractal that compares the silver breakout to that of Bitcoin, insinuating that since the price has broken out from the March resistance area, a similar increase will transpire for BTC.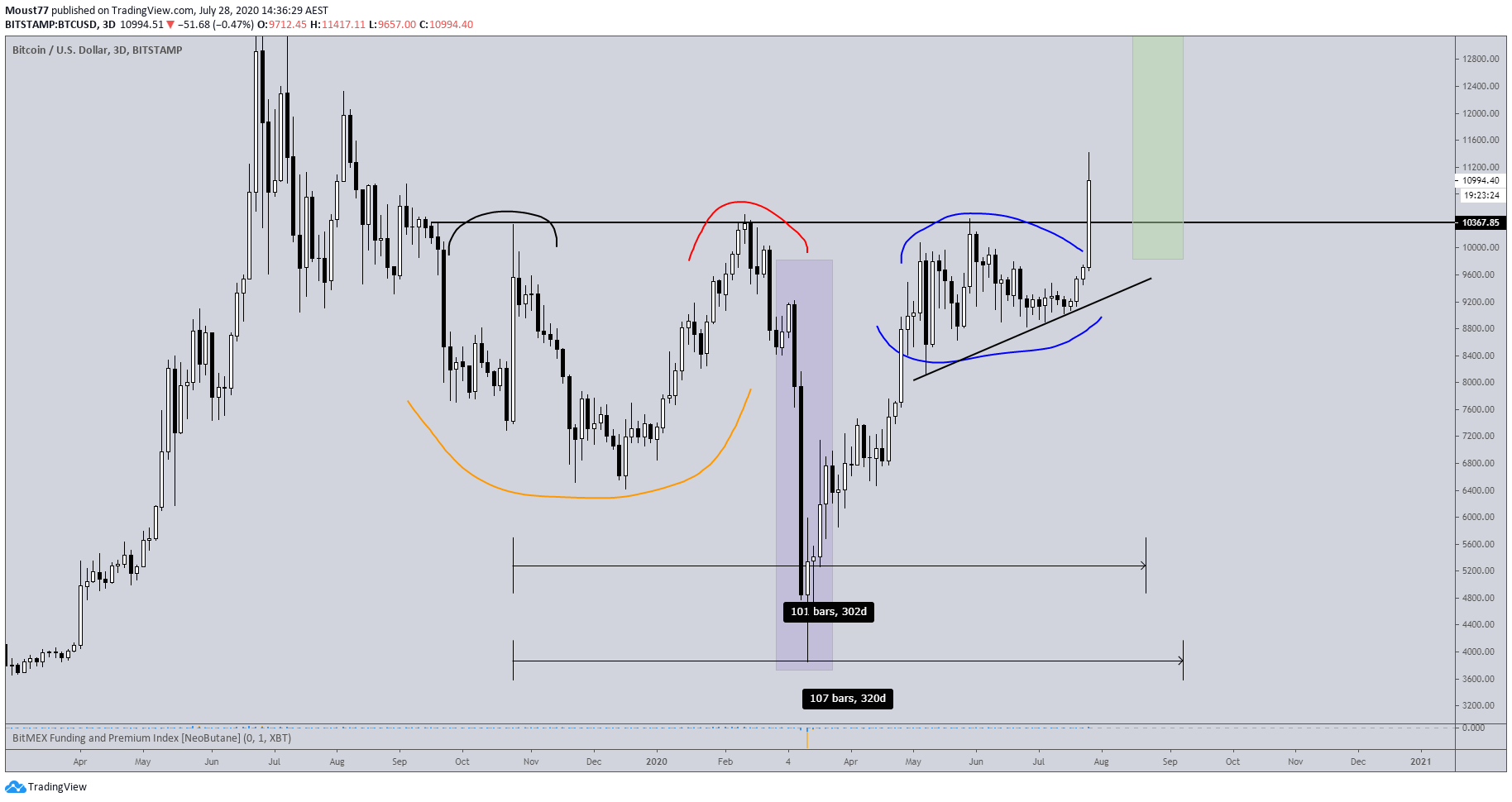 In this article, we will take a look at both silver and BTC and compare their similarities and differences.
Silver Surfs Higher
The silver price has been increasing since it reached a low of $11.64 on March 18. The price first reached the $18.50 resistance area on June 2, and a bullish cross between the 50 and 200-day moving averages (MA) transpired shortly after. On July 9, the silver price broke out from this resistance area and has been increasing at an accelerated rate since. On July 28, silver created a long-legged Doji, reaching a high of $26.18, and has decreased slightly since. The Doji is normally a sign of a reversal when coming after an upward trend, suggesting that the price will soon decrease. This would be confirmed by a daily close below $22.50, which would complete an evening star pattern. The closest support area would likely be found at $19.50, the 50-day MA. An interesting observation is that the movement after the breakout was 1.15 times bigger in magnitude than the bottom to the March resistance, and transpired in about 1/5 of the time.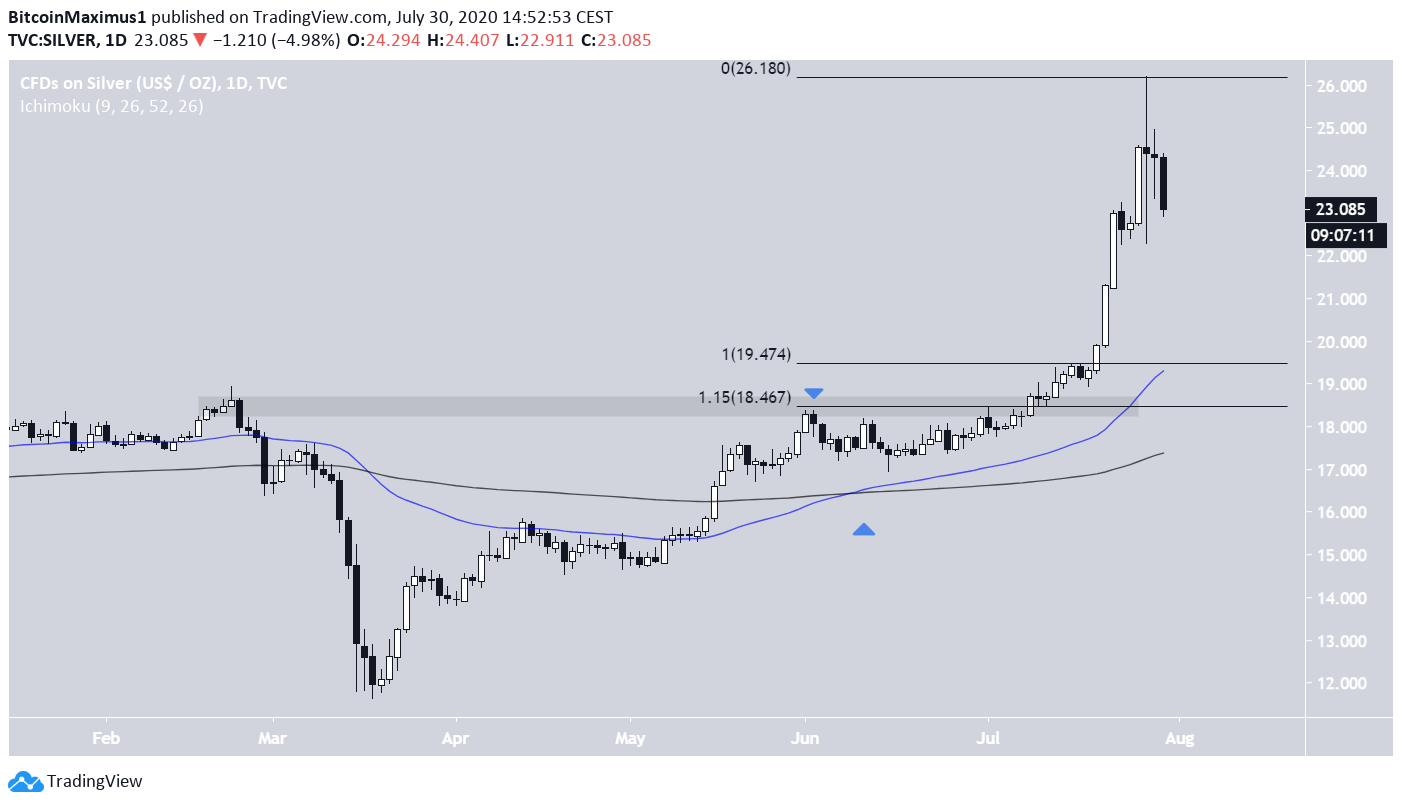 Bitcoin Tags Along
The Bitcoin price began an upward move on March 13. The price continued to increase until June 1, when it reached the March resistance area at $10,400. Unlike silver, a bullish cross between the 5- and 200-day MAs had transpired prior to the price reaching this level, rather than after. On July 27, the Bitcoin price broke out above this $10,400 level by creating a massive bullish engulfing candlestick. In the case of silver, the increase after the breakout amounted to a magnitude of growth 1.15 times larger than before the breakout. If the same movement transpired in BTC, the price could reach a high near $17,500.
Side-by-Side Comparison
The price of Bitcoin (Green) and silver (Blue) are shown in the chart below. The price movement for both has been very similar since the beginning of February. In a 28-day period between April and May, the prices diverged, with BTC increasing at a much faster rate than silver. However, they converged once again afterward. Since the beginning of July, the opposite has transpired, with silver increasing at a much faster rate than BTC. If the prices were to converge again, either BTC would have to increase at a much faster rate, silver would have to decrease, or a combination of both would have to occur.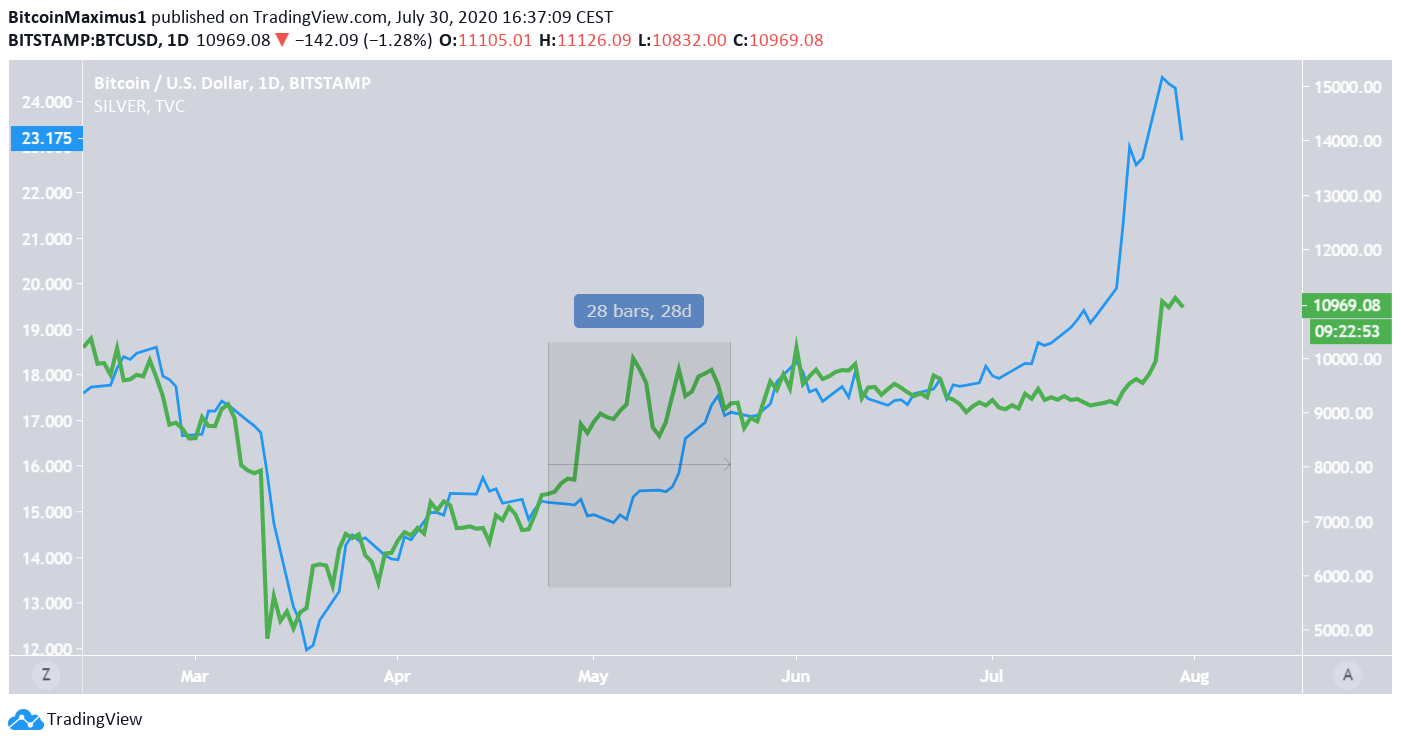 Disclaimer
BeInCrypto strives to provide accurate and up-to-date information, but it will not be responsible for any missing facts or inaccurate information. You comply and understand that you should use any of this information at your own risk. Cryptocurrencies are highly volatile financial assets, so research and make your own financial decisions.