Investment products that involve shorting Bitcoin dominated inflows over the past week, amounting overall to $9.2 million.
These inflows were characterized by low trading volumes, similar to the past few weeks, many of which saw multi-year lows, amounting to just $915 million.
According to the latest CoinShares report, total assets under management (AuM) have now shrunk to $27.9 billion, the lowest since early-July, having started the year at $64 billion.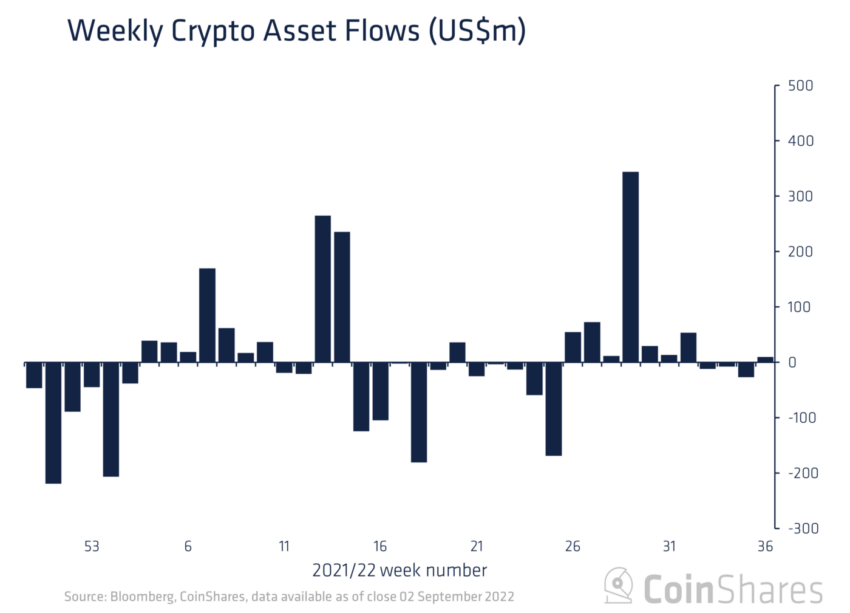 Regionally, Europe represented the persisting divergent sentiment, with Switzerland and Germany's $1.7 million and $1.6 million in respective inflows nearly negated by Sweden's outflows of $2.6 million.
Meanwhile, although the Americas all took stock of inflows, with Canada seeing $4.7 million and Brazil $3.2 million, America's inflows of just $800,000 belies the predominant inflows into short-Bitcoin investment products.
This was likely due to the recent comments from Federal Reserve Chairman Jerome Powell at Jackson Hole. Although Powell's rhetoric has been hawkish for some time, the report suggested that investors had found these recent comments unexpected.
Coinflows
Short Bitcoin investment products saw the majority of inflows last week, amounting to a record $18 million, bringing year-to-date inflows past $110 million and AuM to another record $158 million. On the other hand, Bitcoin-based products experienced their fourth week of outflows, this week amounting to $11 million, but only totaling $70 million.
Multi-asset products continued to prove popular, seeing inflows of $3.3 million. Alternatively, among altcoins Solana and Avalanche saw minor inflows, each totaling $500,000, while XRP and Cardano breached $200,000, and $100,000 respectively.
Ethereum products
Ethereum-based crypto investment products saw their second consecutive week of outflows, according to the CoinShares report. Following the previous week's minute outflows of $900,000, this past week they amounted to $2.1 million, bringing the year-to-date outflow to just shy of $300 million.
Meanwhile, in anticipation of the upcoming Merge, when the Ethereum blockchain will migrate to a proof of stake consensus mechanism, Ethereum derivatives trading has grown 10% over the past month.
For the month of Sept 2022 to date, the total derivatives volume traded for Ethereum is roughly $87 billion, compared to around $67 billion for Bitcoin, according to data from Coinglass.
Disclaimer
BeInCrypto has reached out to company or individual involved in the story to get an official statement about the recent developments, but it has yet to hear back.