XRP has broken out from a short-term pattern and could soon break out from a long-term descending resistance line.
Updated Sep. 22, at 4:30 PM UTC: A motion was granted to give deadlines to motions to seal requests that prevent evidence. The final deadline for any motion to seal by by third-parties is Dec. 9 and the final date to oppose any motion is Dec. 22.
Updated Sep. 22, at 8:00 AM UTC: The Court has reviewed the request by the Chamber of Digital Commerce for leave to file an amicus curiae brief, and the parties' responses, and has granted the Chamber's request.
Updated Sep. 21, at 6:00 PM UTC: Stuart Alderoty, Ripple's General Counsel, responded to SEC Chair Gary Gensler's claim that all crypto assets aside from Bitcoin are security and should be regulated by the agency. Alderoty said, "You [Gensler] cannot self-appoint yourself as the cop on the beat for crypto… What we're doing here in the U.S., I think principally through the SEC as an institution, is that we're elevating politics and power over sound policy. Doing this, you're not only hurting innovation, innovators, and entrepreneurs like Ripple, you're also hurting the retail holders of these assets because one in five Americans own or have interacted with cryptos."
The critical court case between the Securities and Exchange Commission (SEC) and Ripple Labs that has captured the attention of the cryptocurrency industry over the past years could be soon come to a close.

On Sept. 18, Ripple defense attorney James K. Filan tweeted that the CEO of Ripple Labs, Brad Garlinghouse had filed an early motion for a summary judgment. The next day, Caroline D. Pham, a commissioner from the Commodity Futures Trading Commission met with Brad Garlinghouse.
This comes after news that both Ripple and the SEC had asked a judge to settle their ongoing lawsuit.
The crypto community has a mostly positive outlook for the case. Some suggest that the price will cross $0.40 if a settlement is reached.
Additionally, they are optimistic about the possibility of a settlement due to the fact that Ripple Labs is arguing that there is no investment contract in place. As a result, the summary judgment motion is considered a smart tactic that could lead to the SEC settling.
Long-term pattern
XRP has been following an ascending support line since reaching a low in March 2020. More recently, the line was validated twice (green icons) in June and Aug. The support line also coincides with the $0.315 horizontal support area, increasing its validity.
After the second bounce, XRP initiated an upward movement and has now reached a long-term descending resistance line, which has been in place since April 2021.
The weekly RSI has broken out from its own descending resistance line, so it is likely that the price will do the same.
If a breakout occurs, the closest resistance area would be at $0.60.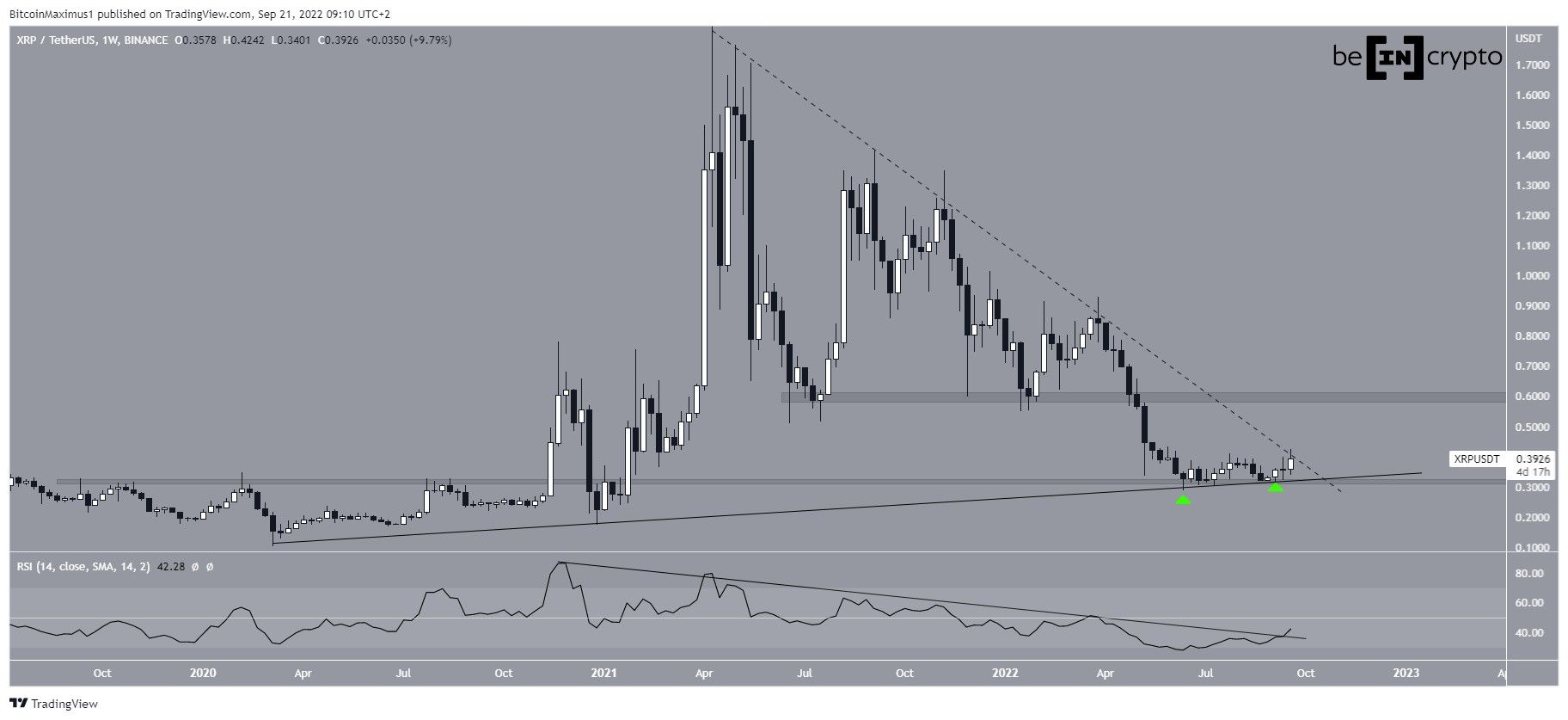 XRP breakout
The daily chart shows that XRP has already broken out from a shorter-term symmetrical triangle. Afterwards, it managed to reclaim the $0.38 resistance area, which is now expected to provide support.
Furthermore, the daily RSI has moved above 50, a sign that the trend is bullish.
Therefore, the daily chart supports the readings from the daily time frame, suggesting that a breakout from the long-term resistance is expected.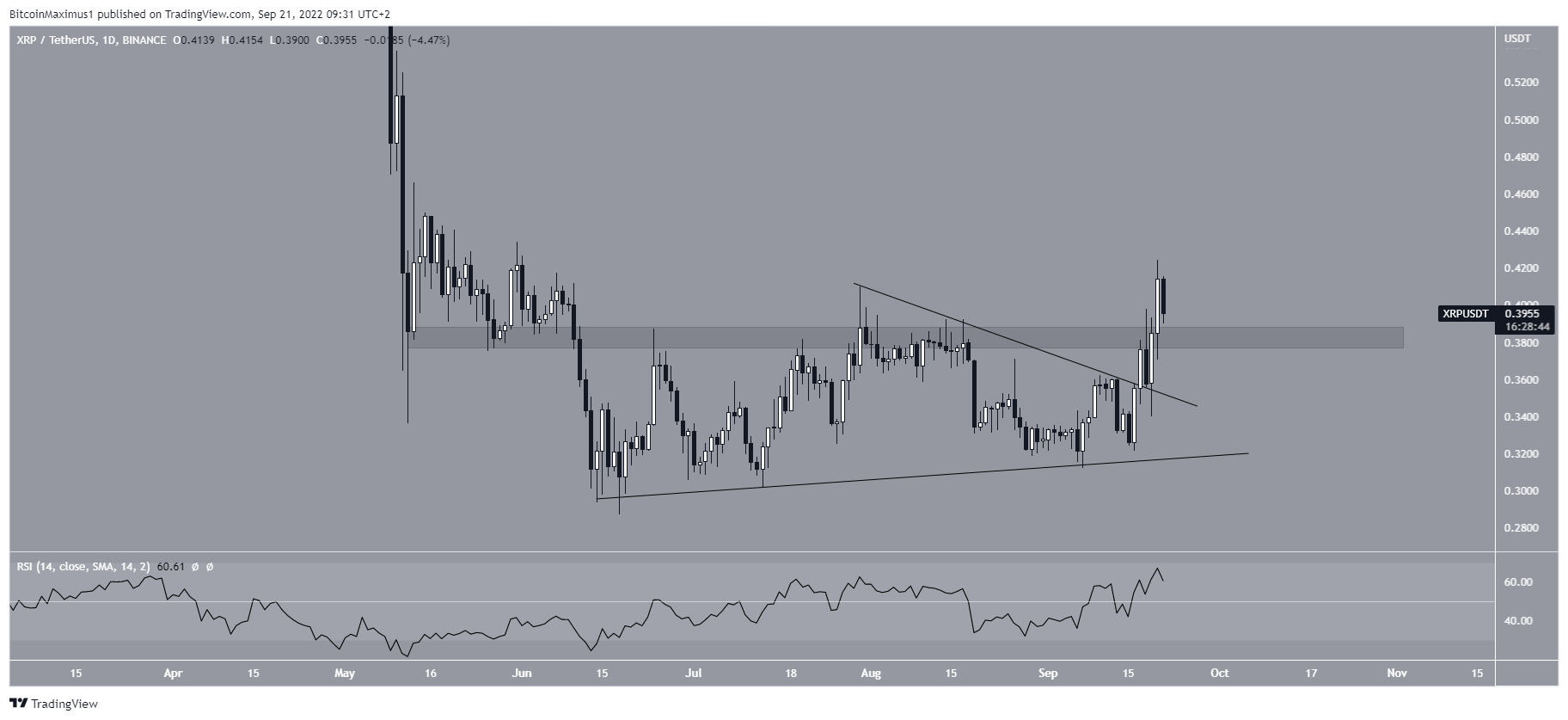 For Be[In]Crypto's latest Bitcoin (BTC) analysis, click here
Disclaimer
BeInCrypto strives to provide accurate and up-to-date information, but it will not be responsible for any missing facts or inaccurate information. You comply and understand that you should use any of this information at your own risk. Cryptocurrencies are highly volatile financial assets, so research and make your own financial decisions.