A new in-depth report on the now-defunct Canadian crypto exchange QuadrigaCX shows the platform operating as a Ponzi scheme months before going bust.
From trading with fake assets to covering losses with user deposits, the late Gerald Cotten allegedly ran QuadrigaCX in such a way that the platform was likely doomed to fail no matter what. The Ontario Securities Commission (OSC) has now released detailed findings on the chain of events that led to the demise of what was once Canada's largest cryptocurrency trading service.
Trading with Quadriga Customer Deposits
According to the OSC report, Cotten maintained unilateral control of Quadriga's wallets. Taking advantage of this unlimited access to customer deposits, the late CEO allegedly began moving funds from Quadriga to trade with on other cryptocurrency exchanges. An excerpt from the report detailing this trend reads:
Cotten told a Quadriga contractor that a certain wallet address was a Quadriga cold storage address, when it was really a deposit address for Cotten's account at another crypto asset trading platform.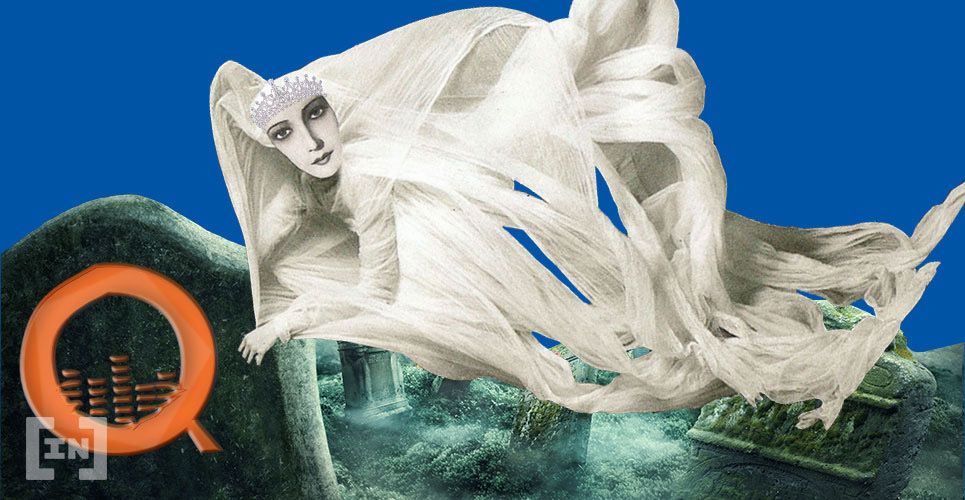 Quadriga users were unaware of the lack of segregation between the platform's funds and their deposits. Instead, the exchange pooled all its cryptocurrency holdings in wallets controlled by Cotten.
Apart from failing to create boundaries within its books to separate user deposits and company funds, Quadriga appears to have abandoned any attempts at maintaining its own books. As part of the report, the OSC revealed that the erstwhile crypto exchange ceased keeping records of its financial health after 2016, electing instead to track its liabilities to clients, i.e., withdrawal requests.
Amid the potentially destructive mixture of near-zero accounting and unchecked access to user funds, Cotten proceeded to up the ante by transferring Quadriga funds to other crypto exchanges for trading. The OSC investigators say the Cotten set up accounts with fake KYC details to trade on these platforms.
An excerpt from the report highlighting the magnitude of the brewing problem at this stage reads:
In essence, Cotten was trading with an unlimited credit facility: he could trade as much as he wanted, without any of his own or Quadriga's assets backing his trades. Quadriga clients were his unknowing creditors. They bore the risks, and eventually the impact, of Cotten's trading losses.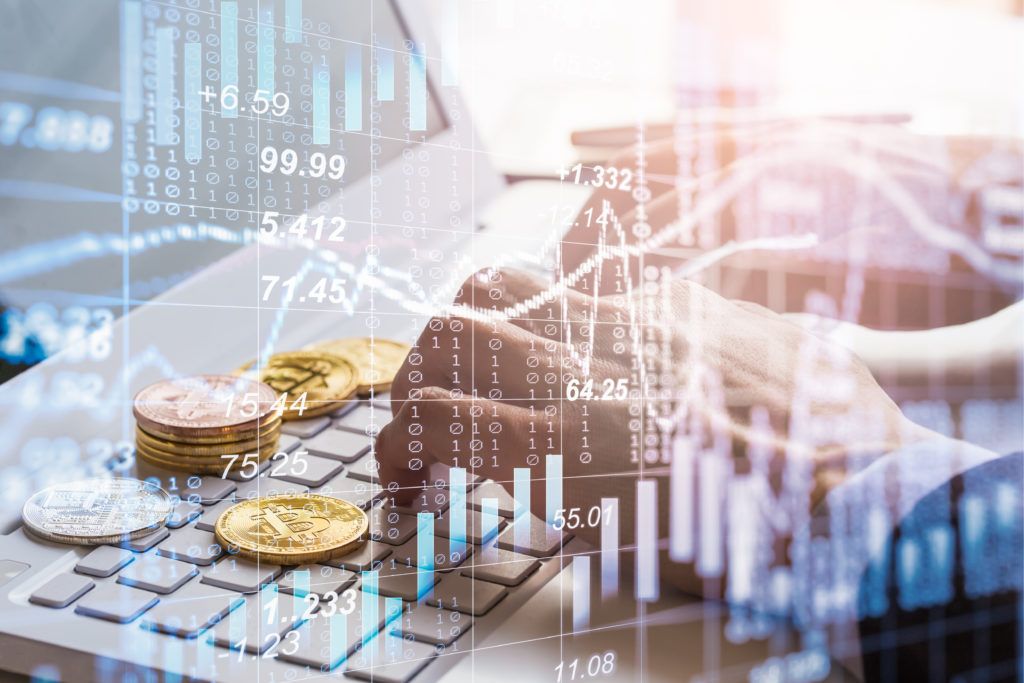 Fake Asset Trading and Operating Like a Ponzi Scheme
Seemingly not content with controlling an unlimited credit facility, Cotten allegedly engaged in fake asset trading. The late Quardiga CEO routinely used fake fiat currency (Canadian Dollars — CAD) to buy real crypto assets and also used fake cryptocurrencies to obtain real CAD withdrawals.
With fake crypto and fiat currencies on either side of Cotten's margin trading activities, price spikes or declines for the underlying virtual currency meant significant losses for him. However, since he had access to Quadriga funds, Cotten could for a time, use new deposits to cover withdrawal requests.
In 2017, crypto prices were booming, and Cotten's long positions made substantial profits. Indeed, 2017 saw a massive bull rally across the market with Bitcoin nearly eclipsing the $20,000 mark.
Then came 2018 and the year-long bear market that decimated most of the gains recorded the previous year. Having purchased Ethereum (ETH) with fake BTC and CAD deposits, the ETH price plunge reportedly saw Cotten scrambling for funds to prevent any counterparty risks.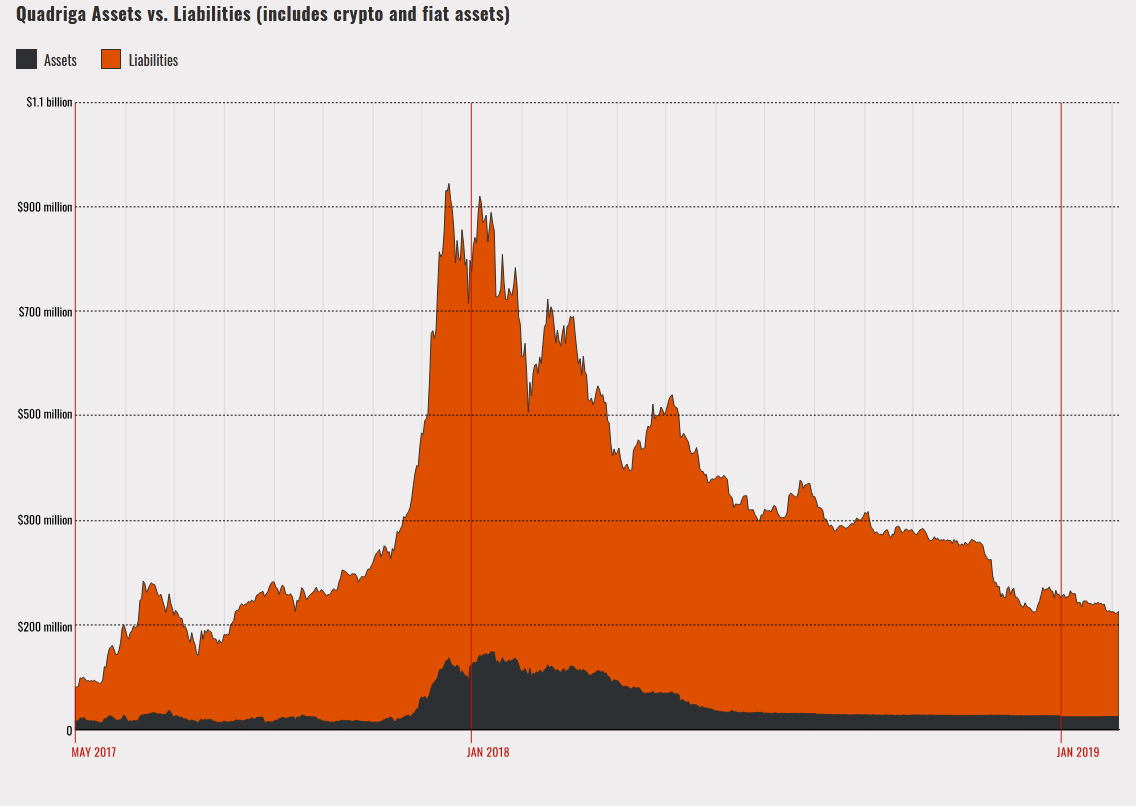 The situation became direr once Quadriga began having trouble with its payment processors. With Canadian banks freezing the accounts of the platform's partners, Quadriga quickly began losing access to funds.
At this point, the first visible cracks began to show as customers started having to navigate through long waiting times to process their withdrawals. According to the OSC report, by March 2018, Cotten was 'operating Quadriga like a revolving door' — using new deposits to facilitate pending withdrawals — essentially the definition of a Ponzi scheme.
Bankruptcy and Fallout
Cotten reportedly died in India in late 2018 with Quadriga owing users a total of about $215M in crypto and fiat currency. According to OSC investigators, Cotten's trading losses cost Quadriga depositors about $115M with a further $28M on external platforms.
The report also indicated that the late Quadriga CEO misappropriated another $2M for personal expenses. Back in 2019, Cotten's widow Jennifer Robertson drew the ire of Quadriga creditors by seeking repayment during the bankruptcy proceedings.
During the bankruptcy process, Ernst and Young, the court-appointed monitor, reportedly recovered about $12M from Robertson. Thus far, Ernst and Young has managed to recover $46M of the total $215M owed Quadriga creditors.
As part of the investigations into the matter, the U.S. Federal Bureau of Investigation (FBI) also began looking into the case back in mid-2019. In January 2020, reports emerged of the FBI contacting victims of the bankrupt platform while lawyers appointed to the case were arguing for Cotten's body to be exhumed.
Disclaimer
All the information contained on our website is published in good faith and for general information purposes only. Any action the reader takes upon the information found on our website is strictly at their own risk.
Osato is a reporter at BeInCrypto and Bitcoin believer based in Lagos, Nigeria. When not immersed in the daily happenings in the crypto scene, he can be found watching historical...
Osato is a reporter at BeInCrypto and Bitcoin believer based in Lagos, Nigeria. When not immersed in the daily happenings in the crypto scene, he can be found watching historical...
READ FULL BIO
Sponsored Sponsored