$PEPE exploded more than 3,000% after it launched in early May, outshining even well-established meme coins like Dogecoin and Shiba Inu for a short while.
However, the hype over $PEPE faded fast. Since reaching an all-time high of $0.0000042 on May 5, $PEPE has fallen by nearly 70% to just $0.00000136. In the last seven days alone, $PEPE fell an additional 9%.
Now, traders are wondering what's in store for $PEPE—were they left holding the bag or does this meme coin have another pump coming?
At the same time, trading in meme coins remains incredibly strong. A new meme coin, Wall Street Memes ($WSM) has raised over $2.2m through its presale in just 5 days. Many meme coin traders are pointing to $WSM as the next token to explode.
$PEPE Price Stagnates, Will it Keep Falling?
Unfortunately for traders still holding $PEPE, this explosive meme coin looks to have run out of gas.
The price has been steadily sliding for three weeks and trading volume has dropped below $100 million, according to CoinMarketCap. At the peak of trading in early May, $PEPE saw more than $3 billion in trading volume.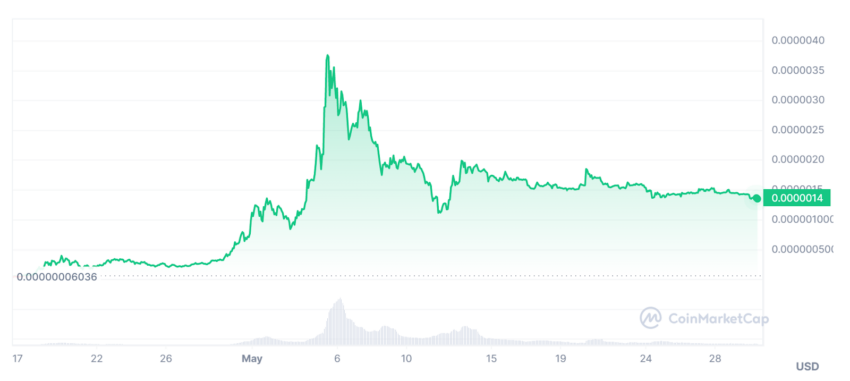 The token's 9% decline this week accentuates the problem facing $PEPE. The token has no utility and the hype has moved onto other tokens. Without steady demand, there's little to prop up the price of $PEPE.
Nor are analysts seeing any bullish catalysts on the horizon. $PEPE has already listed on top exchanges like Binance and OKX, so there are few announcements the project could make that would change traders' bearish sentiment.
The most likely short-term outcome for $PEPE is a further downward slide. The token's next support area from a technical perspective is around $0.0000012. That's 12% below the current $PEPE price.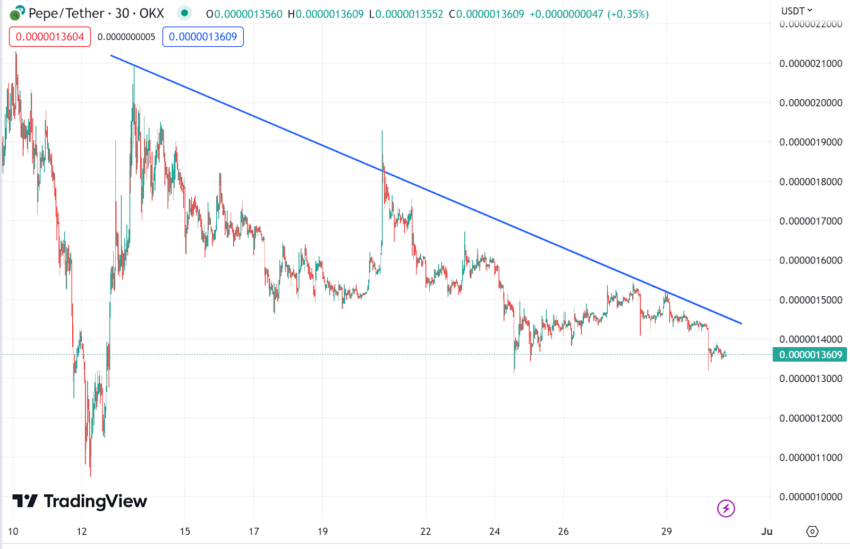 Another bearish sign is that $PEPE is setting progressively lower highs each time the price rises. This pattern suggests strong downward pressure on the $PEPE price, likely as a result of traders moving out to other meme coins. A more significant breakdown could see $PEPE fall all the way to $0.00000085, a loss of nearly 40% from today's price.
Wall Street Memes Raises $2.2 Million in First 5 Days of Presale
While the future of Cardano remains uncertain, traders are focusing their attention on the red-hot meme coin market. In particular, traders are watching a new token that many think has the potential to be the next DOGE.
Meme coin Wall Street Memes ($WSM) launched its presale on Friday and has already raised more than $2.2 million. The first two stages have sold out and the third looks set to sell out within a matter of hours.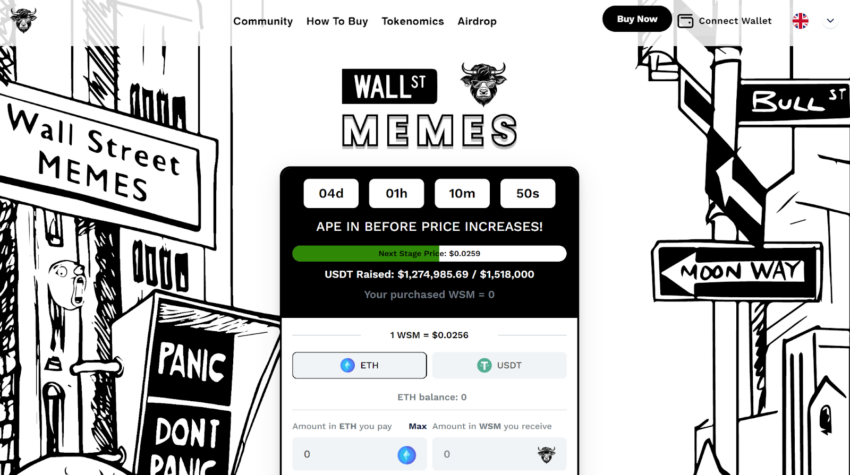 The frenzied pace of the presale shows just how excited traders are about this new meme project. Notably, Wall Street Memes has close ties to Reddit's r/WallStreetBets community, which has been mocking the greed and insanity of Wall Street for years and which has nearly 400,000 combined social media followers.
The team behind Wall Street Bets is also noteworthy. The same developers were behind the 2021 Wall St Bulls NFT collection, which sold out in only 32 minutes. The team is also working on an Ordinals NFT collection that's generated a lot of buzz among NFT traders.
Wall Street Memes is entirely community-driven. Half of the 2 billion token supply has been allocated for the presale and the project team hasn't set aside any $WSM for itself. So, the developers only stand to make money from this project if it's also a success for early investors.
The presale is open to anyone and has a hard cap of $30.577 million. During the current stage, investors can buy $WSM at a price of $0.0256—more than 30% below the planned ICO price of $0.0337.
Presale investors will also have a chance to enter the $WSM airdrop drawing. Five winners of the drawing will each receive $10,000 worth of $WSM ahead of the token's launch.
Visit Wall Street Memes Presale
Disclaimer
This article is sponsored content and does not represent the views or opinions of BeInCrypto. While we adhere to the Trust Project guidelines for unbiased and transparent reporting, this content is created by a third party and is intended for promotional purposes. Readers are advised to verify information independently and consult with a professional before making decisions based on this sponsored content.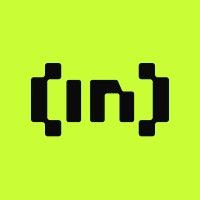 BeInCrypto Team comprises a diverse group of experienced journalists, analysts, and crypto enthusiasts dedicated to delivering the latest news, insights, and analyses in the...
BeInCrypto Team comprises a diverse group of experienced journalists, analysts, and crypto enthusiasts dedicated to delivering the latest news, insights, and analyses in the...
READ FULL BIO
Sponsored Sponsored