Neoland lets you play a life-size Monopoly game in the real world.
Play-to-earn games have changed the way gaming works. Play-to-earn (P2E) video games reward players for their time and effort invested in the game, something that traditional video games do not. Each game provides a special method for rewarding players for their in-game actions.
Monopoly is a classic board game. The blood rush while purchasing and leveling up your properties is unexplainable. What if we told you that you could play Monopoly on a large scale in the real world?
Yes, it is possible. That is what Neoland brings to the table for its users. With its simple mission, it is trying to turn the world into a giant board game.
Neoland in a nutshell
Neoland is a play-and-earn game set in the Neopolis world. Players control land parcels in Neoland that are connected to both the Neopolis video game and actual real-world land.
Each land produces resources, and landowners require resources to add to, upgrade, plan events on, and personalize their land (NFTs).
Buildings can increase resource production, open up new features in the land (chat, mini-games, player-only events, etc.), or simply enhance the land's aesthetic appeal. Landowners are able to plan events that take place in Neopolis and provide resources and rewards for the game's participants.
What is Neopolis?
Neoland is a Web3 game mode that can be accessed by winning or purchasing a Neoland NFT in Neopolis or on the secondary market. Neopolis is a free-to-play MMO game that is presently available on the iOS App Store and the Google Play Store for Android.
Neopolis is essentially a game that incorporates elements from Monopoly and Pokemon Go. Real-world buildings can be purchased, traded, and upgraded by players.
Players can also virtually travel the world, expand their real estate empires, and compete on the city and global scoreboards. Top Neopolis performers can earn land in Neoland and start creating their properties as landowners.
"Our mission is to turn the world into a giant game board."

Ben K., co-founder of Revolt Games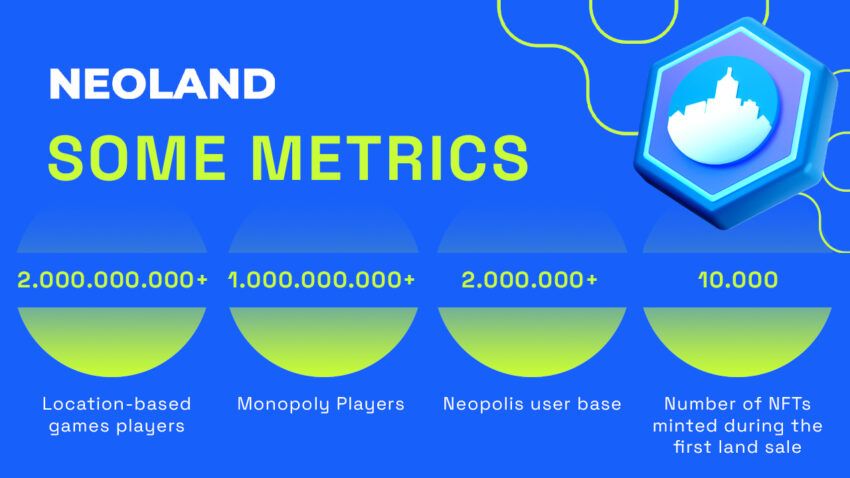 Neoland game mechanics
The primary game mechanics of Neoland are the ones mentioned below:
Land Popularity and Events
The core of the Neoland management system is event planning. The strategic use of events by landowners will have a big impact on how popular their land is.
A land area in Neoland is equivalent to 737,000 square meters, or roughly 3/4 of a square kilometer, in the real world. Each landowner wants to draw Neopolis players to their land by offering a distinctive experience there.
A land will accrue more points the more active and numerous Neopolis players that visit it. The Land's standing in the rankings will rise with more points.
Owners of land have access to a list of events that can be held there. Neopolis players who visit the Land and take part in the events receive rewards. Events are a straightforward but powerful way to raise a Land's profile. Events also boost land revenue from Neopolis players who view advertisements or make purchases nearby.
The gameplay of Neoland is influenced by city builder games.
Landowners in Neoland develop their properties by unlocking, upgrading, and customizing virtual buildings.
Each structure provides distinct advantages to both the landowner and the Neopolis gamers who visit their Land. The city building and city simulation consist of earning in-game resources, buying and upgrading assets, increasing player success metrics, earning more resources through new methods, and buying and upgrading more assets with greater benefits.
Neoland quests breathe life into the game by rewarding the most active players with a variety of obstacles. As they continuously manage and develop their lands, quests keep landowners interested over the course of months.
The landowners receive various rewards, including NCOIN and NLAND tokens, energy for faster development, NeoProps to populate their lands, skins, and collectibles to customize their lands and discover new utility and functionality for their NeoProps.
How to download the Neopolis app?
NCOIN and NLAND
An off-chain token called $NCOIN powers Neoland gameplay and acts as the in-game currency for the Neoverse. In order to purchase buildings, alter their lands, plan events, and do other things, players need NCOIN.
NLAND is the on-chain utility token of Neoland. Neoland is based on the Solana blockchain. NLAND also has a limited supply of 100,000,000 tokens. NLAND holders will have access to premium content and features in the Neoland game mode. In addition, NLAND holders will have voting power in the Neoland DAO, as well as the ability to stake for reward options and other perks.
"We know how to create fun, location-based, and casual/mid-core games." Ben K. co-founder of Revolt Games
Roadmap
Q4 2022: Launch US LandPass sale

Q3 2022: Set up a reward system and Land staking

Q3 2022: Lands appear for Neopolis players (bridge between Neopolis and Neoland gameplay)

Q1/2 2023: Landowners can begin organizing Events and joining Guilds

Q1/2 2023: Landowners can begin developing and upgrading Buildings

Q1 2023: Worldwide launch of Neopolis

Q2 2023: Transition in-game tokens to on-chain
Final thoughts
Neoland is a "play and earn" game that aims to create a universe that combines gaming, real estate, and blockchain technology.
The Revolt Games team also wishes to expand the social aspect by allowing guilds and decentralized autonomous organizations (DAOs) to increase the rewards for owners.
Landowners voted for the next country to open: the United States. Neoland just announced on Twitter that this is going to be a free mint.
A community-based tournament called the "Neoquest" is ongoing in their Discord. This is your last chance to get on the allowlist. Join and participate to take home your free mint spot.
If you are looking to get your hands on a virtual experience of Monopoly in the real world, Neoland is your best friend.
​
Disclaimer
All the information contained on our website is published in good faith and for general information purposes only. Any action the reader takes upon the information found on our website is strictly at their own risk.