Investors in NEO (NEO) have been rightfully frustrated with their investments and the devaluation of the price per coin in the current
bear market
. While the bear has admittedly taken a bite out of the entire market, NEO has had it worse than most.
NEO, a Chinese-based decentralized application (dApp)-focused development platform, is sometimes (or was sometimes) referred to as 'The Beast from the East.' The project made an impressive run from $15 to a new all-time high of $190 dollars during the end of 2017 bull run. At the time of this writing, the price for a single token is $7.10 — a new all-time low, making for a loss of more than 96 percent from its January 2018 high. Since reversing from the all-time high, the price has been trapped under an 11-month descending line. In four instances of coming into contact with the descending line (red stars) during 2018, the price suffered rapid and steep losses until finally bouncing off of a support (green stars).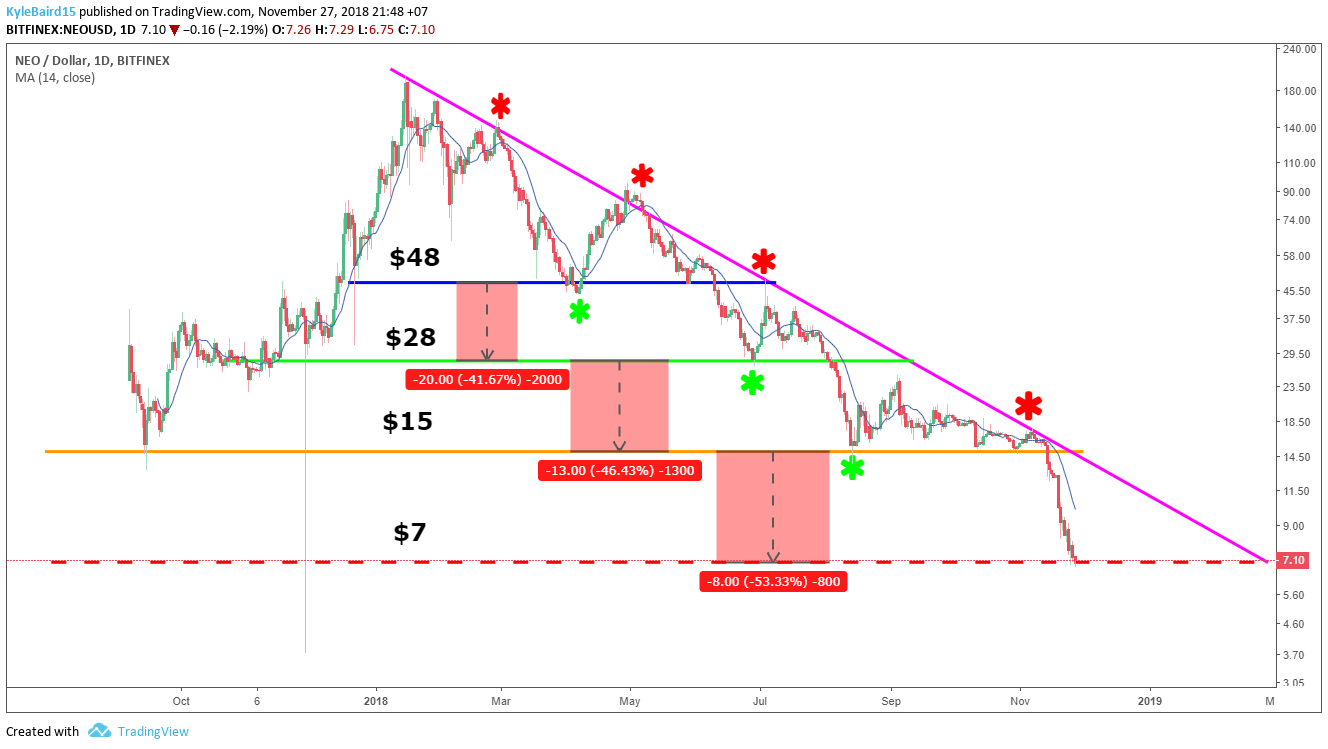 Stochastic RSI
Looking at the Stochastic 3-day and two-week Relative Strength Indexes (
RSI
), we can see NEO is deep in the oversold territory and looks to have already bounced to the upside. A few instances in the past have resulted in a 'W' shaped bounce off of the bottom range of the RSI (red) and shooting straight up to the top 80-100 range — in which case the price could dip slightly back below $7.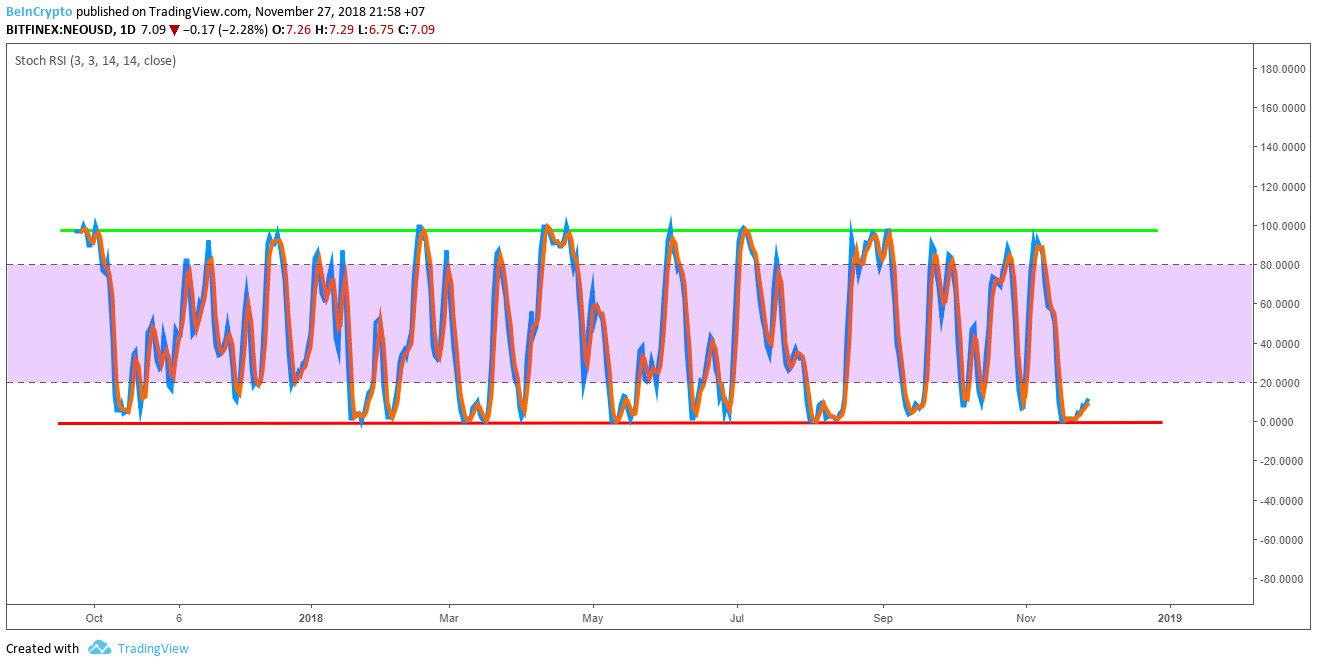 A Bullish Case
Looking at short-term signs on the Stochastic RSI and daily price chart, one could predict that a bounce may be in order soon. Since plummeting from $17 to $7, the price has seemed to regain its footing to make another attack on the descending line or 50-day moving average in the neighborhood of $10 to $12. In a less-optimistic case, the price could bounce slightly before returning to the $7 range in a week or so, similar to the movement in the previous step-down.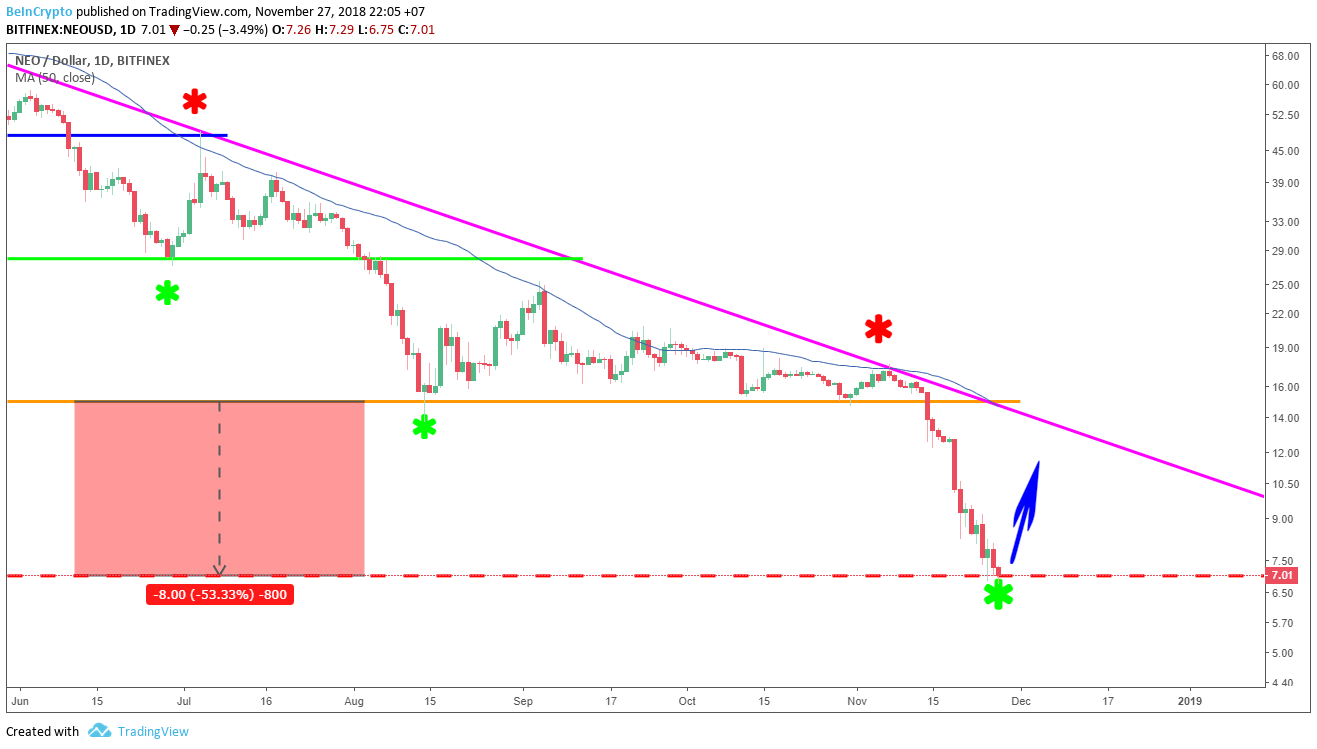 A Bearish Case
Considering the recent
decline in Bitcoin (BTC) price
, an investment in NEO at this level could be a risky move. If Bitcoin decides to continue down to lower levels, NEO would most likely get pulled in tow. By taking an average value of the percentages lost in the past three step-downs, a continuation of this pattern could potentially result in a fourth dip to the $3.50 level after ping-ponging off of the descending line again. The argument for a long-term or short-term investment on this particular asset can be difficult to make. [bctt tweet="For the past year, NEO's price been tumbling every way except up and is currently stranded in unprecedented low ranges with no support in sight. Making a position at these levels should be considered a high-risk, high-reward move. " username="beincrypto"]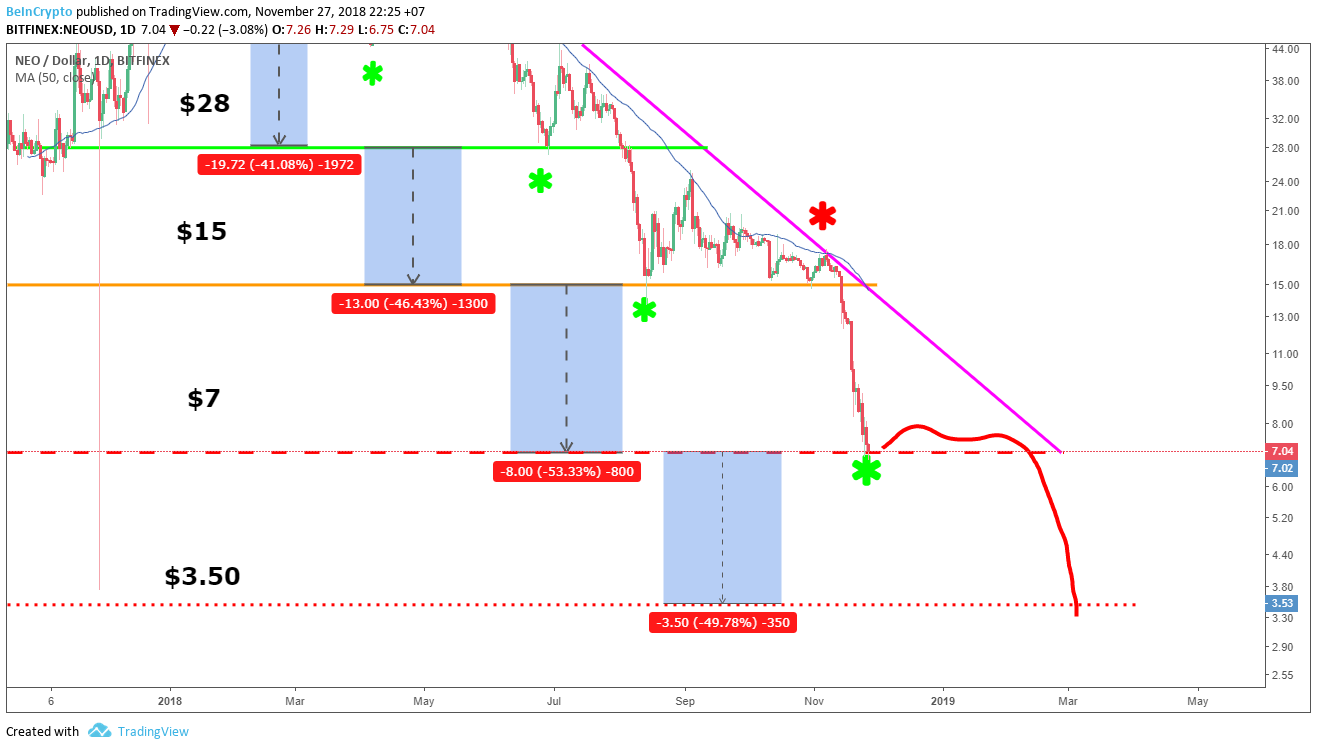 Do you think NEO will dip down to lower levels before hitting a bottom? What price do you predict NEO will bottom at? Let us know your thoughts in the comments below! 
Disclaimer: The contents of this article are not intended as financial advice, and should not be taken as such. BeInCrypto and the author are not responsible for any financial gains or losses made after reading this article. Readers are always encouraged to do their own research before investing in cryptocurrency, as the market is particularly volatile. The author of this article holds NEO.
Disclaimer
All the information contained on our website is published in good faith and for general information purposes only. Any action the reader takes upon the information found on our website is strictly at their own risk.