Glimmer (GLMR), the native token of the Moonbeam ecosystem, is down 98% since its peak in January. Despite the sharp decline, the Moonbeam Network itself continued to gain some traction.
Over the past week, the GLMR token has been trending on CoinGecko, with more than 56,000 users keeping tabs on its performance. We take a look at this emerging ecosystem.
What is Moonbeam Coin?
Moonbeam describes itself as a "smart contract platform for cross-chain applications that unites functionality from Ethereum, Polkadot and beyond." It means developers can create their own decentralized applications, or dApps, on Moonbeam, which are compatible with Ethereum.
They can utilize Ethereum's Virtual Machine (EVM), the heartbeat of the Ethereum network, which allows developers to create smart contracts and dApps in a computer language known as Solidity. Users will not need to reconfigure or rewrite code to achieve this.
Founded in 2019 by Derek Yoo, CEO of crypto infrastructure platform PureStake, and Stefan Mehlhorn, Moonbeam launched as a parachain on Polkadot last year. The network operates on the delegated proof-of-stake (DPoS) consensus mechanism.
Parachains are independent blockchains on Polkadot, the so-called blockchain of blockchains. They are linked to Polkadot's relay chain and can relate to other chains within and outside of Polkadot. They have the same security and scalability as Polkadot.
Blockchain networks are usually developed with exclusive attributes. Moonbeam comes to ensure that transactions can be done across networks. It is a bridge that allows users to work on both the Ethereum and Polkadot blockchains.
The creators of Moonbeam hope this will attract developers and other users that want to take advantage of the different features available on the two networks. There's also a related parachain for the Moonbeam network called "Moonriver".
Built on the Kusama blockchain, Moonriver allows developers to fine-tune their products prior to deploying them on the main chain on Moonbeam.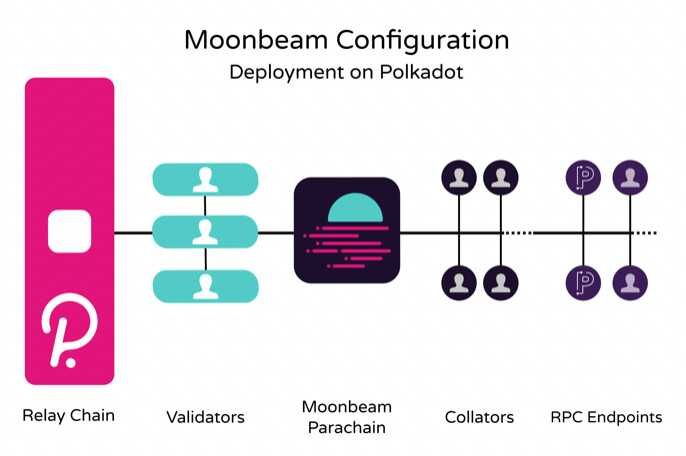 While Moonbeam is considered the "first fully functional parachain," not everyone agrees it has developed at the desired scale.
"As for the Moonbeam project itself, the most notable event since the beginning of October was the first vote on governance," Lena Bondarenko, research analyst at UK-based crypto exchange EXMO, told Be[In]Crypto.
"In addition, an integration with Ren Protocol took place just yesterday (Oct. 12). Perhaps these events could partially affect the number of search queries. However, I think it's highly possible that people take an interest in Moonbeam as one of Polkadot's parachains amid positive news from the latter."
Continuing, Bondarenko said: "Polkadot team presented an updated roadmap at the end of September. At the beginning of 2023, they plan a major network upgrade, which should increase the transaction throughput to one million transfers per second.
"Last time media paid attention to Moonbeam was at the end of August when it integrated cross-chain messaging protocol LayerZero to facilitate Web3 interoperability. There was also an increase in searches on GLMR at crypto aggregators at the time. However, the GLMR price has not spiked at that moment."
However, Coinmarketcap reports that "the Moonbeam platform extends the base Ethereum feature set with additional features such as on-chain governance, staking, and cross-chain integrations." It says the network's compatibility with Ethereum is "unmatched".
Moonbeam (GLMR) coin explained
Glimmer, or GLMR, is the native token of the Moonbeam ecosystem. Users will need GLMR to pay for the costs of making a transaction over the network as well as for executing smart contracts. Moonbeam says the token can be utilized for staking.
GLMR is also used for governance, allowing holders to vote on important network proposals, including the election of council members. As a tool for incentivizing the so-called collators to maintain full nodes, the token is crucial to keeping the Moonbeam network secure.
"The main purpose of a collator is to produce blocks and support block liveness on the network. From there, collators offer up blocks to validators on the relay chain for finalization," says Moonbeam on its website.
As of writing, there are around 93 collators in the active pool who receive one-fifth of the annual inflation as a reward. Moonbeam token holders, also known as delegators, receive a reward for backing collators by staking a minimum of 50 GLMR. Only the top 300 get staking rewards.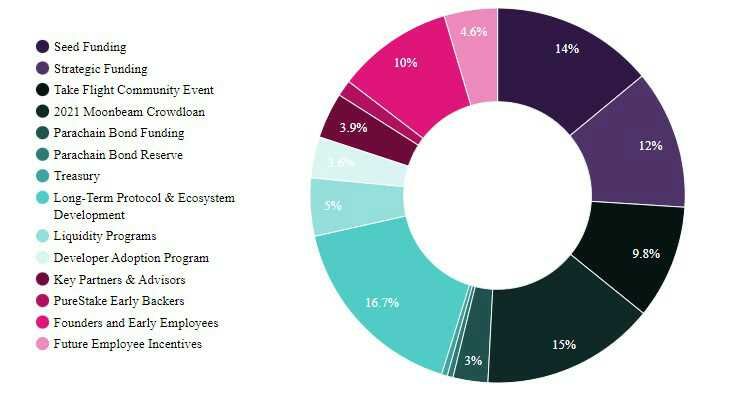 Glimmer has an uncapped total supply. However, the Moonbeam foundation launched with a supply of one billion, with an annual inflation rate of 5%. Currently, over 422 million tokens are in circulation, according to CoinGecko.
Moonbeam says each time GLMR is used to pay for transaction fees on smart contracts, 80% of those specific tokens are destroyed through "burning". The remaining 20% goes into the on-chain treasury. The entire process is designed to boost the GLMR token price.
Moonbeam GLMR price action and forecast
Moonbeam GLMR spiked to $19.50 on January 11 as it began trading on exchanges. It proved to be the token's all-time high. Moonbeam GLMR price has plunged 98% since that peak. At the time of press, the token is trading at $0.44 price, down 1% on the day. This is still up over 75% from the initial coin offering (ICO) price of $0.25 per GLMR last year.
In terms of capitalization, Moonbeam's total market value dropped by more than $70 million since January to the current $188 million. Analysts at Crypto Predictions, CoinArbitrageBot, and Digital Coin Price forecast the price prediction of GLMR to close the year between $1.02 and $3.40.
Lena Bondarenko, the EXMO research analyst, is not as upbeat.
"In recent months, the price of GLMR has been following the price of bitcoin. The 30-day correlation coefficient has been above 0.9 for almost the entire last month, indicating a very strong correlation between the GLMR and BTC rates," Bondarenko told Be[In]Crypto, adding:
"As of Oct. 12, the correlation dropped sharply to 0.68 from 0.94 the day before. But the charts over the past few days show that even if there was an attempt to start an independent movement, now the coin is falling along with the entire market. Thus, I wouldn't recommend to consider these indicators of trending as strong growth signals."
However, Moonbeam does have the first-mover advantage, showing the potential of becoming one of the flagship cryptocurrency platforms, according to a report on the analyst's platform Finder.com.
"Launching as the first parachain within the Polkadot ecosystem has allowed Moonbeam to integrate with a high number of decentralized applications," said the report.
"While this does not guarantee the project's success, the first-mover advantage does place the project ahead of younger competitors – for now."
For BeInCrypto's latest Bitcoin (BTC) analysis, click here
Disclaimer
Following the Trust Project guidelines, this feature article presents opinions and perspectives from industry experts or individuals. BeInCrypto is dedicated to transparent reporting, but the views expressed in this article do not necessarily reflect those of BeInCrypto or its staff. Readers should verify information independently and consult with a professional before making decisions based on this content.