Mining companies are searching for cheap power in America's heartland to try and jumpstart the economy and widen their profit margins.
The bitcoin bread basket
While China controls the lion's share of Bitcoin's hashrate, some companies are looking to America's economically depressed heartland for cheap power to up the mining competition.
The week of Dec. 7, 2020 saw a startup called Core Scientific raise over $23 million to mine Bitcoin. With mining farms in North Carolina, Kentucky, and Georgia, the company is no novice.
With current prices, a block reward is worth about $125,000 dollars. But a lot of contenders are all vying to get those block rewards, and the hashrate is high.
So, in order to remain energy efficient, and profitable, companies like Core Scientific need to find cheap power. The startup has been searching in middle America to find those affordable kilowatt hours, and they are bringing jobs with them. With unemployment high from the COVID-19 crisis, these new jobs are welcome.
But digital farming is not all fun in the dark. Steve Wright, the general manager of a public utility in Washington state, told Fortune that miners had overwhelmed his county's power resources. They did not provide a large number of jobs, and they did not synergize with local authorities, he said.
While demanding special, low rates for their electricity, these miners were careless with their equipment like transformers and have started fires.
Her majesty's bitcoin service
Importantly, bringing Bitcoin to the US is strategically sound on a macro level. China currently controls more than 50% of Bitcoin's hashrate. Though the Chinese government has regulated crypto, farming is left relatively untouched. There is nothing stopping the Chinese government from taking all of China's scattered Bitcoin farmers under their control.
With so much power in the hands of so few, a 51% attack could cripple the Bitcoin network. Transactions would no longer be properly validated, and the entity could perform a "double spend", thus undoing already-confirmed transactions.
But Chinese crypto mines tend to be the most profitable. They have access to cheap power and the colossal manufacturing capabilities of the PRC. Getting an ASIC machine, which is more efficient than traditional mining rigs, is cheap. As a result, China has the greatest control: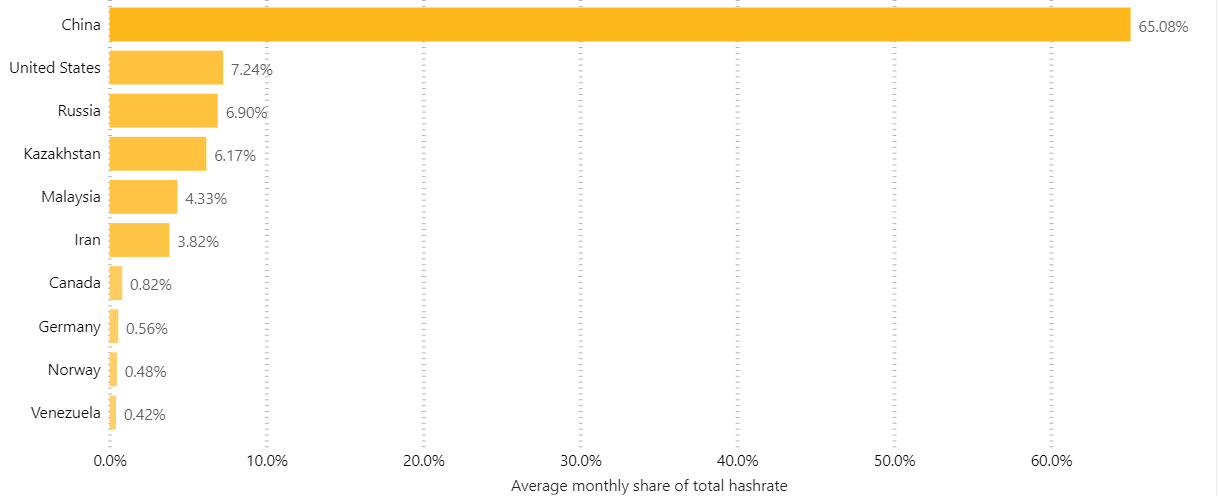 Special mining dispensation
And so being competitive in the farming business is no small task. Core Scientific has made deals with power companies in five different states in order to try and match the bottom-dollar power rates the Chinese have access to. The firm has also come to agreements with Chinese manufacturers of mining rigs.
As it turns out, Core Scientific is only one branch of a greater scheme. An organization called Foundry, which is behind the $23 million capital inflow to Core Scientific, is running the show. Foundry is itself a subsidiary of the Digital Currency Group which has said it plans to spend $100 million on mining in the US.
Mike Colyer, CEO of Foundry, told Fortune that an influx of mining in the US was indeed caused in part by trying to spread around the hashrate:
"The only way Bitcoin works is when it's distributed through the world and when it's decentralized," said Colyer. In his opinion, Bitcoin mining in the US will increase by 25% in the coming years.
Disclaimer
In adherence to the Trust Project guidelines, BeInCrypto is committed to unbiased, transparent reporting. This news article aims to provide accurate, timely information. However, readers are advised to verify facts independently and consult with a professional before making any decisions based on this content.