Miners are selling off their Bitcoin to survive the crisis.
Financial statements of public mining companies showed that they had to quadruple sales of cryptocurrency to make ends meet.
In May 2022, public mining companies sold 4,411 bitcoins. This is four times more than the average for the month from January to April 2022. This is evidenced by the financial statements that public companies provide to the regulator.
Public mining companies are increasing the sale of Bitcoin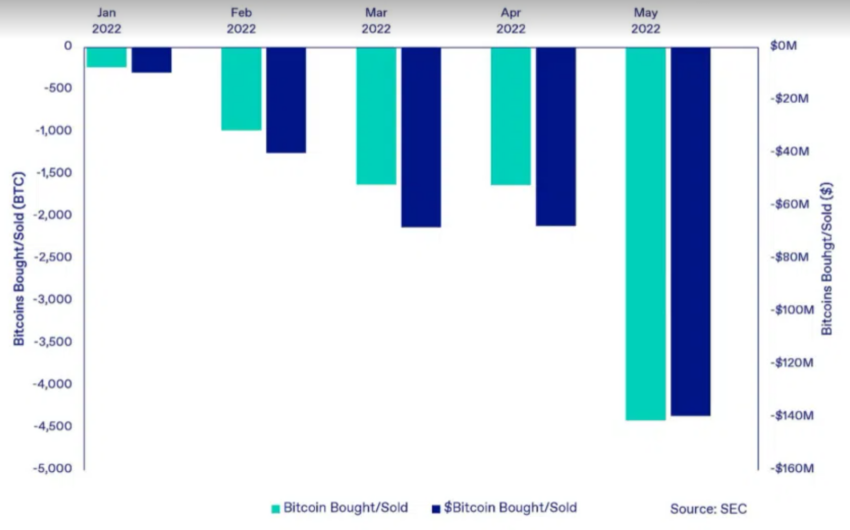 Source: NYDIG
Data from analytics firm CoinMetrics also confirms that crypto miners have started moving coins to crypto exchange wallets. Despite the lack of reliable information about the movement of coins owned by miners, it is quite obvious that companies mining digital coins are on the edge of survival.
Initially, miners received 50 BTC for each block mined. But every four years the amount of remuneration has halved. Now they are paid 6.25 BTC. A new block appears on average every 10 minutes, which means that about 900 bitcoins are created every day. In addition, they receive commission for processing transactions.
In good times, miners have enough money. They have enough to pay for electricity to cover other operating expenses, so they prefer to save coins.
But now the situation is different: electricity prices are rising, and the profits of miners are falling along with cryptocurrency rates. Under these conditions, companies are forced to exchange BTC for fiat in order to pay for electricity and pay salaries to employees.
Miners: Curtailing business
As of the end of May, about 46,500 BTC (worth $1.5 billion at the time) were stored in the wallets of public miners. Companies will probably have to increase sales of bitcoin in order to finance their operating activities.
Sales by miners will increase the volume of coins in circulation and increase bearish pressure on the market.
At the time of publication, the main cryptocurrency is trading at $20,108. Previously, the cryptocurrency fell to $18,700 – this is the lowest value since December 2020. The capitalization of the digital asset market fell to $880 billion, losing more than $500 billion in a week.
Got something to say about Bitcoin miners or anything else? Write to us or join the discussion in our Telegram channel. You can also catch us on Tik Tok, Facebook, or Twitter.
Disclaimer
All the information contained on our website is published in good faith and for general information purposes only. Any action the reader takes upon the information found on our website is strictly at their own risk.