In a post covid era, where many are opting for more remote work and online services, metaverse shopping will bridge the gap between the present and the future. As proof of this, you can now buy a private jet in a virtual mall. Metaverse shopping allows users to interact with and purchase products in a virtual environment, offering a new and immersive shopping experience that is set to become more popular in the future.
Much of the potential of shopping in the metaverse is unrealized. However, there are some nascent examples of what's to come. Metaverse shopping will be the standard of virtual reality. It will rival what we see today in brick and mortar businesses and web2 online shopping.
Table of contents
Shopping in the Metaverse
Metaverse malls seem like a really fun way of metaverse shopping. Most of us don't really want anything being hawked. But the idea of it is cool. And now, metaverse malls seem really REALLY cool… because now you can shop for private jets in a virtual world.
In metaverse malls, there are three things to buy: physical items (for example, a ring that gets sent to you), digital items (that you can wear in the metaverse), and phygital items (a combination of the two, which is something like a ring that has an NFT as proof of ownership and a digital version that can be worn online.)
Clothes and jewelry are fun… but now… you can buy a private jet that is both a physical and digital item. Either way, you don't have to hang out with the crowds. For instance, shopping in the metaverse will allow shoppers to avoid the slip and falls, car accidents, personal injuries, and potential thefts of crowded malls on major shopping holidays.
Metaverse Shopping: ColorWorld
The metaverse in question is a Chinese offering called ColorWorld Metaverse. It is owned by Color Star Technology (Nasdaq: CSCW), which is an entertainment technology company.
They have just announced that private aircraft will be available for customers to purchase in their mall. Where is the mall? In ColorWorld. And if you are too poor to buy a private jet, you can rent one.
ColorWorld have managed to pull this off by getting into bed with another company called Shenzhen Qianhai Bluejet Aviation Service Ltd.
Bluejet is a global aviation service, and it now has metaverse headquarters in ColorWorld. Both companies are working on the idea that the collab will help each other's brand.
The aviation connection is just the first step in a wider plan for ColorWorld. Next, they say, "the Color Star team will work to combine airline ticketing services, hotel services, etc., in order to create a thriving environment for the aviation industry in the metaverse."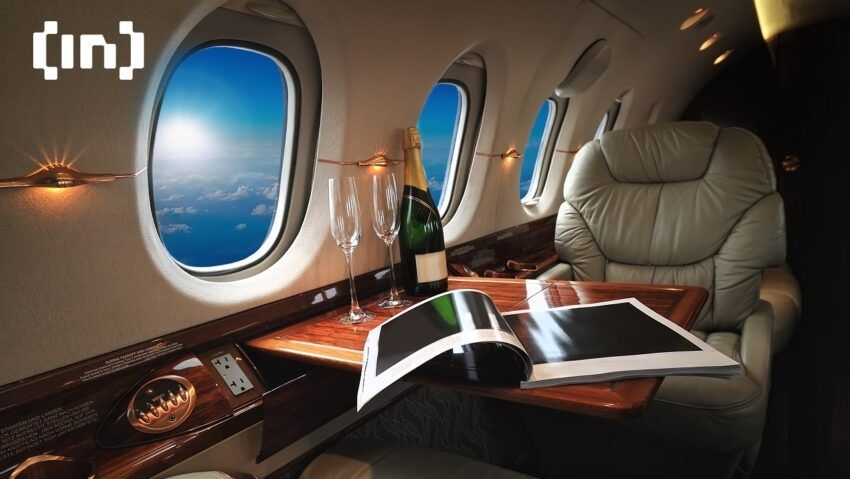 Collaborations of the future
Farhan Qadir is the CEO of Color Star. "When we first began creating the aviation service headquarters, many people were interested in our project, but what people were really interested in was how we were going to make the idea a reality. So now we are about to make the aircraft available for purchase to all public users. Potential buyers can examine the products in closer detail through the use of VR. Sellers will be able to sell aircraft and other related aviation services online as well as offline."
Qadir says this is just their beginning. "Our team is currently working hard at researching and developing air routes, air services, etc. Our ultimate goal is to not only allow customers to enjoy tailored private flight services through our metaverse platform, but to also provide them with an extensive variety of air services, air routes, etc. in ColorWorld through the use of AI technology. We hope to become the first company in the world to provide such services."
Color Star say they are focused on working to lure more users in, so they can spend in ColorWorld and keep their merchants happy.
Got something to say about metaverse shopping or anything else? Write to us or join the discussion in our Telegram channel. You can also catch us on Tik Tok, Facebook, or Twitter.
< Previous In Series | Other | Next In Series >
Frequently Asked Questions
What is the metaverse?
The metaverse is a virtual shared space, created by the convergence of virtually enhanced physical reality and the internet. It is a collectively shared space, created by the convergence of virtually enhanced physical reality and virtual space, including the sum of all virtual worlds, augmented reality, and the internet. It is a space where people can interact, communicate, and engage with each other and digital objects and experiences.
What are metaverse avatars?
A metaverse avatar is a digital representation of a user in a virtual world or online space. It can take many forms, such as a cartoonish character, a realistic 3D model of a person, or even a virtual pet. In a metaverse, users can customize their avatars to reflect their personal style, interests, and personality. Avatars can be used to interact with other users and participate in virtual activities, such as socializing, gaming, and exploring virtual environments.
What are NFTs?
An NFT, or non-fungible token, is a digital asset that represents ownership of a unique item or piece of content, such as a piece of artwork, a video, or a virtual real estate property. NFTs are stored on a blockchain and are unique because they cannot be exchanged for other items of equal value. NFTs are often used to verify the ownership and authenticity of digital assets, and they can be bought and sold on online marketplaces. Some examples of things that can be represented as NFTs include digital art, collectibles, and even tweets.
Disclaimer
Following the Trust Project guidelines, this feature article presents opinions and perspectives from industry experts or individuals. BeInCrypto is dedicated to transparent reporting, but the views expressed in this article do not necessarily reflect those of BeInCrypto or its staff. Readers should verify information independently and consult with a professional before making decisions based on this content.